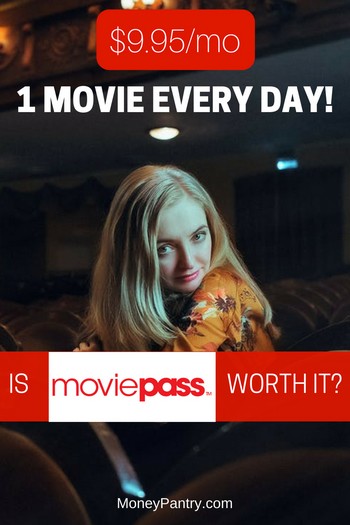 Updated September 14, 2019:
Effective 9/14/19, MoviePass has cancelled their services.   The MoviePass site states that members will receive automatic refunds for prepaid services.  There is an email sign up box on their homepage to receive notifications on when or if they will continue service in the future.
Going to the movie theater is great fun, but the cost? That's not so great.
According to reports from the National Association of Theatre Owners (NATO), the cost of a movie ticket is at an all-time high.
Need Easy Extra $300+/Month for Free?
KashKick
: Get paid directly into your PayPal for watching videos, surfing, shopping and more.
Join KashKick Now!
InboxDollars
: Paid over $57 Million to members to watch videos, take surveys, shop and more.
Get $5 instantly!
Branded Surveys
: Get $1 instantly just for joining for free. Plus get paid within 48 hours by PayPal!
Join Branded Surveys
First Opinion
: Get paid up to $10 per survey and $300 per virtual focus groups!
Join Now!
Swagbucks
: Get paid to watch videos, shop online, take surveys and more.
Join now & get $10 instantly!
A single ticket will set you back $8.97 on average!
So, if you visit the movies a lot, then the cost of it can really add up.
That's where MoviePass comes in.
With this service, you can watch movies at the theater as many times as you want per month, for a really low monthly fee.
In today's post, we're going to cover everything you need to know about this subscription service, including how it works, what theaters accept MP, and whether or not it's worth subscribing to.
What is MoviePass?
MoviePass is a subscription service.
It allows moviegoers to watch a movie a day for a pretty low monthly fee.
It costs just $9.95 per month, and you can watch a new movie every day.
That's a pretty amazing deal.
It's sort of like Netflix, but for movie theaters, rather than streaming.
MP has been around since 2011, but it wasn't until the past couple of years that the brand has really gained traction.
And now, it boasts more than 2 million subscribers.
How does MoviePass Work?
Joining MoviePass and using it is pretty simple.
It can be done in a few easy steps:
Step 1: Sign up
Step 2: Activate your card
Step 3: Get your Tickets
Below, we've outlined, in more detail, how exactly MP works.
Sign up
The first step is to go to the MoviePass website and register for an account.
Just visit this page to get started.
Keep in mind that you do need to have a mobile device that runs iOS 10.2 or later, or Android 5.0 or later to use MP.
And, you have to be at least 18 years of age to sign up.
To register, you'll just need to enter your basic details, such as your name, email address and birthdate and create a password.
You'll also have to fill out your shipping information. This is so MP can send you your card.
And, of course, you'll need to enter your payment details to pay for the subscription fee.
Once you've completed the registration process, MP will send you your card. This takes around 7 to 10 days business days to arrive.
If you don't get your card within 10 business days after your sign-up date, then contact MP. Around post office holidays, you should allow extra time for it to arrive.
Activate your Card
Once you receive your MP card in the mail, then you need to login to the MoviePass app. So, if you haven't already, then you'll need to download the MP app so you can sign into it.
On the home screen, you should see a banner that says "Activate your MoviePass Card," which you should click on.
Then, you'll need to take a photo of the front of the card. You'll need to give the app access to your phone's camera. Or, you can manually activate your card by inputting the last four digits of your card number.
If there isn't an "Activate Card" banner on your homepage, then this means that your card has been auto activated. So, you don't need to do anything.
You should get a message in the app that tells you that your card is activated and ready to use.
If you have issues activating your card, then go the help section, which can be found in the "Account" section, and then select "Contact Us".
Get your Tickets
A common question people have about MP is; how do you actually get your tickets?
This is a valid question since you've already paid for your subscription, so you won't be paying for your tickets as you normally would.
Here's how to get your tickets with MP:
Step 1: In the app, search the movies, theaters and show-times that you're interested in. Doing this allows you to see what movies are available through MP and where. So you can see if the movie that you're interested in is available on MP.
Step 2: When you find the movie you're interested in, head to the theater.
Step 3: When you get to the theater, you need to use the app to select the movie and show-time you're interested in at that theater. Then, click the "Check In" button. You'll need to be within 100 yards of the theater to check-in.
Step 4: Since your MoviePass card becomes activated when you check-in, all you need to do is swipe your card with a ticket agent or at a theater kiosk and you'll get your ticket. It's important to note that once you check-in, you have 30 minutes to swipe your card.
If after completing the check-in the movie you want to see is sold out, or if you've changed your mind about the film that you want to watch, then you can cancel the check-in.
When you've checked in, there is a "Cancel/ Change Check-in" button at the bottom of your confirmation screen.
Just select it, and it will cancel your check-in, and you'll be able to check-in to another screening.
E-Ticketing
MP does also offer e-ticketing.
This allows you to reserve your tickets before you get to the theater.
This is handy since it ensures that there are tickets available for the movie that you want to see, at the theater and time that you want to watch it.
Not all theaters support it though.
According to MP, chains that support e-ticketing are:
Goodrich Quality Theaters
Studio Movie Grill
B&B Theatres
MJR Theatres
E-ticketing locations are the ones with a red ticket icon next to their name.
Here's how to get these tickets:
Step 1: In the app, select the participating e-ticketing theater that you're interested in.
Step 2: A list of films will appear. Choose the show-time you're interested in, and then confirm your check-in.
Step 3: After confirming your check-in, you'll get the redemption code. You'll need to present this code at the kiosk or box office to get your ticket.
What's handy about e-tickets is that you can visit e-ticketing theaters before you get your MoviePass card. However, once you reserve your fist e-ticket, your billing date will adjust to that date.
Canceling your Subscription
What's handy about MP is that you can cancel your subscription at any time.
Here's how:
Step 1: Go to the "Account" tab. Click on "Account Details."
Step 2: In the "Plan & Billing" section, you'll see a Cancel button. Click that and you'll view a cancellation screen.
Step 3: On the cancellation screen, select the reason that you're canceling your account.
While there is no MoviePass cancellation fee charged, there are a few things to keep in mind when canceling your subscription:
If you cancel a month-to-month or annual subscription, then you can't reactivate your account or start a new subscription for nine months.
Your MP account will stay active until the end of the current billing period.
If you cancel an annual subscription while still in term, you won't receive a prorated refund. So, if you pay for a year's subscription, but cancel it after three months, then you won't receive a refund for the remaining 9 months.
What theaters accept MoviePass?
Okay, so MP does sound like one of those services that would have its restrictions – and you might be wondering whether one of the restrictions is that MP tickets are not available at many theaters.
Well, one of MP's strong suits is that it is so widely available.
According to the company, it features movies from 91% of theaters across the country. So, you definitely have plenty of locations to choose from, including locations from big chains, like AMC and Regal Cinemas.
Participating theaters offered will vary depending on your location.
Just enter your zip code on the app, and you'll be able to see which theaters accept MP.
You can also enter your zip code on the MovePass website. Just scroll down the homepage and you'll be able to search a map of nearby theaters.
We mentioned the theaters that participate in e-ticketing above.
Is MoviePass legit?
Yes!
MP has been around since 2011, and it has been featured and praised by big news outlets, like Forbes, CNN, and Business Insider.
So, this isn't some scam company – it's legitimate.
Pros & Cons
Okay, so now you know what MP is and how it works, you're probably wondering; should I subscribe?
Below, we've outlined some of the pros and cons of MP, so that you can decide whether or not this subscription service is for you.
Pros
Let's start with the pros:
Well, there's one big one – The price!
For just $9.95 per month, you can watch a movie per day. This is great for that price.
Let's say you watch eight movies a month, so two a week.
And, let's say that you pay $8.97 for your ticket, and that's erring on the conservative side since you can pay up $20 for a ticket in big cities like NYC at chains like AMC.
So, to see eight movies, with a cost of $8.97 a ticket, you'd pay $71.76 in a month.
On the other hand, if you're an MP subscriber, you'd pay just $9.95 to see the same about of movies in a month.
This means you'd save $61.81!
And, if you visit the movie theater four times a week, which would cost you $143.52 using the figures above, then you'd save $133.57!
Cons
Now, let's take a look at some of the downsides of MoviePass.
You can only see the same movie once. MP advertises that you can watch a movie a day. So, hypothetically, you'll be able to watch 30 movies in a day right? Well, that's not really the case, since you can only watch the same movie once, and most movie theaters don't have 30 separate movies playing in a given month.
There are restrictions on the movies you can watch: MP tickets DON'T include non-2D movies. So, your subscription doesn't include things like 3D, IMAX, and ETX/RPX. It's only good for standard 2D movies.
You can't buy your tickets ahead of time: Aside from e-tickets, which are only available at five theater chains, you can't buy your tickets ahead of time. So, this means that the movie you want to see might be sold out by the time you get to the theater.
For the cost of the membership, if you're someone that loves going to the movies and you're not bothered about 3D movies and IMAX screenings, then you should definitely sign up.
Similar services to MoviePass
MoviePass is a great service, but it's not the only one of its kind out there.
Check out these programs:
Costing just $8.99 per month for a subscription, members of Cinemark Movie Club can enjoy one free movie credit a month. This credit is good for one 2D adult ticket.
What's great is that unused credits roll over and never expire. So, if you don't use your credit one month, then you'll have two for the next month.  You also get 20% off concessions, waived online fees, and add-on tickets for a discounted rate of $8.99.
Sinemia costs from just $4.99 per month to $14.99 per month.
Depending on the subscription plan you choose, you can view from one to three movies per month.
What's great about Sinemia is that it allows you to see both 2D and 3D movies. This is a benefit that sets it apart from other theater ticket subscription services. And, it offers other great benefits and features, such as couples plans, and an advanced ticket option.
So, which one is the best?
Now as, for which one is best, MoviePass, Cinemark Movie Club, or Sinemia really depends on your preferences.
If you're just looking to watch as many movies as you can, at a low cost, then MP is the service for you.
On the other hand, if you have a Cinemark theater nearby, so don't tend to visit other chains, and don't really visit the theater often, then the Cinemark Movie Club could be a good option.
And finally, if you're a fan of 3D and IMAX movies, then Sinemia could be the subscription service for you.
Closing thoughts
With a super low monthly cost, MoviePass makes going to the theater regularly a financially viable choice again.
Rather than having to spend $70+ a month to visit the movies a couple of times a week, you can now spend just $9.95.
Based on these facts and all the reviews of MoviePass from actual subscribers, I think it is a great deal that avid theater goers can certainly benefit from.