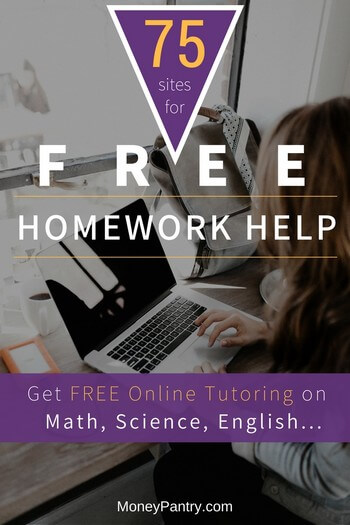 Overwhelmed with homework?
Need help, preferably for free?
A study by Stanford University found that on average students spend 3.1 hours on homework each night!
With a workload like that, you're bound to need help with assignments.
Finding inexpensive tutors and resources can be expensive, especially on a student's budget.
Luckily, there is a ton of free homework help for busy students where you can get free tutoring online without having to pay.
Need Easy Extra $300+/Month for Free?
KashKick
: Get paid directly into your PayPal for watching videos, surfing, shopping and more.
Join KashKick Now!
InboxDollars
: Paid over $57 Million to members to watch videos, take surveys, shop and more.
Get $5 instantly!
Branded Surveys
: Get $1 instantly just for joining for free. Plus get paid within 48 hours by PayPal!
Join Branded Surveys
First Opinion
: Get paid up to $10 per survey and $300 per virtual focus groups!
Join Now!
Swagbucks
: Get paid to watch videos, shop online, take surveys and more.
Join now & get $10 instantly!
Some of these sites even offer free 24/7 online tutoring via chat.
There are even a few that offer free homework help with no sign up requirement.

A. General Help
Here are some of the best websites where you can get 100% free help with your homework on a variety of subjects from Algebra & Geometry to Biology, Economics and everything in between:
1. Hippocampus
Hippocampus.org offers free educational resources for students in middle school to college.
You can explore more than 6,800 free videos in 13 subject areas:
Math

Arithmetic
Algebra & Geometry
Calculus & Advanced Math
Statistics & Probability

Natural Science

Biology
Chemistry
Physics
Earth Science

Social Science

Economics
History & Government
Sociology

Humanities
The site includes multimedia content, like videos, animations, and simulations.
2. infoplease
You can find a lot of information at www.infoplease.com.
It is a great resource and includes an atlas, encyclopedia, dictionary, thesaurus, videos, and more.
The site also features a lot of tools, including:
a calculator
distance calculator
conversion tool
spelling checker
periodic table
place finder and
perpetual calendar.
Topics covered are current events, pop culture, science, government, history, and more.
3. HomeworkSpot
HomeworkSpot is a free homework information portal.
It boasts the best resources for:
English
Math
Science
History
Art
Music
Technology
Foreign languages
College prep
Health
Life skills and
Extracurricular activities.
The site also features real-world applications and case studies of what you are learning.
4. Discovery Education
Dive deeper into topics with Discovery Education.
The site features interactive games, videos, contests, virtual labs, and activities.
You can find an archive of webinars, as well free parent, teacher, and student resources on the site.
Need help with math?
Do you have to show your work?
The site also has Webmath, a tool that generates answers to specific math questions and problems, as entered by the user.
The math answers are generated and displayed instantly.
Webmath also instructs the student on how to arrive at the answer.
5. ThoughtCo. Homework Help
ThoughtCo provides in-depth articles and homework help.
The site also aims to make you a better learner by featuring tips and tricks for:
Learning styles/skills
Study methods
Time management
Writing essays/research papers
Book summaries
Citations and
School supplies
All the ThoughtCo lists and articles can help you save time and prevent stress.
6. refdesk
refdesk is a simple site with links to research tools, libraries, study guides, and strategies.
It includes a database of all the newspapers in the world with links to their individual websites.
The site will help you find daily comic strips that can be used to spice up a presentation or paper on current events.
You can pretty much find resources for any topic here.
From information on creative writing to weights and measurements, refdesk has got the goods.
7. ClassBrain
ClassBrain can connect you with a network of resources.
The site's unique content includes:
ClassBrain Games
Movies in the Classroom
State Reports
Country Reports
Freedom Files and
Point of View Reviews.
It also features worksheets and puzzles, games and useful articles.
8. Edheads
Are you looking for an interactive online adventure in science and math?
Then Edheads is the site for you.
The ultimate mission of Edheads is to empower students with practical knowledge so they can find rewarding careers in:
science
technology
engineering and
mathematics.
All the Edheads games and resources meet national and state standards.
While the site does offer paid memberships, many of the activities and resources are free.
9. Math & Reading Help
Do not let the name fool you.
Math & Reading Help offers help on many subjects.
You can get homework help, find a tutor and improve skills with the resources the site features.
Can't find what you are looking for?
If a quality resource doesn't exist, let educators who run the site know, and they will create one.
10. NCES Kids' Zone
The NCES Kids' Zone is a repository of information on:
Colleges
Public libraries
Games and
Quizzes.
The site also features a free tool for creating a variety of graphs that can be used in reports to illustrate research.
11. Chegg Study
Most of the Chegg Study resources require a paid membership.
But, the site does offer 30 minutes of free online tutoring and a free flashcard app.
The Flashcards+ by Chegg app is a fast, fun and free.
It allows you to make flashcards that include text and images.
This app will help you study for your most difficult tests.
It is only available on for iPhones.
12. BJ Pinchbeck's Homework Helper
BJ Pinchbeck's Homework Helper connects students to a variety of resources on a ton of topics.
Not only does the site include information on math, science, and English, but it also provides resources for computer science, programming, health, social studies and physical education.
13. Fact Monster
Fact Monster has gathered useful information from all over the world into one place.
The site includes a dictionary, encyclopedia, thesaurus, and almanac.
The resources cover subjects like geography, history, language arts, math, science and social studies.
The site can help you develop your skills in writing, researching, speaking, listening, and studying.
14. CliffsNotes
When most people think of CliffsNotes, they think of literature guides.
But, the CliffsNotes website offers study guides on everything from accounting to psychology to history.
With 40 different subjects covered, the site can help you do a lot, like study for a math test, complete your American government homework and write a research paper on organic chemistry.
This site is a great place to start almost any assignment.
15. Khan Academy
Having a hard time with a particular subject?
Or, do you want to master a certain class?
You can learn anything at Khan Academy.
The subjects are broken down by grade.
There are great sections for college students and adult learners.
The best part of Khan Academy is its personalized dashboard. It allows you to set goals and learn at your own pace.
The site has partnered with institutions like NASA, The Museum of Modern Art, The California Academy of Sciences, and MIT to offer specialized content.
16. SchoolTrainer
SchoolTrainer provides free homework help and one-on-one academic coaching in math, science, English, history, and psychology.
You can submit a question to a tutor or check out the site's free video library.
The site also features a blog with information on resources, studying tips, and homework strategies.
B. Student and Online Communities
These are communities where most of the tutors are fellow students.
17. Quad
Not all campuses are a part of the Quad network.
But, if your campus is, Quad can help you organize all your assignments by automatically importing coursework and other information.
The site also makes it easy to connect with classmates and discuss any course details or homework.
It also helps you make all those pesky assignment due dates by sending you reminders.
The best part of all is that Quad is absolutely free.
It is also available on iOS and Android.
18. Bored of Studies
Bored of Studies is the largest online student community in Australia.
Membership is free and gives you access to a ton of academic resources.
You can browse the site's extensive database of more than 10,000 notes, guides, past papers, summaries and more.
Looking for help from your peers?
You can join students in the community forum.
19. Jiskha Homework Help
Jishka.com helps thousands of students every day.
It is simple and easy to use.
You post homework questions and get free help from certified tutors.
Questions are usually answered within a couple of days.
You can also search the site's database for help in almost any subject and explore a variety of verified articles and links.
20. Brainly
For students. By students. That's the Brainly motto.
The site allows students to work together and solve homework problems.
It has 100 million unique monthly users and more than 1,000 moderators.
8,000 questions are answered per hour on the site, which is available in more than 35 countries.
C. Free Math Help
These sites are dedicated to subjects revolving around math.
So if you're looking for free help with math homework, you can find great math tutors on these sites.
21. Aplus Math
Varsity Tutors offers Aplus Math, a site that offers help with:
Addition
Subtraction
Multiplication
Division and
Geometry.
The Homework Helper gives you step-by-step solutions to your addition and operations problems.
The site contains worksheets, flashcards and math games, too.
Need homework help on the go?
Aplus Math offers dozens of free learning tool apps and test prep books for both Android and Apple devices.
Where to get it:
22. Homework Hotline
Any student who lives in Indiana has access to the Homework Hotline.
Students can call 1-877-275-7673 to receive free math and science tutoring.
The site features more than 500 student resources to browse, watch, read, and download.
The Homework Hotline has 140 tutors on staff and the average call lasts 12 minutes.
23. Curious Math
We all know math can be tricky.
But, did you know there are actually math tricks?
CuriousMath.com features tried and true old math tricks while stressing the most useful rules.
Categories include:
Box Tricks
Calculator Tricks
Calendar Math
Computing the Sum of All Numbers from F to L
Curious Numbers
Division Tricks
Multiplication Tricks
Possible Trick for Calculating Percentages
Square Roots by Hand
Squaring Tricks and
Tests for Even Divisibility.
24. Math.com
If you struggle with pre-algebra, algebra, geometry, or precalculus, you'll find help at Math.com.
The colorful site includes formulas, tables, references and study tips.
You can also take the practice quizzes to prepare for real tests.
Looking for a calculator?
Math.com has all of the following calculators:
Basic
Scientific
Square Root
Circle
Prime Number
Quadratic Equation
Percent
Probability Calculator and
Savings Calculator.
25. Algebra.com
Algebra.com has free homework help, math tutors, problem solvers and lessons.
It is broken down into four sections: Pre-Algebra, Algebra I, Algebra II, and Geometry
Each section features calculators, lessons, and a place to submit questions for free math help from tutors.
Most sections have archives with hundreds of problems already solved by the tutors.
The system boasts 2,531 active tutors and has helped students solve 649,525 problems.
26. West Texas A&M University Virtual Math Lab
The Virtual Math Lab is a hub for:
College Algebra
Intermediate Algebra
Beginning Algebra and
Math for the Sciences.
Students preparing for the math part of the general GRE, THEA or ACCUPLACER test will love this site.
You do not have to be a student at A&M to use any of the online tutorials and resources.
The site includes helpful links, practice tests, test tips and strategies for approaching math.
27. Dan's Math
Daniel Bach, aka Dan, is a math teacher and textbook author.
His love of math is contagious.
His site contains resources on:
Basic Skills Topics
Geometry
Algebra
Functions & Graphs
Trigonometry
Precalculus
Calculus
Beyond Calculus
Statistics and
Math Theory.
You can even email Dan a math question to dbach@dvc.edu, and he will get back to you in his spare time.
28. FreeMathHelp.com
Everything at FreeMathHelp.com is completely free, but it is supported by advertising.
Topics are broken down by subjects and games.
The best feature of this site is the Mathway calculator embedded at the bottom of almost every page.
The calculator has a drop-down menu that allows for you to customize it for your needs.
You can choose:
Basic Math
Pre-Algebra
Algebra
Trigonometry
Precalculus
Calculus
Statistics
Finite Math
Linear Algebra
Chemistry and
Graphing
This interactive calculator is a must-have for any math student.
You can also access the Mathway calculator by visiting www.mathway.com or by downloading the app.
Where to get it:
29. The Most Common Errors in Undergraduate Mathematics
Are you looking for what not to do in math?
If so, The Most Common Errors in Undergraduate Mathematics in the site for you.
It addresses errors made by teachers and students alike.
From common errors in communications to notations, problems are spelled out and discussed at length.
You can also find links to notes and other resources here.
30. Math Pages by Stan Brown
Textbook author Stan Brown has compiled entire textbooks as well as articles at BrownMath.com.
He covers a gamut of:
Statistics
Algebra
Analytic geometry
Business and science
Trigonometry
Calculus
How-tos and
Free programs.
Stan writes about both teaching and learning math.
31. Online Math Learning
At www.onlinemathlearning.com, you will find online math help, math fun, and other useful resources.
You can take practice tests, explore math by topic or grade, complete math worksheets, play games, prepare for exams and access tutoring services.
You can also study for specific tests on the site, like the:
SAT
ACT
GMAT
GRE
Regents
California Standards
GCSE Maths or
A-level Maths.
Resources include questions and answers.
32. Coolmath
Coolmath.com offers math for ages 13-100.
The explanations are easy to grasp.
The site covers topics like algebra, pre-calculus and more.
It features a math dictionary, math survival guide, geometry and trig references, puzzles, quizzes and practice games.
33. The Math Page
Math instructor Lawrence Spector built The Math Page, which features complete courses in arithmetic and algebra.
The site also features information on the Pythagorean theorem, trigonometry, precalculus, calculus and the evolution of real numbers.
Private tutoring is available.
34. Martindale's Online Center
Did you need a specific calculator to solve your math problem?
With more than 21,000 calculators and spreadsheets, Martindale's Online Center probably has it.
The site also contains more than 4,000 course, lectures, manuals and handbooks, and thousands of videos, simulations, and animations.
35. OnlineConversion.com
Looking for a quick way to execute conversions?
OnlineConversion.com can help you convert just about anything to anything else.
It includes thousands of units and millions of conversions.
The popular conversion pages feature:
Length
Temperature
Speed
Volume
Weight
Cooking
Area
Fuel Economy and
Currency.
36. S.O.S. Mathematics
S.O.S. Mathematics was built for high school, college students and adult learners.
It contains 2,500 math pages filled with short and easy-to-understand answers.
You can explore the following subject areas:
Algebra
Trigonometry
Calculus
Differential Equations
Complex Variables
Matrix Algebra and
Mathematical Tables.
37. MathTV
Some people are visual learners.
Thankfully, those students can view videos of teachers solving math problems on whiteboards at MathTV.com.
The videos cover:
Basic mathematics
Algebra
Geometry
Trigonometry and
Calculus
38. StudyGeek
StudyGeek wants you to be confident when it comes to your mathematical abilities.
It offers free online help in almost every math subject.
You can work with a tutor in an online tutoring session or explore informative learning resources.
The site also features free math solvers for:
Quadratic Formulas
Distributive Properties
Absolute Values
Exponents
Greatest Common Factors
Linear Equations
Matrix Multiplications
Domains and
Ranges.
D. Writing, Literature, and Research Resources
Need help with your research papers?
Try these sites for free help.
39. The Purdue Online Writing Lab
The Purdue Online Writing Lab offers 200 free resources for writing, research, grammar, and editing.
The most popular resources on the site are the:
Purdue OWL videocasts
APA formatting and style guide
MLA 2016 formatting and style guide
Section on avoiding plagiarism
Tutorial on writing the basic business letter and
Information on developing a resume.
Non-Purdue instructors and students are allowed to use the site.
40. Guide to Grammar and Writing
The Guide to Grammar and Writing contains several drop-down menus for you to explore.
The site can help you with word and sentence structure, essay writing, research, grammar, and more.
Need help with sentence variety? You'll find it here.
Having trouble developing your thesis? Check out this site.
The comprehensive site has an index and easy to use search bar.
41. GrammarBook
GrammarBook.com is based on The Blue Book of Grammar and Punctuation.
It is helpful when you want to study English rules, take online quizzes and review real-world examples.
The site also covers grammar and punctuation rules.
You can stay informed by signing up for the site's free newsletter.
42. LibrarySpot
A free virtual library resource center for educators, LibrarySpot is a great place for research.
The resources featured on LibrarySpot.com are reviewed by its editorial team.
The site is designed to make finding the best information easy and enjoyable.
It breaks information down into three sections:
Libraries
Reading Room
Reference Desk.
43. Sparknotes
Confused?
Turn to SparkNotes.
The site can help you understand books, write papers, and study for tests.
The information is clear and concise, with only the most important info.
SparkNotes Guides contain summaries and analyses for more than 500 English literature topics, including Shakespeare.
It also has guides for history, math, biology, and other subjects.
Its online flashcards will help you learn biology, history, literature, and SAT and ACT vocabulary.
44. Library of Congress Digital Collections
The Library of Congress Digital Collections can provide a variety of sources for many assignments, especially essays, presentations, and papers.
The collection includes manuscripts, prints, photographs, music, rare books, interviews, maps and more.
The site covers 66 subjects like art, African American history, religion, war posters, and writings.
You can definitely get your research done here.
45. OneLook
Forget all the other dictionaries out there.
OneLook is an index of 18,955,870 words found in 1061 dictionaries.
Not only can you find definitions, but you can also find words and information related to your search.
46. Thesaurus.com
Does your teacher keep asking you to expand your vocabulary?
Thesaurus.com can help you do just that.
Search your simple words to find synonyms with punch and jazz up your papers.
47. The World Fact Book
The World Factbook is compiled and maintained by the CIA.
It provides information on the history, people, government, economy, geography, communications, transportation, military, and issues for 267 world entities.
It is a great reference for physical, political and time zone maps of the major world regions.
You can also find up-to-date information on all flags of the world here.
48. Common Errors
Learn from the mistakes of others at this Washington State University site, Common Errors in English Usage.
The site does not deal with grammar in general. Instead, it lists common mistakes from A to Z.
The site also features an active podcast.
49. EasyBib
You can save hours of work by generating citations automatically with EasyBib.
The site helps you cite websites, books, videos, journals, databases and much more.
It covers all the major style guides including:
MLA
APA
Chicago
Bluebook Law Review and
So many more.
50. OttoBib
If you have the ISBN numbers, you can enter each of your sources by their numbers and OttoBib will generate an entire bibliography for you.
It covers fewer style guides than the EasyBib, but you can choose from:
MLA
APA
Chicago/Turabian
BibTeX and
Wikipedia.
51. Research Guide
Need help writing that research paper?
Research Guide is here to save the day.
The site contains some of the best resources for literary research and the latest style guides for footnoting, referencing and bibliographies.
You can search in-depth resources for key literary works or visit the Ask and Answer section to submit your research questions.
52. The History Place
The History Place wants to help you write a better history paper.
It has advice for starting and polishing your paper as well as history resources on topics like:
The American Revolution
Abraham Lincoln
U.S. Civil War
Child Labor in America 1908-1912
World War II
John F. Kennedy
Vietnam War
Apollo 11 and
First World War.
53. Ask a Librarian
If you run into trouble while researching, librarians can be a great resource.
The Library of Congress gives you the opportunity to use an online form and Ask a Librarian for help.
Forms are included for many topics like business, law, local history, poetry, and literature.
The librarians can also help you find sources and format your papers correctly.
54. Great Books Online
Bartleby is the preeminent internet publisher of literature and reference books.
The publisher grants students, researchers and everyone else unlimited access to books and information in its Great Books portal.
You can browse featured collections and authors or search for a specific book by title, author or subject.
E. Science Specific Sites
Here are free online resources for help with science related subjects:
55. The Physics Classroom
The Physics Classroom was developed for beginning physics students and their teachers.
The site features tutorials, interactive modules, concept builders and multimedia studios.
The tutorials can help you understand:
Kinematics
Newton's Laws
Vectors
Momentum and its conservation
Work, Energy, and Power
Circular and Satellite Motion
Thermal Physics
Static and Current Electricity
Sound and Light Waves
Reflection and
Refraction.
56. HyperPhysics
HyperPhysics is hosted by Georgia State University.
It includes diagrams and charts to help you better understand physics.
The site also features video demos, focused applications, example problems, and tables.
57. Schoolphysics
Do you want to see physics in motion?
Schoolphysics contains a ton of animation videos on:
Astronomy
Atomic physics
Electricity
Electronics
Heat energy
Light and optics
Mechanics
Nuclear physics
Properties of matter
Quantum physics
Relativity
Sound and
Waves.
The site also features diagrams, images, and other physics resources.
58. Ptable
Are you learning about the Periodic Table?
If so, Ptable can help.
You can view the table by properties, orbitals, isotopes, and compounds.
This interactive tool will get you better acquainted with the weight, names, and electrons of these elements.
59. SciNetwork
Want to ask a scientist a question?
Just hop on the SciNetwork.
You can explore an archive of more than 36,000 questions or pose a question of your own.
F. Homework Apps
You didn't think we were gonna forget about apps, did you?
After all, if you can think it, there is probably an app for it!
60. Photomath
Take pictures of typed equations, and Photomath outputs step-by-step solutions.
It is that simple.
You scan the math problem for instant results!
You can also edit math problems with the smart calculator.
Where to get it:
61. Slader
Slader offers step-by-step solutions to questions in popular textbooks ranging from middle school to college.
The app can help with:
Math
Science
Spanish
History
Economics and
More.
The app is ad-supported, but you can get rid of those for $1.99 a month.
Slader is only available in the App Store for iOS devices.
62. Socratic
Take a photo of your homework question and get instant explanations, graphs, videos, and help with the Socratic app.
It is totally free, and there are no in-app purchases.
The app also allows you to see who's online, chat with classmates, and send questions to friends.
Information covers a range of subjects, including:
Algebra
Calculus
Statistics
Graphing
Science
Biology
Chemistry
United States History
English
Economics
AP and IB courses and
More.
Where to get it:
63. Got It Study
The Got It Study app connects you with experts in seconds.
It is a photo math equation solver.
You snap a photo of your Algebra, Geometry, Trig, Calculus, Physics, Chemistry, ACT or SAT problem to reveal detailed explanations.
You can also contact a qualified tutor for an interactive, 10-minute session.
If you need more than ten minutes, you can ask for an extra 10-minutes of tutoring time for free.
Where to get it:
64. yHomework
Having trouble with algebra?
The yHomework app gives you full step-by-step solutions and explanations to a variety of Algebra related homework.
Topics covered include:
Simplification
Single unknown equations
2 equation sets
Quadratic equations
Radicals
Inequalities and function graphs,
GCD/LCM
Prime factorization
Trig and
More.
Where to get it:
65. Homework Help For Students
The Homework Help For Students app also lets you snap a photo of your question to find instructions, video tutorials, and answers.
The app allows you to save time by having the answers and youtube video tutorials sent right to your phone.
The subjects the app can help with include:
English
Grammar
Writing
English as a Second Language and
Science.
The app offers tutoring on:
Essay writing and editing
Math
Algebra
Geometry
Trigonometry
Calculus
Science
Biology
Chemistry
Physics
Psychology
Music
Guitar and
Piano.
Where to get it:
66. Yup Homework Help
The Yup Homework Help app provides homework help for math, chemistry, and physics anytime and anywhere.
You can connect with expert tutors 24/7 for academic support.
The service does have a subscription fee but you can sign up for a free trial to start receiving tutoring.
You can cancel anytime, but if you don't cancel before the trial ends, you will be charged until you unsubscribe.
Where to get it:
67. Ask ManyTutors
ManyTutors will answer your math and science questions for free.
Snap photo of the homework question.
Upload and wait
Solution arrives.
There are no limits to the number of questions you can ask or view.
This app works great for revising answers and finishing your homework.
Where to get it:
G. Reading Resources
Love reading but want to get better at it?
These are the sites you can turn to when you need help with reading but don't want (or have the money) to pay for tutors.
By the way, for the frugal book lover in you, don't forget to read our list of sites where you can download free books.
68. Reading Rockets
Reading Rockets aims to provide information for young readers and parents.
The multimedia literacy initiative includes PBS programs and reading topics from A to Z.
You can also find research and reports, free reading guides and other reading resources here.
69. The Reading Genie
Dr. Bruce Murray is the Reading Genie – an associate professor of Reading Education.
He bases his reading instructions on science and created this database to ease those learning to read into reading and spelling.
It includes lessons, books, materials, and resources.
H. Free Help with Studying
Need help with learning how to learn?
Try these sites for awesome free help.
70. Study Guides and Strategies
Maybe you need help learning how to learn.
If so, Study Guides and Strategies is the site for you.
It explores different learning styles and possibilities while helping you harness the power of your brain.
The site also features effective study habits, guidelines for collaborative learning and approaches to conflict resolution.
71. HowtoStudy.org
HowtoStudy.org contains the latest study strategies and writing techniques.
You can get hints and tips for passing exams and conquering papers.
The site can help you prepare and set goals, get information, work with the information you have gathered and take tests without anxiety.
72. How-to-Study.com
If you know you need to improve your study skills, head on over to How-to-Study.com.
You'll find more than 100 practical articles on studying skills and habits.
The site also features lots of free online assessments.
You can measure your
Self-esteem
Social skills
Math study skills
Learning style
Test anxiety
Motivation and
Procrastination habits.
73. TestTakingTips.com
All students take tests.
So, learning proper note taking, studying and test-taking strategies are important.
That's where TestTakingTips.com comes in.
The site provides best practices and tips for taking notes, completing tests, and reducing test anxiety.
74. Study Skills Online
Study Skills Online can help you with time management and study strategies.
The site also has advice for
work/life balance,
attending lectures,
taking notes,
solving problems,
organizing information and
collaborating with others.
75. The Study Guide Zone
The Study Guide Zone features study tips and practice questions.
You can read about cramming for tests, taking essay exams, tackling word problems and communicating with your teacher.
The site also offers advice for concentration, memorization, comprehension and study habits.
Final thoughts
What websites do you use for free homework help?
Let us know in the comments below.