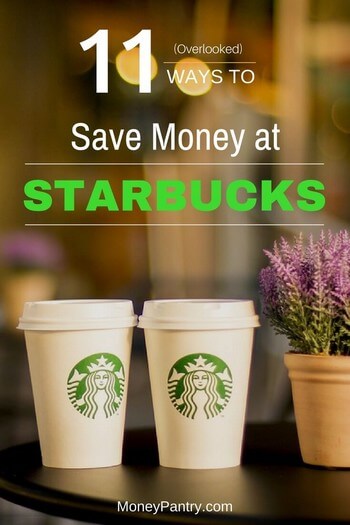 How much money do you spend at Starbucks?
Would you like to save some of that money?
According to a Workonomix survey by Accounting Principals, the average American worker spends a yearly average of $1,092 on coffee!
And I'm willing to bet a big portion of that is spent at the many hundreds of Starbucks stores since, in 2014 alone, people around the world spent $10 billion on beverages at Starbucks.
And if you're one of those people, we're going to help you save some of that hard-earned cash of yours while still enjoying your favorite brews.
Need Easy Extra $300+/Month for Free?
Panel Payday
: Earn up to $75 per survey. They also pay up to $50/hr for mystery shopping.
Join Now!
InboxDollars
: Paid over $57 Million to members to watch videos, take surveys, shop and more.
Get $5 instantly!
KashKick
: Get paid directly into your PayPal for watching videos, surfing, shopping and more.
Join KashKick Now!
Crowdtap
: Top members can get $50 or more per survey! Some surveys are just 1 question!
Join Crowdtap Now!
Toluna
: Earn PayPal, Amazon & Tango e-vouchers for taking surveys (& product testing!).
Join & get 500 bonus!
Swagbucks
: Get paid to watch videos, shop online, take surveys and more.
Join now & get $5 instantly!
Today, we are going to talk about a few Starbucks hacks and strategies that can save you a decent amount of money at your favorite coffee shop.
The best part is that these tips favor the frequent Starbucks customer, so the more you spend, the more you can get back.
How to Save Money at Starbucks
Here are easy ways you can save more money at your favorite coffee shop.
1. Join Starbucks Rewards & enjoy free food & drinks
Like most other companies, Starbucks has also figured out the best way to keep customers loyal and coming back is to offer 'em some sort of reward for shopping.
So a few years back, the company introduced Starbucks Rewards.
It's essentially like any other loyalty program – you join for free and every time you purchase something you earn several points/cashback.
Here, instead of earning points, you earn Stars (same thing as points, really!). Once you have enough Stars, you can redeem your earnings for gift cards or store credit.
How to join Starbucks Rewards
Starbucks Rewards is free to join.
To sign up, all you need is a Starbucks gift card (which you can get for up to 90% off on one of these discount gift cards sites!) and register it by creating an account on the website.
You can also register your gift card by downloading the free Starbucks Mobile app for your Android, iPhone or Windows device.
Starbucks Rewards perks
As soon as you join the program you automatically are at the Green Level which entitles you to all the benefits of Green level.
But there is a way to get even more perks…
Get to the Gold Level!
The easiest way to get there is to collect 300 Stars within 12 months of joining the program.
Program benefits include:
The general rewards that both Green and Gold level members enjoy include things like:
Free drinks and food.
Discounts.
Free refills.
Personalized gold card.
But there are also specific perks that come with your level.
Green Level benefits
Free birthday reward.
An exclusive one-time coupon of 15% off by mail which you can use online at Store.Starbucks.com.
Free refills on hot or iced brewed coffee, cold brew, or hot or iced tea.
Exclusive deals and offers by email.
If your card is lost or stolen, you won't lose your previews earnings.
Gold Level benefits
All Green Level benefits.
Every time you earn 125 Stars you get a free reward.
One day, each month, you earn Double-Stars on all in-store purchases.
A personalized Gold Card.
According to the company, you earn 2 bonus Stars per $1 spent on any purchase you make at a participating Starbucks, Teavana or on their official websites at Store.Starbucks.com or Teavana.com.
2. Redeem your birthday gift
Hopefully, we have convinced you to join the free Starbucks rewards.
If so, you'll be glad to know that you also earn a free birthday treat on your big day.
Keep an eye on your inbox a few days before your birthday. They'll send you an email with a reminder and instruction for redeeming your birthday reward.
"What can I get?", you ask?
Anything you find at the store!
With an exception of a few items – sets of bars, loaves, and Starbucks Evening menu items.
You can literally get any size drink or food for free on your birthday.
You are however limited to one item (bummer, I know!).
3. Save 10¢ on any drink with a cup!
Starbucks is famous for being (or at least trying to be!) an environmentally friendly company. So if you'd expect any company to literally pay you back for being "Green", Starbucks would the one.
So it's not a surprise that they actually give you a 10¢ discount just for bringing in your own personal cup or any of their reusable cups.
No, the size doesn't matter!
According to the company, you get that 10¢ discount "regardless of the size of the beverage."
You will be charged for the closest cup size, but not larger than the size of the personal cup.
4. Order it "Short"
Starbucks has some weird cup sizes.
The official sizes are:
Tall (12 oz)
Grande (16 oz)
Venti® Hot (20 oz)
Venti® Cold (24 oz)
Trenta®* Cold (31 oz)
Of course, the bigger cups cost more.
But there is another sort of unofficial size that may not even be on the menu…
Short!
In most cases, you can get the same amount of drink but for less money, if you opt for "short."
For example, if you order a short cappuccino, you'll get the same amount of caffeine as a tall, but you pay less.
"Short" may not even appear as an option on the menu, but your barista will know what it is.
5. Follow to save big
I am a big fan of following your favorite companies on social media sites.
I mention this as a strategy to get exclusive deals and discount on many of our posts like the one on how to save money at Walmart or the one about saving money when eating out.
Companies, big and small, know the power of social media and word of mouth as a form of advertising, so they are putting a lot of time and effort into promoting their social media accounts.
And one of the biggest strategies for getting more followers and keeping them engaged is offering exclusive deals and discounts to them.
Starbucks is no exception. They often have unbelievably great promotional offers and coupon codes just for their social media fans and followers.
If you want to save money at Starbucks, following the company on social media should be on your list of strategies.
Here are Starbucks' top social media pages:
6. Save the ice & your wallet!
This applies more to those who need more than one cup of their favorite beverage.
If you're not satisfied with just one drink, order your drink with no or less ice. You'll get more of your favorite beverage without paying more.
And that may be all you need to satisfy your thirst, so you don't even have to pay for another cup.
7. Save on drinks with free refills
Another awesome perk of joining the Rewards program and having a Starbucks Card is that you get free refills of coffee and tea.
What makes this even better is that your initial drink can be anything. It doesn't have to be a coffee or tea in order for you to get a refill of those drinks.
It can be any beverage!
8. Starbucks milk can save you $60 a month!
When it comes to saving money at coffee shops like Starbucks (or anywhere else for that matter), a common sense approach is often what's needed.
Before we get to this Starbucks money saving "hack", let's look at a few stats:
A cup of ice latte normally costs around $4 at my local Starbucks.
In contrast, a Venti cup of triple espresso costs around $2.
Every Starbucks store has a condiments bar.
Every condiments bar has a container of milk.
You (the customer) can get all the free milk you want!
Now, let's put these together and save you some cash!
Instead of paying the price for an iced latte, order a triple espresso over ice in a Venti cup (which is about $2 cheaper!)
Then use the creamer or milk at the condiments bar to make your own iced latte.
There, you just saved yourself about $2.
If that's your daily drink of choice, you just saved yourself around $60 a month!
9. Make friends & save $1
Another money-saving hack that calls for a few stats beforehand.
A Venti-size (24 oz) Frappuccino costs about $4.
On the other hand, a Tall (12-ounce) Frappuccino costs $3.
So how does knowing this saves you money?
Simple, next time, get instead of ordering a Tall 12-ounce Frappuccino, get a Venti 24 oz Frappuccino and use two Tall cups to split it with a friend.
You just saved another $1!
If there is no friend with you, ask another customer if they like to split it with you.
10. Bring in trash & get a free cup of Joe
Update: No longer doing this!
OK, not ANY trash.
We're talking about an empty Starbucks coffee bag.
Yes, every empty Starbucks coffee bag you bring to the stores, entitles you to a free cup of coffee!
This is an easy way to save a few bucks.
11. Save by ordering in bulk
If you are planning to stay at the store for a while or perhaps you are there catching up with a few friends, there is an easy way to save a few bucks.
Instead of ordering individuals cups of coffee, order a coffee press pot of coffee.
It serves a few cups, and it ends up being much cheaper than paying for the same number of cups individually.
Bonus tip: Get a discounted Starbucks gift card
This is so simple and obvious that I don't understand why more people don't do it.
You can get Starbucks gift cards at discount gift card sites such as Gift Card Granny and Card Pool for up to 11% (sometimes even more) off.
Wouldn't you like to save $11 for every $100 you spend at Starbucks?
Final Thoughts
As you can see, joining the Starbucks Rewards alone will save you a bunch.
Add that to the savings you get from other tips and tricks and you are looking at a savings of hundreds of dollars every year at Starbucks.