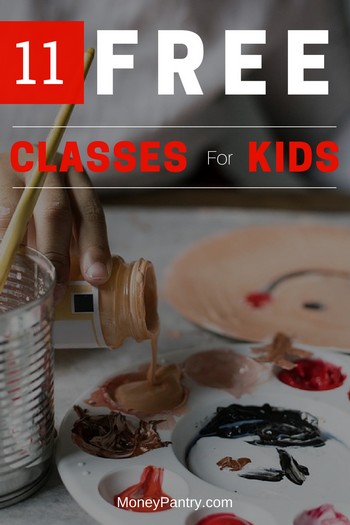 Taking advantage of free classes for kids benefits both you and the kids in at least three ways:
Saves money – that you can spend elsewhere.
Entertains – not just the kids but often you too.
Informs and educates – for immediate use and to advance faster in coming years.
You may as well get all three at once!
You're already going to be spending plenty of dough getting your children from kindergarten through high school.
The Global Partnership for Education project states that if your child started pre-primary education in 2017, the total cost in today's dollars to complete his or her education through upper secondary school will be $5,806.60 (in U.S. dollars).
Why not defend your wallet and expand your kids' minds at the same time?
Fortunately, there are many options—from playful and hobby-like to academic and career-shaping.
Need Easy Extra $300+/Month for Free?
KashKick
: Get paid directly into your PayPal for watching videos, surfing, shopping and more.
Join KashKick Now!
InboxDollars
: Paid over $57 Million to members to watch videos, take surveys, shop and more.
Get $5 instantly!
Branded Surveys
: Get $1 instantly just for joining for free. Plus get paid within 48 hours by PayPal!
Join Branded Surveys
First Opinion
: Get paid up to $10 per survey and $300 per virtual focus groups!
Join Now!
Swagbucks
: Get paid to watch videos, shop online, take surveys and more.
Join now & get $10 instantly!
We have pulled together a cafeteria selection of classes, workshops, and other approaches to choose from.
Want a wide variety?
Need to match different learning styles and attention spans?
Find the best fit for your kids in these 7 categories:
Arts & Crafts
Coding
Cooking
Do It Yourself (D.I.Y.)
Math
Swimming
From Your Imagination
Free Arts & Crafts Workshops for Kids
Here are a few arts and crafts related classes for kids that are totally free.
1. Kids Art Week
Do you own a few basic arts supplies?
If so, Kids Art Week has free, online art classes for your kids.
While you can enroll any time and the class is online, it really is a one-week long class.
Arts subjects vary widely—like, from "Picasso Dogs" to "Leaf Printing."
Here's how it works:
There are 6 video lessons.
You register on line.
Before your week begins, you receive class codes and a "test" video to make sure you can receive and view everything.
A password-protected blog serves as your clubhouse.
You even have the option to share your work on a special Facebook page!
2. Jam.com
Are you open to 2-week free trials?
If so, Jam.com offers a wide variety of courses for kids of different ages.
For kids 7 to 12 years old
Drawing Bootcamp
Invent Your Own Machines
And others involving Legos® and cooking
But you don't cook the Legos® !
For 10 to 16 year olds
Secrets of Drawing
Mad Science
And others for producing videos, animating drawings, and helping to create and perform songs
How do Jam.com courses work?
This is project-based learning.
Lessons are video based.
You pick your own path and sequence to project completion.
Your child becomes part of a learning community.
Graduates receive certificates documenting course completion.
Jam.com helps parents too, if the kids get too, uh, jammed up.
Free Coding classes for Kids
Your kids exploit computers and apps more expertly than you do, right?
But can they create web sites and apps?
It's their future, you know.
If it's time to introduce your brilliant and beloved offspring to coding, boy, do you have options!
3. Pluralsight.com
A great place to start is Pluralsight.com.
Hosting more than 1,300 expert authors.
Presenting over 6,000 courses for all ages.
With a growing library for kids.
For starters, try Basic HTML for Kids.
This kid-friendly online course, introduces HTML—something every web programmer will need along the way.
Students learn the most used HTML5 tags and then create a website.
The cheerful human instructor has a cartoon sidekick named Sally helping her speak to kids at their level.
Basic HTML for Kids has a 4 ½ star (out of 5) rating as judged by 483 raters.
To step it up a bit, move on to Teaching Kids Programming with C#.
This particular course is for parents who know programming to help teach their children C# (pronounced "see sharp").
The official age limit is 10 years old and up. But the practical "age limit" is keyboard proficiency.
If your youngster is already good on the keyboard, you're invited to join right in.
4. TeachingKidsProgramming.org
TeachingKidsProgramming.org creates free and open course courseware to help kids learn to program.
They have lots more to offer—for teachers and educators, as well as students.
Teaching Kids Programming with C# has a 4 ½ star (out of 5) rating as judged by 420 raters.
5. Apple Camps
What about the giants in this industry?
They're here too.
Apple, Inc., invites curious 8 to 12 year olds to free Apple Camps .
Grow digital skills in creative ways
90 minutes a day for three days
Choose one of three tracks
Locations are at Apple stores across the country
Find your closest store on the Apple's Store List to see what's available closest to you.
Want to be notified when Apple Camp registration starts?
That's easy.
To receive notice for Summer 2018 camps registration openings, sign up at Apple Camp Notify.
Do you live outside the USA?
Apple is in over 20 countries. But we're not sure how many stores offer Apple Camps.
The Apple's Store List will also help you explore for stores with Apple Camps near you around the world.
For an Apple Camp parent's perspective from Reddit:
TBoneThe Original says, "[My daughter] did the iMovie class last year and couldn't wait to go back."
Also from Reddit, an Apple Camp facilitator (Jektor) offers:
"Last year I facilitated an apple camp for coding. Seeing the kids excited for this was wonderful."
6. YouthSpark Summer Camps
Microsoft stores host YouthSpark Summer Camps for kids 6 years old and older.
Your budding computer wizards have several free, imaginative options.
Here are just a few:
Beginners Fun with Computers and Coding
Learn the basics about how computers work
2-hour workshop
For students ages 6 to 8
Learn through hands-on introductory coding activities
Minecraft Coding
Learn computer science with your favorite game
4-day, 2-hour camp series
For students 8 and up
Learn key fundamentals of computer programming using Microsoft's MakeCode platform.
Code a Talking Robot
Learn basic skills in robotics and coding
2-day, 2-hour camp series
Explore YouthSpark Summer Camps for more camp options and their locations.
Free Cooking classes for kids
Does a potential chef live in your household?
Want to lead her or him to a class that leads to yummy results?
Here are a few free cooking classes and activities your kids can enjoy:
7. Craftsy.com
Craftsy.com serves up an online freebie they call Bake for Good: Kids Learn Bake Share.
Bake for Good leads kids from learning about ingredients and measuring to tasty results you can eat and enjoy.
The class includes:
Four streaming HD video lessons you can view anytime and anywhere
Class materials and recipes
Closed captioning, if you need it (web only)
Also, awareness of math, science, and reading are folded into the presentation.
To sign up, you will need to "Add to Cart" like you are about to buy it.
Not to worry. The price will show as "Free" as you progress to checking out.
Although Bake for Good is free, it is affiliated with a flour company, so be prepared to see their product label promoted.
8. Raddish
Is Facebook your child's preferred learning medium? And live interaction?
Then join Raddish for free, live cooking classes.
Your kiddos will learn recipes as well as tips and activities.
Each class in this 4-week cooking camp series is team taught by a Guest Kid Chef joining an adult Raddish Chef.
Location: Your kitchen—where else?!
Come prepared with ingredients and tools!!
Hop over to Raddish to see:
Class topics
Kitchen tools needed
Ingredients for recipes
Days, times, and dates
Even videos
8. Junior Chef-Classes
Prefer an in-person setting?
Are you close enough to a Williams Sonoma store to sign up for their Junior Chef-Classes ?
These events show kids fun and easy approaches to cooking.
Recipes—all delicious, of course—serve up main courses, desserts, and even snacks.
Plenty of tasting is included!
These classes are available at most WS stores.
Class times and sizes vary by store, so contact your local store for details and to register.
Browse the WS Store Locator to see who's closest.
Free DIY classes for kids
Maybe keyboards and kitchens aren't your kids' favorite places.
Been searching DIY projects much?
If so, you've probably already seen workshops offered by Home Depot, Lowe's (now cancelled), and Michaels Camp Creativity (not free now, but still cheap).
But have you checked "Down Under"?
9. Bunnings Warehouse
Meet Bunnings Warehouse, the leading retailer of home improvement and outdoor living products in Australia and New Zealand.
They are much like Home Depot and Lowe's, to those living in the U.S.A.
Bunnings has more than 50 videos of projects for kids in 7 categories:
Toys
Games
Easter Craft Ideas
Christmas
Mother's Day Craft Ideas
Father's Day Craft Ideas
Craft Activities
And what a range!
They show you how to make:
Paintbrush puppets
Drink coasters
Mini-bowling games
Nuts and bolts key chains for Dad
Decorated frames for Mum (aka, Mom!)
And lots, lots more.
See Kids D.I.Y. Advice for all they have to offer.
Things to keep in mind for Bunnings:
Some of the projects are fine for small children. Some are not. For a number of projects, only older children—in some cases with adult supervision—will be able to complete the instructions accurately and safely.
These videos not only provide free instruction, they make it clear that all the necessary products, supplies, and even tools are sold at Bunnings.
Don't already have the stuff you need?
You should be able to buy all that's necessary in building and crafts stores near you, without rowing to Australia.
Helpful Bunnings' staff people demonstrate each project with their cheerful Australian accents.
Children non-native to those regions will also get brief lessons in their version of English's several accents.
Bunnings also offers In-store Kids Activities D.I.Y. workshops for those who can reach them conveniently.
Enjoy, Mate!
Free Math classes for kids
Kids lagging when it comes to math?
Don't have the budget to hire a personal teacher?
Fear not, you have other options!
10. Khan Academy
Have you ever heard of Khan Academy?
If not, you and your offspring are now introduced to a brilliant and free educational resource.
You can both use KA the rest of your lives.
Their motto: For free. For everyone. Forever.
KA lessons are brief video clips presented by subject matter experts in easy to understand terms.
For kids from Kindergarten through 8th Grade, Khan Academy presents Math by Grade.
The video lessons are short!
So short, over 2,100 lessons are needed to guide the learner all the way from Kindergarten to the end of 8th grade.
For the youngest learners, some clips are less than 1 minute long and involve pictures / icons.
Just pop in at whatever level your child needs and take off !
For High School (9th to 12th Grade), KA offers topics from Mathematics 1 through Precalculus.
How do you enroll?
You don't.
Just find the topic you want to study, click on it, and watch the video.
Class over.
Khan Academy does not keep enrollment, give grades, or even ask for your email address to view its content.
As a nonprofit organization, they do appreciate donations and volunteers. But it's totally up to you if you want support in any way.
If there is an easier way to learn than this, we don't know what it is.
What do others say?
One clear fan is FunfettilHead, who says on Reddit, "Kids today are blessed to have it. We should all be so lucky."
Another user applauds Khan Academy Math, with a qualification.
Matrix2002 reminds us that we all need to judge according to our own needs: "They are good, but … tests in a high school math class can be very specific on what is covered or not covered. Khan academy covers almost everything, but clearly can't differentiate for a particular teacher's test."
Free Swimming classes for kids
How about something for Little Joe or Jo that's not only fun but also could save his or her life one day?
If that was free, would it be worth it?
If you think it would be, check out these free swimming classes for kids…
11. Free Infant / Toddler Clinics
Then dive into Free Infant / Toddler Clinics available through the Swimtastic Swim School.
Swim Baby and Swimtastic Swim Baby clinics are for children from six months to two years of age. Parent and child learn together.
These clinics provide general information about the Swimtastic Swim School and act as a free sample of their parent-child swim lessons.
Do they know their stuff?
Swimtastic Swim School Corporation is trained in infant and toddler swimming by the United States Swim School Association.
Where are they?
Swimtastic facilities range from the East Coast to the West Coast, from the Gulf South to the Great Lakes.
But they are not everywhere. Look at the Swimtastic Locations map to see if one floats near you.
One more note. This one is not a kid's class, but it's free:
Swimtastic also offers a complimentary FREE Family Swim Pass for the whole family to go try them out.
Other free kid friendly classes
So far, we've described very specific, free, in-person, and online classes and workshops for your kids. And sometimes for you, too!
There is so much more.
Most communities have many local resources unique to where you live.
Here are 11 more learning and amusement options for you to examine for free programs for youngsters (and oldsters).
Art societies and art supplies stores
Astronomy clubs
City parks and recreation centers
Community colleges
Historical societies
Large retailers of all kinds
Libraries (Reference librarians can help with everything on this list!)
Museums of all kinds—fine arts, scientific, natural history, etc.
Public school summer programs
Shopping malls
Universities
Keep thinking—use your imagination!
Free classes for kids near me
Didn't find a class you were looking for?
No worries!
There are tons of free in store classes and activities near you.
You just have to a quick search online.
Just get on Google (or use Bing so you can get paid for searching!) and search for terms like:
kid friendly activities near me
free kids classes
free local workshops for kids
…
Beware of free trials
Many organizations offer free trials of courses and programs to bring in new paying customers.
Nothing wrong with that. We all like free stuff.
These trials get you access to anywhere from a a few sessions to weeks worth free classes. If your kids and toddlers are enjoying the activities and you can afford it, pay the fee after the trial and keep 'em enrolled. If not, cancel the trial and look for another one. You won't have to pay a dime.
As a smart consumer, just remember to avoid so-called freebies that obligate you to more than you want to pay for.
Think about it.
"Free" ain't really free if you have to pay to get it!
So, be cautious of strong sales pitches or "arm twisting."
Make sure you really have found free classes for kids before you enter your credit card number or sign on the dotted line.