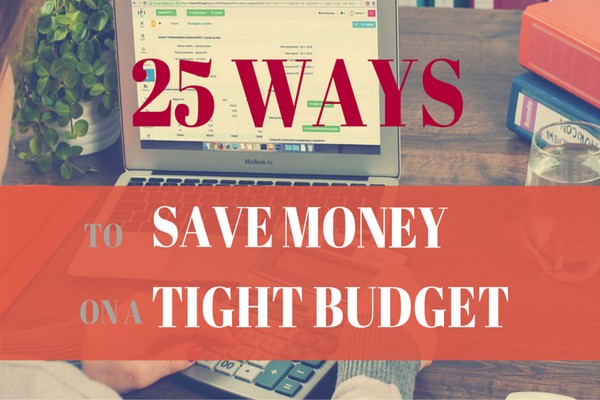 Saving money whether on a tight budget or otherwise is something a lot of us struggle with.
Not surprisingly, the average American was saving just under $400 a year right before the housing bubble crashed in 2008!
According to the Bureau of Economic Analysis, saving rates of Americans has been dropping steadily over the last decade or so.
It is obvious why so many of us are in debt.
And I know, for many people who don't have a job or are making barely enough to cover their bills, there is not much room for saving, but there are things you can do that will help you save a percentage of your money.
How to Save Money on a Really Tight Budget
Here are a few simple tips and tricks that can help you save money even in hard financial times.
Need Easy Extra $300+/Month for Free?
KashKick
: Get paid directly into your PayPal for watching videos, surfing, shopping and more.
Join KashKick Now!
Panel Payday
: Earn up to $75 per survey. They also pay up to $50/hr for mystery shopping.
Join Now!
InboxDollars
: Paid over $57 Million to members to watch videos, take surveys, shop and more.
Get $5 instantly!
Branded Surveys
: Get $1 instantly just for joining for free. Plus get paid within 48 hours by PayPal!
Join Branded Surveys
iPsos iSay:
: If you have to only sign up for one paid survey site, go with Ipsos (high paying survyes)!
Join iPsos Now!
Swagbucks
: Get paid to watch videos, shop online, take surveys and more.
Join now & get $5 instantly!
1. Put a few things in your cart back on the shelf
I am not just preaching this. I have a habit of filling up the shopping cart when I go shopping. But as I roll the cart down the aisle, I evaluate every single item on the basis of real need.
If you are being honest with yourself, many of those items can easily go back to the shelves.
2. Interest rates don't stay the same
Interest rates fluctuate a lot and that has an immediate impact on your credit card, personal loan, car or mortgage.
Obviously, higher interest rates would result in higher monthly payments.
You end up with less money to spend, not to mention to save.
Remember cash is king.
If you can, pay your purchases in cash.
But if you absolutely have to use a credit card to pay, make sure to pay off your balance before the end of the month so you don't get slammed with interest fees.
3. Maintain a good credit score
A good credit record speaks well for you when there is a need for future credit facilities as you are bound to enjoy lower interest rates.
It takes discipline to maintain good credit as that requires clearing all your credit bills before a specific time allowance lapses.
No matter what, don't max out your credit card.
Pay close attention to your credit report to make sure that no errors inadvertently show up that would tarnish your good credit standing.
You can use a free site like CreditKarma to check your credit report for free.
For a more detailed version of this report, you can also use AnnualCreditReport. But you can only get this report for free once a year.
4. Do it yourself
DIY is probably an overused word but it is undoubtedly one good way to save money.
When the budget is especially tight, you better count on your resolve (and skills) to do everything yourself.
Get out there to do the gardening yourself rather than paying few hundred dollars for hired hands.
Of course, there are lots more things you can and must handle than just cutting the grass if you are serious about saving money.
5. Dine in
You don't need me telling you that eating out at restaurants is not economically viable in the long run.
Even indulging in something seemingly menial like coffee and a snack whenever you are out and about can dig a hole in your wallet over time.
Occasional pampering is one thing, but do it regularly enough and you'll put a serious dent in your budget.
6. Buy long lasting things
Identify things that you like to 'stick' with you for a long time and build up your collection (perhaps with different varieties of the same kind).
As you evaluate this way, you will refrain from investing into useless trinkets that do little to your overall sense of well-being over time.
Don't get tempted with the many current "it" things.
Fads will die and trends will change.
So instead of shopping blindly, evaluate your inner sense, then develop a habit, nurture your talent or become a collector.
While there are expensive hobbies there are still many that would not make a dent on your bank account.
7. Trim your commuting expenses
Where situation allows, put a lid on your transportation costs.
You can do this by taking public transport, using bicycles, carpooling or walking around.
A bigger picture would gradually emerge as you opt not to use your vehicle; you save money on gas, maintenance, car payments as well as insurance costs.
8. Balance your checkbook
This could help everyone.
By getting on top of all your transactions and bank account balance, you avoid the occasional minor mistakes that can cost you unnecessary yet hefty overdraft charges.
9. Shop online when possible
In this internet age, online shopping has embedded itself to become part of our life.
But don't be too quick to dismiss the merits of online shopping.
Discounts have never been so sweet as now, regardless of clothing, toys or household items.
Get acquainted with websites like amazon.com and eBay where you can hunt for great bargains through the click of a mouse.
10. Buy in bulk
This is classical economies of scale at work – the more you buy, the cheaper it gets!
So buy in bulk, and save a bundle on that shopping trip.
But be rational on the idea – it does you no good if you inadvertently stock up on items you are not going to use or use sparingly. Buying toilet paper in bulk is a much better idea than stocking up on perishables, that may expire before you've used them.
11. Don't be wasteful
We waste a lot!
It is unfortunate though. We are so spoiled that sometimes we don't even recognize our wasteful actions.
Thankfully, we can change this.
Don't buy 10 tomatoes when you know you go through maybe 1-2 a week.
Don't get two heads of lettuce when you use half of one every 2 weeks.
12. Use cash
When we get used to making payments through credit or debit cards, we tend to overspend as there is no real money coming out of the wallet.
You should have enough cash to last you a day or a week and stick to this amount to last you through that day or week.
13. Install a few coupon apps
The money saving feature of coupons is beyond argument.
But since the opportunity to use coupon may just spring up anytime and anywhere, make sure to install a few coupon apps on your phone so you can always have it with you.
14. Shop at thrift stores
Few people pay attention to the used goods market in order to save up.
Often, the items are made up of fashion or trendy stuff from buyers who regret their earlier investments.
If you are smart, this would be an excellent place for you to pick up items you desired but at a much lower pricing.
They consist of different genres and you can find clothes, furniture, toys, video games and more here.
The other usual suspects for such "like new" bargains are thrift shops, goodwill stores, garage sales, auction sites and Craigslist.com.
15. Turn off the power
For electric conservation, turn off your internet or unplug cable when they are not in use.
Just the same, getting your faucets shut tight would save you on your utility bills.
16. Pay your bills on time
Don't add further fees to your existing loan or credit card.
By paying on time you can avoid a bunch of crazy fees like interest, late payments and overdraft fees.
You need to keep a tight lid on your finances and payment obligations to stay clear of such fees.
17. Keep all your receipts
When you consolidate and aggregate your receipts, you will have a better idea of what you spend on and how much you spend.
These receipts would be the hard evidence of your spending ways if you still need convincing that you have a bad spending habit.
Plus, you can earn extra money by scanning your receipts.
18. Be your brother's keeper
Talk a friend into swapping monthly receipts.
This innovative approach may just provide enough motivation for both of you to cut down expenses and make savings.
19. Don't use your credit card unnecessarily
Leave some spare cash with you at all times and try to keep with it.
As you reach out for your credit card, there is always a chance for interest, late payment, etc.
20. Keep an eye on your gas purchases
With the gas prices where they are right now, it is a no-brainer to monitor your gas expenses.
Consolidate your gas receipts over time and learn about your actual usage.
Then use these tips to save money on gas.
21. Learn to Live Within Your Means
If you actually spend more than you make, there is no chance to save money. Forget about perception and expectation, stick to the bare minimum while waiting for your situation to turn around.
22. Save up your pocket change
Don't ignore the loose change.
If you need a piggy bank to hold them all, then go and get one.
They can accumulate and you if keep up with it for an extended period, you will be surprised how much you can save in that little piggy bank.
23. Save up for big purchases
Suffice it to say that if you invest in big ticket item through credit facilities, the impact will be painful as your payment program kicks in.
Instead, try to save up to buy your car, boat, and house or to pay your college tution.
Not only is this option cheaper, you will also free from the burden to service the loan for a specified number of years.
Granted, it will take some time to save that amount of money, but it would turn out better for the long term.
You can and will save up to tens of thousands of dollars with prudence and perseverance.
24. Don't buy books/DVD's
Use the library!
Once you become a member, books and DVDs are all available to you free.
If your library doesn't have what you're looking for, you can find used ones for cheaper at yard sales, or online on sites like eBay and Amazon.
You can also use these sites to download free books (thousands of them!)
For used books, video games, movies and music check out half.com.
25. Buy used
Save enough money to buy a second-hand vehicle with a fairly good condition, rather than spending loads of money on a new car.
A reasonably good conditioned vehicle that has clocked thirty to forty-five thousand miles still packs enough reserve in it to address all your transportation needs, and, more importantly, it is affordable!
How Much Money Should I Save?
According to a recent survey by BankRate, 75% of Americans don't have enough savings to cover their bills for 6 months.
If you are one of those, you need to get your act together.
But as far as the question goes, only you can answer that. Just how much money you should have in your savings depends on many different factors, like your income, debt, how you are sticking to a budget, etc.
The best advice I can give you is to set up a budget, learn how to live within a budget, and, more importantly, start saving right away, today! It's all about developing the habit.
And remember, these are not the only ways of saving money on a really tight budget.
I can guarantee you that if you keep track of your spending for a month and go over it, you can find many more ways to keep more of your hard-earned money.