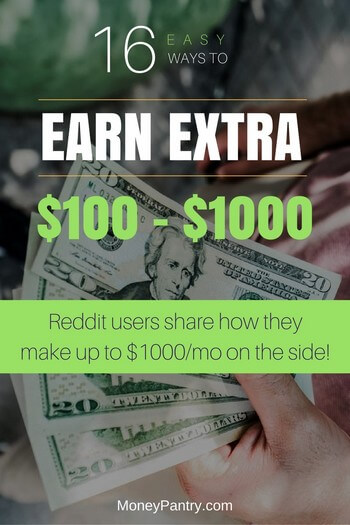 "What are some good ways to make $500+ per month while keeping your full-time job?"
I see this question all the time on popular online forums like Reddit.
We here at MoneyPantry share a lot of ideas for making extra money.
But I thought it would be a good idea to find out how other people earn an extra $100-$1000 a month on the side and while working a full time job.
There were a lot of different ways people earn that extra few hundred dollars a month, but I gathered some of the best ones that almost anyone can duplicate.
Let's get started…
Need Easy Extra $300+/Month for Free?
KashKick
: Get paid directly into your PayPal for watching videos, surfing, shopping and more.
Join KashKick Now!
InboxDollars
: Paid over $57 Million to members to watch videos, take surveys, shop and more.
Get $5 instantly!
Branded Surveys
: Get $1 instantly just for joining for free. Plus get paid within 48 hours by PayPal!
Join Branded Surveys
First Opinion
: Get paid up to $10 per survey and $300 per virtual focus groups!
Join Now!
Swagbucks
: Get paid to watch videos, shop online, take surveys and more.
Join now & get $10 instantly!
1. Register Wiki domains for new games: Earn $50 to $1000
Buying and selling domains is a profitable hobby.
The best thing is that anybody can do it and it only costs a few dollars to register a domain name through registrars like GoDaddy.
One Reddit user has found an even better way of turning a profit with domain flipping.
If you are a gamer, you probably know that there is a Wiki for almost every game out there.
One Reddit user has made registering domains for game Wikis his side hustle:
"Whenever a video game is announced that I have an interest in, I will register a domain to make a wiki for the site. I will actually make the site, but last year I was able to sell one of my sites for $1k."
Now, you can either register the domain before anyone else does it and sell it as is, or you can actually develop the site and make money through ads and affiliate sales of other similar games.
The good news is that besides creating the major pages of the site, practically everything else is created by users themselves.
That's how Wikis usually work, just like Wikipedia where users contribute and add content, game Wikis also have users creating content.
"The trick is the right place, right time. There's a lot of luck involved, but it's a fun hobby."
And as far as how much you can sell the domains for, it really depends on the game and its popularity. There is really no specific number. Ultimately, a domain name is worth whatever a buyer is willing to pay for.
That said, you can expect anywhere from $50 to $1000 (or even more) depending on the game you registered the Wiki domain for.
Best sites to register your domains for cheap:
2. Survey sites: Earn $100 to $500
"I consistently make over $400 a month with a few survey sites. My biggest earners are Swagbucks, OpinionOutPost, Pinecone, and SurveySavvy. To increase your earning you wanna join a whole bunch of surveys. That way, you don't have to wait for a survey to be available from just a few sites. I am a member of over 25 survey sites and that's how I manage to make that much every month. I always have available surveys."
Taking surveys for money is one of the easiest and most fun ways to earn extra money. It's how I started my online money making journey.
I wrote a lot about surveys, including a list of best paid survey apps, survey sites that pay cash, paid survey tips and tricks to help you earn more money, and even a post on how to get $50 per survey. Be sure to check them out.
Also, get a separate email address just for survey sites so you can have everything in one place.
If you don't have a PayPal account, get one! It's free and it's how most surveys pay. Some pay with gift cards like Amazon, but almost all of them offer PayPal payments as well.
Best sites to use:
3. Assemble IKEA furniture: Earn $100 to $300 per month
If you are one of the few people who doesn't have to spend a whole day putting together an IKEA furniture and still come up with a few extra screws, this is a great way for you to earn an extra few hundred dollars a month.
"I've been assembling IKEA furniture for a few years now. It all started when my aunt asked me to help her put her new IKEA kitchen table together. While doing it, a few of her friends showed up. They were amazed how easily and quickly I was able to put this thing together. They asked me if they could pay me to do this for them when they buy their next piece of IKEA furniture and I happily accepted the offer. From then on, word of mouth kept me going. I also started putting ads on Craigslist. I have been making between $100 to $300 a month consistently for the past few years, charging $30 an hour. The most I ever made was $1150 in one month."
You have a lot of people you can target – people who can't actually put the pieces together, busy professionals who can do it but they'd rather pay someone else to do it so they can focus on other more important things, people who can't physically move the heavy pieces of the furniture, etc.
The best thing about doing this is that you don't need a degree or any special skills. Nor do you need expensive tools.
All you need is a few screwdrivers and maybe a hammer.
If you want to speed things up you can get a cheap drill – you can pick one up from Harbor Freight or The Home Depot for under $10.
Best ways to get clients:
Start with family and friends.
Then expand to your neighbors.
Print out some flyers and hand them out.
You can also post free ads on Craigslist. Look on Craigslist for "furniture assembly" ads in "Services' section and you'll get an idea of how to create your ads.
4. Tutoring: Earn $100 a week
We have talked about getting paid to tutor online before.
Here is what a Reddit user posted in response to someone asking "how do you make an extra $300 per month?"
"Are there any subjects you could tutor? $20/hr is a pretty standard rate for someone with a bachelor's degree or equivalent. If you're good (or can convince people you're good) you can charge $50/hr or more, though a graduate degree helps if you're trying to charge this much. You're looking for college kids with rich parents. Sometimes departments maintain email lists with tutors because of the volume of emails the program secretaries get asking for tutors. See if your department has one. Otherwise post flyers, etc. I made over $100 a week (cash) in grad school and never had more than three clients at a time."
Tutoring really is one of the best ways to make extra money without getting another job.
You can do it from anywhere as long as you have an internet connected device with you.
If you don't want to deal with posting flyers or getting clients on your own, you can go through tutoring sites like TutorVista and Tutor.
Best sites to use:
5. Youth Sports Referee: Earn up to $300 a weekend
If you like sports and being active, this is a great idea.
Not only will you get some exercise, you also earn decent cash.
Here's what a Reddit user who does this says:
"The money is pretty decent, easily $250/mo if you did it two weekends a month. Tournament weekends can get you $300 in just one weekend."
You can choose any sport you can think of and you can bet there is a referee shortage.
And the best part…
you get to pick your own schedule! In almost every sport, referees get to pick their own schedule.
So how do you find sports referee positions?
Well, there are a few ways – you can either talk to local schools and sports clubs directly or look on job search sites.
Yes, like any other job, sports organizations also post ads for open referee positions on job sites.
Best sites to use:
CollegeGrad (Their umpires/referees career section)
Linkedin (Links to the search results page for the term "Referee Jobs." You can search using similar terms as well.)
Glassdoor (Links to YMCA's sports referee jobs posting. You can search using other terms like "sports referee," "sports officials," etc)
6. Hang Curtains: Earn $400 a month
"I've charged $25 an hour hanging curtains. I did it for two years while in college and consistently earned over $400 a month."
This is as simple as posting an ad on Craigslist.
Once you get your first few customers, word of mouth will get you more clients.
Your target clients are usually the elderly, single moms, and in general people who may not be able to do it themselves or may not have the time for it.
You can even create some flyers and give 'em out especially in neighborhoods with a big concentration of retirees and the elderly.
Best ways to get clients:
Craigslist
Word of mouth
Flyers
Neighborhood signs
7. Paid study/focus groups: Earn $50 to $200 a day
We have talked about legit paid focus groups many times here at MP.
Participating in focus groups, medical testing studies and clinical trials is an easy way to make extra cash on the side.
Here's one Reddit user who made an easy $150 talking about mattresses for two hours:
"I did a study with FieldWork a couple weeks ago. Got paid $150 to talk about mattresses for two hours while eating free food. After the study I got an email saying that they are going to be giving me a brand new queen sized mattress and box spring for free in exchange for my feedback on it."
Here is another guy who gets paid $50 to $200 per session:
"You can get 50-200+ bucks depending on the involvement. But most are like 2-4 hours and pay around 100 if you qualify."
Focus groups are just like paid online surveys. The main difference is that you, as a part of a larger group (of 10 to 20 participants) discuss the topic of the study, sharing your opinion about it.
Another difference is that you are usually talking face to face with organizers (either offline in an actual brick and mortar building or online through Skype or other live group video tools.)
Best sites to use:
For a bigger list, check out our list of over 40 legitimate paid focus group companies that pay.
8. Test play video games: Earn up to $1000 a month
Getting paid to play games may sound unreal, but it is real!
It's just like paid product testing.
Companies do this so they can get feedback from real players so they can improve the product before they are released to the public.
Not only you get paid for it, but you also get to play games that aren't even available to the public.
According to an employee of VGM (a market research company that does video game tests for game designers), you can make decent money doing this.
"If you're a dude between 18-35 who plays a lot of "hard core" mobile games and can speak eloquently about them, you're pretty much the most desired segment. We pay anywhere from $75-$1,000 depending on the length and required activities for a playtest."
As you can imagine, this a popular side hustle, so finding opportunities isn't easy. That's why we created a separate post where we list every company that offers paid video game testing jobs. Bookmark the post as we periodically update it with new companies we find.
Best sites to use:
9. Mystery shopping: Earn $150 a month
"I do mystery shopping for a few companies. I usually earn about $150 a month, sometimes up to $300-$400 if I really need the cash and have the time to pick up more assignments."
Secret shopping is another topic we have covered many times before.
It's along the lines of surveys and focus groups.
Basically, you are paid to pose as a real shopper and report back your experience.
There are mystery shopping jobs for retail and department stores, hotels and resorts, there are even companies that conduct movie mystery shopping.
The good news is that there are tons of legitimate and trusted mystery shopping companies that pay decently for each assignment.
Best companies to use:
For a bigger list, check out our huge list of over 200 legitimate mystery shopping companies that pay.
10. Dog sitting: Earn $1000-$2000 a month
Dog sitting (along with baby sitting) is usually one of the first few suggestions people throw at you when you ask them "how can I make some extra cash in my free time?"
And rightly so – it doesn't require any upfront investment, it's a reflectively easy job that almost anyone can do, and if you're an  animal lover, you will actually enjoy it.
It's actually one of the best ways for kids to make money in their neighborhood.
Getting into dog sitting (finding the initial few clients to the ball rolling) is usually the hardest part and what stops most people from pursuing it, despite knowing that they can make good money.
But one Reddit user has found a better and easier way to break into the market:
"Some people have suggested dog sitting, but a great way to break into that market is using a site like Rover.com. I tell people it's like Uber for pets. Once your background check is completed, you can set up your profile and offer a range of services from dog sitting at their home, drop-in visits, dog walking or boarding dogs in your own home. You set your own rates, and they take 20%, but make the whole process so simple. They also let you set up a discount code which gives a customer $20 off their first service, but you still get paid your same rate. I post this link all over the place and tell people it's basically a free walk for your pet. Additionally, they give you a referral code for those interested in offering dog sitting, that rewards you with a $50 Amazon gift card. I'm currently making an extra $1000-$2000 a month using Rover. Here's a look at what my calendar looks like. Some of those are dog walking, some are full on house sitting. Those two weeks represent about $900 after their fees."
Best sites to use:
There are also other similar sites that we covered in our "Pet Sitting Jobs" post.
11. "Thrifting": Earn an extra $200-$300 a month
Buying stuff low and selling them at a higher price is nothing new. In fact, most retail businesses are based on that. But starting something like that costs a lot of money. You have to invest a lot of money into buying your initial stock.
But there is another way that doesn't call for a lot of upfront investment – thrift store filliping!
Here is how one Reddit user does it:
"I have been doing this for a long time. I make over $100K year doing this. I have a good eye for finding things that will sell well. It takes a lot of time and effort and you won't make the kind of money I make right away. In fact, you may never make that much. But making an extra $200 – $300 a month is doable. I showed a few friends and now they are making extra cash in their free time doing exactly what I do."
Thrift store flipping is one of the best side hustles you can do without a lot of initial investment.
All you need is a $100 or so and time.
Look on Craigslist, eBay or any other alternative to eBay, to get an idea of what kind of used stuff sells well. Then hit up local thrift stores and do your thing.
Best store to hit:
For a complete guide on how to make money buying and selling used items, check out our Thrift store flipping guide which also includes a list of 15 best items to buy and resell for profit.
12. Donate plasma: Earn $250-$350 per month
This may not be for everyone, but if you are up for it, you can actually make good money.
There are donation centers in almost every major city. You are, however, limited to donating a few times per month. The exact number varies from center to center.
"Donating blood plasma can net $250-350/mo if you go twice a week (or whatever the limit is). Typically takes 3hrs total per week."
Don't know how and where to start?
Read our"Donating plasma for money" post for details and list of places where you can get paid for donating your blood plasma.
13. Yard work: Earn $100 week (easily)
This is one of the most overlooked ways of picking up some extra cash.
How much cash?
According to a Reddit user, a lot!
"I mow lawns. I only mow for the neighborhood I live in, so I can walk to every job, so I don't have to buy a trailer. In a good week, I'll make $400 from charging $25/lawn."
That's $400 a week!
Ok, not everyone is going to make that much. But even if you do 3 lawns a week and charge $25 per, you're looking at $300 a month.
Each lawn would probably take you around 20 minutes or so. Of course, for bigger lawns, you charge more.
Best ways to get clients:
First tell your friends and family.
Let your neighbors know as well.
Print out some flyers and hand them out.
Post ads on Craigslist.
Find communities where the elderly and retired folks live and go door to door offering your service.
14. Paint house numbers: Earn $50 an hour
Here's a clever way to get paid for doing something so simple that most people don't even think about it – painting house numbers!
How?
"Buy some spray paint and number stencils from home depot and paint people's addresses on their curbs. I did that before I went to college, door to door and just told people I was saving up money for school. I could make around $50/hr charging $10/house."
This Reddit user goes on to say: "Paid for my whole first year of college and then some."
Now that's impressive!
And you know what the best part is?
Every single house is a potential customer!
Best ways to get clients:
Start with your neighbors.
Put ads on Craigslist.
Put flyers or business cards on local bulletin boards.
15. Buy and sell Legos: Earn $800 a month
You are playing with your Lego kit and halfway through you realize there is a missing piece that without it you just can not finish the build!
If you are a Lego fan, you've probably experienced something similar.
One person has figured out how to turn that scenario into a money making project:
"I buy Lego kits on clearance, from Lego stores and thrift stores like Goodwill. I then separate the pieces and sell them individually on eBay. I have been making over $800 a month doing this."
Best ways to find cheap Lego kits & pieces:
Thrift stores
Yard/garage sales
Auctions
Wanna learn more?
Read our post on how to make money selling Legos on eBay.
16. Computer consultation for the elderly: Earn $100-$600 monthly
There are still a lot of people who aren't familiar with computers and how they work, especially the elderly.
Usually, their issues are simple things that the younger generation take for granted – updating a Facebook picture, installing a browser, deleting unused files, and even simple things like closing all open browsers.
You can help them and make money on the side, like this guy:
"They aren't tech savvy and usually have simple, fixable computer issues every month. They also spread the word quickly and are easy to deal with. A lot of em still run XP or Vista which are (for me) super easy to tinker with. Even simple jobs like resetting their internet router, setting up email, switching to chrome and setting their homepage to their favorite site. Easy side gig. I got the idea after I went to my g-rents house to "fix" basic settings on their computer to help it run faster and my Grandparents said they have friends that could use my "computer expertise". They're church goers so I got all of my clients through their church. I make $100-600 a month depending on how many askJeeves toolbars are installed and printers running out of ink."
Best ways to get clients:
Starts with elder family members
Post ads on Craigslist and other local classifieds
Have your elderly recommend your service to their friends and neighbors.
Your turn
What about you?
Do you have any side hustles that earn you a few hundred dollars a month?
If not, then I hope this post gave you some ideas on creating that side hustle that will help you earn an extra $100-$1000 a month.