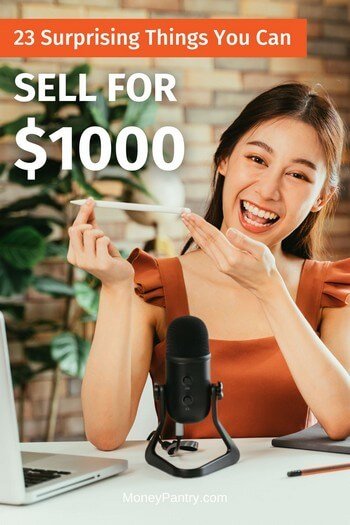 If you need money fast, selling things is one of the best ways to get it.
There are many things you can sell to make money. You can sell everything from living room furniture to baby clothes to make extra money when you need it.
And, there are many times when we all end up needing quick cash whether it's to repair the car, pay a vet bill, pay the rent, or just help pay for basic needs like food, shelter, and healthcare bills.
Whatever the reason you need cash, selling stuff is a good option. Often, it's tough to get a loan or ask a friend or family member for the cash, so selling items instead can give you the cash you need when you need it.
In this post, I'll cover the best things you can sell for $1,000.
I'll also include a list of places where you can sell stuff, and tips for selling stuff.
Need Easy Extra $300+/Month for Free?
KashKick
: Get paid directly into your PayPal for watching videos, surfing, shopping and more.
Join KashKick Now!
InboxDollars
: Paid over $57 Million to members to watch videos, take surveys, shop and more.
Get $5 instantly!
Branded Surveys
: Get $1 instantly just for joining for free. Plus get paid within 48 hours by PayPal!
Join Branded Surveys
First Opinion
: Get paid up to $10 per survey and $300 per virtual focus groups!
Join Now!
Swagbucks
: Get paid to watch videos, shop online, take surveys and more.
Join now & get $10 instantly!
What Can I Sell for $1,000?
Selling unused or unwanted items can be a great way to make some extra cash. In this section, we've compiled a list of things you can sell for $1000 or more. Read on to find out what they are!
1. Digital cameras
Digital cameras can sell for thousands depending on the brand and the model. And, if not $1,000s, you can likely get $100s for a digital camera. Canon and Nikon brand DSLRs sell well, but any type of digital camera is worth selling.
There are professional and amateur photographers alike who're looking for new equipment and many of them purchase it used.
2. Watches
Okay, so watches, particularly those that are from luxury brands, vintage, or limited-edition, are great options if you want to sell items for $1,000.
So, watches from brands like Cartier, Omega, and Rolex tend to get a good price when resold.
Vintage watches and limited-edition watches also sell for a pretty good price since collectors often place a high value on them. So, they're willing to pay a decent amount for them. Vintage watches that are in excellent condition may bring in a lot of money at an auction.
If you have any watches, consider selling them. Also, even if you don't have a watch from a fancy brand or one that's vintage or limited-edition, you could still sell your watch. After all, every bit of cash you can generate adds to that $1,000 fund!
3. Laptops
If you need to sell something quickly to get $1,000, then laptops are a great option. Everyone from students to professionals to gamers is looking for used laptops.
Depending on the laptop brand, model, and condition, you could get anywhere from $100s to $1,000 or more for selling a laptop. It's better if the laptop is in good condition.
You could also consider bundling any accessories with it so that you can up your profits.
4. Jewelry
Most of us have jewelry of some sort in our homes, so it's a great thing to sell for some quick cash.
Sure, jewelry from luxury brands is going to sell for a lot of cash, but it's really not your only option.
Any type of gold jewelry, in particular, will sell for a decent amount. It may not be $1k for a single piece, but a few pieces can net you $100s to add to your fund.
Whether you have a vintage piece or a modern design, it's likely that your jewelry will sell, and you can earn some extra cash.
5. China and other tableware/dishware
China is a great thing to sell because it's popular and you can make a decent profit from it.
Things like China cups, plates, and dishes all tend to sell well. And, if you have a lot of it, you could make $100s.
6. Gym equipment
Gym equipment is great for selling because most pieces are big-ticket items that can be sold for $100s or even $1,000 plus a piece.
Things like treadmills, ellipticals, and exercise bikes, are pretty much always in demand. And, if you have any gym equipment from well-known brands, then those sell well too.
Free weights are also good to sell because they tend to sell pretty fast! Even old machines can be sold for parts or scrap metal.
7. Books and textbooks
Selling used books is a big small business! If you have any books that you no longer want or old textbooks you don't need, then consider selling them.
Sure, books and textbooks alone won't bring in $1k, but if you have lots of them to sell, you can easily add $100s or more to your $1,000 fund.
8. Sports equipment
Another option you can try is selling used sports equipment. There's a ton of equipment you can sell.
You can sell gear from all sorts of different sports like:
Football – like footballs, practice jerseys, pads, and helmets.
Hockey – like helmets, elbow pads, and gloves.
Skiing – like skis, ski boots, and winter outerwear.
Soccer – like soccer cleats, balls, and goals.
Lacrosse – like arm pads, gloves, and lacrosse balls.
Baseball – like baseball bats, baseballs, and ball gloves.
Softball – like bats, shin guards, and softballs.
Golf – like putters, golf balls, and iron & hybrid sets.
Basketball – like basketballs and apparel.
Ice hockey – like shoulder pads, protective gloves, hockey sticks, and skates.
Cycling – like bikes and apparel.
Skateboarding – like skateboards and protective equipment.
Wrestling – like apparel, protective gear, and shoes.
Water sports – like body boards, surfboards, and stand up paddle boards.
Racquet sports – like tennis gear, badminton equipment, and racquetball gear.
9. TVs
TVs are always popular. After all, there's always someone in the market for a new (or at least new to them!) TV, such as college students looking for a TV to put in their dorm room, people who want a TV for their bedroom, or those who need a new TV for their living room, and want to get a secondhand one.
TVs can range from $100s to $1,000s depending on the brand and model.
If you have an old TV that you no longer use, then consider selling that old TV to make some money fast.
10. Smartphones
Many people upgrade their phones quite often, and therefore, have old phones lying around that they just don't need anymore.
You could sell these old phones and make some extra cash. You could make a few $100 or even more than that depending on the brand and model of the phone. Then, you can add this cash to your $1,000 goal!
11. Tablets
Okay, so another option that you have is selling tablets.
Tablets are in demand because many people find them much easier for doing tasks like reading and typing than they do on a smartphone because they have a much larger screen size and typing space.
Students and readers love them too because they can download and read e-Books without having to haul big books or textbooks back and forth!
So, if you're looking to make quick cash, then you should consider selling tablets.
12. Handbags
Handbags are awesome to sell. If you have a purse that's in good condition, it can sell fast!
If you want to get the best price for your purses, make sure that they are gently used and don't have any scratches on them, and, of course, that they are clean.
Brand name handbags sell best, but you could sell any type of handbag.
Depending on the bag, you could earn 50% to 70% of the retail price, especially if it is in excellent condition.
People are always in the market for a new handbag, so this really is a great way to make money in a few days or less!
13. Kitchen appliances
You can also sell small kitchen appliances. Kitchen gadgets, like coffee machines, and mixers are good to sell because, while they can be nice to have, they're not an absolute necessity, which means you can do without them. So, sell your unwanted kitchen gadgets.
You'll clear some space in your home while making money. And, it's likely that you won't miss these items either.
14. Furniture
One of the best things that you can sell if you want to make $1,000 fast is furniture. Most of us have at least one piece of furniture that we don't want.
You can sell a variety of different types of furniture, like:
Chairs
Tables
Ottomans
Side tables
Dining tables
Desks
Bookcases
End tables
Nightstands
Really any type of furniture is likely to sell fast. Furniture is always in demand, whether it's a first-time buyer looking to furnish their new home with secondhand items, or a college student looking to fill their dorm room. If you want money right now, consider selling furniture.
15. Baby gear
Babies grow out of stuff fast, right? This leaves us with a bunch of stuff that we have no use for anymore that just takes up space. Why not consider selling this baby gear?
Not only will you declutter your home, but you'll also make money.
You can sell lots of different types of baby stuff, such as:
Baby clothes
Toys
Highchairs
Cribs
Bags
Strollers
Books
Baby wearing gear
Diaper bags
Play mats
Walkers
16. Pet gear
You can also earn money selling pet supplies and accessories. Lots of people have pets and are looking for items for them. This can include things, like:
Dog clothing
Pet beds
Costumes for dogs, such as those for Halloween, Christmas, weddings, and birthday parties.
Food bowls
Dog leashes
Cat toys
17. An old car
If you have two cars and can get by with just one vehicle, then consider selling your older car.
This is a good option if you need $1,000s fast. Of course, don't sell your car if it's going to impact your life too much. But, if you have two cars, and you can navigate your daily life if you were to sell one, then this is an option to consider. You can sell the old car for some cash while keeping the newer one.
18. Tools
You can also consider selling any tools that you have. This is a good way to bring in some extra money.
Tools you can sell include:
Hammers
Saws
Weed trimmers
Chainsaws
Axes
Circular saws
Hedge trimmers
Tree branch clippers
Battery powered drills
Wrenches
Obviously, you'll make more money selling larger tools and gas-powered tools like chainsaws or weed trimmers, but you can still make a little extra cash from selling those smaller tools like hammers and wrenches.
19. Large children's toys
Large children's toys, like playhouses, swing sets, and tricycles, can sell for a pretty good price. Since parents are often looking for new items for their kids, this can be a great option for bringing in money fast.
20. Bikes and scooters
If you have an old bike or scooter that you no longer use, then consider selling it. Because so many people are looking for bikes and scooters, but can't afford them at full price, they look for used ones. So, this could be a great option for you. You could sell kids' bikes or full-size bikes, and scooters and earn money.
21. Clothing
Selling clothes is a great idea if you want to make money fast. Clothes from name brands are going to bring in the most money. But, it's worth selling any type of clothing. While you may not get $1k from one piece, if you have a few pieces to sell, you could make $100s or more to add to your $1,000 fund.
22. Games consoles
You can sell video game consoles, such as Xbox consoles and PlayStation consoles. This is another good option for making some extra money.
A lot of people purchase these items used, because they're expensive to buy new, so you could sell your games console for cash.
23. Freelance services online
If you're wondering, "What can I sell for $1,000?" then the options above, like selling digital cameras, laptops, sports equipment, furniture, baby gear, and pet gear are great options. However, selling items isn't your only option.
You can also sell freelance services. This includes:
Writing
Graphic design
Data entry
Transcription work
Tutoring
You can sell freelance services on websites like Upwork and Fiverr.
You could also sell courses on sites like Udemy, and eBooks on Amazon Kindle Direct Publishing.
Where to Sell Stuff for $1,000
Above, I've given you a list of things you can sell for $1,000. Now, you're probably wondering where to sell these items.
Below, I've included a list of places to sell stuff online and locally. Next to each option, I've also included what items you can sell there.
Unusual Items You Never Knew You Could Sell for $1000
Looking for something unique to sell?
Check out these unusual items that can fetch a good price in the market. From quirky collectibles to bizarre inventions, there's something for everyone on this list.
Whether you're looking to declutter or make some extra cash, selling these items could be the answer.
Antique medical equipment
Vintage typewriters
Old advertising signs
Taxidermy animals
Unusual musical instruments
Antique weapons
Rare books
Antique toys
Unusual art pieces
Vintage video games and consoles
Unique pieces of furniture
Old postcards and stamps
Strange or rare coins
Vintage movie posters
Handmade crafts and artwork
Unusual clothing items, like vintage costumes or designer pieces
Antique kitchen gadgets and appliances
Rare or exotic plants
One-of-a-kind jewelry pieces
Vintage travel posters
Unusual antiques, like old cameras or tools
Quirky home decor items
Collectible sports memorabilia
If you happened to have any items like the ones listed above, take your time in selling them. Don't undersell!
Tips for Selling Stuff for $1,000
Okay, so now you know the types of items you can sell for $1,000, you may be wanting to know what the best practices are for selling stuff fast.
Below, I've included a few tips that can help you to increase your chance of a sale and just make the whole process a little easier. Basically, these are tips for selling stuff successfully!
Freshen up the items
Whatever it is that you're selling, be sure to take the time to clean the item.
For example, if you're selling clothing, make sure you wash the items, or have them dry-cleaned. And, make sure that they are wrinkle-free too.
If you're selling furniture, make sure that you wipe it down to remove any stains.
Items that look tired or stained aren't appealing to potential buyers. That's why it's important to take the time to freshen items up. You ensure that you are selling the item in its best possible condition, meaning you'll likely make a sale faster!
Take some great photos
Having some great photos on your listings is really important. After all, people want to see what it is that they are buying.
Make sure that your photos are:
Clear
Not grainy or blurry
Taken in a place with great natural lighting
Photos that are grainy or blurry will likely put potential buyers off, which definitely isn't what you want if you're looking to make money fast.
So, be sure to take clear photos where you can see the item properly. Photograph the front and back of the item and make sure that you get photos of it from a few different angles. Also, for pieces like furniture or clothing, make sure that you photograph any details that may be of interest to the buyer.
Be honest about the condition of your items
It can seem tempting to lie about the condition of your item. For example, you may not want to mention the worn spot on the purse, or the mark on the coat, or the scratch on the coffee table that you're selling. However, it's important that you do. Being honest about the condition that your item is in ensures that you don't disappoint the buyer.
If you write in your listing that the item is in perfect condition, but then when the buyer gets it, there are marks, stains, scratches, or any damage that you failed to mention in the listing, then they aren't going to be happy.
You could end up getting a bad rating, which could make it tougher for you to make sales in the future.
Make sure that you are honest about the condition of the item and mention any damage, from stains to scratches, in the listing. Then, the buyer will know what to expect from the item.
Write an attention-grabbing headline
Since the headline, next to the photo, is what gets people to click on your listing, make sure it's good!
Use searchable words and terms and make sure that you use relevant keywords so that buyers can find your listing.
And, make sure you're specific. Writing "dress for sale" is too vague. "Black maxi dress for sale" is better.
Include details like brand, color, material, size, and condition, basically anything specific, in the title.
Don't be too verbose though and try to stuff every detail into your headline! Instead, you should just include some of the item's best features. For example, you could mention that the item is barely used.
Write a great description for your listing
Your description is also an important factor in selling stuff fast. A good description will give the buyers all of the details they need to know without being too long or boring. You want to keep the buyer's attention after all!
Here are a few tips for writing your description:
You should start your description by explaining what it is that you're selling. Since people are busy, it's best to get right to the point.
State the reason for putting the item up for sale. For example, you could say that you're selling your old phone as you're upgrading to a new one.
Make sure that you include any measurements, dimensions, and sizes, depending on what you are listing.
List the price. Even if the price is listed elsewhere, be sure you list it again near the end of the description. The buyer should be aware of the price. Also, you could mention whether or not the price is "fixed" or "best offer."
Download a measurements/size chart for the brand and include it in the photos
If you're selling clothing or shoes, then it's a good option to include a measurement/size chart for the brand that you're listing.
This can save the customer from having to ask questions like, "Is this true to size?"
Consider including the measurement/size chart in the photos if you can.
Set a price for your items
When setting a price for items, you want to ensure that you don't shortchange yourself, but that you also set a price that gives the customer a good deal. After all, your prices should be realistic. A buyer is unlikely to purchase an item for $500, that others are selling for just $250, for example.
The best way to set the right price for your items is to go on the site you plan to sell through, like Facebook Marketplace, eBay, or Poshmark, and see what other people are charging for similar items. Then, you can set your prices based on that.
Respond to potential buyers as quickly as you can
If you want to make $1,000 fast, then you want to ensure that you don't let potential buyers get away. Make sure that you respond as quickly as you can if a potential buyer gets in touch about your listing.
If you don't respond quickly enough, the potential buyer might purchase a similar item from another seller, which means you miss out on a sale. So, be sure to respond to customer inquiries as quickly as you can.
Be safe when meeting up with the buyer in-person
If you are selling items locally, rather than online, and you're meeting up with the buyer in person, make sure you are safe about it.
Meet in a public place, like outside of a supermarket or police station. Take someone else to the meeting with you if you can. And tell another person where you're going and who you're meeting with, and give this person the buyer's contact information too.
List more items for sale fast
If you want to make $1,000 fast, it's best to sell multiple items. So, make sure you keep posting new listings.
Because previous customers could be interested in the items you have to list next, it's a good idea to have more stuff available for them to purchase.
So, be sure you list the next item for sale quickly.
FAQs
In this section, I'll answer some answers to common questions you may have about selling stuff for $1,000.
What can I sell to make quick money?
Some of the best things to sell for quick cash include:
Books
Clothing
Baby gear
Smartphones
Furniture
Sports equipment
All of the items on the list above are great to sell if you want money fast.
What can I do to make $1,000 today?
$1,000 is a lot of money to make in one day. If you have a big-ticket item or product from a luxury brand, this may be possible.
Some items that you could sell to make $1,000 today include:
Laptops
TVs
Digital cameras
Watches from luxury brands
Handbags from luxury brands
Furniture
What sells for big money?
Items that sell for big money include:
Jewelry
Designer handbags
Cars
Digital cameras
Watches from luxury brands
Gym equipment
What can I sell to make money online?
Items that you can sell to make money online include clothing, handbags, laptops, and phones. Basically, anything on our list above can be sold online. Obviously, shipping is cheaper for smaller items.
Things You Can Sell for $1000: Final Thoughts
If you want to know, "What can I sell for $1,000?", then try the options above.
There are so many things you can sell for $1,000 that you likely already have in your home anyway.
Even if you don't have any big-ticket items or items from designer brands, like watches, furniture, or handbags, you can still make $1k selling stuff. You'll just need to sell multiple items. Keep our tips in mind for selling stuff, as these can help you to make sales fast and reach that $1,000 goal.