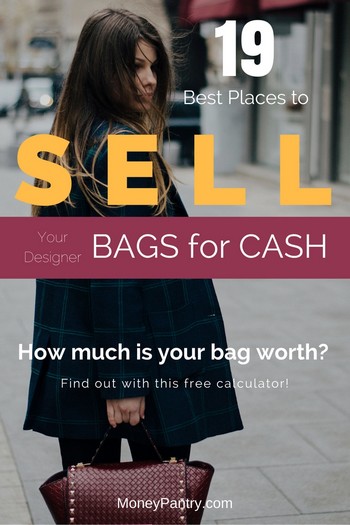 "Where can I sell my used designer bags & purses?"
After we did our popular post on the best apps for selling used clothes, we got a few Facebook questions like that.
As I was messaging back and forth with our Facebook fans, I thought to myself "These ladies aren't alone. There must be others with closets full of used bags who wouldn't mind exchanging 'em for cash."
So, instead of just replying to fans on Facebook, I decided it'd be best to create a post and answer the question here for everyone to see.
This list contains online and offline consignment shops that will get you the most money for your used bags – whether you are a luxury bag aficionado with a closet full of designer handbags like Coach, Louis Vuitton, and Gucci or a part-time fashionista with a few big brand purses like Michael Kors and Kate Spade.
Consignment shops – online and local stores near you – are a great way to get cash for bags you don't need or use anymore.
Need Easy Extra $300+/Month for Free?
KashKick
: Get paid directly into your PayPal for watching videos, surfing, shopping and more.
Join KashKick Now!
InboxDollars
: Paid over $57 Million to members to watch videos, take surveys, shop and more.
Get $5 instantly!
Branded Surveys
: Get $1 instantly just for joining for free. Plus get paid within 48 hours by PayPal!
Join Branded Surveys
First Opinion
: Get paid up to $10 per survey and $300 per virtual focus groups!
Join Now!
Swagbucks
: Get paid to watch videos, shop online, take surveys and more.
Join now & get $10 instantly!
We have compiled a list of websites and local stores to help you sell your designer handbags for cash.
We'll also give you some tips and hacks you can use to get more money for your stuff.
We'll also answer the important question of "How much is my used luxury designer handbag worth?" and show you a free tool that will tell you how much your designer item is worth today, instantly.
But first, let's find you places where you can turn your bags into cash…
Consignment shops to sell designer bags near you
Wanna sell your bags for cash but don't want to deal with the hassle of shipping and dealing with online companies?
Try local consignment shops!  *Large chain shops might be the easiest and most convenient, but may offer you quite a bit less cash than you could get for your bags by selling them online.
Most offer immediate cash payout for designer bags.
There is no shipping.
There is no back and forth emailing.
Walk in with your bags and walk out with your cash!
Here are some o the most well known national consignment stores:
Stores can be found all over the United States. Store locations offer cash onsite for designer handbags.
The Buffalo Exchange has store locations across the United States. Stores take handbags and seasonal items.
You can receive cash onsite from the store as soon as you drop off the items.
Buy, sell or trade items at Crossroads Trading.
They have stores located throughout the United States.
You can sell your items in the store or send items by mail. You also have the option to trade your items.
You can buy, sell or consign your designer bag online or in store.
Store locations can be found in Beverly Hills, San Francisco, and San Diego.
To start you have to fill out your selling details online or talk with an associate.
You can expect to get 50% to 70% of the original retail price of your item.
A Second Chance has been providing consignment services since 1993.
The company offers designer handbag consignment online or in two New York City store locations.
To sell your item, simply contact the company through their website.
Other local places
There are also many regional consignment shops that you can sell your handbags to – whether you live in big cities like Los Angles, New York, London, Toronto or even a country in Asia like Singapore.
You can easily find them by using search terms like:
"sell designer bag near"
"designer bag consignment near me"
"where to resell brand name purses near you"
And if you don't necessarily want to sell your bag but need some cash fast, you may be able to find pawn shops that buy purses. Although I wouldn't advise it since the odds of you getting the most cash for your used goods are very slim with pawnshops.
Sites that pay the most for designer handbags
When we sell something, we always want to get the most cash possible. It's the same when it comes to selling designer bags and purses.
We have researched and found the sites that seem to pay much more than the other sites listed in this post.
This is a very famous auction house that you can use to sell almost anything of value.
It provides expert services for auctioning consultation. It also includes a range of resources to help with listing your item for sale.
Christie's Handbag Shop is a specialty boutique offering.
The Christie's company offers the specialty service online for top-tier handbags and accessories.
The online inventory includes bags from Chanel, Hermes and more.
Vestiaire Collective provides online services for reselling top-tier designer bags.
The website has over four million shoppers. Interested sellers can register with the site and utilize resources offered for listing new items.
The 12 key luxury brands they accept right now are:
Chanel
Louis Vuitton
Hermes
Céline
Balenciaga
Gucci
Prada
Dior
Saint Laurent
Isabel Marant
Valentino
Christian Louboutin
Couture offers an online marketplace for pre-owned designer bags.
The website requires the request of a free quote to initiate the consignment process.
As a seller, you are contacted by associates to agree on the terms.
Couture offers a number of options for receiving cash from the sale of your item including consignment sale, direct purchase, and a buyback program.
LH Exchange is an online marketplace for luxury items.
The marketplace sells designer handbags as well as furniture, fine art, and more.
Auction experts are available to work with you (the seller) throughout the selling process.
The website provides a list of designers it accepts.
Sellers can schedule a free in-home pickup, ship items, or visit a luxury consignment office for a free valuation and consignment drop-off.
Currently, on the site, its highest value item is the Hermès Alligator Constance 18 selling for $66,000 with an approximate resale price overall of $40,000 to $70,000.
Other Online Options
Here are more places where you can get cash for your used brand name bags:
Users can borrow or buy from a pre-owned collection of items.
The company offers both direct buy and consignment allowing for immediate purchase or payment at the time of sale. Items are offered for sale or rent on a monthly basis.
Rebagg offers cash for designer handbags.
Once you create an account, you can list your items and receive offers from the website for purchase.
Tradesy offers pre-owned bags as well as shoes, other accessories, clothing and more.
Tradesy serves as an intermediary for sellers helping them to list and market their item on the site then supporting them in the shipping process.
Cash in My Bag helps sellers to get instant cash.
The site sells all kinds of handbags including totes, clutches, evening bags and more.
They provide quotes very quickly, within 24 hours.
Yoogi's Closet will provide interested sellers with a quote within 48 hours.
Once items are shipped and inspected the company will provide direct pay or consignment payment when the item sells.
SnobSwap offers a wide selection of designer handbags.
Individuals can work with a consignment boutique in their local area to facilitate the sale. Sellers can also be contacted by a representative to complete the consignment sale process.
Poshmark offers a variety of the market's top brands with a wide range of prices.
Sellers must download the app to list their item. Prices range from less than $25 to over $200.
For tips on how to get the most here, check out our Poshmark review.
Thredup markets itself as the largest online consignment and thrift store.
It accepts all types of items for inspection and resale, offering a return kit for items not listed.
High-value items include a Celine leather shoulder bag priced at $1,509.99 and a Christian Dior leather satchel bag priced at $1,324.99.
The good 'ol sites
When it comes to selling things, nothing beats the familiar and trusty platforms that we all know.
They each offer benefits that you probably won't find on any other platforms.
For example, selling on Amazon means you get access to the world's largest online retailer and their unbelievably huge customer base.
So, don't count these oldies out!
eBay has over 50,000 designer handbags for sale with prices ranging from $5 to $15,000. It must be working otherwise sellers wouldn't be listing that many bags for sale on eBay.
Amazon also offers over 50,000 designer handbags. It features many top name brands including Kate Spade, Michael Kors, Armani, and more.
To sign up as a seller, visit amazon.com/seller-signup, fill out the form and wait for approval. Once you are approved, you can start listing your items.
You can list your item on the website by geographic location with more flexibility for local transactions.
The best part about using CL is that in some cities listing items is free. Plus you don't have to deal with shipping fees since you can meet up with the buyer and have a face to face transaction. *Always meet someone for a cash transaction in a highly visible, public place.
How to price your bags
This is where most people get it wrong.
Look, just because you bought the bag for $2000 5 years ago and you think it is at least worth $1800 now, doesn't mean people are actually going to pay that much for it.
"But I saw eBay listings for the exact same bag for $1900, so I'm sure I can sell mine for $1800."
I have heard this more times than I care to remember, and not just about used bags and purses, but about almost anything people want to get rid of.
And that's one of the main reasons why a lot of people end up not being able to sell their stuff.
Just because there are listings with those prices, doesn't mean people will actually pay for it that much.
So how do you price your designer bags?
Easy, look at eBay's Completed Listings!
The best way to do that is to find out how much people who have already bought the same used bags (or any other item) have paid for it.
And you can get that information by looking at eBay's Completed Listings for similar items.
Here's how to do it:
While on eBay's homepage, click on the "Advanced" (found right next to the main "Search" button.
Then make sure the "Completed Listings" box is ticked.
Then hit "Search."
The results will be only items that have already sold.
It'll show you exactly how much to price your bag.
Just look at a few dozen ended auctions and how much each item has sold for. Then price your bag(s) based on the average prices of already sold bags.
The beauty of using eBay's Completed Listings is that you can use that pricing model for selling bags (or any other used item) on other similar sites.
The fastest way to find out how much your used luxury is worth today
Don't want to deal with going through eBay searches?
Here's an easier way to instantly find out how much your designer bag is worth:
There is a free calculator that shows instantly how much your used items are worth in today's market, whether you have designer handbags, sunglasses, shoes, hats, or any other designer fashion item.
It's called "Resale calculator."
Here's how it works:
Choose the brand of your item from the drop-down menu or enter the name
Pick the model and color of the item
Then hit "calculate."
You'll instantly see an exact quote.
The calculator actually shows you a range of prices, then it suggests a middle price based on that.
For example, I did a quick test for a used Louis Vuitton, Neverfull, Leather handbag and my numbers were:
From: $730 – To:$1,090 – Similar times have been sold within this range.
Your price: $640 – This is a suggested number based on the info you provided (color, material, etc.)
What's great is that once you are given these numbers, you can instantly hit the "Sell Now" tab. You'll then be asked to give a little more info (like your name and address) if you haven't already created your free account. They then send you an exact quote by text message and if you accept the price, the sale goes through.
Tips for getting the most money for your purses
Here are some tips you can use to create better listings and ads that will help you sell your purses and bags faster and for higher prices:
1. Take good pictures
They say "A picture is worth a thousand words!"
And it is, especially when it comes to selling stuff online.
Be sure to take clean pictures of your bag(s) with good lighting and no other distractions.
Make sure you use a background that brings out the color and details of your bag.
With today's smartphone cameras, anyone can take professional looking pictures in seconds. There is just no reason to settle for crappy, fuzzy pictures that immediately turn any potential buyer to the not-even-remotely-interested onlooker.
2. Describe your item in detail
The next things potential buyers see after the pictures are the title and description of your listing.
Give as much detail as you can about the bag. Describe it in detail, especially about the condition of the bag. Tell the potential buyer of any wear and tear.
Nobody wants to be duped into buying a bag that was described as "in perfect condition" only to receive a bag with a missing zipper or a torn pocket.
Also, if it has some history and interesting story related to it, mention it.
Also, make sure to state the reason for reselling the bag. People like to know why you are selling the bag.
3. Display the logo and hardware
How do you identify the authenticity of a designer handbag?
The first things people look for are logos and hardware.
Make sure you take a few clear and close up pictures of the actual logo and hardware (Zipper, metal handles, etc) of the bag.
Most brands have a few unique identifying features for their bags that help buyers confirm their authenticity.
For example, Chanel bags usually have:
An Authenticity Card
A Foil logo stamp
Hardware and screws
A serial hologram sticker
Quilt pattern and Stitching
Zipper back
4. Show the serial number
With so many fake and replica designer bags, people are afraid of getting scammed. So the more steps you take to address their concerns, the more likely they are to buy from you.
Along with displaying the logo and hardware in a clear, in-focus picture, showing the serial number or even the date code on the bag, reassures buyers of the authenticity of the bag.
Usually, the serial number and date stamp are located at the bottom (inside or outside) of the bag, sometimes even in an interior pocket.
5. Show the full package
Designer bags usually come in fancy bags or boxes when you purchase them.
If you still have those, be sure to mention them and add pictures of 'em in your listings.
With so many fake and replica designer bags out there, trying to sell a real one can be tough.
The most important thing you can do to sell it and get the most cash possible is to show the potential buyers that your bag is indeed a genuine Hermes Kelly, Prada or Versace.
Takeaway
Pre-owned designer handbags are a popular consignment item.
They can be a great source for immediate cash or a great way to save for something new.
Either way, now you know how and where to sell your designer bags and purses for cash both online and locally somewhere near you.