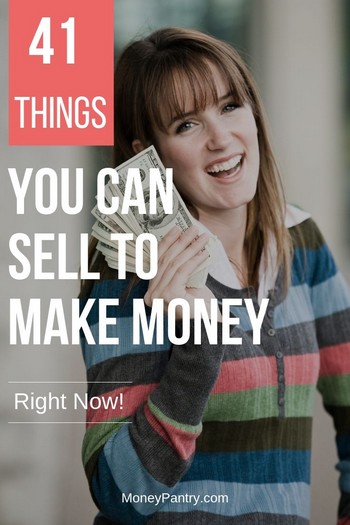 To make money, you have to sell something!
There is no other way to do it.
Now, that something can be either a product, a service or your time.
The good news is that most of us already have a lot of stuff to sell for cash.
If you are in need of cash and are looking for things to sell for some extra cash, this post is for you.
Things You Can Sell to Make Money from Home
Ever wondered, "what can I sell to make money from home?".
Need Easy Extra $300+/Month for Free?
KashKick
: Get paid directly into your PayPal for watching videos, surfing, shopping and more.
Join KashKick Now!
InboxDollars
: Paid over $57 Million to members to watch videos, take surveys, shop and more.
Get $5 instantly!
Branded Surveys
: Get $1 instantly just for joining for free. Plus get paid within 48 hours by PayPal!
Join Branded Surveys
First Opinion
: Get paid up to $10 per survey and $300 per virtual focus groups!
Join Now!
Swagbucks
: Get paid to watch videos, shop online, take surveys and more.
Join now & get $10 instantly!
Most people think you have to actually make stuff (crafts, artwork, etc) to make money, but in reality, there are a lot of things you already have that you can sell to profit.
Here are a few examples:
1. Sell Your Opinion
Everybody has an opinion!
Companies know that and are willing to pay you for your opinion so they can use it to develop better products to make more money.
One way they do that is through market research and online surveys. Basically, you sign up with online survey companies and give your feedback on a variety of products, services and topics. And for doing so, you are rewarded with cash, gift cards and other prizes.
You can make anywhere from $1 to $50 per survey.
Some of the top survey sites you can sell your opinion to include:
In addition, you could also get paid for reading emails, shopping, completing offers, playing games and more.
2. Sell Your Used Books
Books are another group of things to sell online to make money.
And while there are a lot of online book buyback sites where you can turn old books into cash, if you want to get the most money for 'em and fast, your best bet is BookScouter.
What is BookScouter?
It's basically a book buyback search engine that helps you easily and quickly sell your books for the most cash. All you do is enter your ISBN or the name of the book and hit enter. The site then searches on over 40 book buyback sites and gives you a list of sites that pay the most for your book. Choose the one that pays the most and sell it to them.
It really is that easy!
If selling is not your thing, a book exchange site like Swap allows you to swap books with other book owners.
3. Gift Cards
Got a few gift cards to stores you never shop from?
Don't let them expire or get lost! Sell them for cash and use the cash to shop at a store you like to shop from (though a better idea would be to save the money for a rainy day!)
But where to sell gift cards and how pays the most cash?
Check out this post for the best places to sell gift cards.
4. Sell Pictures
There are many ways to make money selling photos.
If you have always been good at taking photos, selling stock photos is a great way to get some cash.
Sites like Shutterstock.com will pay good money for good quality pictures. Every image downloaded by any user will earn you 25 cents.
Of course, they don't just accept any picture. Quality is important.
5. Your Body (Well, Not Exactly Your Body!)
If donating blood or plasma does not sound too daunting to you, you could get cash from blood banks doing exactly that.
In the same way, good cash for sperm donated to sperm banks, and eggs to fertility clinics.
If you have been blessed with long healthy hair, you can sell it to wig makers provided it has not been color treated.
6. Cans, Bottles & Newspapers
If you are cool with the idea of making some money with discarded items, then you can go around your neighborhood to pick up newspapers, aluminum cans and glass and plastic bottles, and sell them to recycle centers.
Nowadays, recycling systems are an integral part of waste disposal programs, especially in city areas, so the chance is better here than suburban or rural areas.
As I mentioned in my recent post on recycling aluminum cans for cash, one pound of aluminum will probably fetch you close to a dollar. But take note that some recycling centers refuse to take in plastic and glass.
Household Items to Sell for Quick Cash
These are items that most people have in their homes. See which one of these you have that you can turn into cash.
7. Sporting Goods
Remember the golf set you spent a fortune on but never really got the time to practice your swing? Well, it could be better placed on the marketplace rather than your garage.
Used sports equipment is easy to list on online marketplaces such as Amazon.com or you could bring it down to your local Play It Again Sports, a sporting goods consignment chain.
8. Designer Goods
Designer stuff can command huge amounts if that particular brand or model you have hits the fashion scene again.
If you're the type that has the money and don't mind indulging themselves with designer products, you're potentially sitting on a lot of cash.
And if you're not using some of those items, are over them or just need the money now more than you need the designer good, selling them is a great option.
The good news is that these days, with so many sites and apps that let you sell all kinds of stuff quickly and easily, you would be crazy to let your unwanted brand name stuff gather dust in the basement or closet.
Don't know where to start?
No worries, we got you covered!
Needles to say, before you list your times for sale, be sure to look around so you can get a good idea of what your item is worth so you don't undersell it.
9. Cameras, iPods & Other Gadgets
With how fast technology is moving, new models of electronics are introduced contently, rending the older version old news and in some cases useless.
Thankfully, selling gadgets is easy. There are so many sites and apps where you can sell all kinds of gadgets online and locally.
Whether you have an old iPhone/Android phone, tablet, laptop, computer, TV or whether else, you can get cash for them quickly and easily.
Here are a few guides to help you get started:
The sites listed in these posts really make it easy to sell your old gadgets. Within a few minutes you can get a quote or at least get an idea on how much they're willing to pay you for your gadgets.
10. Old CDs & DVDs
CDs & DVDs are so last generation in this digital age. But there are still people who like to use them and of course there are a lot of collectors who pay good money for CDs and DVDs.
If you have CDs or DVDs you no longer want, consider selling them for some quick and easy cash.
Sites like Declutr make the whole process easy and painless. Enter the barcode into their search engine to start the process.
Want more options?
Check out this list of places to sell CDs and this one for the best place to sell DVDs.
11. VHS tapes
Surprisingly, there is still a healthy demand for VHS tapes, just check out Amazon.com, eBay.com and Craigslist.
If you happen to hold movie titles that are still not available on DVD or those that are simply collectors' items, you can make some decent money by selling your VHS tapes!
12. Video Games & Gaming Consoles
It is said that games and consoles have a pretty short life span. If you are still holding on to an old game system or old games, you should let go of them before they lose too much value.
Thankfully, there are a couple of good sites where you can sell used video games and gaming consoles.
One of the better sites is JJGames.com. They pay decent money for most video games and consoles.
EB Games is another place you want to check out. It's a Canadian site that buys and sell pre-owned games through both its brick and mortar and online outlets.
13. Musical instruments
Unless you are a collector, old unused musical instruments around the house are simply going to collect dust. If you have stopped using them, it's time to sell!
Places like Guitar Center and Music Go Round are good places to sell your gear.
Of course, you can always try eBay and any eBay alternative auctions as well.
14. Old Jewelry
This is another category of items people have. Now, most of us mere mortals don't have million dollar pieces, but I am sure if money is tight, most of us have a few jewelry pieces that we can sell for a few hundred to a few thousand.
15. Furniture
Whether you have antique tables or chairs, or just IKEA pieces, these days selling furniture is very easy thanks to the so many apps, sites, consignment shops, garage sales, Facebook groups and other platforms.
Overwhelmed by the options?
Start with this list of places where you can sell used furniture for the most cash.
16. Make & Sell Crafts
Etsy is a great source of extra income for anyone who is good at making stuff.
There are also tons of Etsy alternatives you can use to sell handmade crafts.
The variety of products here is amazing and some of them epitomize the best of the best in term of innovative ideas and designs.
My point is that if you are really good with your hands and have a creative mind, you could come up with blockbuster money-spinners. It is time to turn your passion into a moneymaking vocation.
17. Collectibles
Once the Beanie Babies become less alluring and lose their appeal, sell them!
The same can apply to coins, stamps, or beer cans. Once the love is over, it is time to ring in the cash register.
Obviously, some items are going to fetch more than the rest, but they all represent a good source of income. So, put together your collection and head out to Etsy, Ruby Lane or Artfire.
18. Used Goods
It can work to your advantage if you happen to be a habitual shopper. Just make sure that you turn to the right places (yard sales, thrift stores) and buy the stuff cheap (used/old items).
Online marketplaces like eBay are always an excellent choice to trade or resell your cheaply acquired stuff with a profit.
Or, you could turn to the neighborhood flea markets, which probably work better if your product's quality can only be assured through physical or visual inspection.
Overhead is low (online marketplace is virtually free and a table at the flea-market costs $25 – $60).
No one in the real world has become a millionaire doing just that, but it can be decent money and you are doing what you like while you enjoy the extra income.
19. Rent Rooms in Your Home
Don't let the spare room stay vacant for long! If there is room to spare, renting it out could get you some much-needed cash, or help you pay your mortgage.
Airbnb isn't the only option. There are a few other sites like AirBNB were you can rent out your rooms for cash
20. Things You Don't Need
Organize a yard sale for those unwanted items that are occupying space in your household.
They could be out of fashion clothing, Christmas lights and decorations, and anything in between.
It is understood that you will have to sell these items at a fraction of their face value. But doing so, you could make room for items that you truly need and perhaps fund these new purchases with the money you make from the yard sale.
Need inspiration?…
Read my story of making $1000 in a weekend with a yard sale.
Services You Can Sell to Earn Money
Ok, so you have run out of options when it comes to selling tangible goods, but what about selling your skills and expertise?…
Thankfully, there are lots of ways to do that as well.
Here are a few:
21. Musical skills
Part-time musical teachers are reported to make hundreds of dollars every week comfortably by simply teaching musical instruments during their spare time.
If you have a talent with a certain musical instrument, you can boost your income by imparting your skills on to those keen beginners.
Always check out the going rate at your neighborhood so that you don't inadvertently price yourself out of the market.
And in true blue entrepreneur's form, make an effort to publicize your service, especially during the early stages.
22. Freelance Work
If you have developed concrete skills over your work life, then trade these skills as a freelancer.
It does not matter what your core skill is, it could be anything from writing to editing, photography to computer programming, web design, transcription, data entry, or accounting.
If you are really good, there will always be employers who are seeking out qualified freelancers for short stint work at Freelancer.com and Elance.com.
Do take note that these sites have some form of screening (usually in the form of tests) in place in order to conclude that you are good enough to bid for jobs posted in various categories.
Of course, the bid you put in has to be competitive enough to win the project or job.
23. Handy Man Work
Maybe you are competent to fix electronics or computers, or you are great in gardening, home maintenance or snow shoveling. Regardless of your area of expertise, people will pay good money if they can use your skill to help them to avoid tending to the task themselves.
Setting up a part-time home business is no longer as costly and cumbersome as in the pre-internet days. You could advertise on Craigslist and in local newspapers, distribute flyers and business cards, and in general create a buzz about your new business.
24. Babysitting, Elder Care, Home & Pet Services
Or you may claim you have no specific skills, but that should not be a prohibiting factor to set up a part-time business.
There will always be demand on babysitters and childcare service on a part-time and full-time basis.
25. Tutoring
If you are well versed with school/college subjects, then consider tutoring. There are many sites you can use to make money online tutoring.
Alternatively, you may be good in languages, so you can teach those who desire to sharpen their language skills, or you can get involved in translation work.
The point is that so long as you are willing to transfer your knowledge or skill, there will always be ready takers, at a fee of course.
26. Online Video Game Skills
Few think of it this way, but online gaming is potentially a full-time job with real income (people are reported to make $50,000 per year).
Gaming giants like Blizzard (WOW) employs a full-time staff to facilitate communication with subscribers and moderate their forums.
Or if your expertise is actually playing the game, then you can look forward to sponsors coming forward with offers to pay you to play in various tournaments.
It is not uncommon for winning players to get payouts in the range of thousands of dollars in tournaments; especially these concern popular games like WOW and Call of Duty.
Once you gain fame, gaming companies may pay you more to just test their new games.
Other Things You Can Sell for Cash
We mentioned a whole bunch of the best things to sell online (and locally) to make money fast, but there also many other things you can sell. There are even things you can buy and sell to make money.
The point is, you have options. You just have to think outside of the box.
Here are a few more things you can sell for profit.
Baby Supplies
Old China Sets
Car Advertising Space
Kids Toys
Holiday Decorations
Gifts you don't want
Kitchen Gadgets
Tools
Your expertise (by creating courses on sites like Udemy)
Your kids' outgrown clothes
Your organization skills
Your time (walk neighbors dog, etc)
Homemade Beauty Products
Your knowledge (on sites like SkillShare)
Microgigs on Fiverr
Again, these are just some of things you can make money by selling. Get your thinking cap on and I'm sure you'll come up with much more.
Bottom Line
You can almost always find something that you can sell to make money with. Sometimes you just have to be creative, other times you just have to look around your house!