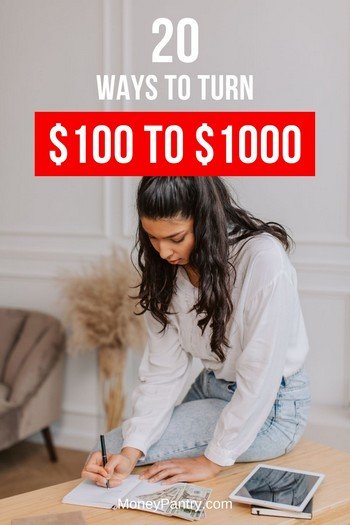 Want to know how to turn $100 into $1,000?
Well, you're not alone. Plenty of people are looking to grow their money.
There are bills to pay, groceries to purchase, and well, everything is so darn expensive nowadays!
Extra cash helps!
Turning a smaller amount of money, say $50, $100, or $200, into more money is something that is immensely helpful in the expensive times we're currently living in!
Just how do you do it though?
Need Easy Extra $300+/Month for Free?
KashKick
: Get paid directly into your PayPal for watching videos, surfing, shopping and more.
Join KashKick Now!
Panel Payday
: Earn up to $75 per survey. They also pay up to $50/hr for mystery shopping.
Join Now!
InboxDollars
: Paid over $57 Million to members to watch videos, take surveys, shop and more.
Get $5 instantly!
Branded Surveys
: Get $1 instantly just for joining for free. Plus get paid within 48 hours by PayPal!
Join Branded Surveys
iPsos iSay:
: If you have to only sign up for one paid survey site, go with Ipsos (high paying survyes)!
Join iPsos Now!
Swagbucks
: Get paid to watch videos, shop online, take surveys and more.
Join now & get $5 instantly!
Can you really take $100 and turn it into $1,000?
With the right methods you can!
How to Turn $100 into $1,000 or More
Here are 20 simple ways you can take $100 and turn it into $1,000.
1. Invest in stocks
Investing in stocks can be a good way to turn $100 into $1,000. If you have the money to invest upfront, then you should give it a try. Just remember that the stocks that you invest in aren't guaranteed to make you money back.
That being said, you can potentially make a lot of money investing in stocks.
There are brokerage platforms that offer low-cost investment options and investment management companies that are good for investing, like:
There are also micro-investing apps, like Acorns (pricing starts at $3 a month), that allow you to invest with your spare change.
It's a good idea to research online about investing in the stock market. Dividend.com is a good resource.
You can get started by investing $100 or less.
2. Try Peer-to-Peer Lending
Peer-to-peer lending is a type of lending where you loan money to a person who was unable to qualify for traditional financing. With this option, you earn interest on the money that you loan out.
This option is only worthwhile though if you can afford to loan out money in your current financial situation.
One way to get started with peer-to-peer lending is with Prosper.
Since lending money to people always comes with risks, it can be a good idea to spread the money you lend out across multiple loans, rather than lending it out in one large loan.
3. Self-publish books with Kindle Direct Publishing
Just a couple of decades ago, if you wanted to publish a book, you'd need to find an agent and work with a traditional publishing house. This took years, and the royalties were not particularly high.
In 2007, Amazon launched Kindle Direct Publishing (KDP), concurrently with the first Amazon Kindle device. KDP allows anyone to publish a fiction or non-fiction book and list it for sale on Amazon.
If you enjoy writing, then this could be a great option for you.
The start-up costs are low. It's a good idea to pay someone to design a book cover for you so that your book looks professional. This can cost $100 or less.
But, you could consider using a book cover design tool, many of which are free, and publish your book without spending anything.
You can put your book up for sale and earn money from it.
After your book is published, you'll continue to make money from it passively as long as it's on sale.
Amazon pays you 35% to 70% commission on your book sales.
With KDP, it's a good idea to have multiple books up for sale. That way, if a reader enjoys one of your books, and they look to see what other titles you have for sale, there are books available to purchase.
The more books you have available, the more money you can make. It's also a good idea to market your books.
4. Sell courses
Selling courses online is a good way to turn $100 into $1,000. In fact, you can actually invest less than $100 in this venture.
If you're knowledgeable about a particular subject, then you could create a course about it and sell it. You can create courses on everything from painting to WordPress.
Here are a few places to sell your courses:
Skillshare states that its top earning teachers make $100,000 or more per year. If you want to make an extra $1,000 a month, then try selling courses online.
5. Put money into a high-yield savings account
Turning $100 into $1,000 is a great way to improve your finances overall. If your main goal for turning $100 into $1,000 is just to improve your financial health, then consider putting your cash into a high-yield savings account.
When you do this, your money can earn interest.
Unlike stocks, savings accounts don't come with risks. So, this can be a good way to make extra cash with little risk.
You can let the interest build up and then use the money to cover the cost of whatever you need or just let the savings continue to accumulate over the years.
Sure, there are not that many banks offering particularly high interest rates, but some are better than others. Putting money into a high-yield savings account is worth doing because it's a simple, low-risk way to grow your money.
One option that you may want to consider is a certificate of deposit (CD).
This is a product offered by many banks and credit unions, and it provides you with better interest rates if you agree to leave a lump-sum deposit alone for a specified timeframe.
This could be 6 months, 12 months, or longer. If you don't need access to the money right away, then you may want to consider a CD as it can get better interest.
6. Pay off high interest debt
One of the easiest ways to get more cash is to pay off high interest debt. The interest you have to pay on things like your credit card or student loan can be pretty high.
Debt repayments can take money from your account each month, and this can be a lot of money.
The minimum payment on credit cards and the interest can be more than $100 a month!
Once you've paid off your debt, you can take the money you'd normally pay on interest and monthly minimum payments, $100 a month for example, and then use that cash to purchase stuff you need, use it to cover the cost of bills, save it, or invest it in another venture.
So, paying off your debts can save you a lot of money in the future. You should pay off the balance of high interest credit cards if you can.
There are lots of different methods out there for paying off debt. I have a post on how to pay off debt fast, even if you have no money, so check that out here to learn more.
7. Increase contributions to your 401(k)
If you want to flip $100 to make $1,000, then increase your contributions to your 401(k).
Investing in your 401(k) is so important, especially if your employer offers a match.
Let's say your employer offers a full 3% match on your contributions, and you earn $60,000 a year.
If you contribute 3% of your salary, which is $1,800, your employer will also contribute $1,800, which brings your annual 401(k) contributions to $3,600.
If you don't have access to a 401(k), then don't worry. There are plenty of other options for making extra money.
8. Fund an IRA
If you don't have 401(k), or you have already contributed enough that your employer is matching your contribution, then you could consider investing through a traditional IRA or a Roth IRA.
An IRA, if you don't already know, is an individual retirement account that's provided by many financial institutions.
It's basically a savings account with tax advantages that people can use to save and invest long term.
Individual retirement accounts aren't actually investments, but rather, accounts that come along with tax advantages that can be used to purchase investments.
Because contributions to traditional IRAs are often tax-deductible, and with Roth IRAs, you can take out qualified distributions tax-free in retirement, it means that you won't have to pay taxes on your investment earnings.
This is something that does require some research. Once you have funded an IRA at an online broker, you will be able to begin filling it with investments.
It's a better idea to invest mostly in diversified funds, like mutual funds.
This is because these funds are made up of many different stocks or bonds, which means that if one company doesn't perform well, then your portfolio is shielded by the other companies that you are invested in as well.
It's important to note that both traditional and Roth IRAs do have contribution limits. So, this means that you are only able to contribute a certain about of money annually.
There are also limitations on who can contribute. For example, for both types of IRAs, you will need to have taxable compensation. For, Roth IRAs, you can only contribute if your modified adjusted gross income is under certain thresholds.
As I said earlier, funding IRAs is something that you will want to research.
If you don't want to choose your own investments, then you can instead choose to open an IRA with a robo-advisor who will use a computer algorithm to build and manage an investment portfolio for you.
This isn't free though, and it can cost you a fee of between 0.25% and 0.75% of your assets under management.
9. Try retail arbitrage
One of the easiest ways to turn $100 into $1,000 is to try retail arbitrage. Almost anyone can get started with this money-making venture.
Sure, this option does require a bit of effort, but it's a great way to make extra money.
With retail arbitrage, you purchase an item and then sell it for a profit.
So, you flip items for a profit. For example, you could purchase a handbag for 50% off. So, you pay $50 for the purse rather than $100. Then, you resell the purse for $80, making a $30 profit on the sale. And, the customer still saves 20% off the RRP.
Or, for example, you can purchase a piece of furniture that's in need of some TLC to get it restored and looking great. You restore the item and then sell it for more than the amount that you bought it for.
You can purchase discounted items to flip for a profit at places like:
The dollar store
The clearance section of any store
TJ MAXX
Marshalls
Ross
Garage sales/yard sales
There's also another option that can net you even more of a profit and that's to get items for free and then sell them for a 100% profit.
You can actually get free stuff online on websites like OfferUp and Craigslist.
Once you have purchased your discounted items, have purchased items that you refurbish, or have gotten free items from Craigslist or OfferUp, you can sell them online.
Here are some places to sell stuff:
10. Start a blog
You could also consider starting your own blog. This can be on any subject that you want, like photography, movies, or beauty products.
To get started, you need to get a domain name and hosting from sites like Bluehost, HostGator, and GoDaddy. You will also need to use a site like WordPress.org to publish content.
Choose a topic, do some keyword research to get some post ideas, and then you can start uploading content.
Make sure that you upload content to your blog on a consistent basis, as this will help you to get more traffic and build up an audience for your blog.
While you won't make money from your blog right away, once you build up traffic to your site, blogging can be really profitable.
There are lots of ways to make money from your blog, including:
Putting Google ads on your site
Using affiliate links in your posts
Creating sponsored content for brands
You will need visitors to your site if you want to make money from your blog. The more traffic you get, the better because you'll get more views on ads, more clicks on affiliate links, etc., which means more money.
So, you will need to put some effort into your blog by uploading content and learning about things like SEO and marketing. If you put the effort in though, blogging can be very profitable, and you can make $1,000 or more!
11. Start your own YouTube Channel
You could create your own YouTube channel. Once your channel gets enough views, you'll be eligible to join the YouTube Partner Program.
As a YouTube partner, you can earn money from the ads on your videos.
While YouTube doesn't say how much it pays its content creators, figures online suggest that for every 1,000 views their videos get, YouTubers earn from $0.25 to $7. You get paid through your AdSense account.
You can make money on YouTube in other ways too, like by creating sponsored videos for brands or selling your own merch. You can create a channel on anything you want, from cooking to video games to vlogs of your daily life.
12. Try dropshipping with Fulfillment by Amazon
Another way to turn $100 into $1,000 is to try selling private label products on Amazon with Fulfilment by Amazon (FBA). This is a form of dropshipping.
With this method, you take a pre-existing item and put your own branding and logos on it, before selling it to consumers. Private labeling is also sometimes known as brand creation or white-labeling.
Lots of stores do this. It's a good model because you don't have to manufacture any products yourself, but you still get to label them with your own branding.
Once you have the products, you can start selling them with FBA.
With FBA, you, or your supplier, send the products directly to Amazon's warehouse, and then Amazon handles everything else, like the shipping, for you. This is a form of dropshipping.
Fulfilment By Amazon is the most popular way to sell with 57% of sellers using FBA to sell.
Here's how it works:
Choose a product you want to sell. You'll need a place to get your stuff from. Some sellers use wholesale websites like Alibaba.
Have your items delivered to an Amazon fulfillment center.
Then, Amazon will handle the rest for you. Amazon will ship your items when they sell and even deal with customer service as well.
For providing these services, Amazon does charge you fulfillment fees.
Amazon gets more than 200 million unique monthly visitors! That's a lot of people looking to buy stuff. So, this can be a really profitable venture.
And, FBA makes selling on Amazon easier.
So, consider starting your own FBA business if you want to make $1,000 or more!
13. Invest in crowd-funded real estate
Investing in real estate is a great way to grow your money. However, for many people, it's just not affordable. For those who don't have the means to invest in a property, investing in crowd-funded real estate is a great option.
It makes investing much more affordable.
One website to check out if you're interested is Fundrise.
For just $500, you can get started with investing through Fundrise.
While there is an investment upfront, in the long run, you can see some big profits.
This option isn't for everyone. If you have the money to invest upfront though and you're interested in the real estate business, then this could be a great option for you.
It allows you to invest in real estate without the hands-on hassle that comes along with being a landlord.
14. Start a store on Etsy
Another option you can try if you're looking for ways to turn $100 into $1,000 is starting your own store on Etsy. You can start a store there and make money selling things like handmade items, vintage pieces, clothing, and antiques.
Etsy does charge listing fees. You're charged a listing fee of $0.20 for each item that you list for sale on Etsy.com or Etsy's mobile apps.
Etsy also charges fees when you make a sale. When your item sells, you will be charged a transaction fee of 6.5% of the price you display for each listing plus the amount you charge for delivery and gift wrapping.
You can easily turn a small investment in your Etsy store into thousands of dollars.
15. Sell printables
Sure, selling physical products can be a great way to earn money. And many people have success selling them on sites like Etsy and Amazon.
However, selling physical products can be a bit of a hassle. That's why you might want to consider selling printables instead.
Some examples of printables to sell include:
Calendars
Planner stickers
Journal print outs
Budgeting binders
Gift tags
Greeting cards
There are plenty of places to sell printables online, such as:
Esty
Amazon
Shopify
Your own website
Fiverr
Social media
Redbubble
You can do some research online to see which types of printables are popular. What's great about selling printables is that your start-up costs are next to nothing! So, you can make money without having to invest much.
16. Invest in a new skill
A really good way to turn $100 into $1,000 is to learn a new skill. Basically, you're investing in yourself. And, you don't have to go to college if you don't want to, because, well, college is expensive!
Sure, if you can afford it, or get financial aid, you could consider doing a college course or degree that could get you a high paid job in the future.
But, another option that requires a much smaller investment is to learn online instead. Thanks to the internet, you can learn new skills for free or without having to spend a fortune on traditional education.
There's a ton of free information online about a huge variety of topics. There are also sites like Skillshare and Udemy where you can take courses in a variety of subjects. You can turn the $100 you pay for an online course, into a $1,000 using the skills you learn.
Learning skills is a great way to build wealth.
17. Start a podcast
You could consider starting a podcast. Podcasts are incredibly popular, so this can be a good way to make money. There are podcasts on a huge variety of topics from history to sports to tv shows.
Podcasters make money through sponsors and advertisers, and donations provided they have a large enough following.
If you bring in a large number of listeners, then you can increase your chances of having them donate to you to support your podcast.
You can find a step-by-step guide from ThePodcastHost.com on how to start a podcast here.
If you can build up a good following, then you could make quite a lot of money from your podcast.
A podcaster can earn around $300 to $5,000 per episode with 10,000 downloads. Very successful podcasts can earn much more than that though. They can earn millions in annual income.
You'll need to deliver quality content on a consistent basis to make money from your podcast. Put in a little investment though, and you could make $1,000s!
18. Try affiliate marketing
If you want to turn $100 into $1,000, then give affiliate marketing a try.
As an affiliate marketer, you get paid for selling stuff, without actually having to handle any products yourself, or even create any designs.
Instead, you simply join an affiliate program and get affiliate links for products. You can find affiliate products in pretty much every category you could think of from clothing to cosmetics.
Once you have your affiliate links, you can post them online in places, like:
Videos
Landing pages
Blog posts
Newsletters
A product resources page
A comparison review site
Social media posts
When a customer clicks on one of your affiliate links, they're taken to the product page, as they normally would be, and if they make a purchase, you get a commission on the sale. It's a pretty easy way to earn money.
There are lots of affiliate programs available, such as:
Although affiliate marketing is easy in the sense that you are selling other people's products, if you want to make money, you will need to drive traffic to your links, which does require some effort on your part.
Once the links are out there though, you can keep earning money passively, even in your sleep. What's good about affiliate marketing is that it requires little investment, which means you could potentially earn a lot of money, without paying much out upfront.
19. Offer freelance services
Offering freelance services online is a great way to earn money. And, it requires little to no investment. You may want to pay to create a website that is a portfolio for your work.
With your portfolio website, you can showcase your previous projects and any testimonials you get. When you apply for work, your portfolio can help to convince clients to hire you and it can make you look more legitimate as a freelancer.
You can start a website for around $100.
Of course, having your own portfolio website is not a necessity. You can create a freelance profile and list samples of your work on Upwork, and the site is free to join. You can also create profiles on other freelance based sites like Fiverr and PeoplePerHour.
So, you can get started as a freelancer even if you have no money to invest in a website.
There are lots of freelance services you can offer, such as:
Writing
Graphic design
Web design
Translating
Transcription services
Virtual assistant work
Editing
Proofreading
Copywriting
Social media management
You can make $1,000s as a freelancer provided that you can get enough work.
20. Start a service-based business
If you have a skill, then you could make money by offering a service-based business.
Most service-based businesses do require some sort of equipment to get started. Choose something where the startup costs aren't too high. There are certain service-based businesses where the cost can be pretty low.
For example, you can get a basic toolkit for $100 and then offer handyman services on sites like TaskRabbit, Thumbtack Pro, and Handy.
Some examples of service-based businesses you can start include:
Cleaning business
Lawncare business
Landscaping business
Pet sitting business
Dog walking business
Window cleaning business
Pressure washing business
House painting business
Pet grooming business
Handyman business
Purchase some equipment that allows you to provide a service, and then start earning money from your service-based businesses.
You can start many businesses for just $100. There are even businesses you can start for less than $100. And, as you make more money, you can also reinvest in better equipment that helps you to expand your business and make even more money.
Flipping $100 to $1000: Final Words
There are plenty of ways to turn $100 into $1,000, like investing in stocks, starting a blog, funding an IRA, increasing contributions to your 401(k), starting an Etsy store, offering freelance services, starting affiliate marketing, and starting a service-based business.
You just have to pick one that best suits your skills and know-how and more importantly, interests you. And before you know it you have turned that $100 to $1000 or more!