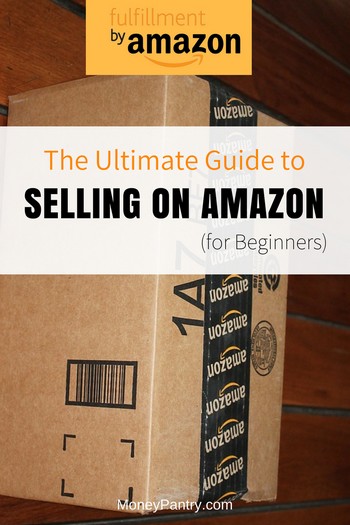 Want to make $1,000s a month from the comfort of your own home?
Well, with Amazon FBA, you can.
If you're looking for a legitimate work at home opportunity, then FBA  is for you.
With FBA – which is an acronym for Fulfilment By Amazon – you can sell products to customers directly on Amazon.
Selling on Amazon, you could potentially make enough money to replace your income, put a good dent in your mortgage payments or debts, or even just give yourself a bit more disposable income.
In today's post, we cover everything you need to know about the FBA network, including:
Need Easy Extra $300+/Month for Free?
KashKick
: Get paid directly into your PayPal for watching videos, surfing, shopping and more.
Join KashKick Now!
Panel Payday
: Earn up to $75 per survey. They also pay up to $50/hr for mystery shopping.
Join Now!
InboxDollars
: Paid over $57 Million to members to watch videos, take surveys, shop and more.
Get $5 instantly!
Branded Surveys
: Get $1 instantly just for joining for free. Plus get paid within 48 hours by PayPal!
Join Branded Surveys
iPsos iSay:
: If you have to only sign up for one paid survey site, go with Ipsos (high paying survyes)!
Join iPsos Now!
Swagbucks
: Get paid to watch videos, shop online, take surveys and more.
Join now & get $5 instantly!
How it works.
How to choose products.
Tips for sourcing products cheaply.
How much you can earn.
Tips for success
So, if you've ever considered making money from home, then read on…
What is Amazon FBA?
FBA is a service offered by Amazon that allows you to sell products on the platform, without having to ship them to customers or handle things like customer service.
Essentially, it streamlines the process of eCommerce for you.
You don't have to set up your own website or deal with returns, customer queries or anything like that.
So, it's ideal if you've always wanted to start an online business, but don't want the hassle of setting up your own eCommerce Platform.
How does Amazon work for Sellers?
FBA is actually pretty simple, which is definitely part of its appeal.
Here's how it works:
You source products to sell.
Then, you store your products in Amazon's fulfillment centers.
Once your item is listed for sale on Amazon, customers can buy it.
Amazon then picks, packs, and ships your items. And, provides customer service for your products.
That's it.
It is a pretty simple process.
The difficult bit is choosing products that are going to sell, sourcing those products, and finding the sweet spot for your profit margins.
Essentially, selling successfully on Amazon requires a lot of upfront work, but once you've done the work, it can pay off for years to come.
This makes it a great source of residual income, once the upfront work is done.
Now, we've briefly outlined how it works above, but below, we go into more detail about how to find products and guide you through the process of selling on Amazon.
1. Signing Up
Okay, so you're going to need to sign up for an Amazon Seller's account.
How you do this depends on whether you already have a Selling on Amazon account. If you do, you can just add FBA to your account here.
If you don't have a Selling on Amazon account, then you'll need to create one here.
Just follow the instructions on screen, and enter the information required.
2. Find a Product
Once you've signed up, the first step to becoming a successful seller is to find the product that you want to sell.
It's best to pick just one product to start with, and then try to get more out there after you try the first.
This can help you to keep your overheads down too.
With FBA, a lot of people want to know, what's the best product to sell?
And, well, there isn't one.
Any product can be a success – whether it's a pet care item or a home décor item – it just needs to fit the right criteria.
Products to Avoid
Now, there are some categories that you do want to avoid – that's not to say you can't make a profit with them, but they can be a bit more hassle than others.
Categories to avoid include:
Clothing – sizes can vary so much, resulting in a lot of returns.
Electronics – outlets vary.
Fragile items – anything that can easily break, such as mugs, or wine glasses, should be avoided since it can up the number of returns you receive.
Items with intricate or moving parts – like a radio for example.
What makes a Good Product?
Online, there are a lot of contradictions when it comes to choosing products. Some people say to sell expensive products and others say to sell cheap ones, many say you want an item that's in high demand, and others say to go for untapped niches.
This can be quite confusing.
That's why we've offered a simple list of criteria that you can apply to any product:
The average product price is $10 to $50.
There's a demand for your product.
The market's not too competitive.
It's lightweight and not too big.
It has a BSR of 5,000 or less.
There are no brand names in your niche.
The product allows you to make a good profit.
It's not seasonal.
You can sell related products.
It's easy to source and private label.
Let's delve into each one in a little more detail.
1. The Average Product Price is $10 to $50
It might be tempting to go for a more expensive item, but this can actually result in fewer sales, and therefore, less profit.
You want to tap into the impulse buyer market.
So, a person is much more likely to spend $20 without giving it much thought, than they would be on a $120 product. Think about it – how much thought and consideration do you put in before buying something like a new TV?
It's much more than you would for a new set of coasters or a mouse mat, for example.
People are willing to part with small amounts of money more easily.
The reason why you shouldn't sell a product for less than $10 is because Amazon lists those as add-on items, and your profit margins would also be poor.
2. There's a Demand for It
You might think that you have a great product idea, but there might not be a demand for it.
Whatever it is you're selling, you need to make sure that there are enough people out there who want to buy it.
After all, you want to choose a profitable market.
That's where keyword research comes in.
How to Conduct Keyword Research
Keyword research can help you to determine whether or not the product you're thinking about is sought after by consumers.
Now, there are a few ways that you can conduct your keyword research:
Use Google's free keyword tool.
Use an Amazon-specific tool, like Merchant Words.
Google's tool is great, easy to use and free.
On the other hand, Merchant Words is an Amazon Keyword tool – so it's focused on keyword data just on Amazon, meaning it can offer a more accurate insight into keyword popularity on the platform.
The only downside is that Merchant Words isn't free.
It costs $60 per month or $600 a year.
But, you can cancel your subscription at any time, which is great.
Now, how do you go about getting ideas in the first place?
Take a look through Amazon categories.
Type in a word or letter into the search box on Amazon. And, the drop down will give you keywords based on what customers have typed in.
Do the same with Google, but also scroll to the bottom of the results to view related terms.
Use UberSuggest. This tool allows you to generate keyword ideas for free.
Once you have a list of product ideas, then you can enter the keywords into the tool you're using.
So, let's say you're looking at selling stuff in the pet's category on Amazon, and one of the products you're looking at is dog bowls.
Type that keyword into MerchantWords and you can see it gets hundreds of thousands of searches, so people are looking for this product.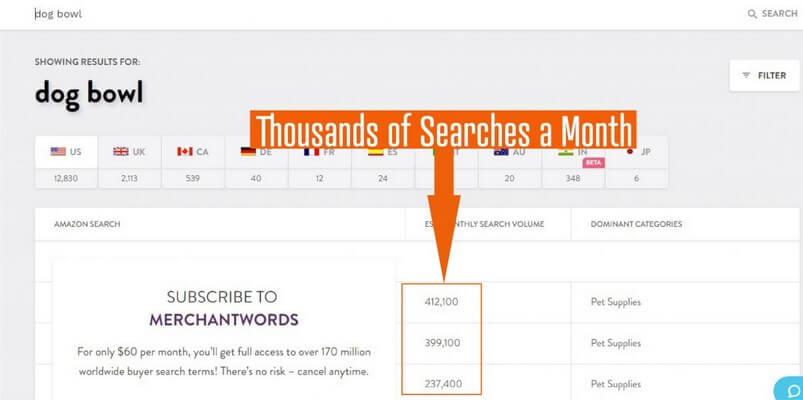 Let's say one of your other keywords is "dog collars," we can search for this term on the Google Keyword Planner tool.
And, as you can see, this term is getting 10k to 100k searches a month.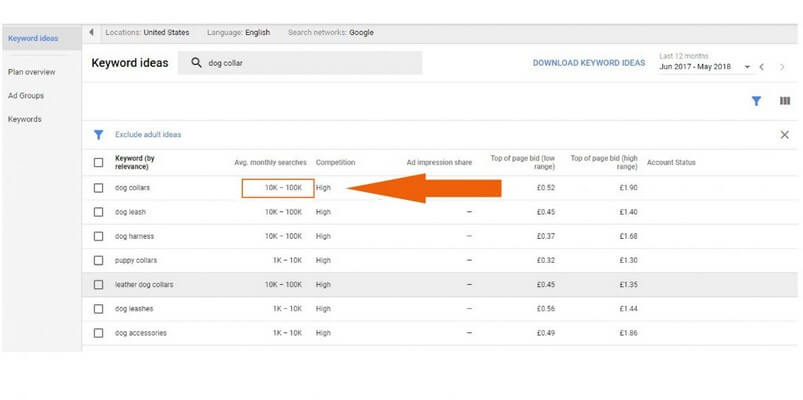 Don't get too caught up with looking for an exact number of keywords.
When you come to list your product on Amazon, you'll be targeting a few keywords anyway. So, as long as those keywords combined are getting thousands of searches, it's ideal.
Keyword research is important. If a search term is only getting 10 searches a day, then you're not going to sell much.
Keep in mind that keywords are just a starting point – and a product's success, is determined by other factors that we'll discuss below.
Doing keyword research just gives you an idea of the demand for your product.
3. It shouldn't be too Competitive
While you want to find a product that is in demand, you don't want the competition to be too high.
If the product you're looking at has tons of 5 star results on Amazon, then it's going to be tough to compete.
As a good rule of thumb, when you search for your product keyword on Amazon, there should be two to three products with less than 50 reviews on the first page.
This means that your product isn't too competitive.
But, also, use your common sense.
When you search for mouse mats on Amazon, there are six products with less than 50 reviews on the first page.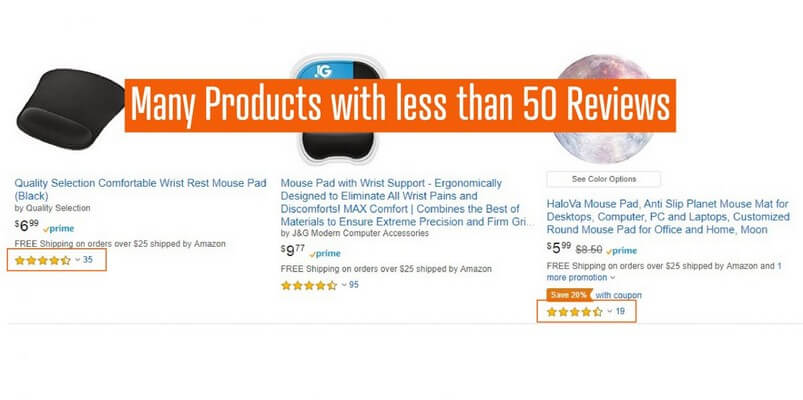 However, there are also nine products that have more than 500 reviews each.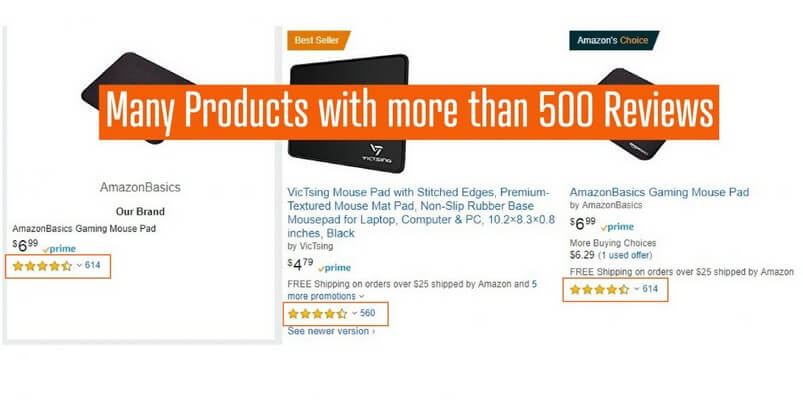 And, of those nine, 6 have more than 1,000 reviews each.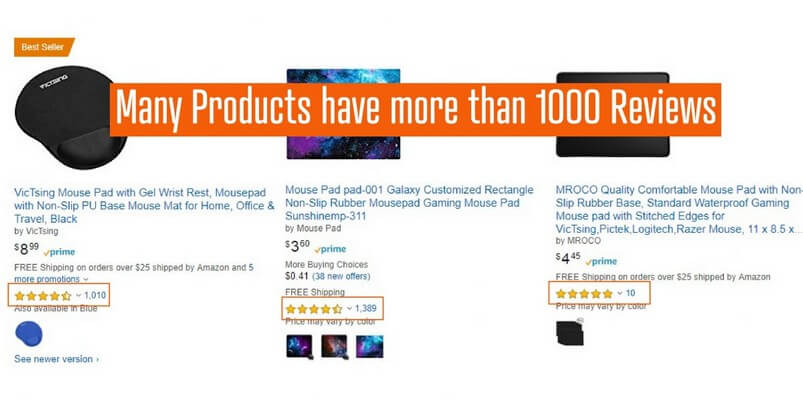 That's far too competitive. It's going to be hard to get customers to notice your product when the others on the first page have so many reviews.
So, another tip is to make sure that on the first page, there aren't too many products that have hundreds or thousands of reviews.
4. It's lightweight and not too big
Since weight is a big factor in the cost of shipping from your supplier to the Amazon warehouses, and in Amazon fees, choosing a product that's lightweight is important.
The lighter your product is, the cheaper the cost of fulfillment, which includes shipping, will be – meaning you get to keep more of the money each time your item sells.
Here are the fulfillment fees Amazon charges: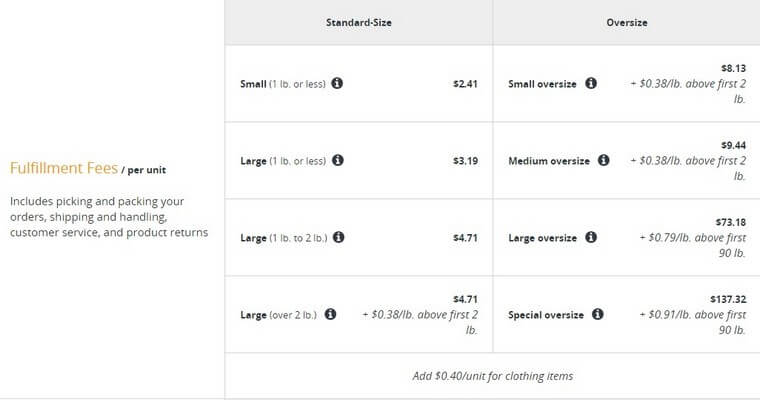 Also, size factors into the fees that you pay to Amazon.
Aside from fulfillment fees, which are charged per unit for things like packing your orders, shipping and handling, Amazon also charges a Monthly Inventory fee.
Here's what the Amazon Monthly Inventory fee is:

This is a fee that Amazon charges to store units in its fulfillment center – and it's charged per cubic foot. So, the bigger your items, the more you'll be charged.
Ideally, you want to aim for products are less than 4 pounds.
5. Has BSR of 5,000 or below
It can be tough to know whether a product on Amazon is actually selling. An easy way to determine this is to look at the Best Seller Rank or BSR.
You can find the BSR in the "Product Details" section. Just scroll down the page a little to find it.
The BSR gives you a great indication of how well a product is selling within its category.
Let's take a look at dog leashes for example.
As you can see below, this dog leash has a BSR of 227 – so it sells incredibly well within its category.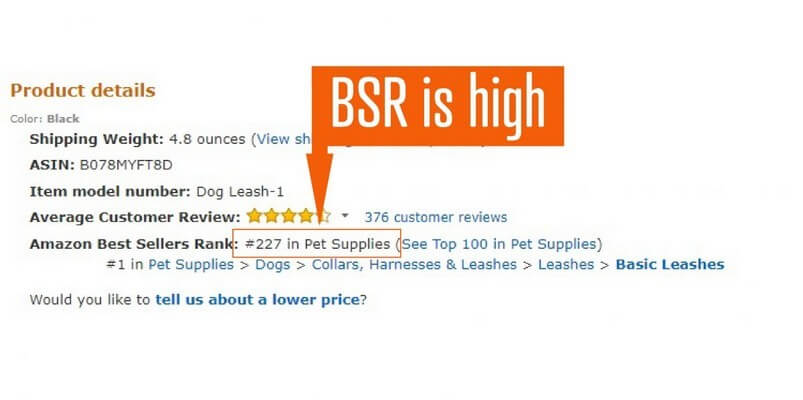 A product with a BSR of 5,000 is going to sell way more than one with 20,000.
Ideally, you want there to be at least three products on the first page that have a BSR of 5,000 or below.
6. There are no brand names in your niche
Another really important thing to keep in mind when looking for a product is that you don't want to be competing with big brands.
It's sort of like opening up a fast-food place that sells burgers right next to a McDonald's. People are always going to go with the brands they know and trust.
Competing with big brands is definitely something to avoid.
When researching products on Amazon, you want to make sure that no products from big name brands appear in the results.
For example, when you do a search for cat litter, quite a few big brand names come up.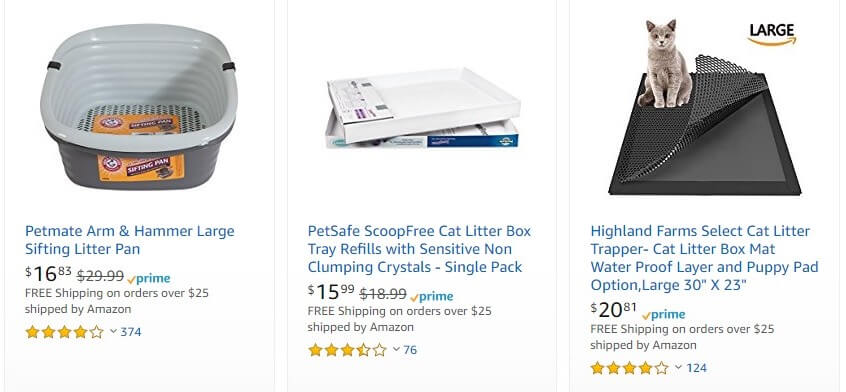 You want the products in the results to be from brands that aren't known. This allows you to compete more easily as a new seller.
7. The product allows you to make a good profit
If you're selling a product for $20, but it costs $10 to make and you pay $5 in fees, then your profit margins are going to be poor.
It's really important that you factor in the cost of manufacturing and Amazon's fees.
What type of profit you want to make on your products is really up to you.
However, ideally, you want your profit margins to be at 50% to 75%.
It can be a good idea to find a product that you can get made for around 25% to 35% of your selling price – doing this ensures that once your FBA fees are paid, you still have a good profit.
8. It's Not Seasonal
Selling seasonal products is not a great idea when you're starting out.  It's not that you can't make money selling them, but your income stream won't be as consistent.
So, you want to choose a product that's a year-round seller.
9. You can sell related products
Ideally, you want to be able to grow and expand your brand by selling related products. So, let's say that you sell baking spoons. Well, you could also branch into selling spatulas, measuring cups, and baking mats.
If you want FBA to be a long-term business, then you want to build a brand. Your brand will then become more recognizable as you get more products.
10. It's Easy to Source and Private Label
This is also really important. You need a product that you can easily get made in China. But, we'll cover this more in the "Source the Product" section below.
Consider Signing up to Jungle Scout
There's a tool called Jungle Scout that can really help to speed up the process of product research.
It's a great tool because it gives you a lot of useful data.
Just enter a keyword into Amazon.com, and then click on the Jungle Scout browser extension, and it will load in data about all of the products that come up for that search term, such as:
Product rank
The number of sales a product gets
Number of reviews
Product category
The item's rating.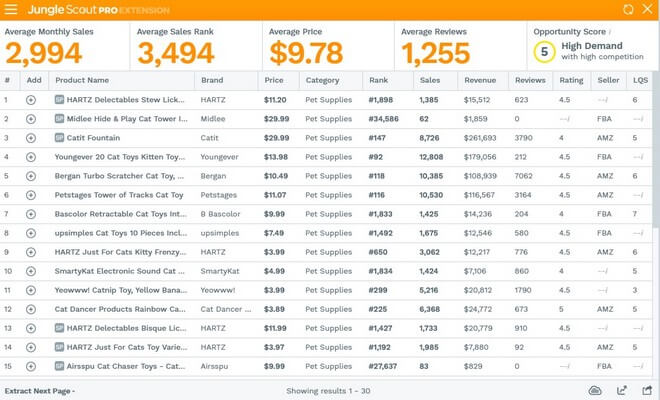 What's great about Jungle Scout is that it also tells you whether the product is in demand or competitive. For example, for the term "mouse pad", there's a low demand and high competition.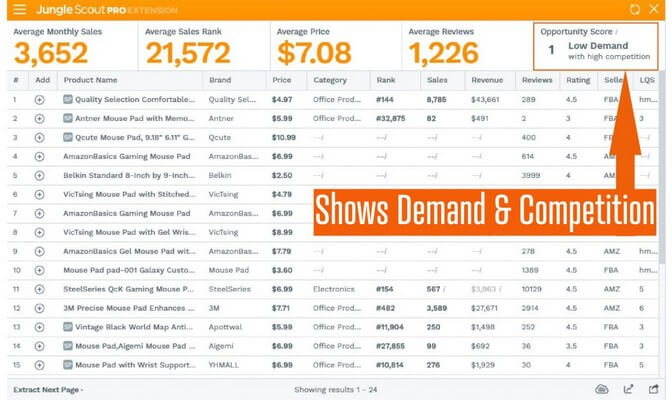 Jungle Scout makes the process of searching for products so much quicker and easier, so it's definitely worth using.
But, it's not a free program. The standard plan for the web app costs $49 a month.
And, for the Chrome extension, you pay a one-time fee of $97 for the Lite version and $197 for the Pro version.
Get Jungle Scout here.
Try to get a big list of products together and then create a shortlist. Then, go through it to determine the item that you want to sell.
3. Source the Product
Some people practice what's known as "retail arbitrage." This is where they visit multiple stores looking for discounted or underpriced items that they can sell for a profit.
We would definitely recommend against this. It's time-consuming, and it doesn't provide you with a steady stream of products to sell. If you really want success with FBA, then you need to focus on private label products instead.
These are basically generic products that you can source cheaply from countries like China.
Then, you put your own branding on them or "privately label" them.
This is a much better option, for a few reasons:
You create your own brand – this is better for your store's image/marketing.
It's more efficient – you can buy wholesale and get your products in one place, rather than wasting your time running around a bunch of different stores.
It's more cost-effective – buying wholesale from China and other countries generally works out cheaper. And, you can get a good profit margin.
So, now, you're probably wondering where you can get these products.
You're going to need a supplier to make the products for you.
There are actually dozens of manufacturers out there who you can buy from.
One website that you should definitely check out is Alibaba.
The website has a free membership option.
How to Search for Products on Alibaba
Alibaba is a well-established website. In fact, it's been around since 1999! So, it has a lot of experience.
Alibaba itself is not a supplier. It's a marketplace for global trade, where buyers can find suppliers, and where suppliers can list their items for sale.
On there, you buy items wholesale from a manufacturer. And, what's great is that a lot of these suppliers offer private labeling.
Searching for the item
The first step is to type in the name of the product or products on your short list.
Let's say one of your products was a dog leash.
So, on the homepage, enter the name of the product.
It will then display a list of results.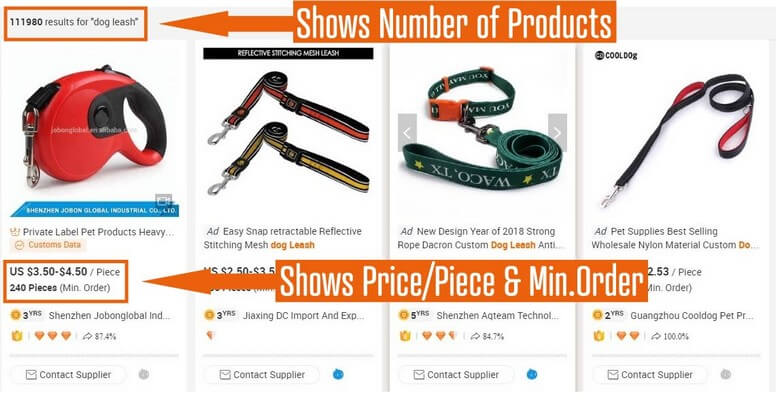 As you can see in the image above, there are more than 11,000 results for the term "dog leash," so there are plenty of manufacturers out there to make your product.
What's good about Alibaba is that it also shows you the price per piece and the minimum amount you can order.
The minimum order amount will vary from supplier to supplier.
For example, on the first page of results for the "dog leash" keyword, the minimum amount per piece ranges from 1 to more than 700.
Filtering the Results
With Alibaba, you can filter the results by minimum order. So, if you're only looking to buy a small amount at first, then this is ideal.
Plus, you can filter results by the price too, which can help you to find products that fit your profit margins.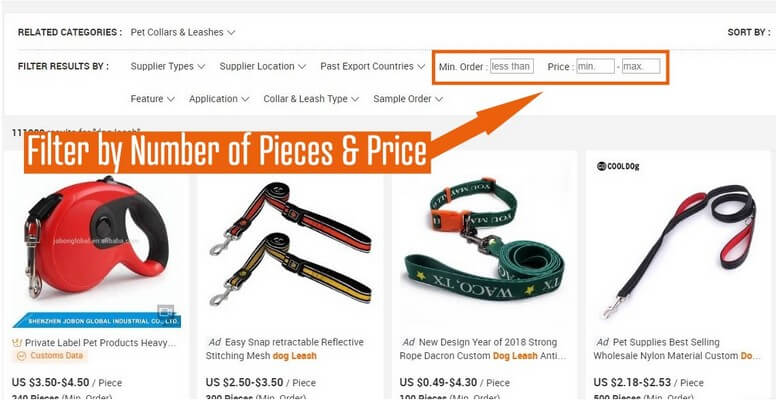 Reading about Products
When you see a product you're interested in, just click on it, and you'll be able to see more details for it, such as the size, color, and weight. You'll also be able to view more information about the manufacturer.
At this point, you should also check to see whether the supplier provides private labeling. Some put this in the product's title, handily. Others don't. So, you'll have to have a read of the product page.
Some products have an FAQ section, and often they'll state there whether they offer private label products – sometimes called OEM, or sometimes ODM.
You can also contact suppliers directly about products.
Trying Products
Once you've found a product you like, you'll need to order some samples of it.
This is so important, and a step that you definitely shouldn't skip.
You want to know what the item is actually like – after all, you don't want to sell poor products and end up with bad reviews.
So, ask for samples, and actually, use the product.
For example, if you plan to sell mouse pad, then use the mouse pad sample.
It's so important to test the quality of the product and how well it works.
Also, it's important to ask the supplier questions to find out about things like private label requirements, how long it will take to manufacture, and the cost of shipping.
Deciding how many units to order
How many units you decide to buy depends on a few factors, such as the type of product you're selling and your budget.
Keeping your items in stock can be hard. If you don't order enough units, your product could sell out before you can replenish your stock and this can hurt your seller ranking.
But, of course, if you order too much on your first shipment, and the product doesn't sell, then you'll end up with a surplus of stuff.
So, it's difficult to give an exact figure.
Starting out with a few hundred items is a good idea – but, always consider your budget when ordering products and remember that you can always restock.
4. Create your Brand and Label your Products
We briefly touched on the importance of building a brand earlier in the product criteria section.
It's a really important step.
Packaging and Labels
What's great about private labeling your products is that it allows you to create a brand, so you get to choose a logo, labels for products, and any other packaging and designs for your company.
Building a brand is important because it can give your business more longevity.
So, once you've found a product from a manufacturer that you like, it's time to start getting all of the designs and everything sorted for your brand and products.
You'll need to hire a designer to create your packaging and labeling. A good place to find a designer is on UpWork.
This is a big upfront expense – which can cost a few hundred dollars.
But, it's very important; plus if your product packaging and logo look great, then it makes your FBA company look professional and reputable.
Your packaging and/or label have to meet your supplier's criteria – so make sure you check beforehand. This way you can give your designer the right instructions and specifications.
Business Name
You'll also need a name for your store/company. Now, it's best to go generic.
Here's why…
Let's say that the first product you plan to sell is a dog collar.
So you think, I'll call my business "Cute Dog Collar Designs."
Sure, it fits your product really well, but there's absolutely no room for growth.
It's so important to think long-term.
If you name your store something too specific, then if you want to branch out and sell related products, like dog toys, bowls, and leashes, for example, in the future, then you won't able to.
Designs for your Business
Aside from the designs on your actual product's packaging, you'll also need designs for your business.
You'll need a:
Logo: This can cost around $100. Getting a good logo is important since it's what people will come to associate with your brand. Plus, it will appear on your website, products and anywhere else your brand has a presence.
Website banner.
Favicon.
5. Create your Product Listing and Website
While you're waiting for your manufacturer to produce your product, you should set up a website for your brand, and a product listing page.
The Website
Try to get a domain name that matches your store name on Amazon. We mentioned above that you'll need a favicon (the little icon that appears on the window tab of a website), and banner before because you'll need them on your website.
Don't worry about including too much on your website. You'll need at least:
A homepage that introduces your company.
An "About Us" page.
A "Contact Us" page
A post or two about your product or products when you have a few.
You should also set up a social media profile for your business – Facebook is a good choice, but more on that later.
The Product Listing
And, finally, you need to set up your Amazon product listing.
This is the page that will appear on Amazon.com, where customers can read all about your product and see photos of it as well.
It's really important to keyword-optimize your listing. Using keywords effectively helps to drive traffic to your product listing. And, the page should also include a well-written product description and don't forget to list the benefits of the product too.
Listing the benefits, rather than just the features of your item can encourage sales.
A good product listing can set your item apart from others – so take your time creating it.
You can use the keyword tools we mentioned earlier.
The Product Images
Images are part of your product listing and an incredibly important one. Poor photos can really put customers off – even if the rest of your product listing is great.
The main image should just include the product on a white background.
And, the secondary image can include the item in use.
Try to fill all of the image spots – the more images you have the better.
6. Launch your Product
When your product arrives at Amazon's warehouses, and you have your listing up, and a website, it's time to launch your product!
Amazon is a simply massive platform with millions of customers, so if you used the criteria we mentioned, and created a great product listing, then you're on your way to customers coming across your product.
However, you want to do everything you can to ensure your product's success.
Here's what you should do to promote your products and increase sales.
Reviews
Getting reviews is important, as customers are more likely to purchase an item that has reviews than one that doesn't.
You should get as many of your friends and family to buy and review your products – this is an easy way to get good reviews on your products in the early stages.
Amazon Sponsored Products
If you shop on Amazon, then you've probably noticed products that say "sponsored" under the headline, like the ones below: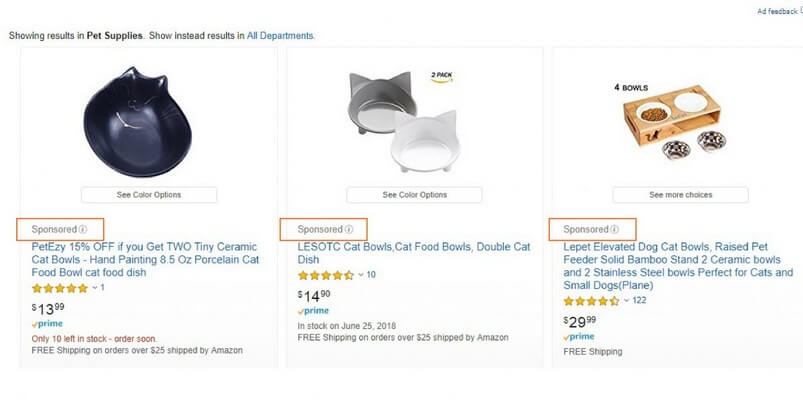 Well, these are products that sellers have paid to appear higher up in the search results.
We would highly recommend investing in Sponsored Products because they can make a huge difference.
Sponsored Products is Amazon's pay-per-click advertising program. With it, you can promote your products with keyword targeted ads.
You get to choose the product you want to advertise, and select the keywords – Amazon will even target your ads with automatic targeting.
You get to choose how much you want to spend and can measure the performance of your ads.
Amazon is a competitive platform, and anything that will get your products to the top of the search results in your niche will increase your sales.
And, that's exactly what these ads do. You pay a set amount each time someone clicks on your product through your sponsored ad, and in return, your products will appear more prominently when customers search for your keywords.
Running these ads can get you more sales and reviews. So, even if you stop running the ads, your product will still have been pushed up the search results – since it's had more sales and more people have reviewed it.
Learn more about Sponsored Products on Amazon here.
Tips for Success with FBA
Here are a few tips for succeeding with FBA:
Start out with One Product
We mentioned this earlier, but it's important. It can be tempting to try out a few different products at once – but you'll have more success getting one product out at a time.
Don't Rush the Research Phase
We can't stress the importance of doing extensive product research enough. Unfortunately, a lot of people are in such a rush to get a product on Amazon in order to make money that they pick something without even properly researching it. And, this is a recipe for disaster.
You can't just pick a product without giving it much thought and expect it to be a success – sure, it might be, but it's more likely to fail.
This is why you should take your time with your research.
Go through the criteria that we outlined above for each and every product. Remember, once the research is done, the hard work is done.
Just put in the time up front, and you're more likely to have a successful product.
Don't be Afraid of Failure
A lot of people who try FBA will give up when their first product doesn't sell as well as they thought it would.
But this is a mistake.
Once you have ten products out there, you'll find that just a few of them will make you the majority of your income.
The Pareto principle, or the 80/20 rule, really applies to Amazon.
The Pareto principle says that for most things, around 80% of the effects come from 20% of the causes.
So, when applied to Amazon, 20% of your products will make 80% of your profits.
Of course, this isn't concrete – all ten of your first products might sell well.
But, keep in mind that just because your first product isn't making as much as you wanted, it doesn't mean that your next one won't.
And, this leads us to our next point…
Get Ten Products up as Soon as Possible
Although we said that you should focus on just one product at the start, once you've launched your first product, you can then add a second and continue adding products.
The more products you have out there, the more profit you'll make. As we said earlier, you should be thinking of FBA as a long-term venture, rather than a one-off product.
How much can you Earn with FBA?
How much you can make on Amazon really depends on a lot of factors, such as, which products you're selling, and how many units you sell.
But, what's great about this business is that it's scalable. You could make money with just 5 products or 50 products.
So, there is the real potential to grow your income.
It's also tough to give an exact figure, because most people report their gross income, not what they actually earn when they subtract the cost of manufacturing their product, Amazon fees, and any marketing costs.
This person on Reddit says they made $1633.34 in sales in their first month with a private label product. Again – this is sales and not profit.
Some people report earning $10,000 a month.
One user on Reddit, however, does state their profit. The user says:
"Started 3 years ago, with a $10k loan. Now I am making $17k profit a month. The thing is that everybody will make mistakes and fail at some aspects on their FBA journey. How you minimise these risks is what will make you succeed in the long run."
Another user in the same thread says:
"I started a year ago and I broke 6 figures in sales within 9 months."
So, you can earn thousands a month with this.
Is FBA Worthwhile?
As you can see, there are a lot of people out there who've made $1000s selling stuff with FBA.
So, this is a legitimate business venture.
And, it's one with a lot of benefits, and of course a couple of cons.
Let's take a look at the benefits first before we look at the downsides.
What are the Benefits of FBA?
Honestly, FBA offers more pros than it does cons. Here are some of the main benefits of this business venture.
Amazon is a Hugely Popular Platform
What's great about FBA is that you're selling products through one of the biggest retailers in the world. According to reports, Amazon is the most popular retailer in the United States and Europe.
So, there are millions of customers shopping through the platform. This means that you have a huge potential customer base already waiting to buy products.
The problem with setting up your own store on your own website is that you have to drive traffic to it. But, Amazon already gets millions of visitors. Also, a customer is much more likely to trust a big retailer that they know, like Amazon, than they are a random eCommerce store that they've never heard about.
Prime Memberships are Increasing
According to reports, the number of Prime memberships is increasing. After all, customers want the convenience of next day delivery that Prime offers, and the other benefits they get for the low price of $9.99 a month.
So, there are tons of Prime members looking for products eligible for free shipping.
As an FBA seller, the products you sell are eligible for fast, free shipping to Prime members. And, this is definitely a big draw that sets your products apart from others on the platform.
You Don't Have to Deal with Customer Support
If a customer has a query or needs to return something, then Amazon does it for you.
So, once a product is up for sale, the FBA business becomes pretty hands off.
The problem with eCommerce is that you often have to put in a lot of time or hire someone to handle things like answering emails, and phone calls from customers. Handling returns can also be time-consuming. So, this is definitely a huge benefit.
What are the Cons of FBA?
There really aren't many cons with FBA. Overall, it's a great business venture. But, there are some things to keep in mind.
There are Upfront Costs Involved
Selling on Amazon is a business venture that's best suited to those who have the money to invest upfront.
FBA isn't an on-demand type of deal where items are shipped as they're ordered.
As we mentioned above, you have to buy items upfront, so they're ready to sell.
This means that you have to invest in stocks.
This overhead can be quite high. And, there's no guarantee that your products will sell. Of course, if you follow our tips, then you can make sure that you choose items that are likely to sell, and that you source those items cheaply.
And, of course, you can slash the prices of products that don't sell to clear stock.
This really is the only downside.
Also, Amazon charges fees for fulfilling orders of your products, and storing them – we included a photo of the fees above, so you can see what you'll be charged.
You might consider the fees Amazon takes as a con. But, since the company does handle everything for you, we feel that the fees are somewhat justified.
Closing thoughts
We'd recommend Amazon FBA if you're looking for a legitimate business opportunity.
If you want to replace your income and work from your own home instead, then selling through FBA is such a good idea.
If you're looking for something passive and super easy, on the other hand, then you'll want to give this a miss.
FBA is pretty hands-off once you get your product up and running. However, upfront it requires a lot of work. You have to research products thoroughly, get designs created for your products, and source items.
So, you will need to put in the effort.
But, as you can see from the earnings section above, that effort can really pay off. You could end up earning $1000s a month from home.
There are so many sellers out there who are doing this, and you could be one of them. So, consider starting your own FBA business – and keep our tips in mind.
If you have any experience with FBA or any tips you'd like to share, then don't forget to share it with us in the comments section below.