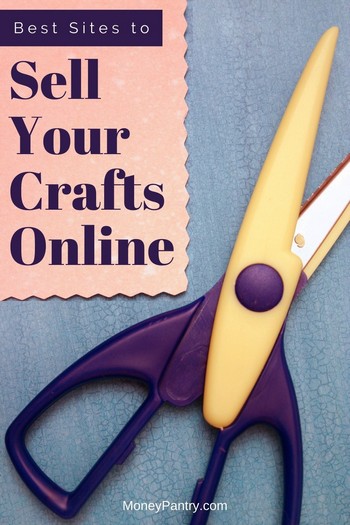 Have you been told you should start selling your crafts?
Maybe you make your own sweaters or beaded jewelry?
Perhaps you make amazing handmade gifts for people's birthdays or the holidays like Thanksgiving and Christmas crafts?
Whatever it is, if you're the crafty type, then you might want to consider making some cash from your talent.
No, you don't have to be Martha Stewart to make good money by making DIY crafts to sell.
You can sell your handmade products online and make yourself an awesome income.
Need Easy Extra $300+/Month for Free?
KashKick
: Get paid directly into your PayPal for watching videos, surfing, shopping and more.
Join KashKick Now!
InboxDollars
: Paid over $57 Million to members to watch videos, take surveys, shop and more.
Get $5 instantly!
Branded Surveys
: Get $1 instantly just for joining for free. Plus get paid within 48 hours by PayPal!
Join Branded Surveys
First Opinion
: Get paid up to $10 per survey and $300 per virtual focus groups!
Join Now!
Swagbucks
: Get paid to watch videos, shop online, take surveys and more.
Join now & get $10 instantly!
But where do you start and what are the best sites to sell crafts?
In this post, I'll cover those questions and more!
If you're a seamstress, jeweler, knitter, painter, pottery-maker, paper crafter, or any other type of craft maker and are considering selling your goods, then this post is for you!
Why Sell Crafts Online?
Once people schlepped their handmade goods to craft fairs and other events where they'd set up a stand and sell to the public.
Now, though, selling crafts online is just as popular, if not more-so, than selling them in-person.
And it's really no surprise.
There are so many reasons why so many people are choosing to sell crafts over the internet nowadays.
Here's why you should sell your crafts online:
It's ideal in the current COVID-19 situation
At the moment, because of COVID-19, many things just aren't back to normal yet, including many craft shows and group gatherings.
This means that right now, if you want to sell crafts, online is the best way to go.
People don't have to worry about leaving their homes and can instead browse your crafts online and have them delivered right to their doorstep.
You can get your crafts in front of millions of people
At a craft fair only a few dozen people might see your wares. Online though it's a whole different ballgame, opening your inventory up to millions of people.
Websites like Etsy get millions of visitors every month. That's a lot people!
This could mean more sales for you. And the more sales you have, the more money you'll make.
You can sell your crafts right from home
You don't have to do any of that aforementioned schlepping of your stuff to a craft fair. Instead, you can just upload some photos of your crafts, list them for sale and sit back in your jammies while you wait for them to sell.
That's pretty awesome, and this convenience is likely the reason why so many are choosing to start selling their handmade goods online.
You don't have to sit on stock and can make orders on demand
When you sell offline, you have to make everything before you head out to the fair. This means that you could end up with excess stock that just doesn't sell at the craft fair.
This can take up a lot of storage space.
Online, you can just upload a few things and see how they sell.
Doing this not only saves you valuable storage space, but it also saves you wasting your time and funds in creating items that won't sell.
This is because as you upload items to a store like Etsy, you'll be able to see which ones sell best and which ones people don't tend to go for. For example, if you make jewelry, you might notice that your rings sell more often than your necklaces. So you'll know to produce more rings and fewer necklaces.
And you have the option to make orders, including custom ones, as they come in.
So, you don't have to sit on as much stock.
You can work hours that suit you
Since you aren't restricted by a craft show's schedule, you can make your crafts when you want to. And work the hours that suit you. This is so handy if you have other commitments like a fulltime-job, college, or family responsibilities.
You can build your own business
Making money offline at places like craft fairs isn't particularly scalable.
There are only so many people to sell to offline, and therefore, there are more limitations on how big your business can get.
Online though, it's a different story.
There are millions of people to sell to and if you can promote your store online on social media sites and places like that, you can get thousands of eyes on your wares. This gives you the potential to grow selling crafts into a fully-fledged business that you make a fulltime income from.
What Crafts Sell Well Online?
Okay, so now you're ready to start your own online business making and selling crafts. But what exactly do you sell?
Well, it's really up to you. If you have a particular skill in one area, like jewelry making, go with that. If you like to make a variety of crafts, then you'll be glad to know that there's a big market for all sorts of handmade goods online. So what you choose to focus on is entirely up to you.
Online, people make and sell all sorts of crafts, like:
Beaded jewelry
Prints
Art
Glass
Mosaics
Papercrafts
Keychains
Bath bombs
Leathercrafts
Sculptures
Pottery
Ceramics
Pallet Coasters
Velvet pillows
Knitted clothing like sweaters and scarves
Crocheted items
Needlecraft items
Housewares
Bags and purses
Woodwork
These are just some ideas. There are many more handmade products that you can sell online whether it's a popular product or a small niche product. Whatever you are good at making, there will be people who will pay for them. You just have to get your products in front of them.
Where to Sell Crafts Online
Okay, so now you know why selling crafts online is such a good idea and what types of items you can sell, let's take a look at sites where you can sell crafts.
There are tons of them out there, thankfully, giving you lots of options for your business.
Let's start the list with one of the most popular choices for artisans who're looking to sell their wares online – Etsy.
If you've ever looked into selling crafts, you will have heard about Etsy. Heck, maybe you even shop there.
A couple of years ago, I had my wedding veil custom-made by a seller on Etsy and it was great. I really couldn't find what I was looking for at the store, so I thought getting it custom made would be a far better idea.
Lots of other people use Etsy for that same reason. That's why it gets millions of visitors each month.
You can sell everything on there from handmade crafts to custom jewelry. In Etsy is one of the best places to sell handmade jewelry, woodworking products, art & collectibles, clothing and basically anything handmade.
Pros
Let's take a look at some of the reasons why you should use Etsy to sell crafts online:
Millions of shoppers spend billions on the platform. So you have a large customer base just waiting to buy crafts from artisans like you.
There's no monthly fee for using the site. You pay $0.20 to list an item and then fees when the item sells. There is a "Plus" account. It's a premium membership you can pay for to get some extra features. It costs $10 a month.
Lots of tools available. These help you to set up your store and promote your business.
It's quick and easy to get set up. So you can get started building your store fast.
You can sell in a huge range of categories and the platform is specifically catered for craft-makers and artisans.
Cons
Here are a few downsides to selling through Etsy:
A lot of competition. The fact that Etsy gets so much traffic is a good thing and a bad thing. Sure, when you have tons of customers browsing on a site, it gives you more chance to sell in some regard. However, it also means that your listings are grouped in with millions of other sellers on the site. This can sometimes make it tough to stand out.
Large companies can post on there too. This leaves smaller, mom and pop type sellers at somewhat of a disadvantage.
You have to pay to list your stuff. It costs $0.20 to list an item. If you want to know where to sell stuff online for free, Esty won't be a good fit for you since it does charge a fee to list stuff for sale. It is a pretty low fee though, so it's not going to cost you a ton to put your stuff up for sale on the site.
You have to pay other fees when you sell items too. When your stuff sells, you'll also pay a 5% transaction fee and 3% plus $0.25 payment processing fee. Also, Etsy pays to advertise your items across the internet through offsite ads. If you make a sale from one of those ads, you'll also pay a 15% offsite ads fee.
Etsy sure is a popular website, but Amazon is hugely popular! With millions of visitors every month, it's definitely a place to consider promoting your crafts.
Thankfully, there's an Amazon program called Amazon Handmade that's specifically designed for artisans, like you, who're looking to sell their handcrafted goods online.
Pros
Here are some reasons to sell your crafts on Amazon Handmade:
Huge customer base. Amazon has literally billions of customers around the world making it a fantastic place to sell your stuff. You can get your handmade crafts out in front of millions of paying customers.
You can list your products for free. Yes it's totally free to list a product on there and you only pay when your stuff sells, which is great.
It's a trusted site. Most of us already have an Amazon account with our card details stored on there. People trust Amazon and shopping on there is so convenient, which could boost your sales.
Amazon waives the fee normally associated with its Professional Selling Plan. During registration, you'll register with a Professional Selling Plan that offers lots of tools and support to help you to grow your business. While this plan costs $39.99 per month for an Amazon seller, this fee is waived for Handmade artisans.
Simple fee structure. I like that its fee structure is simple. Other sites charge a processing fee of this percent and a transaction fee of that percent. Amazon just charges one, 15% referral fee.
You can sell in multiple countries. This is awesome as you have more customers to sell to.
You can sell in a huge range of categories. The program is open to artisans who make items in the following categories:

Accessories
Artwork
Baby, Beauty & Personal Care
Clothing, Shoes & Handbags
Home
Outdoor & Home Care
Jewelry & Watches
Kitchen & Dining
Pet Supplies
Sporting Goods
Stationery & Party Supplies
Cons
Here are a few downsides of selling on Amazon Handmade:
Higher commission rate than some other sites. 15% still isn't bad, but it's a little higher than a few of the other sites on the list.
You have to apply and be approved. Unlike stores like Etsy where anyone can sign up and get started, with Amazon Handmade, you have to apply to join the program and wait for approval, which can take a while.
ArtFire is a website that you can use to sell a variety of craft items.
Pros
Here are some pros to selling through the website.
The website helps you to promote your crafts. It automatically shares all your items to the major search engines.
The site has millions of shoppers. So there are plenty of customers on there who want to buy crafts.
There are no ads on shop or item pages. This makes your store look good.
Cons
There are a few downsides to selling your art through ArtFire.
You have to pay a monthly fee to sell through the site. This can be $4.95 a month, $20 a month, or $40 a month depending on your membership plan.
If you don't want to pay listing fees, you'll need to upgrade your membership: With the $4.95 membership plan, you have to pay 23 cents per listing. To avoid listing fees, you'll need to upgrade to the $20 a month plan.
The site charges commission too. You'd think if you're paying a monthly fee, that you would get to keep 100% of your sales, but that's not the case with ArtFire. Here's what you'll pay:

With the $4.95 a month plan, you pay a 12.5% final valuation fee and you're limited to 250 listings.
With the other two plans you pay a 4.5% valuation fee (you get 1,000 listings for the $20 plan and 2,500 listings for the $40 plan). I think that's pretty high, considering you're already paying the site a monthly fee to sell on there.
While there are many sites like eBay have come along after eBay's initial success, eBay still is one of world's most popular online marketplaces. While you can sell anything on there, from used records to furniture, eBay is also a good place to sell your crafts.
Pros
Let's take a look at the pros of selling crafts on eBay.
Lots of customers. With more than 182 million shoppers on the site, there's a huge customer base waiting to buy your stuff.
It's a well-known site: Like Amazon, eBay is a well-known website, meaning people see it as a trustworthy platform where they're willing to spend money.
There are tons of different categories available on there. This means you can sell a multitude of crafts from oil paintings to fabric crafts.
It's free to list your first 50 items on there. It's 30 cents per listing after your first 50 items.
You're paid via PayPal. That's always handy.
Cons
Now, here are some of the cons to selling crafts through eBay.
It takes 10% of your sale. And there's a fee for payments through PayPal.
There's a lot of competition. With more than 25 million sellers on there, selling crafts on eBay can be very competitive. This can make it tough for your crafts to stand out among a ton of others.
It's not a craft-focused site. Unlike Etsy or Amazon Handmade, eBay isn't solely a craft marketplace. This means that while eBay may get millions of customers, not all of those customers will be on the site to buy crafts – they might be looking for gaming consoles or books, for example.
Next on the list we have Bonanza. It's a platform where you can buy and sell home and garden items, health and beauty products, and of course crafts.
Although not as well known as platforms like Amazon, eBay or Etsy, there are many reasons why Bonanza is one of the best sites for selling crafts online.
Pros
Let's start out by looking at some of the pros of using the site.
It's free to list stuff for sale on there. This means you don't have to part with money when you want to upload something.
There's a huge range of craft items you can sell in multiple subcategories, such as:

Beads & Jewelry Making
Fabric Painting & Decorating
Glass & Mosaics
Handcrafted & Finished Pieces
Home Arts & Crafts
Kids' Crafts
Leathercrafts
Scrapbooking & Paper Crafts
Sculpting, Molding & Ceramics
Sewing
Stamping & Embossing

It's not as competitive as sites like Etsy. With just 25,000 sellers, compared to the 5 million sellers on Etsy and the 25 million sellers on eBay (and that was in 2015, so that number may have increased), it may be easier for your products to get noticed on Bonanza.
Cons
Now let's take a look at some of the cons of Bonanza.
You pay 3.5% commission when your item sells. That's not too high, but still you're having to part with a portion of your profits. If you opt into the site's advertising program, you can choose from a variety of commission rates. You can choose a rate of 9%, 13%, 19%, or 30%. The site says that higher rates mean more buyer visits from Google Shopping and other sources.
It's not as well-known as sites like Etsy. So while you may be competing with fewer sellers, you also may find that there are fewer customers to sell to on Bonanza.
Another place to consider selling your handmade wares is at GLC Craft Mall.
This website bills itself as "a growing community of independently owned craft stores that offer unique handmade arts and crafts."
If you're looking for a craft-focused site, I would consider this one.
Pros
Let's take a look at some of the pros of the site.
It's free to list on there. That's always handy, right?
It's a craft-focused website. So unlike eBay, people visit the site to purchase crafts, specifically.
Accept major credit cards with PayPal. That's always useful.
Cons
Now let's take a look at a couple of cons of the site.
You have to pay a monthly fee to sell stuff through GLC Craft Mall. Depending on which membership plan you choose (there are three available), you pay $4.50, $7.50, or $12 a month. And this gets you between 300 and 3,000 active listings. So there's a limit to the amount of items you can have on there.
You have to pay a 5% processing fee on all plans. This isn't ideal since you're already paying for a monthly plan.
Zibbet differs to some of the other places on this list. Rather than just selling on one platform, Zibbet allows you to sell across multiple platforms. If you're looking for convenience above all else, Zibbet is the website to go with.
Pros
Let's take a look at some pros of using Zibbet.
It's super convenient. List a product once and you'll sell it on multiple sales channels, including:

Etsy
Facebook Shop
Instagram
Zibbet Marketplace
C. Moore Marketplace
Stitch websites.

There's a 14-day free trial available of the site. And if you want to get a longer free trial, Zibbet says you can just get in touch and ask and it will extend your trial.
It's easier to keep track of your products across multiple sales channels. Zibbet keeps your stock levels in sync, as it tracks every sale you make and automatically updates your inventory everywhere you sell.
Cons
Now let's cover some of the disadvantages of selling through Zibbet.
You have to pay a monthly fee. It costs $5 per month, per sales channel. So if you want to sell across multiple sales channels, which is the whole purpose of Zibbet, then these fees could add up quickly.
Any fees that are charged by other platforms may still be charged in addition to the monthly fee you pay to Zibbet. For example:

If you list a product for sale on Esty, you may have to pay the $0.20 listing fee charged by Etsy, plus the 3% transaction fee. And $5 a month to Zibbet for the sales channel. So again, the fees can really add up here.
Another place to consider selling your handmade stuff is eCrater. It's a platform that has two main functions.
Number one: It's an online marketplace the brings together buyers and sellers from all over the world.
Number two: It's a free eCommerce website builder. It provides sellers with customizable online stores. All products that are uploaded to a seller's store are automatically included in the marketplace.
So basically, you can set up your own store using eCrater's website builder and you can also sell your items through eCrater's own marketplace.
Pros
Here's why you should consider selling your crafts on eCrater:
It's free to open your store. That means there are no upfront costs to opening your store.
You don't pay any monthly fees or commission. So you get to keep 100% of the sales you bring to the store (you will have to pay a fee if eCrater brings you a sale through the main marketplace, but more on the below).
Cons
Here are some of the downsides to selling with eCrater:
If eCrater brings you a sale through the main marketplace, it collects a 2.9% marketplace cost. That's not too high, really. However, it does mean that you'll lose some of your profits. (eCrater says if you don't pay this invoice, it won't suspend your account. Instead it will decrease your ranking in the marketplace, or it may completely remove your items from its marketplace and won't feed your items to Google Shopping. But your own store will remain active and operational).
You must be able to ship throughout the United Sates, even if you're an international seller.
iCraft is a website where you can sell a variety of craft items.
Pros
Here's why you should consider selling your stuff with iCraft.
It doesn't charge you a commission on sales. You'll keep your profits.
Get a domain at a discount or for free. You can get a free .store domain for your store for a year or save 50% on .com or other domains.
You get access to sales and marketing tools. You can create coupons, add discounts, or put items on sale to attract new buyers. And you can connect your social feeds to your store, and add the site's promo widget to your own blog or website.
You can have unlimited items on there. So you can list as many items as you want for sale on there.
Cons
Here's why iCraft may not be the site for you:
You have to pay a registration fee. It's a one-off $25 fee.
The site charges you a monthly fee to use it. For the monthly package, you pay $15 per month. Or you can choose the 6 months package, which costs $12 a month, or the 12 months package, which costs $10 a month.
The Handmade Artist's Shop is a website where you can sell handmade goods – like the name suggests!
It's definitely one to consider if you're looking to sell your handmade crafts.
Pros
Here's why you should consider selling your crafts to the Handmade Artists' Shop.
There are no commission or listing fees. Great, right?
You can sell across a huge range of categories, like:

Accessories
Art
Bags and Purses
Bath and Beauty
Candles
Ceramics and Pottery
Clothing
Crochet, Knitting, and Needlecraft
Dolls and Miniatures
Edibles
Glass
Handmade Supplies
Holiday and Special Occasion
Housewares
Jewelry
Metal Craft
Mosaic
Outdoor
Paper and Books
Pattern Tutorials and Kits
Pet Stuff
Quilts
Toys
Weddings
Woodworking

You can list as many products as you want on there. That's always ideal.
Cons
Here's the downside to selling through the Handmade Artists' Shop.
You have to pay a monthly or annual fee to be a seller on the site. You can choose the $5 a month plan or save $10 a year when you choose the $50 a year plan. This isn't that a high a fee, considering that you don't have to pay to list items for sale on there are, and the website doesn't take a commission fee either.
If your main focus is selling artwork, like paintings, fine art sculptures, photographs, and mixed media art, then you might want to check out Absolute Arts.
Pros
Here's why you might want to sell your artwork with Absolute Arts:
It gives artists a way to sell and promote their work, without traditional galleries. That gives you a good way to start making money from your artwork.
It also offers education and marketing materials, depending on your membership level, which can help you in your art selling career.
There's a free membership option available, which is awesome.
With the free membership plan, you can list 20 artworks for sale. This means you can get started with no upfront cost.
Cons
Here's why Absolute Arts may not be the website for you:
If you want to list more than 20 artworks, you'll need to pay for a membership:

The Midlevel plan costs $55 a year, and you can get 60 artworks and access to educational/marketing materials.
The Premiere plan costs $100 a year, and you can sell unlimited artworks, and get priority placement, as well as access to all of the site's educational and marketing materials. Those fees aren't too high, but if you're not looking to pay to be part of a site, then Absolute Arts might not be for you.

The commission fee is pretty high. Even though you pay a monthly fee to use Absolute Arts, you still have to pay commission on your sales. For the free membership, you pay 35% commission, for the Midlevel membership, you pay 25% commission, and for the Premiere membership, you pay 20% commission.
It's solely focused on artworks, so if you do other types of crafts, like knitted items or paper crafts, for example, then the site isn't ideal for you.
Aftcra is a website where you can buy and sell American handmade products. The website says that it is its mission to support local artists and artisans living in America.
Pros
Let's take a look at some of the benefits of selling through Aftcra:
It's free to set up a store on Aftcra. And there are no listing fees either.
You can sell a wide variety of handmade items. This is ideal if you like to sell lots of different types of crafts.
Cons
Here are cons of selling with the website:
When your item sells, you're charged a 7% commission fee. This fee doesn't include any financial transaction fees from PayPal.
Any products under the price of $10 won't be able to be listed. So if you sell items that are worth less than $10, you won't be able to sell them through the site.
Folksy is a British website where you can sell handmade goods.
Pros
Here's why you should consider selling with Folksy:
It offers secure and instant payments. The site doesn't hold your money and sales go directly into your PayPal or Stripe account.
The website has a loyal community, with 9 million monthly unique viewers on Pinterest, 50,000 subscribers to its newsletter, more than 35,000 followers on Instagram and 64,000 followers on Facebook. And it's used by around 150,000 shoppers a month. The site even has its own Facebook Group and forums.
There are shop-wide discounts available and you can even set your own postage costs. Always useful, right?
Get tips, advice and offers directly to your inbox. That could help you with building your store.
Cons
Here are a few downsides to selling with Folksy:
It's UK-based, so if you're elsewhere you won't be able to sell through the website.
It charges commission: You have to pay 6% commission on sales, plus VAT.
Although there is a free plan, called the Basic Plan, you can only get three listings for free. After that, you have to pay £0.15 plus VAT per item. If you want to get more free listings, you'll need to pay for a membership plan:

The paid membership plan is called Folksy Plus and it costs £5 a month, including VAT. With the Plus plan, you get unlimited free listings. The fact that it charges you commission and a monthly fee means that the cost of using Folksy will soon add up.
Sites Where You Can Sell Your Designs & Patterns
Another great way to make money from your craft skills is to sell your designs and patterns online. This is such a good idea because most of these sites will handle the shipping and everything for you.
All you need to do is upload your designs, and the site will put them onto things like:
T-shirts
Wallpaper
Pillows
Mugs
Phone cases
It can be an easy way to make some money from your craft skills. And it's a much more passive way to make an income. You can just upload one design and keep making money from that one design each time that it sells. Since everything is printed on demand, you don't have to sit on any stock.
Here are some websites that will pay you for your designs and patterns:
You can sell your designs on Spoonflower as fabric, wallpaper, and home décor items. You'll earn from 10% to 15% on your sales.
With Spreadshirt, you can sell your designs on more than 200 products. A few examples include t-shirts, mugs, phone cases, and tablet cases.
With Teespring, you can get your designs printed on a huge range of items, like backpacks, t-shirts, dress socks, leggings, onesies, and tank tops. The site charges 15% of the selling price of the product.
With Redbubble, you can have your designs printed on t-shirts, mugs, stickers, phone cases, pillows and more.
On this site, you can sell your designs on phone cases, home décor items, and apparel, and as art prints, wall art, tapestries and more. For every sale, you earn 10%. Artists can set their own prices above the standard 10% for art prints, framed prints, and canvas prints. There's also an affiliate program you can join to earn an additional 10% on sales that you refer.
Should You Start up Your Own Website?
I'll level with you here, while the sites above are awesome, hence why they made our list, there are many reasons why you might want to consider starting your own website and selling your wares directly from there.
In this section, I want to cover some reasons why you might want to set up your own eCommerce site.
You keep all of your profits
When you use a website like Etsy, you are charged commission. This makes sense since you are leveraging the website's customer base for your own profits.
So these websites will charge you fees for the services that they provide.
Now, this fee varies from site to site, with some places not really taking much of a cut and others taking a sizeable chunk.
If you want to keep all of your profits, then starting your own website is the way to go. Of course, there are other fees associated with running your own eCommerce store. However, it's good to know that you aren't having to pay a commission on each sale or to list your crafts for sale.
You get more security
I'm not talking security in an encrypted data or password protection sense here. Instead, I'm referring to the security of your business's future.
If you have your own site, you get much more control.
Sites like Etsy may come and go in the future.
The sites above may be big, but that doesn't mean that they're guaranteed to be around forever. I know it sounds crazy to think that these big sites might one day disappear, but it happens. Look at Vine. That was a super popular platform that even produced its own stars, yet it closed down!
A similar thing has been happening with Snapchat too. It was once a hugely popular app, but its popularity has been declining for the past few years.
Now, when you have your own website, you have much more control. You don't have to worry about your own website shutting down. Instead, you have full control. Of course, you will still be at the whim of the Google Gods, who are not always fair. However, your own website is just that – your own. Even if Folksy and Etsy were to shut down, for example, you would still have a platform to direct your customers to.
You can build more of a brand
Having your own eCommerce store means that you can have your online store look exactly the way that you want it to. You don't have this same freedom on the sites above.
This can make it harder to build your brand's image.
On your own website, you can control everything from the color scheme to the font type to the layout of your inventory in your store.
You can then use this branding across the platforms where you promote your stuff, like on Instagram and Pinterest.
Of course, starting your own eCommerce website does come with its own challenges.
Sites like Etsy already come with a customer-base. That's not the case with your own website. At first, you'll get few, if any, visitors. So you'll have to take the time to drive traffic to your store and get it out there in front of people who're looking to buy crafts online.
You'll also need to get things like payment methods set up too. Once everything is set up though, your eCommerce store could become your fulltime business.
eCommerce Solutions to Build Your Own Online Store
While selling things directly from your own blog or WordPress website can be a great option, it's not for everyone. It can be a little tricky, because you have to figure out a payment processing system and actually get your products up for sale on there. If you're not super technical, this can be pretty difficult.
That's why a lot of people do opt for sites like Etsy and Amazon Handmade where everything is set up for them.
There is a middle ground though, and that's to use eCommerce solutions to sell stuff through your own branded site. These solutions each have their own features, but most offer payment processing and a cart that can be easily integrated into your website.
Here are some of the best online store builders.
Shopify allows you to turn your website into an eCommerce site. With the Shopify Buy Button, you can easily add eCommerce to your website by embedding a single buy button or collection of products that's connected with Shopify's checkout. It offers an embedded cart, secure checkout and more.
You can try out Shopify for free for 14 days, with no credit card required. After that, you'll have to pay for your membership. It costs $29 a month for a Basic membership, $79 a month for the next level up and $299 for an Advanced Shopify account.
WooCommerce is great if you're using WordPress to run your site. It's an open source eCommerce platform that's built for WordPress. It's fully-customizable, which is awesome. Even better though is the fact the WooCommerce is free.
The extension itself is free, but you may have to pay fees for processing payments and some other features.
BigCommerce is an all-in-one eCommerce platform. You can use it to build an eCommerce website. It offers a range of diverse website templates that you can use for your online store.
With it you can do everything from accepting payments to managing orders.
BigCommerce integrates with leading payment providers, shipping solutions, and inventory management apps. It offers built-in marketing tools. There's even a single-page checkout on offer, which gives your customers an easy, hassle-free shopping experience. You can even sell directly to customers on their favorite social media networks and online marketplaces.
You can get a free trial of BigCommerce for 15 days. After that, you'll need to choose a plan. There are three available, each costing a different price per month. It costs $29.95 a month for the Standard plan, $79.95 a month for the Plus plan and $299 a month for the Pro plan. You can save up to 10% on the Plus and Pro plans when you play annually.
What is the Best Place to Sell Crafts Online?
There really is no definitive answer to this one. It really depends on what it is you need from a website. When it comes down to it, the purpose of the platform you use, whether that's Etsy or Amazon Handmade, is to facilitate the sale of your crafts.
So, you really need to take a look at what it is you want from a platform.
Maybe you want to turn selling crafts into a fulltime business, so you want the large craft-focused customer base that Esty provides.
Or maybe you want to go with a smaller website where there's less competition from other craft-makers?
Perhaps you want a website that will allow you to list stuff for free or the site that charges the lowest commission rate?
Write down a list of what it is you want from a website and then take a look at the sites above to see which ones best suit your needs.
Then, you can start selling your handmade goods on the website that best fits the needs of your business.
Also, keep in mind that you can try out a few different sites until you find the one that is the best fit for you.
And, don't discount starting up your own eCommerce store in the future.
Sure, it's a lot of hassle upfront. But once you've got everything set up and have started to build up traffic to your website, you'll see lots of benefits.
So consider which option works best for you and the kind of arts and crafts you want to sell online.
Do you sell crafts online?
What's your favorite website for doing so? Let us know about it in the comments section below.