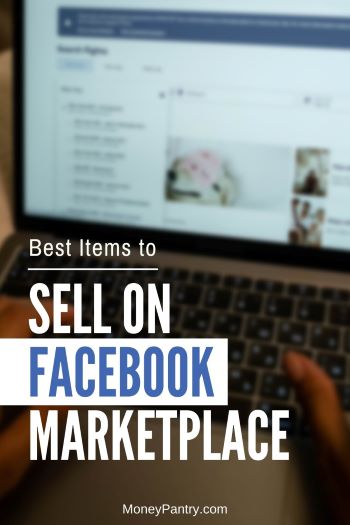 Want to know what the best selling items on Facebook Marketplace are? In today's post, we'll cover what the best items to sell on the platform are.
To say that Facebook is one of the most popular platforms out there would be an understatement. Facebook has more than 2.9 billion global monthly active users as of 2021. So, it makes total sense that its selling platform, Facebook Marketplace, would be such a popular choice for people looking to make money selling stuff online.
Facebook Marketplace is an easy-to-use online marketplace that allows anyone to earn money selling a variety of items from used furniture to clothing. It's great for selling stuff locally.
Selling on there is a great side hustle because you can set your own hours, work when you want, and you're your own boss. What's not to love?
Whether you've just started selling on there or are considering giving it a try, you might be wondering what products actually sell well on there and which aren't even worth your time?
In today's post, I'll cover a list of the top 15 bestselling items on FB marketplace. That's not all either. I'll also cover some simple, yet effective tips on selling stuff successfully!
Need Easy Extra $300+/Month for Free?
KashKick
: Get paid directly into your PayPal for watching videos, surfing, shopping and more.
Join KashKick Now!
InboxDollars
: Paid over $57 Million to members to watch videos, take surveys, shop and more.
Get $5 instantly!
Branded Surveys
: Get $1 instantly just for joining for free. Plus get paid within 48 hours by PayPal!
Join Branded Surveys
First Opinion
: Get paid up to $10 per survey and $300 per virtual focus groups!
Join Now!
Swagbucks
: Get paid to watch videos, shop online, take surveys and more.
Join now & get $10 instantly!
This can help you to make your FB marketplace business even more profitable.
Best selling items on Facebook Marketplace
Although you can sell a variety of items on Facebook Marketplace, some pieces sell better than others.
If you want to up your chances of making a sale through the platform, consider these items…
1. Furniture
Selling used furniture is popular on Facebook market place for a reason! It is one of the best-selling categories on FB marketplace.
This includes larger furniture items, but also smaller items you might not consider like nightstands for example.
Furniture is one of those tried-and-true categories where there's always someone in the market for a used sofa or coffee table for their home.
Some furniture pieces you could sell on there include:
Dining sets
Stools
Beds
Chairs
Couches
Bookshelves
Dressers
Side tables
2. Apparel (Clothes, shoes, and accessories)
Clothing, shoes, and accessories all sell well through the platform. It's better if you have clothes from well-known brands or designer brands. These tend to be more sought after, and if you can sell them at a discount, then that's ideal.
Trending items, like a specific type of purse or shoes, for example, can also sell well.
Staple pieces generally always sell well too.
You could sell:
Shoes
Purses
Jackets
Jeans
Sweaters
Tank tops
Coats
3. Seasonal Items
Seasonal items are another popular thing to sell on Facebook Marketplace.
At certain times of the year, there's a sudden surge for holiday-specific items and you could take advantage of this increased demand.
For example, at Christmastime, people may be wanting to get cheaper decorations, so they'll head on over to a website like Facebook Marketplace to get some great deals.
You can sell items for holidays, such as:
Christmas decorations
Christmas clothing, like holiday sweaters
Halloween decorations
Halloween costumes
Thanksgiving decorations
Easter decorations
Seasonal products aren't just tied to the holidays either, but also the time of year.
For example, in the winter, there may be an increased demand for snow shovels. Or in the summer, there may be more of a demand for patio furniture.
So, consider the time of year and think if you have any items that might sell well during this particular season.
If you list the right items at the right time, you're sure to make a lot of quick sales.
4. Books
People who enjoy reading want to find books at a bargain price. So, you can capitalize on this need by selling your unwanted tomes through FB Marketplace.
I'll level with you here; books are not a high-ticket item meaning that per sale, the amount you get won't be particularly significant. The key here is having a lot of books to sell. If you have quite the collection, you could bring in a decent amount of money.
Even if you don't have a huge collection to offload, it's still worth listing the books you
do have. If you're never going to read them again and are looking to free up some shelf-space, you could make some easy cash through the platform.
It's also important to note that some books, particularly college textbooks, can garner a higher price.
Books are one of the best-selling items on Facebook Marketplace, so I would recommend listing your unwanted books for sale there.
5. Homeware
Homeware/home goods are another category to consider if you're looking to increase sales.
The following items can sell well:
Air fryers
Bread makers
Air conditioning units
Fans
Small fire pits
Light fixtures
People are always looking for deals on small appliances, so it's worth listing them on the platform. Home décor items can be a little more difficult to sell because people vary when it comes to their taste.
Some people like modern stuff, some people like classic pieces, etc., That being said, if you have some on-trend home décor pieces or timeless pieces, it could also be worth listing those. Like I said though, you'll have the most luck with those appliances and items that I mentioned above.
6. Gardening items (tools and plants)
Gardening items are another item that you should also consider offloading on the platform.
There's a good market for gardening tools and even plants, so you could make some quick cash here.
It's best to list gardening tools at the right time though, as they are more season-specific. So, wait until at least Spring to list items in this category.
Items that you can sell year-round though include things like plants, pots, and planters.
7. Sports equipment
Have some used sports equipment you no longer need? This is another one of those categories that perform well when it comes to sales.
Since people are always looking for a good deal on gear for their sport, it can be a good way to make a profit from some unwanted equipment you may have.
This can include equipment that's specific to certain sports, like:
Football – like footballs, practice jerseys, pads, and helmets.
Hockey – like helmets, elbow pads, and gloves.
Skiing – like skis, ski boots, and winter outerwear.
Soccer – like soccer cleats, balls, and goals.
Lacrosse – like arm pads, gloves, and lacrosse balls.
Baseball – like baseball bats, baseballs, and ball gloves.
Skateboarding – like skateboards and protective equipment.
Wrestling – like apparel, protective gear, and shoes.
Water sports – like body boards, surf boards, and stand up paddle boards.
Racquet sports – like tennis gear, badminton equipment, and racquetball gear.
Softball – like bats, shin guards, and softballs.
Golf – like putters, golf balls, and iron & hybrid sets.
Basketball – like basketballs and apparel.
Ice hockey – like shoulder pads, protective gloves, hockey sticks, and skates.
Cycling – like bikes and apparel.
And, it can also include fitness equipment, such as:
Elliptical machines
Heavy bags
Recumbent bikes
Treadmills
Kettlebells
Free weights
Upright bikes
Resistance bands
You could make a profit from items you don't use anymore. People are always on the hunt for used equipment because it's cheaper than going to a store and buying it new. Give this category a try.
8. Trading Game Cards
Do you have some Yu-Gi-Oh! or Pokémon cards that you no longer want?
If so, you should consider selling these through Facebook Marketplace. Trading card games sell pretty well.
If you have some particularly valuable cards, you could make quite the profit here. Also, if you have a lot of cards to sell, you could also make a profit by selling in bulk.
Bundles of TCGs sell well because many players are willing to bet on there being a rare card mixed in and don't want to miss out on that possibility. Many players also just want to grow their collection.
Take the time to research your cards to see if you have any that are high value. Remember, although buyers want a good deal, it's important not to short-change yourself. You want to get a fair price for your cards.
9. Tools
Larger tools or power tools also sell well on the platform, provided they are in good condition.
You can also sell smaller tools on there. It's a good idea to bundle smaller tools and sell them as a kit because you can appeal to first time buyers or renters who're looking for a starter tool kit.
Power tools can sit a while on the site before they actually sell, but there's always someone in need of tools eventually. Considering how expensive news tools can be, buyers are likely to look to purchase them secondhand. If you're not going to use the tools again, list them for sale on FB Marketplace.
10. Toys
Another thing that you could sell on the platform is children's toys. Lots of budget-conscious parents head on over to websites like Facebook Marketplace looking for toys at cheaper prices.
After all, toys can be expensive when bought new and kids can burn through them really fast. They get bored or grow out of the toy, and then it's just discarded. So, it makes sense that parents would look to save money by purchasing used toys.
If you have some kid's toys that are in good condition that your children no longer use, then you may want to sell them on FB Marketplace.
There's a good chance that they will sell pretty quickly. Do your research, and make sure you price them well.
11. Baby stuff
Babies outgrow things pretty fast! So, it seems like you're always having to part with money and before you know it, that big-ticket item you spend $100s on has become obsolete.
That's why you should consider selling used baby stuff on Facebook Marketplace.
There are parents out there who're on a budget and want to get a good deal on baby supplies. Since baby stuff can be so pricey when bought new, parents will look to purchase it second-hand.
You can sell a variety of baby supplies, such as:
Baby clothes
Toys
Highchairs
Cribs
Bags
Pack and plays
Strollers
Books
Shoes
Accessories
Just be sure to research products you plan to sell, such as strollers, to make sure that they haven't been recalled and that they still meet safety requirements.
12. Jewelry
Another top-selling category on Facebook Marketplace is jewelry. People always want jewelry so it's a good one to try. Timeless pieces like gold pieces or pieces that feature diamonds tend to always sell well so if you have any of those types of items that you no longer want, you're likely to have success selling them.
Pieces that are on-trend are likely to do well too.
Jewelry in general tends to sell well though.
Here's what you could sell:
Bracelets
Rings
Necklaces
13. Electronics
Okay, so our next category is electronics. Most of us have at least one device in our home that we just don't use anymore. This could be an old TV or a tablet that we meant to throw out but for some reason didn't!
If you have some old electronic devices that you just don't use anymore, selling them on FB Marketplace can be a good idea. Devices can be expensive, so many people choose to purchase them used instead.
Just make sure that whatever you list for sale is in good condition and that it still works.
Let's say for example that you recently purchased a new phone. Your old one still works fine. You just chose to get an upgrade. Now, you have an old phone that still works fine, but you no longer need it. List that phone for sale, and it is likely to sell fast.
Here's what you can sell:
Smartphones
TVs
Desktop computers
Laptops
Video game consoles, like the Xbox or PlayStation
Headphones
Tablets
Just be sure to reset your device before you sell it and be willing to show the buyer that the device works!
14. Vehicles
If you're looking to sell a used car, then FB Marketplace could be a good choice. You can set your own prices on there, which can work out better than the amount you'd be offered at a car dealership.
Selling vehicles can be a little more labor intensive than selling other items because you will need to do things like arrange the required paperwork, research prices, and arrange test drives with potential buyers.
Vehicles are certainly not the fastest-selling item on FB marketplace. You may need to be patient until the right buyer comes along, and it may also take a while to actually finalize the sale. That being said, you could still get a decent amount of money selling your used vehicle.
15. Musical instruments
Musical instruments may also be worth selling on the platform. Perhaps you used to play a musical instrument, and just don't anymore? Or perhaps you have bought a new guitar, and don't need the old one anymore?
Whatever the case, you could list your used musical instrument for sale on FB marketplace.
Here's what you could sell:
Guitars
Pianos
Violins
Drum kits
Microphones
Amps
Speakers
People are always on the lookout for secondhand instruments because they're cheaper! If you price the items well, then they should sell pretty fast.
Tips for Selling Stuff on Facebook Marketplace
Okay, so now you know what types of items sell well on FB Marketplace, you're probably wondering: how do I actually sell on there?
Well, we have a few tips that can help you to increase your chances of a sale and just make the whole process a little easier…
Freshen up the items
Whatever it is that you're selling, make sure that you take the time to clean the item. For example, if it's furniture, wipe it down to remove any stains. If it's clothing, then wash the items or have them dry-cleaned, and make sure they are wrinkle-free.
If an item looks tired or stained, it won't be appealing to potential buyers. That's why it's important to take the time to freshen up the item. You'll ensure you sell the piece in its best possible condition.
Take some great photos
Photographing your items well is so important because people want to see what it is they are buying.
Photos should be:
Clear
Not grainy or blurry
Taken in a place with great natural lighting
If you upload grainy photos, you're going to put potential buyers off.
Photograph the front and back of the item and get photos of the item from a few different angles. For pieces like clothes and furniture, make sure you photograph any details that may be of interest to the buyer.
Be honest about the condition of your items
When you create your listing, it can be tempting to lie about the condition of your item. You may not want to mention that scratch on the side table you're selling, or the worn spot on the purse you're listing for sale.
It's so important that you do though.
Being honest about the condition that your item is in will ensure that you don't disappoint a buyer. If you write that the item is in perfect condition, but then when the buyer gets it, there are marks, stains, scratches, or any damage that you failed to mention in the listing, then they aren't going to be happy.
You could get a bad rating, which could make it tougher for you to make sales in the future.
Instead, be honest about the condition of the item and mention any damage, from stains to scratches, in the listing. The buyer will then know what to expect from the item.
Write an attention-grabbing headline
The headline is what gets people to click on your listing and it helps people to find your listing too, so make it good!
Be sure to use searchable words and terms. Make sure you use relevant keywords, so buyers can find your listing. Make sure you're specific too. Writing "coffee table for sale" is vague. "Mahogany coffee table for sale" is better. Be sure to include things like brand, color, material, size, and condition – basically anything specific – in the title.
Don't be too verbose though and try to stuff every detail into your headline. Instead, include some of the item's best features. For example, you could mention that the item is barely used.
Write a great description for your listing
A good description should give the buyers all of the details they need to know without being too long or boring.
Here are a few tips for writing your description:
Start your description by explaining what it is that you're selling. It's best to get right to the point because people are busy.
State the reason for putting the item up for sale. For example, you could say you had upgraded your phone and wanted to sell the old one.
Be sure to include any measurements, dimensions, and sizes, depending on what you are listing.
List the price. Even if the price is listed elsewhere, be sure you list it again near the end of the description. This ensures potential buyers are aware of the price. Also, you could mention whether or not the price is "fixed" or "best offer."
Download a measurements/size chart for the brand and include it in the photos
If you are selling clothing or shoes. It's a good option if include a measurement/size chart for the brand of clothing you're listing.
This can save the customer from having to ask questions like "Is this true to size?"
So, consider including the measurement/size chart in the photos if you can.
Set a price for your items
You'll want to choose a price for your stuff that not only doesn't shortchange you but also gives the customer a good deal. You want to set a price that is realistic. Research prices on platforms like FB Marketplace and eBay to see what other people are charging for similar items on there. Then you can set your prices accordingly.
Respond to potential buyers as quickly as you can
If a potential buyer gets in touch about your listing, then make sure that you respond as quickly as you can. If you don't respond for a couple of days, the potential buyer might purchase a similar item from another seller, which means you miss out on a sale. Instead, respond to customer inquiries as quickly as you can.
Be safe when meeting up with buyer in-person
Okay, so if you are going to meet up with someone from the internet in person. Make sure that you are safe about it.
Meet in a public place, like outside of a supermarket or police station. And, if you can, take somebody else to the meeting with you, and tell another person where you're going and who you're meeting with. Give this person the buyer's contact information too.
List more items for sale fast
If you want to make more money, make sure you keep posting new listings. Previous customers could be interested in the items you have to list next. So, ensure that there's more stuff available for them to purchase.
So, be sure you list the next item for sale quickly.
Summary
As you can see, you can sell so many different items through FB marketplace. This is great because it allows you to make money selling products you may actually like – if you want to of course!
You could make money on Facebook selling all of the items that I mentioned above, or you could pick a select few and make that your niche! It's definitely worth giving these best-selling items a chance because they are in demand, meaning you could earn more money.
Do you have any tips on selling on Facebook marketplace? What have you found to be the best-selling items on Facebook marketplace? Share your opinions with us in the comments section below.