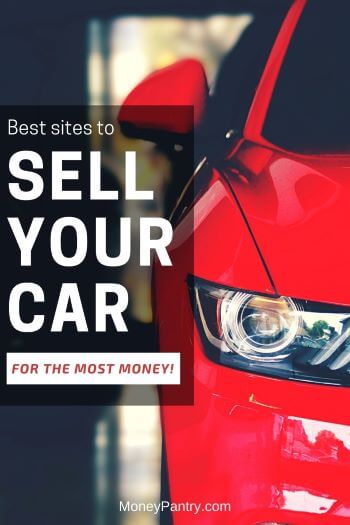 Selling your car can seem daunting. I mean, where do you even start?
Well, one of the best places you can sell your car is online. Really!
There are tons of sites out there that buy used cars, and where you can list your car for sale. So you could have cash for your unwanted vehicle in no time!
In today's post, I'll cover the top car buying sites where you can sell your car fast.
How to Sell a Car Online
Here are the best websites where you can sell your car for the most money.
If you're looking for the best site to sell your car, then you might want to try Autotrader. Autotrader is one of the most well-known sites for selling a used car. I mean, everyone's heard of it, right?
Need Easy Extra $300+/Month for Free?
KashKick
: Get paid directly into your PayPal for watching videos, surfing, shopping and more.
Join KashKick Now!
InboxDollars
: Paid over $57 Million to members to watch videos, take surveys, shop and more.
Get $5 instantly!
Branded Surveys
: Get $1 instantly just for joining for free. Plus get paid within 48 hours by PayPal!
Join Branded Surveys
First Opinion
: Get paid up to $10 per survey and $300 per virtual focus groups!
Join Now!
Swagbucks
: Get paid to watch videos, shop online, take surveys and more.
Join now & get $10 instantly!
When you list your car for sale on Autotrader, you can reach millions of shoppers. Now, the thing about the site is that you do have to pay to list your car for sale on there. It costs $49 per listing. The good part though is that you can get a vehicle history report at no additional cost. And you can add up to 30 photos of your car.
Another useful feature of the site is that it allows you to renew your listing for free as many times as you would like every 30 days.
The site says that you can also get a Kelley Blue Book Instant Cash offer in minutes. This gives you the option to get cash or trade-in credit.
Overall, because Autotrader is so well-known, it's definitely an option worth considering.
CarBrain is a great place to sell cars. You can even sell your junk car to the company. You can get an offer from CarBrain, and it will pick up your car for you.
We actually have a CarBrain review so I would recommend you check that out to learn more.
With eBay Motors, you can list your car for sale. You will need to provide information on your vehicle and add some photos to the listing. The site guides you through creating a listing, setting the best price for your vehicle, and more.
If someone wants to purchase your vehicle, you can then finalize payment, get the vehicle to the buyer, and transfer the title. Fees for listing and selling a car on eBay Motors are different from the fees for listing and selling in other categories.
You can learn more about the fees for selling a car on eBay here.
You can get an offer for your vehicle in minutes from Carvana. This offer is available for 7 days too, so you can easily shop around and compare prices offered by other places if you want to.
You will just need to enter your car's VIN, answer a few questions about your vehicle, and you'll get an offer in minutes. You can either sell your car for cash, or you can trade it in. If you sell your car, you can schedule a pickup of your old car. So, this is pretty convenient! Payment is sent by check or direct deposit.
You can also trade in your car and apply your trade-in value to reduce or remove the down payment on your next car. With the company, you can pick up or drop off your car, so it makes selling or trading your car pretty convenient.
With Cars.com, you can get an in-person appraisal. In-person appraisals allow you to choose the dealers you want to contact, set up appointments to get your car appraised and pick the offer that works best for you. You can also get an estimate for your car online. Now, Cars.com no longer offers Private Seller Listings.
On the site, it says, "In an effort to improve our Private Seller Listings we have discontinued them for the time being. The developers at Cars.com are working hard to bring our consumers a new and improved private seller experience. Keep an eye out in the coming months for this new product!"
So, it seems like in-person appraisals are now the only option available if you're looking to sell your car.
With Vroom, you can sell or trade in your car. The company offers free pickup too, which is good. All you need to do is provide some basic information about your vehicle, and you will get an instant price.
This price is good for 7 days or for 250 additional miles and there's no pressure to sell. If the site is unable to calculate an instant price, then one of its experts will email you a price typically within the same day.
It will pick up your car at no charge anywhere in the lower 48 states. You can also trade in your vehicle too.
With CarGurus, you can list your car for sale. It costs $4.95 to list your car for sale on there. Listings expire after 30 days, but you can extend your listing by 30 days at any time for free. And, you can do it as many times as you need to!
I think this site is a good option if you don't want to spend a ton of money on listing fees since $4.95 is pretty cheap and you can extend the listing if you need to.
The site acts as a go-between and verifies that the buyer has the money to purchase your vehicle. That way, according to the site, your bank information stays secure.
When your car sells, the site will deposit the money directly into your account. It can take up to 3 business days for the cash to appear in your account. You don't have to hand over the keys until the site confirms that payment has been submitted. Also, you have the option to accept the payment in cash from the buyer.
Hemmings Motor News is a magazine that caters to traders and collectors of cars. It has a website where you can list your car for sale.
According to the site, you can reach millions of buyers and sell your classic cars, trucks, parts, and more. Just answer a few questions, and the site will help you to pick out a package that's right for you. It's more targeted towards classic cars.
According to the site, it has an average of 21 million page views per month, and it owns 60% of the classic car market industry.
It costs $99.95, $129.95, or $189.95 to list a car for sale there.
The company is the largest collector car marketplace and it has more than 65 years of experience connecting buyers and sellers from all over the world.
Okay, so another place where you might want to list your car for sale is Craigslist. The site is pretty popular so, depending on what town you live in, your listing could get a lot of views.
And if you are looking to sell your car for free, you can list it for sale on Craigslist for free depending on the city you live in. That's ideal if you don't have the money to pay for a listing on one of those sites that buy cars from owners. Sites like Autotrader charge you a pretty high amount for listing, so CL is definitely a better option for the budget-conscious.
Also, if your vehicle sells, then you get to keep 100% of the profits.
Sell your car on Facebook Marketplace. You can buy and sell stuff locally with it. And, you can list your vehicle on there for free too!
Again, if you don't want to pay any money for an ad, I would recommend the platform.
Finally, we have eBid. This site is like a lesser-known eBay. But, don't let that deter you. The website is still pretty popular in its own right, and it's incredibly well-reviewed on Trustpilot where it has 4.7 stars, which is an "Excellent" rating.
You can sell pretty much anything on the site, including cars, as there's a "Cars & Vehicles" category on there.
The site offers a few different membership levels. The Basic Seller account, which is for the casual seller, is free. When you make a sale, you'll be charged a 5% final value fee. If you want to avoid that fee, then you will have to choose a paid membership option.
Can I Sell My Car through Edmunds?
When it comes to researching for buying or selling a car, Edmunds.com, just like Kelley Blue Book and NADA (National Automobile Dealers Association), is one of the oldest and most trusted platforms.
While you can't sell your car directly to Edmunds.com, they do offer a great option But Edmunds isn't just for research and seeing how much your car is worth. Edmunds has partnered with CarMax to provide an instant cash offer for eligible vehicles.
Here's how it works:
Step 1: Visit Edmunds.com/sell-car and enter VIN or license plate
Enter your car's VIN or License Plate and hit the "Get Started" tab. Once their system identifies your car, enter a few more details like trim level, options, color, mileage, etc.
Step 2: Get a redeemable offer
If eligible, you'll get an instant cash offer at the end of the appraisal process.
Step 3: Get paid!
Take your vehicle to any CarMax location near you and go home with a Check!
If based on the information you provide your car isn't eligible for an instant offer, you can still take your car to a local CarMax to have your car appraised in person.
Selling Your Car Online Fast
Above, I've given you lots of ways to sell a car. In this section, I just wanted to give you some tips on how to sell your car online fast. These tips can help you if you plan to sell your car yourself by listing it for sale on a site like Autotrader, Craigslist, or eBay, rather than getting an offer from a company like CarBrain.
Here are a few tips for selling your used car fast.
1. Make sure you have all of the right paperwork
One of the first questions many car owners ask when considering selling an automobile is, "What paperwork do I need to sell my car?"
We got the answer!
Make sure you do the following before you list the car for sale:
Have your car's title, which is also called the pink slip.
Visit the DMV online to check with your state's department of motor vehicles to see what paperwork you need to transfer ownership. You could also check with the DMV to see if license plates stay with the car once you sell it.
Order a vehicle history report. Ordering a Carfax report or an AutoCheck report to show buyers can help you to sell your car faster. After all, it can answer many questions that the buyer may have about your vehicle, such as how many owners the car has had, and if it has been in any accidents.
2. Set a price for your car
You can find out what your car is worth by searching for your car on Kelley Blue Book.
Another thing you should do is go on the websites above and see what other people are charging for similar cars. This is a good way for you to gauge what your vehicle is worth and what you could sell it for.
Make sure that the price you set for your vehicle is realistic – as in someone would actually pay it – but also don't shortchange yourself.
It's also a good idea to set a price that's slightly higher than your car's value. For example, if your car is worth $3,200, then you might want to set the price at $3,700. This gives buyers room to haggle.
It's also a good idea to put the term "or best offer," next to the price, as you may be able to get more money from selling your car than you would think.
Also, before you list your car for sale, set a minimum price that you'd be willing to sell the car for. Remember, you don't want to shortchange yourself.
3. Clean up your car
Whatever car you drive, keeping it clean is a good idea especially when it comes time to sell it. You can get more money for your car if it's clean. A clean interior and exterior entice people who buy used cars more so than a dirty car.
Before you start your listing and taking photos of your vehicle, you'll want to make sure that you clean it up. When people see your listing or come to view your car, you want it to look as good as possible.
Now, you don't need to fix every single scratch or dent on the car.
But, you do want the car to be clean and tidy. So, remove any junk that's accumulated in your vehicle over the years, vacuum the car, and get it washed.
Doing this can make your car more likely to sell.
4. Take some photos and create a good listing
You'll want to take some good photographs of your car. Make sure that the lighting is good and that you get photos of the car from various angles. This should include photos of the interior as well as the exterior. Photograph things like the trunk, the seats, the odometer, the engine, and the tires as this can show tread and depth.
People will want to see what it is that they are buying. Make sure to include important details in the listing like the car's age, its model, how many miles, etc.
5. Make sure you are honest about the condition of your car
Make sure that you are honest in your listing. So, mention any scratches or dents. You don't want a buyer to come to view your car for them to be disappointed that your car has damage that you failed to mention.
Just be honest in the listing!
6. Stay safe
It's important to protect yourself when listing a car for sale online.
First of all, it's a good idea to keep your license plate out of the photos. Just for safety reasons. If you can, black it out in the listing photos or avoid photographing it altogether.
When you meet up with the buyer, make sure you ask that payment be made either in cash or by certified bank check. You don't want to have to deal with a bounced personal check.
Also, if it's possible, make sure you meet with potential buyers in a busy public area rather than giving out your personal address to strangers.
7. Don't entertain lowball offers
Okay, so when selling a car, you really want to make sure that you are getting a good offer. I mean the whole reason for listing your car for sale on a site like eBay, Autotrader, or Craigslist, rather than selling it directly to a company like Carvana or Vroom, is that you get to decide how much money you sell the car for.
This can mean a higher price for you in some cases. So, you really don't want to entertain lowball offers. Sadly, there are buyers who will try to get you to sell your car for far less than what it's worth.
In fact, this happened to my parents recently when they were trying to sell my mom's car. The first person who came to view it tried to find fault with the car, even though there was nothing wrong with it other than a little wear and tear which was to be expected of a vehicle that was almost ten years old.
So, after coming up with a lot of small nitpicky issues, the guy offered them half of the listing price. Suffice to say they, quite rightly, turned down the offer. The guy tried to tell them that they wouldn't get more for it than that. The next guy who viewed the car paid the asking price and they sold it hassle free for cash on the spot.
Don't be pressured into taking a low offer. Get what your car is worth.
Now, the best way to get the most money from a sale is to not make any promises to prospective buyers. Unless you think that a buyer has made an excellent offer, tell them that you will consider their offer and get back to them. Get a few different offers.
And, if you do tell a person that they have won the sale, make sure that you follow through on the promise to sell your car to them.
If you do accept the first offer that you get, then you could miss out on more money. So, it really is a good idea to get offers from a few different prospective buyers.
So What is the Best Site to Sell a Car?
Well, the BEST one is the site that gets you money fast and easy and that's different for everyone depending on the location and make and modal of the car.
Options like CarBrain and Vroom where you can just sell your car, have it picked up and get paid are definitely the easiest. But, if you don't want to get offers, and would prefer to set your own price for your car, then listing your vehicle for sale on a site like Autotrader, eBay, or Craigslist can be a good choice. Just choose the option that best suits you.
If you have ever used any of these car buying sites to sell your car to, I'd love to hear about your experience. What did you like or dislike about the process and were you able to sell your car for the most money? Let us know in the comments section below.