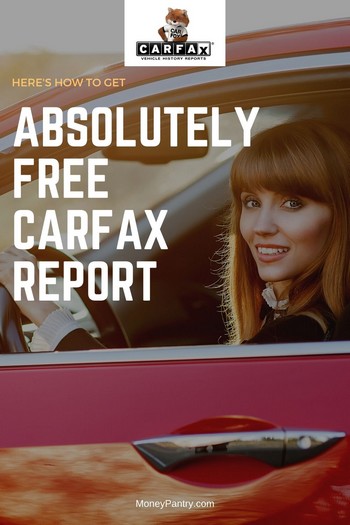 Buying a used car?
Then you likely want to know how to get a free car history report.
It's so important to check a car's history before you purchase it.
And when it comes to car history reports, there's arguably no better one than a vehicle history report from Carfax (you know, the company with that cute fox in their TV ads!).
They're the benchmark for all other vehicle history reports, offering a super comprehensive history report of your car.
The only problem is Carfax reports are expensive.
Need Easy Extra $300+/Month for Free?
KashKick
: Get paid directly into your PayPal for watching videos, surfing, shopping and more.
Join KashKick Now!
InboxDollars
: Paid over $57 Million to members to watch videos, take surveys, shop and more.
Get $5 instantly!
Branded Surveys
: Get $1 instantly just for joining for free. Plus get paid within 48 hours by PayPal!
Join Branded Surveys
First Opinion
: Get paid up to $10 per survey and $300 per virtual focus groups!
Join Now!
Swagbucks
: Get paid to watch videos, shop online, take surveys and more.
Join now & get $10 instantly!
One report will sell you back $39.99.
For three reports you'll pay $59.99.
And for six reports, you'll pay $99.99!
So, what if you don't want to pay that?
Should you just skip the report altogether?
Heck no, and here's why…
Why It's Important to Check a Car's History
Buying a used vehicle can save you so much money compared to buying one that's brand new.
But it's important you know its history if you're planning to buy a used car.
Here are a few reasons why knowing a vehicle's history is so important:
You can see if the vehicle's been damaged
Sure, you can have a good look at a car before you buy it. But, there's only so much you can tell about what a car's been through just by looking at it.
Sadly, you can't always depend on the seller or dealership to give you a complete and accurate history of a car.
If you have a report, however, you can see details on any accidents the car has been in and the extent of the damage.
View odometer history
One thing to keep an eye out for when looking for a used car is the mileage.
Sometimes, mileage seems too good to be true. Without a Carfax report, you can't know for sure whether the car's odometer reading has been rolled back.
Although it's illegal to change a vehicle's odometer reading, sellers will sometimes roll it back to increase a car's value.
When a vehicle is registered and whenever it goes into the shop for maintenance, its mileage is recorded. So, when you view the mileage listings on the car history report, you can make sure that the odometer reading hasn't been tampered with.
This is so useful because you get a true picture of how many miles a vehicle has actually done!
You'll get a clear picture of its ownership history
There's no other way to tell a car's ownership history without a Carfax report.
A report can tell you how many owners a car has had, what areas it was driven in, and how long each owner had the car for.
If you see that the used car has had a lot of owners in a short space of time, then this could be a red flag. Knowing a car's ownership history will give you a better idea of the life expectancy of the car.
You can see if the vehicle's been properly maintained
You may be able to see from a car history report how well a car was maintained. On a Carfax report, you may be able to see things like oil changes and maintenance services that have been performed on the vehicle.
If you can see that maintenance was not performed per schedule, you may be able to get the seller to lower the price, as the car wasn't properly maintained.
Or, if you can see things like the oil wasn't changed, then this could indicate future problems and repairs that'll be needed, which can cost you money!
So, this could help you to decide whether to avoid buying a certain vehicle.
You're less likely to waste your money!
The most important reason to get a history report is basically that you want to know what it is you're buying.
Sometimes, a used car seems like a great deal.
But once you've bought it, the thing breaks down every two seconds, costing you a lot of money.
Sadly, you can't always take what the seller says at face value.
That's why having that Carfax report is useful. It makes you so much more knowledgeable about a vehicle's history, which in turn can indicate how well it will serve you in the future.
That car that seemed like a great deal may turn out to be a dud that's just going to drain money from your bank account.
A Carfax report can give you a good indication of whether a vehicle is going to serve you well in the future.
So, I really would recommend getting one if you're looking to purchase a used car.
What Does a Carfax Report Show You?
As I said before, there are lots of different vehicle history checks you can do.
The most comprehensive though is a Carfax vehicle history report.
This report is incredibly detailed and tells you everything you need to know about a vehicle.
Here's what a report from Carfax checks for:
Major accidents
Multiple owners
Vehicle service
Mileage rollback
Flood damage
Airbag deployment
Mileage rollover
Not actual mileage state owned
Total loss
Rebuilt
Structural damage
Open recalls
Registration history
Warranty information
Salvage titles
Estimated miles driven per year
Last reported mileage
Length of ownership
Commercial or personal use
Service history
Hail damage
Branded a lemon
Junked
Does Carfax Have a Report for Every Car?
You'll find that reports are available for vehicles manufactured since 1981. This was when the 17-character VIN was standardized.
Carfax provides information on cars and light trucks. Reports are powered by the Carfax database. This contains billions of records from more than 100,000 domestic and international sources.
So, yes, it's pretty comprehensive and the place to go if you want to learn more about a vehicle.
Now, to get your report, you're going to need a VIN.
What's a VIN?
A Vehicle Identification Number (VIN) is a 17 digit (letters and numbers) number that all vehicles from 1981 onwards have.
The number includes information on a vehicle's background, like the manufacturer, model year, and where it was built.
Basically, the VIN records the vehicle's identity.
You use your VIN when checking your car's history.
Where to Find Your Car's VIN
Okay, so to get your report, you'll need to find your vehicle's VIN.
You can find this in a few different places, including off the vehicle and on the vehicle itself.
Off the vehicle, you can usually find the VIN on documentation you have for the car, like:
Vehicle title.
Registration card.
Insurance documents.
Owner's manual.
Body shop repair records.
Police reports.
You can also find the VIN on the car itself. Here's where to find a VIN on a car:
The driver side interior dash. This is the most common place to find your VIN.
Under the hood at the front of the engine.
Between your front carb and windshield washer unit.
In the trunk under the spare tire.
In the rear wheel well.
In the driver door jamb (open door).
The DMV has a handy guide for finding your VIN, which you can read here.
After you have your VIN, you'll be able to get your report.
How to Get a Carfax Report for Free
Okay, so Carfax reports are great. They don't come cheap though.
Fortunately, there are a few ways to get one for free.
1. Shop for a used car with Carfax
Carfax has a ton of used car listings on its site. And every car listed on there comes with a free vehicle history report. You should consider browsing the site if you're looking to purchase a used car, as you'll get a report included at no additional cost.
That's great, right?
2. Check with car dealers
Another option to consider is checking with used car dealerships. If you don't see a link to a free report on a used car dealer's website, then reach out to the dealer directly and ask them to provide you with a free Carfax report for the vehicle you're interested in.
A quick visit to your local car dealership could get you a free report.
3. Visit online car listing sites
Some online car listing sites, like AutoTrader and Cars.com, may include Carfax reports at no cost for some used cars.
So, it's worth having a browse through a few different car listing sites as some do provide reports at no cost.
Free Carfax Alternative
There aren't actually that many ways to get a Carfax vehicle report for free, unfortunately.
So, what can you do?
Well, you'll be glad to know that there are lots of alternatives to Carfax reports out there.
And they are totally free!
If the options above don't work for you, consider scrapping the Carfax report altogether and try one of these free alternatives.
VIN lookup from VINCheck.info
VINCheck.info provides one of the best alternatives around. It's VIN Lookup provides you with lots of information about a used vehicle.
Its mission is to make comprehensive vehicle history reports available to as many consumers as possible.
It says that its reports are 100% free with advertisers covering the cost. And, its goal is to ensure people are protected from fraud and unsafe vehicles and to help prevent the resale of stolen cars.
What's great about VINCheck.info is that its check is comprehensive, unlike many of the other free report services that are out there.
Enter your VIN on the site, and you'll get a report that's similar to a Carfax one, covering things like:
Serious accidents
Title brands
Theft
Recalls
Overall, it's an awesome service that's free!
Get your free VIN lookup from VINCheck.info here.
Vehicle history report from LemonChecks.com
Another place to visit to learn more about your vehicle's history is LemonChecks.com.
It provides a comprehensive vehicle history report that's totally free.
Great, right?
Unlike other no-cost reports, it offers a comprehensive look at your vehicle's history.
Each report checks for:
Major accidents
Full title history
Flooded car damage
Odometer rollbacks
Undisclosed liens
Theft
And more!
All you need to do to get your report is visit the site and enter your car's VIN.
It's easy to use and it's free, so give it a go!
Get your vehicle history report here.
iSeeCars VIN Report
Finally, we have the iSeeCars VIN report. It is another free service that gives you a comprehensive vehicle report, similar to a Carfax one.
It is incredibly in-depth, including up to 200 data points!
With the iSeeCars VIN Report, you can get a report from CarFax at no cost included when provided by the dealer or seller – this means that some reports include a link to a free Carfax report.
Like with the other two sites, just visit the site and enter your VIN to get your report.
Get your iSeeCars VIN report here.
Free Carfax Hack
This is a hack I found out about on Reddit.
Now, the report, based on your vehicle and location, might be from Carfax or AutoCheck (a big competitor).
Here's what you need to do:
Go to Google and type in "dealer autocheck inurl:vin" (without the quotes).
Click the first link that pops up.
When you land on the page, look at the URL and you should see a VIN.
Replace that VIN with your own and hit enter.
The results will be a vehicle history report for the car associated with the VIN you entered.
It may not work for you but at the time of writing this post, it still worked. So give it a try.
I am not sure of the legality of it, so please proceed at your own risk.
Closing Thoughts
Much of the time, Carfax reports aren't given away at no cost, sadly.
Fortunately, there are a few ways you can get your hands on one for free, and if you're unable to get a free Carfax report, consider using one of the free Carfax alternatives that I listed above.
Let us know in the comments section below what your favorite site is for vehicle history reports.