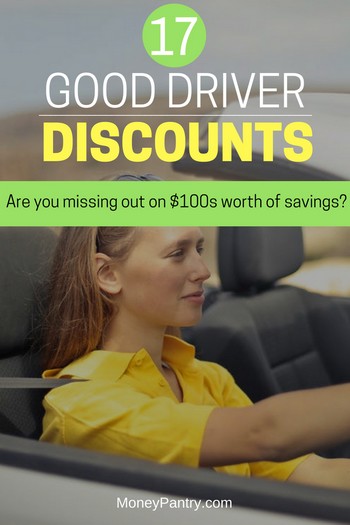 Are you a good driver?
Would an insurance company agree?
If so, you should expect to receive a good driver discount from your insurer.
If you don't, you should start looking around among the many insurers that reward good, safe drivers.
In answering "What determines the price of an auto insurance policy?" the Insurance Information Institute lists Your Driving Record as the very first factor.
We've gathered a list of top insurance companies that offer some sort of Good or Safe Driver discounts including some that offer student discounts.
Need Easy Extra $300+/Month for Free?
KashKick
: Get paid directly into your PayPal for watching videos, surfing, shopping and more.
Join KashKick Now!
Panel Payday
: Earn up to $75 per survey. They also pay up to $50/hr for mystery shopping.
Join Now!
InboxDollars
: Paid over $57 Million to members to watch videos, take surveys, shop and more.
Get $5 instantly!
Branded Surveys
: Get $1 instantly just for joining for free. Plus get paid within 48 hours by PayPal!
Join Branded Surveys
iPsos iSay:
: If you have to only sign up for one paid survey site, go with Ipsos (high paying survyes)!
Join iPsos Now!
Swagbucks
: Get paid to watch videos, shop online, take surveys and more.
Join now & get $5 instantly!
But before we get to the list, for those unfamiliar, here's a quick look at the kind of Good Driver discounts available out there.
What is a Good Driver Discount?
Good Driver Discounts!
First, let's review a few basics.
Who exactly is a good driver?
Who qualifies?
In the bluntest terms: A good driver doesn't get tickets and doesn't wreck the car.
Do you qualify?
Do others in your family?
Insurance companies have an abundant number of ways to determine if you are already a good driver or if you are likely to be driving well in the future.
There are at least 9 ways to view good driving already:
Based on your proven driving history, you may qualify for:
1. Good Driver Discount
This is a general term covering lots of ways you can behave well on the road.
See below for some of the varieties.
2. Safe Driver Discount
Some companies use "good" and "safe" to mean the same thing. Others distinguish between the two.
It largely means you don't have tickets for speeding or reckless driving.
It can mean you aren't driving around under the influence of alcohol, illegal drugs, or—in some cases—even doctor-prescribed medicine that makes you sleepy at the wheel.
It can mean you are avoiding other risky behaviors, like not driving too fast or braking too hard.
(See Vehicle Monitoring below.)
And, of course, you don't get into accidents, for whatever reason.
3. Accident Free Discount
This is a sub-category of the Safe Driver category that some companies reward specifically.
It focuses more narrowly on whether or not you have gotten into wrecks or fend-benders in which you were at fault.
If you get in an accident, but it's not your fault, with these policies you're premium will not go up.
Based on the statistical likelihood that you will be a good risk for the insurer in the future, you may qualify for:
4. Good Student Discount
This may be determined several ways.
Often a "B" average will get the job done.
Or good scores on ACT and SAT tests.
Check the company. Some companies have additional ways to define "good student."
5. Mature Driver Discount
As a rule, older drivers are simply better at avoiding wrecks and infractions than drivers under 20—at least up until the really senior years.
6. Driver Training Discount
For those who have taken approved driver training.
This can be "driver's ed" for students.
It can apply to driver instruction for older folks, like the AARP Driver Safety course.
7. Student Away at School Discount
For students attending school far from home—for example, 100 miles.
Our educated guess on this rationale:
If you are usually 100 miles away from the family car, you are very unlikely to wreck it.
Based on various other safety-related options, you may also qualify for:
8. Vehicle Monitoring Discount
If you don't mind being monitored, programs like Nationwide's SmartRide and Allstate's DriveWise will lower your rates based on electronically verifiable driving behavior.
SmartRide loans you a small device to drive around with.
DriveWise has you download an app for your phone.
9. Safe Vehicle Discount
This discount is not exactly about how safely you drive.
It's more about how safe you will be in case of an accident, thanks to how sturdy your vehicle is.
This works if you drive a car, SUV, or truck with a good record for protecting passengers in accidents.
If your driving record is not spotless there is still hope!
Different companies have different "forgiveness" criteria for different infractions.
So, for example, if you have not had a moving violation in the last 3 (or 5) years, you may now qualify as a good or safe driver.
What else?
The exact criteria for all of these possibilities vary from company to company.
And they often change from state to state.
As you shop for good driver insurance, be sure to understand clearly what the insurance company is—and is not—offering you.
Some details are totally up to the insurance company.
Some specs are due to state laws.
Insurance Companies with Discounts for Safe Drivers
Our goal is to do more than just point you towards discounts for good driving.
We want you to find companies that customers like doing business with!
Lots of companies offer discount policies.
The companies shown here have reputations for providing good policies plus good claims service.  It's important to have both!
You want to be happy in the long run, don't you?
Insurance companies with high customer approval ratings are your best bet.
For powerful, accurate, impartial information on customer satisfaction, you can't do better than .J.D. Power and Consumer Reports.
Nerdwallet has merged findings from J.D. Power and Consumer Reports with additional data to identify 23 of The Best Car Insurance Companies for 2018.
Some of these insurers are names you have known all your life.
Others you may hear about for the first time here.
We've reviewed all 23.
We've condensed these to 17.
Most offer good driver discounts.
Most are available across the country.
But not all.
So, here's a condensed tip sheet.
These 17 insurance companies should give you a great start on your way to getting good driver discounts for you and your family.
Let's start at the top with the best (highest rated) and go from there.
Keep in mind, all of these insurers score well in customer satisfaction overall.
Satisfaction with good driver discounts may vary.
The list is made up of these top insurance companies:
Amica
Auto-Owners Insurance
Erie Insurance
Travelers Insurance
Nationwide
State Farm
The Hartford
American Family Insurance
The Hanover
Allstate
Geico
Farmers Insurance
Safeco
MetLife
Esurance
MAPFRE
Progressive
1. Amica
Amica Mutual Insurance Company is the oldest mutual insurer of automobiles in the United States.
Their numerous Auto Discounts feature the following for good drivers:
Good student/college graduate
Defensive driver training, if taken from an Approved Driving Course.
Driver training, exclusively for young drivers
Student away at school, usually 100 miles or farther
2. Auto-Owners Insurance
They've been around over 100 years.
AOI works exclusively through independent agents. Their Agency Locator helps you find one.
They offer more than 10 ways to save, including these discounts for good drivers:
Favorable Loss History
Good Student
Student Away at School
Teen Driver Monitoring
3. Erie Insurance
They provide safe driving discounts and diminishing deductibles to those with good driving records.
The diminishing deductible reduces $100 for each consecutive claims-free policy year, up to $500 max.
4. Travelers Insurance
Travelers Car Insurance Discounts for safe drivers cover:
Safe driver
Good students—up to 8%
Student away at school—up to 7%
Driver training
5. Nationwide (SmartRide Discount)
Nationwide Discounts include one of the monitoring options described below.
SmartRide gives you an instant 10% discount to sign up.
Receive a "small device for your car."
It can eventually earn you a 40% discount!
6. State Farm (Drive Safe & Save Discount)
State Farm has two Featured Auto Insurance Discounts as well as other discounts for safe drivers.
Are you a new driver under 25 years of age?
One of these featured discounts is for you.
Drive Safe & Save uses info from your smartphone or your vehicle's OnStar service.
Steer Clear discounts premiums for new drivers under 25 with good driving histories.
Need more options?
Try these:
Accident Free
Defensive Driving Course
Student Away at School
Good Driving
Driver Training
Good Student
7. The Hartford
The Hartford has several discount options for good younger drivers and another for everyone.
Driving Training Discounts for drivers under 21 who complete an approved course.
Good Student Discounts for students 16 to 25 years old
Defensive Driving Course
8. American Family Insurance (Young Volunteer Discount)
AFI offers standard and unique possibilities.
Ever hear of anyone getting discounts for serving as a volunteer?
AFI gives you a discount if you are under the age of 25 and volunteer in your community.
Check the Young Volunteer option.
We're not sure if that means you're a safer driver, but it appears so.
Besides, we just had to include this unique option!
Good driving discounts are available in certain states.
The defensive driver discount could save those who are 55 years old (and up) 5 to 10%.
Good students, teen safe drivers, and students away at school may all qualify for discounts too.
9. The Hanover
Need a break from all this reading?
Check out Hanover's video Second Chance Accident Forgiveness.
They do not roll out a long list of good driver discounts, but they do extend discounts for good students and students in school.
10. Allstate (Drivewise Discount)
We're not sure if this is better or worse than what other insurers provide.
It's certainly a customer-fit.
Allstate offers discounts tailored to you and for smart students.
For the tailored treatment, give them your name, address, date of birth.
They will gather info about your driving habits and give you a quote.
For their smart student discount, Allstate provides 3 ways to qualify.
Want to get cash back?!
Then enroll in the app-based Drivewise program.
Earn up to 10% right away!
Then get cash back for every 6 months of safe driving.
11. Geico (Safe Driver Discount)
Who hasn't seen the Geico gecko (lizard)?
He's always telling us how much we can save with Geico.
Check out their safe driver discounts safe driver discounts for more details.
A 5-year accident free record can get you a 26% reduction in premium.
Do you and your passengers always wear seat belts?
If so, you could receive up to 15% off a portion of your premium.
Adults can get discounts for completing Defensive Driver Training.
Students who complete Driver's Ed or have good grades can also earn discounts.
12. Farmers Insurance
Let's see if they "know a thing or two"—like their ads always say.
Farmers says they have a long list of discounts, so they must include good driver and safe driver discounts.
It's unique by the state where you live.
To see what discounts you can get, you'll need to view discounts in your state.
13. Safeco
Where to apply:
Safeco offers significant savings to safe drivers.
You have to contact a local independent agent to find out exactly how much.
But for starters, they provide:
The Safeco Safety Rewards
This includes:
Diminishing deductible when no claims are filed.
Accident forgiveness appears to be free here.
Accident forgiveness options (riders) usually cost more. Your first accident (if ever) must occur after a set number of years without accident or violation.
The Teen Safety Rewards
This gives you several standard features like good student, driving training, and distant student discounts.
They also have a very unique option for discounting your policy: the Safeco Parent-Teen Contract which spells out Responsibilities and Consequences for both teen and parent!
14. MetLife
MetLife is not just life insurance.
They offer interesting variations of themes we have seen above.
Defensive Driver Discount: Take advantage of their Defensive Driver Discount if you complete a qualified training course like The National Safety Council's Online Driver Improvement Course.
Superior driver discounts and MetRewards kick in if all drivers in your household are outstanding drivers.
Stay violation-free for 5 years and get up to 20% knocked of your policy price.
A good student discount up to 15% awaits high school or college students who qualify.
15. Esurance
A subsidiary of Allstate, Esurance brings you several options, including one based on their downloadable app.
Their Good Driver discount could save you 30 to 40% off premium in 3 years.
The Claim-Free discount saves if all drivers on the policy go 5 years without a claim or DUI / DWI conviction and other requirements.
The DriveSense discount uses a mobile app that records how you drive.
The Good Student discount saves up to 10% for high or college students under 25 years of age with a "B" average (3.0 GPA).
16. MAPFRE
MAPFRE is a global insurance company based in Spain.
In the USA, good driver options include:
The teen will need 8 to 10 hours to complete this multi-media training.
DriveAdvisor is not really a discount. But it doesn't raise your premium easier. It's a free safety program for new drivers to help them learn how to reduce risky driving.
17. Progressive (Snapshot Discount)
Progressive's pitchwoman Flo is famous, in her white apron.
You get good driver discounts 2 ways if you sign up for Snapshot.
First, this usage-based program averages $25 discount to sign up.
Second, it then averages $130 saved upon completion.
Some Reddit.com community members have expressed aggravation with Snapshot.
Pweepweemuggins says the device is "extremely sensitive. [It] will beep at you for even slightly hard breaking…. After 6 months of letting them track me and use my location information and driving habits for research, dealing with very regular frustration from the beeping, and catering my driving habits to suit what they consider to be safe, they've awarded me with an insult instead of a real discount. My rate went down by $3 USD."
Ttam281 added, "As an agent, I tried snapshot as soon as it came out. Ended up ripping it out of my car and shipping it back prematurely. Never recommended it to a client."
FAQs (Frequently Asked Questions)
Have questions?
We have answers!
What exactly are Good Driver / Safe Driver discounts?
In short, good/safe drivers pay less for their insurance than average and poor drivers.
They receive discounts on their monthly—or quarterly or annual—premiums.
Or they may receive cash back.
Why do such discounts exist?
The better your driving record, the more popular you are with insurance companies.
You're simply a better risk for them and their bottom line.
You're more likely to help them make a profit.
What can it mean to you?
Discounts can range from 10% to 40% off the going rate!
That's money you keep in the bank.
Buyer's tip: Find out what the final price is!  Not just the discount percentage.
Here's an example:
A company charging $100 / month with 15% discount ($85) will save you more money than a company offering 20% off of $150 / month ($120).
That's assuming they are providing similar coverage for that price.
How does it work?
Some companies will automatically apply discounts for you if you qualify.
Others will not.
You need to speak up.
If you are already insured but not sure you are receiving the best discount you deserve, call your agent or go on your company's website.
Explore options provided by your company and determine which discounts you may qualify for.
Then ask for the discounts!
This effort may give you the added bonus of finding out if you qualify for other discounts as well.
For example:
If you have life, homeowners, renter's, fire, and/or other kinds of insurance with the same company, they will probably give you a "bundled" discount for having multiple policies there.
Or if you use e-pay options, avoiding paperwork for them and for you, they may reduce the charge to you.
If you are applying for car insurance for the first time, start by browsing the companies on our list.
And certainly, research any others you know and like.
Then contact agents and/or explore the websites of the companies with policies best suited for you.
A Few Tips Before You Buy
Certain things are always smart when shopping for insurance.
They apply to picking good/safe driver coverage too.
Always get quotes from more than one insurer—3 or more is best.
One company may give you a great discount from a high price.
But another company may charge you less total for comparable coverage.
Do business with a company that answers your questions honestly and openly, and settles claims fairly.
To see who does this:
Ask friends, family, and colleagues for their experience.
Check with your state insurance department.
Ask your Better Business Bureau. The national BBB website can connect you with your local BBB.
Check out J.D. Power and Consumer Reports for their highly respected, unbiased findings.
If anything doesn't seem right, or if you get complicated replies to your questions that just confuse you, walk away.
Don't be lured in by price alone.
There are many other factors like customer service that you should consider.
Accepting a higher deductible on your policy virtually always reduces your monthly premium.
This is true for all insurance, not just good driver car insurance.
Closing Thoughts
Insurance companies can be confusing, but they can be creative too.
They often use different words to describe similar types of coverage.
If you think you deserve consideration for some aspect of your safe driving record and don't see your "category," talk to your agent about it or ask online.
They may have exactly what you need but just call it by another name!
As always, you are invited to pitch into this conversation.
Have you had experience with good driver or safe driver discounts?
Or experience with any of the variations?
If you have advice, warnings, good news, even funny tales, to share with other MoneyPantry readers, please let everyone know!
One more thing. Safe driving is about more than just getting good driver discounts.
More importantly, it's about saving the health and lives of yourself and those you care about.