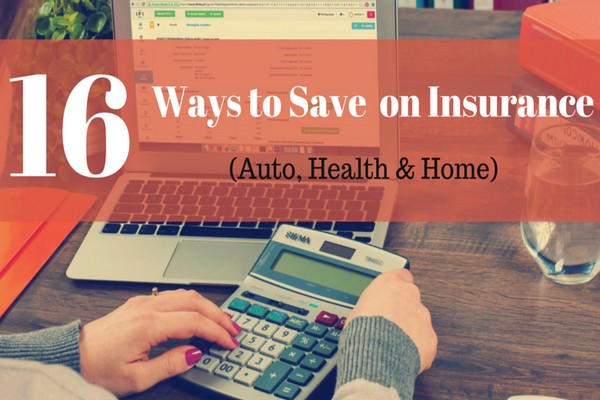 Insurance can eat up a huge portion of your monthly budget.
Whether it's car, home, life, business or health insurance, for most households usually that's one of our biggest monthly expenses.
Wouldn't it be great if there were ways to save some of that money each month?
Americans spent over $961.7 billion on private health insurance alone in 2013.
So, it's natural to look at your insurance premiums to see if there is anything you can do to save money by lowering your rates.
Need Easy Extra $300+/Month for Free?
KashKick
: Get paid directly into your PayPal for watching videos, surfing, shopping and more.
Join KashKick Now!
InboxDollars
: Paid over $57 Million to members to watch videos, take surveys, shop and more.
Get $5 instantly!
Branded Surveys
: Get $1 instantly just for joining for free. Plus get paid within 48 hours by PayPal!
Join Branded Surveys
First Opinion
: Get paid up to $10 per survey and $300 per virtual focus groups!
Join Now!
Swagbucks
: Get paid to watch videos, shop online, take surveys and more.
Join now & get $10 instantly!
Thankfully, there are some simple and easy tricks that can help you save on your insurance without giving up good coverage and support.
1. Comparing does pay!
Most of us get so used to our bills and how much we pay that we forget there are different companies out there that have different prices for the same stuff.
And when it comes to insurance, while there are certain criteria that all providers consider when giving you a quote, most companies have their own ways of assessing risks associated with insuring you.
This is especially true with big-ticket items like cars, houses, business and heath insurance.
And that is why different companies charge different amounts for the exact same services for the exact same clients.
So, it pays (literally) to get insurance quotes from a few different providers. You never know how much less the next company charges for the same coverage.
There are many ways to compare insurance carriers:
You can get in touch with the insurance companies directly.
You can check around with friends and family on their respective insurance providers.
Or you can go online and use sites like QuoteWizard to compare.
All of these measures would be helpful to find the insurance provider that is just right for you.
You may also want to check your state's department of insurance.
It is a good place to compare rates, evaluate customer ratings and complaint ratios, and to find contact information for a variety of major carriers.
2. Think before you buy your next car
When people buy cars, regardless of new or used, they often overlook the insurance related expenditure, which can greatly influence the total cost of ownership.
It makes sense to factor in the insurance cost as auto insurance premiums can swing wildly subject to specific characteristics of that particular vehicle; that could include its pricing, safety record, average repair costs as well as the risk of theft.
3. Remember Multiple Policy Discounts
A wide variety of insurance providers, like Allstate, actually offer multi-policy products, which allows you to combine auto coverage and home insurance into one. Since such products come with a decent discount, why not take advantage of their money-saving feature?
For example, you can consolidate all the family cars coverage into one single insurance plan, or you could include all driving-age family members within one single insurance policy.
But before you make any decision, make sure you do your research, after all, you could even achieve greater savings as you spread your policies across multiple providers.
4. Don't renew before looking around
While you may congratulate yourself on getting the best bargain this year, there is no guarantee that the same deal will continue to promise value for money when it comes to your insurance renewal.
I would always advise that you look at the whole policy if there have been any changes in rate, and look around to see if the competition is offering better deals.
The emergence of the internet makes it super easy to get various online quotes from a wide variety of websites, especially those that have previously stored your profile so that they could generate instant quotes for your comparisons.
5. Wanna save more on car insurance? Do this…
As you become a more competent driver, there is an even greater chance for more savings in your insurance coverage.
If your driving record is clean, meaning that you have not been involved in any accidents or moving violations over a specific number of years, you are entitled to safe driver discounts.
Many insurance companies do offer safe driver discounts, also known as Good Driver Discounts.
This includes:
So how do you get that Good Driver discount?
Well, car insurance companies have different rules and define safe driving in different ways.
But according to the DMV, qualifying for the safe driver discount generally means:
"Avoiding at-fault accidents.
Having a clean driving record free of moving violations like speeding, reckless driving, and DUI/DWI."
There could be even more savings if you decide to take a defensive driving course.
6. Get just enough coverage
While unlimited protection could be appealing, don't do it.
Think of it this way…
If your car is older and has little cash value, you don't need as much coverage as you would for a brand new luxury car.
On the other hand, never dismiss the real and practical risks associated with your vehicle and the cost to replace it.
7. Before you buy, find every possible discount opportunity
Multiple discounts are possible especially when you have a number of policies from just one single insurance provider.  We get a 20% discount for combining our home and auto policies with one vendor.
Check for student, senior or military discounts that you may qualify for.
Many companies are beginning to offer discounts if you're a paperless customer.
Others will provide a discount if you're willing to make payments electronically instead of by check.
8. Raise your deductible
Sure, you could incur more expense if you happen to get into an accident. However, by simply increasing your deductible in the region of several $100s, you could potentially cut 15% to 40% from your collision and comprehensive coverage costs.
Just make sure that you save some resulted from this saving in your monthly car insurance premium so, in the case of a claim, you can actually afford a higher deductible.
9. Maintain good credit
Your credit score does affect your insurance rates.
Auto insurance providers often have this logic; if one has an established and stable credit records, he or she will tend to have fewer accidents.
That seems to be a trend among auto insurance companies as more take into consideration of credit scores as they calculate rates.
Since this is the case, it makes sense to maintain a reasonable, if not impeccable, credit score to save on auto insurance payment.
So make an effort to regularly review your credit report so that it does not inadvertently capture items that are not attributed to you. The internet is full of services that facilitate checking on your credit.
10. Reduce coverage on older cars
For older vehicles, always check their Kelley Blue Book values.
If you are paying over 10% of the current value of your car on your annual comprehensive/collision insurance premiums, probably dropping the cover makes sense.
On average, claims happen only every 11 years.
Naturally, there is always this risk that whatever claim payment comes your way might be less than the total comprehensive/collision premiums you had paid.
11. Keep your Insurance Company in the Loop
Recently upgraded to eco friendly appliances?
Installed impact resistant windows?
Added a home security system?
Just put a new roof on the house?
Any of these upgrades, plus many more can lower your insurance premiums. Be sure to let your insurance company know if you've made any changes, you may just save some cash!
12. Get a Health Savings Account
Many groups, as well as individual health plans, do offer these accounts. One can fund an HSA (Health Savings Account) with pre-tax dollars, oversee their investment in a 401(k)-type account, and then utilize the funds tax-free, provided these form parts of the approved medical expenses.
Additional plus point of HAS is that it allows funds to be rolled over every year in case you don't need them. So, you will be effectively building up a major emergency fund in anticipation of big healthcare bills in the future.
With all these talks on health reform, there is a good chance HAS would have to come to an end. So if you like the scheme, do something about it now!
13. Take advantage of lower health insurance rates for young adults
In the group market, employee health plans invariably cover everyone, independent of their health status.
This results in healthier employees having to pay higher rates.
In the individual market, insurers are at liberty to provide coverage to only the consumers they want.
As a result, lower rates are possible for healthy young consumers, whose chances of becoming ill and filing claims are considered relatively low.
The regulations baked into the Obama Care mandates that young adults (age 26 below) should be guaranteed coverage under their parents' family health plans. But there have been arguments that things could be cheaper for the family if an individual policy could be in place for the young adult.
By the same reasoning, cheaper individual coverage could apply for an employee's spouse, instead of the more expensive group plan.
14. Consider a Health Maintenance organization
Normally, Health premiums for HMOs are way cheaper than stand-alone policies that may allow you to choose your own doctors.
15.  Consider a Health Sharing plan
Depending on your religious beliefs, you may be able to take a part in a Christian Health Sharing Plan.
A former co-worker of mine joined one through his church, he pays around $225 a month for a family of five– and says that his out of pocket expense is much lower than when he had traditional health insurance.
MediShare is a one of these types of plans, check out a full review of MediShare, to see if this would work for you.
16. Take your time & do your research
Insurance is never straightforward; some liken the planning involved to that of a root canal or even a funeral.
A good place to get some tips and advice on how to go about choosing an insurance company is USA.gov's insurance tips page.
The bottom line
Insurance costs vary case by case.
I may pay more than you do for the exact same coverage because of my unique situation.
But that doesn't mean there is no room to save. Almost everyone can save on their insurance by using the tips and tricks mentioned here.
Just how much can you save?
That depends highly on your unique situation as well as how much time and research you put into comparing and finding the right provider that can give you the lowest insurance rates.