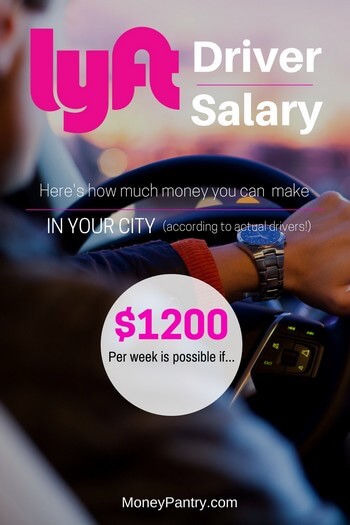 There are tons of ways that you can make money with your car, and we've covered many of them here on Money Pantry.
One to consider is driving for Lyft.
Lyft is a transportation app that customers can use to get rides from their mobile phones.
It's basically like Uber.
And, of course, the company requires drivers to provide these lifts.
If you're considering driving for the company, then the first question you probably have is; "how much can you make with Lyft?"
Need Easy Extra $300+/Month for Free?
KashKick
: Get paid directly into your PayPal for watching videos, surfing, shopping and more.
Join KashKick Now!
Panel Payday
: Earn up to $75 per survey. They also pay up to $50/hr for mystery shopping.
Join Now!
InboxDollars
: Paid over $57 Million to members to watch videos, take surveys, shop and more.
Get $5 instantly!
Branded Surveys
: Get $1 instantly just for joining for free. Plus get paid within 48 hours by PayPal!
Join Branded Surveys
iPsos iSay:
: If you have to only sign up for one paid survey site, go with Ipsos (high paying survyes)!
Join iPsos Now!
Swagbucks
: Get paid to watch videos, shop online, take surveys and more.
Join now & get $5 instantly!
With vague statements about pay and little in the way of concrete figures for hourly earnings on the company's official website, it can be tough to get an idea of how much you can actually earn driving for the company.
To help you out, today's post goes in-depth into how much you can really make from Lyft.
We use real examples from people who have previously driven for, or currently drive for the company.
Let's get started!
How much do Lyft Drivers Make?
Lyft's ride fare is broken down into:
Base fare: This is what the app charges the passenger to start the ride.
Cost per minute: This is how much you earn per minute in the area where your ride starts. Pay starts after you tap to arrive.
Cost per mile: This is the rate you earn per mile in the region where your ride starts.
And, sometimes your Ride Fare includes Prime Time.
Prime Time is basically an extra charge for customers during busy times, when there aren't enough drivers for all of the ride requests.
For example, when it's 5 p.m. and people are leaving work, it might be 25% Prime Time.
And, drivers get to keep their tips as well.
The company states that all costs per mile or per minute are determined based on the city and region in which a ride was requested.
The company takes 20% to 25% commission. This commission includes the base fare, cost per minute, cost per mile and any Prime Time bonuses.
You can take a look at the Ride Fares in your city by visiting this page.
Just select your city and you'll be able to see a list of fees that the customer is charged.
For example, in St. Louis, Missouri, here's how the ride fare would break down:
Cost Per Minute: $0.20
Base Fare: $1.50
Cost Per Mile: $1.26
And then, of course, you have to take 20% to 25% off of that amount.
According to the company, some drivers earn more than $800 just driving Friday nights and weekends.
Hourly income figures from Lyft
Much like Uber, Lyft doesn't specifically state how much drivers, overall can earn per hour on its website.
So, if you've just started looking into driving with the company, you might be struggling to figure out how much you could make from this opportunity.
Handily enough, Lyft features a pay calculator on its website – unlike Uber. You can use it to find out how much you can earn in your specific area.
Let's take a look at a few examples of how much you could earn, driving in different areas.
Below, we've given examples of what you could earn driving in eleven different states.
Each figure below is based on driving 7 hours per week.
Boston, MA: Up to $168 per week – this works out at $24 an hour.
Chicago, IL: Up to $168 per week – this works out at $24 an hour.
New York City, NY: Up to $196 per week – this works out at $28 an hour.
San Francisco, CA: Up to $189 per week – this works out at $27 an hour.
Nashville, TN: Up to $140 per week – this works out at $20 an hour.
Dallas, TX: Up to $140 per week – this works out at $20 an hour.
Minnesota, MN: Up to $161 per week – this works out at $23 an hour.
Seattle, WA: Up to $161 per week – this works out at $23 an hour.
Portland, ME: Up to $140 per week – this works out at $20 an hour.
Louis, MO: Up to $140 per week – this works out at $20 an hour.
Denver, CO: Up to $140 per week – this works out at $20 an hour.
As you can see, the amount you can earn varies a lot of from city to city and state to state.
According to the figures above from the Lyft pay calculator, drivers earn anywhere from $20 to $28 an hour.
Figures from real drivers
While using their pay calculator is a good way to figure out how much you could earn driving for the company, we've also included figures reported by actual drivers.
Sometimes, this can give you a better idea of what you'll actually walk away with.
On Glassdoor, a number of people who drive or have previously driven for Lyft have reported how much they earn.
According to the site, the average driver earns $16 an hour.
But, drivers can earn anywhere from as little as $3 to as much as $27 an hour.
Here's what drivers on Glassdoor say about their earnings:
Driver in Tampa, FL: "The average income for a full time driver is $9.90 per hour including his gas and car mileage."
river in Hawthorne, CA: "Tips can be great at times, on Saturday night you're making at least 200 bucks if working eight hours."
Driver in Atlanta, GA: "Flexible hours, easy to do, decent pay, usually 6-13 dollars per ride during normal hours, tips allowed, less stress than Uber. To earn a lot of money, you have to work many hours. I can work 4 hours and earn about $45 usually."
Driver (Location Unspecified) "Average income is $8-$12/ hour"
Driver in Las Vegas, NV: "They guarantee you a 20$ an hour rate if you meet certain requirements."
Driver in Austin, TX: "I usually make about $20-25 an hour driving for lyft, and sometimes up to $40 on the weekends."
And, Glassdoor isn't the only place where drivers report how much they earn – there are also figures on Quora and Reddit:
One driver from San Diego on Quora states: "I can make between $700 & 1200 net a week if I'm willing to put in about 50–60 hours a week."
Again on Quora, a driver for Lyft in San Francisco states: "You can net $1000 weekly in San Francisco area without difficulty."
Another driver from Washington D.C. states: "I don't work too hard and average over $20 an hour. But that's gross, not net, I still have to pay for gas, iced tea, front tires, extra insurance, little bottles of cold water, etc."
A driver on Reddit says: "We're guaranteed at least $15/hour, $25/hour during peak times ("power hours"). Average/hour hovers between $20-$25."
Another driver on Reddit says: "I drive full-time hours, with a paid-off car, and after taxes (before deductions), I net about $350-400 per week. That's 40 hours."
To Sum Up: Lyft Driver Salary
So, that's a lot of different figures!
To put it simply, how much you make as a driver will depend on a huge range of factors, such as how many hours you drive, how many Prime Time offers you get, and a multitude of other things.
But, obviously, one of the biggest factors is where you live. For example, you'll earn much more driving in San Francisco or New York City than you would in Dallas, Texas or Portland, Maine.
From the figures above, you can see that some people make a pretty good income as a Lyft driver.
And, some drivers state that they only earn minimum wage or less.
From the examples given above, pay can range from as little as $5 an hour to as much as $40 per hour.
When does Lyft deposit money?
The company pays drivers weekly.
The money is deposited into your account automatically. But, there's also an option for instant payment, which is handy.
If you want to cash out instantly, then you can do it with Express Pay.
Is there a way to earn more?
Okay, so now you're probably wondering, is there any way I can earn more?
Well, just like driving for Uber, there are things you can do to increase your driving income.
Below, we've outlined a few tips you can use, including tips from people who drive for the company, to earn more with Lyft.
1. Be Polite and Friendly
Many drivers report that by being nice and friendly, and even making conversation, they tend to earn more tips.
Since you get to keep 100% of the tips you earn driving for Lyft, this is a good way to earn more.
One driver on Reddit suggests doing this:
"Be polite and friendly. 90% of my tips, I can predict that I got a tip for that ride. Today I got a $5 tip on a $7 fare from a squirrely kid who wanted to talk my ear off the whole ride, we talked about my car, his RC car hobby, his dating woes, and he told me "most drivers won't have a conversation with riders.
A $2 tip came from the guy who complimented my baby Groot bobblehead and we chatted about Guardians and other Marvel movies. A $5 tip was for making restaurant recommendations and advice on what to see in town to a couple of tourists."
The same person also says "If you create a personal connection, they're more likely to treat you like a person rather than just a "driver. Having said that, sometimes you just have to shut up and drive. Know when to talk and when to keep quiet."
So, try talking to people you give rides to, and if they seem receptive to conversation, then keep it going.
2. Best time to drive for Lyft
Since they sometimes have Prime Time offers on, driving at times when there's a high demand for lifts is a great idea.
You could earn 25% to 100% more than your normal rate.
One tip a driver gives for making more money is: "Driving during rush hours, or after 9pm, especially on weekends."
Commuting times, Friday and Saturday nights, and special days where there's a game or event going on in your city are often the best times to drive for Lyft money-wise.
3. Take advantage of Driver Bonuses
Lyft offers bonuses to new drivers.
At the time of writing, you could get a bonus of between $50 and $200.
In order to get the bonus, you have to complete a certain number of rides, within a specific time frame.
For example, to earn the $50 bonus that's currently available, you need to give 20 rides in your first 30 days. To get the $200 bonus, you'd need to give 100 rides in your first 30 days.
Although this won't earn you more cash consistently, it's still a good way to boost your earnings with the company when you're first starting out.
You can check out the sign up bonus offers from Lyft here.
4. Learn which areas have a High Demand for Rides
Another tip that comes up consistently in reports from drivers is to get to know areas where there's a high demand for rides.
So for example, use websites like Trip Advisor and Yelp to learn what are the top rated restaurants in your area.
Or, make an effort to keep up to date with events in your area.
One driver on Quora says: "Pay attention to where major events are going on like concerts or sporting events. Know what time they will end and be there around that time. This way you can likely get long rides with surging rates, which can lead to really high fares. $100+ is a definite possibility."
Closing thoughts
Overall, if you're looking to make a supplemental income, or want a part-time gig, then Lyft is a good option.
It's an easy way to get paid for driving your car.
When you have some spare time after work or on the weekends, you can easily use the app to pick up rides.
However, full-time, it's not really that great an opportunity, as many drivers online state.
Obviously, it really depends on where you live.
Someone in a place like New York City or San Francisco could potentially make a good full-time income from Lyft, as this person on Reddit says:
"How much you're going to make depends on you and on what city you live in. You could be making less than minimum wage after expenses or you could be clearing $20+/hr."
But, you also have to factor in the cost of gas, which you have to cover.
If you want to make some extra cash, driving for Lyft is definitely something to look into, even if only part-time.
Have personal experience driving for Lyft? We'd love to hear about it in the comments!