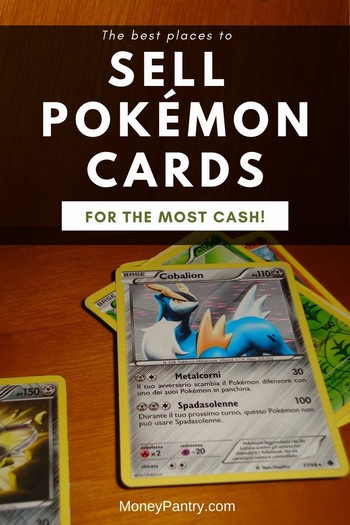 Got a few Pokémon cards and want to sell 'em for cash?
In this post, I'll show you where to sell Pokémon cards near you or online for the best price.
For those how may not fully understand what it is, The Pokémon Trading Card Game (also known as PTCG or Pokémon TCG) is one of the most popular collectible card games. It is based on Nintendo's Pokémon franchise of video games and anime.
There are many different Pokémon games, most costs, but there are also some free online games like Pokémon GO that you can play on your mobile devices.
Anyway, whether you collect them or just have a few left over from playing video games, in this post I'll give you a list of places where you can trade your Pokémon cards for cash. The process is the same as trading games. I'll also give you tips on how to sell them and let you know which ones will bring you the most money.
So let's get started on the list.
Need Easy Extra $300+/Month for Free?
KashKick
: Get paid directly into your PayPal for watching videos, surfing, shopping and more.
Join KashKick Now!
InboxDollars
: Paid over $57 Million to members to watch videos, take surveys, shop and more.
Get $5 instantly!
Branded Surveys
: Get $1 instantly just for joining for free. Plus get paid within 48 hours by PayPal!
Join Branded Surveys
First Opinion
: Get paid up to $10 per survey and $300 per virtual focus groups!
Join Now!
Swagbucks
: Get paid to watch videos, shop online, take surveys and more.
Join now & get $10 instantly!
Where to Sell Pokémon Cards Near Me or Online
Here are the best places for selling your Pokémon Cards for cash.
1. eBay
eBay is a good place for selling Pokémon cards. You can set your own prices, which always a plus. Not only that though, but you also have millions of shoppers visiting the site each month, meaning you can get a listing for your cards out to lots of people.
Just make sure you create a detailed listing with photos, to entice potential customers into purchasing your cards.
2. Dave & Adam's Store
Dave & Adam's Store is looking to purchase Pokémon cards, particularly holographic ones.  The store purchases complete sets and valuable modern single cards.
You can check the online Buy List for the store's most updated buy prices.
If the store agrees to purchase your cards, you're paid by cash, PayPal or check.
Sell your Pokémon cards here.
3. Cape Fear Games
Cape Fear Games allows you to sell your games. You can submit all of the items you would like to sell on the website.
You can choose the payment option you want. Options include PayPal, check, and store credit.
Sell your Pokémon cards here.
4. CCG Castle
CCG Castle will buy your Pokémon cards. Just follow the instructions on the site and send the cards to CCG Castle.
You can choose to receive payment via PayPal or store credit.
Sell your Pokémon cards here.
5. Craigslist
Craigslist is still one of the best places to sell stuff near you.
It's a particularly good way to sell if you have cards that aren't particularly valuable. The good thing about Craigslist is that it's free to list your cards for sale on there. And you don't have to pay any commission on your sales either, as you do when you sell on eBay.
Sell your cards on Craigslist here.
6. Sell2BBNovelties.com
Sell2BBNovelties.com offers listings on its site for the Pokémon cards that it's currently buying and the prices that it's paying for them.
The website offers you two options for selling your cards:
You can see the individual listing prices for each card and add the ones that you want to sell to your basket. The easiest way to find cards is to use the links on the selling page (link below) or the search box.
Sell your collection at a flat price without looking each one up one at a time. You can click the link on the site to view the collection listing.
Sell22BBNovelties.com only buys cards that are in Mint, or like new, condition. It buys single cards, packs, decks, boxes, tins, and more.
Trade your Pokémon cards here.
7. Facebook Groups
There are lots of groups on Facebook, including those for Pokémon fans. You could consider advertising your cards for sale through one of these groups. Of course, you'll actually want to engage with the group a bit before you list your cards.
8. Facebook Marketplace
If you have some cards that aren't too valuable, another option to consider is Facebook Marketplace. It's a platform where people can buy and sell stuff near them. You can list your cards for sale on there. You can set your own prices, which is always a bonus!
Sell your Pokémon cards here.
9. Trade your Pokémon cards on Reddit
If you're looking to get some new Pokémon cards while offloading your old cards, consider Reddit. Reddit is actually one of the most underrated and best places to sell video games and video games related stuff.
There's a Reddit thread where you can trade Pokémon cards by mail. You can trade cards with people all over the world, which is awesome.
Trade your Pokémon cards here.
10. Full Grip Games
You can sell bulk Pokémon cards to Full Grip Games.
It's important to note that you are trading cards for a Pokémon booster box from the site. So if you're looking for some new cards to add to your collection, then Full Grip Games may be the site for you.
If you're looking to get cash for your Pokémon cards though, skip this one.
The website provides step by step instructions on how to sell, which is great.
You'll get email updates when your order arrives at Full Grip Games and is processed. Your booster box will be shipped within 3 business days of processing your order. In the case of presale boxes, your box will be shipped on release day.
Trade your Pokémon cards here.
How to Sell Your Pokémon Cards
Okay, so now you have some places to sell your cards.
But how do you even go about getting started if you have a pretty large collection?
Well, you'll want to make sure that you organize them!
A buyer on eBay is going to be more impressed with an organized collection, rather than an old, disorganized box of cards.
Organizing your collection not only makes it more sellable, but it also makes listing stuff for sale easier because you'll know exactly what you have in your collection.
In this section, I'll give you some tips for organizing and selling your Pokémon card collection.
Now, before we begin, I just want to note that these tips will help you when selling across multiple platforms, like eBay and Craigslist.
But, some of the sites above may have their own rules for how they want you to organize your cards. So make sure you read the fine print first to see if a site has any particular requirements when it comes to how they want you to organize their cards.
If not, then follow the tips below.
Organize the cards by sets
A good way to organize your cards is by sets. You can identify a set by a small symbol. On old sets, this symbol will appear in the bottom right corner of the Pokémon illustration.
On new sets, this symbol will appear on the bottom right corner of the whole card.
Read this list of Pokémon card symbols to check which sets your cards belong to.
Please note that Base card sets, which were one of the first three sets to be released in the USA, don't have a symbol on the card.
Sort them numerically
You can use the numbers at the bottom right corner of the card to sort them numerically.
You should be able to see two numbers. One is the number of the actual card. Then there's a slash. The other number is one for the number of cards that are in the whole set. So for example, if you have a Charizard card, labeled, 5/102, then this is the number 5 card in a set of 102 cards.
Of course, there are some exceptions, like Promos, which only have one number referencing what the card is.
Make a list
Once you've organized your cards by number and into the right sets, you'll want to make a list of what you have.
A list is something that most buyers want to see. So write down exactly what you have in your collection. Sellers will be glad to have a list!
Safely package your cards
Now, you want to make sure you safely package your cards. Doing so will protect them. So put all of your cards in protective soft sleeves. Then you can put them into a plastic case to prevent them from getting bent. You could also put them into a plastic sleeve in a binder.
Know what your cards are worth
Of course, knowing what your cards are worth is really important. You want to make sure that the price you're offered for your cards is fair.
Have a look on eBay to see what people are listing their cards for.
The best thing you can do though is to use this tool from Card Mavin to determine the value of your Pokémon cards.
What Are the Most Valuable Pokémon Cards?
The rarity and condition of a card will determine how much money you get from it. Cards in mint condition will fetch the most.
According to Heritage Auctions, cards with these features are particularly rare and/or valuable:
1st Edition mark: The hallmark is on the center left side of the Pokémon Card. 1 editions cards are the rarest and most valuable among the standard Pokémon cards.
Shadowless: Cards that don't have a shadow also sell for a premium.
Error: Cards that have misprints and errors also sell for a substantial premium.
Here are some examples of some of the most expensive Pokémon cards ever sold:
Like I said above, you can use the handy tool from Card Mavin to determine the value of your Pokémon cards.
Guide to Pokémon Card Rarity
Like I said above, rare Pokémon cards tend to sell for more money.
Here's a quick guide to checking if you have any rare cards in your collection:
Check for these three symbols
Check to see if your card has one of the following symbols:
Circle symbol: Common
Diamond symbol: Uncommon
Star symbol: Rare
The rarity symbol can be found at the bottom of the card, next to the set symbol and card number.
Some cards have no rarity symbol. These are usually from a Promo set, as indicated by the set symbol.
Check for valuable characteristics
Not all cards with the rare symbol are equally rare, with some rare cards being rarer than others.
Other characteristics of a card such as whether it's a holofoil or non-holofoil card or if it's a card with special abilities, can make it rarer and more valuable.
An easy way to find valuable Pokémon cards is to look for holo cards.
Sometimes these are called:
Holofoil cards
Holographic cards
Shiny cards
Foil cards
There are a few different types of Holo Pokémon cards:
Holo: The Pokémon image is holofoil
Reverse Holo: The frame around is holofoil, but the Pokémon image itself is not.
Full Art Holo: The entire card is covered in holofoil graphics.
Look out for Ultra-Rare Cards
Ultra-Rare cards have the star symbol, which as I mentioned above, indicates a rare card. But, that's not all. Ultra-Rare cards also home some extra powers or a unique game mechanic.
These cards are considered to be Ultra-Rare:
Pokémon GX: These cards have "GX" in capital letters after their name. They were introduced in the Sun & Moon sets.
Pokémon EX: You'll find the letters "EX," again in capitals, after their name on these cards. These cards were introduced in the Next Destinies sets and appeared in more sets including those in the Black & White series, and XY series.
Pokémon LV.X: These cards have the title "LV.X" after their name. They can be found in sets in the Diamond & Pearl series and Platinum series.
Pokémon Star: You'll find a shining star symbol on these cards, next to their name. They were initially released in the EX Team Rocket Returns and then in more EX series sets after that.
Pokémon LEGEND: These cards come in pairs – a top half and a bottom half. Both have the word "LEGEND" after their names. They can be found in sets in the HeartGold & SoulSilver series.
Pokémon Prime: These cards are powerful ones and can be found in sets in the HeartGold & SoulSilver series. They have a pretty unique design. Generally, they feature a close-up of Pokémon's face bursting out into the character window. They also have a holographic border.
Pokémon ex: On these cards, you'll find "ex" after their name. This means "extra," as they have extra attack capabilities. You'll find these cards in all of the EX series sets.
Also check for secret rare cards
There are some secret rare Pokémon cards. These have a star symbol, like those rare cards I mentioned above. But, the difference is that they're unique in their numbering. Interestingly, they always have a card number that is beyond the standard set. For example, a secret rare card could be numbered 103/102.
Closing Thoughts
Who knew you could make money playing video games and selling cards!
If you've been wanting to know where to sell your Pokémon cards, give the places on our list a try. Hopefully, you'll sell your Pokémon cards for a lot of money.