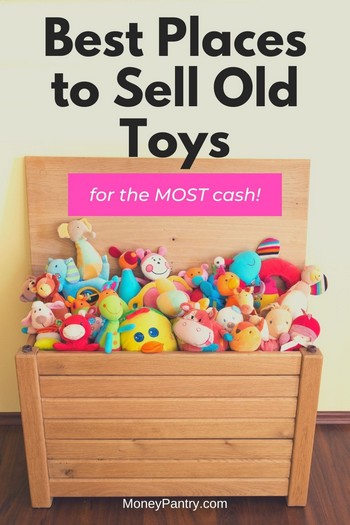 Have your kids outgrown their toys?
Or maybe you have been collecting toys?
Maybe you used our post on how to get free toys to get even more toys for your kids but now they just cluttering up your home.
Whatever the case may be, in this post I'll show how and where to sell toys.
You'll be glad to know that there are lots of options available to you, whether you're looking to take your stuff to a local store to sell it or want to list the toys for sale online.
In today's post, I'll cover some of the best places where you can sell toys for cash near you or online. To make things easier, I've broken these websites, stores and apps down into categories.
Need Easy Extra $300+/Month for Free?
Panel Payday
: Earn up to $75 per survey. They also pay up to $50/hr for mystery shopping.
Join Now!
InboxDollars
: Paid over $57 Million to members to watch videos, take surveys, shop and more.
Get $5 instantly!
Opinion OutPost
: Want fun & high paying surveys? This is the survey site for it!
Join Opinion Outpost!
Branded Surveys
: Get $1 instantly just for joining for free. Plus get paid within 48 hours by PayPal!
Join Branded Surveys
Toluna
: Earn PayPal, Amazon & Tango e-vouchers for taking surveys (& product testing!).
Join & get 500 bonus!
Swagbucks
: Get paid to watch videos, shop online, take surveys and more.
Join now & get $5 instantly!
Here are some of the best places to sell toys.
Where to Sell Used Toys Online
Let's start out with some great websites and apps to sell your stuff with.
With some of these websites, you ship your stuff to the customer once your item sells.
With other websites, someone buys the item but then arranges an in-person pickup.
Regardless, all of these sites allow you to list your toys for sale online.
Here are the best places to sell your old toys online:
Toycycle offers full-service consignment, so selling toys with the company is really convenient.  It picks up your stuff, sells it for you, and then you get paid. It's really simple!
Once your item sells, you keep between 15% and 80% of the sale. The percentage you get is based on the value of each item with higher value items receiving a higher payout. You can choose to be paid in cash or store credit. Or you can donate your earnings to charity.
Craigslist is still a really popular platform and remains one of the best places you can sell stuff online.
You can list your toys for sale on there for free!
There's no commission charged either, meaning you get to keep all of your profits. It's so easy to create a listing on there too.
You can list toys for sale on Kidzen. Once they sell and you've shipped them, you'll get paid to your PayPal or bank account. Or you can choose to have your earnings paid as credit that you can use to purchase stuff from Kidzen.
With more than 182 million shoppers, eBay is definitely a place to consider selling your toys.
I have already covered why eBay is the best place to make money selling Legos. Just the sheer number of potential buyers on eBay makes it a worthwhile place to list your toys for sale.
You can list up to 50 items on there for free, as well. After that, it costs 30 cents per listing. Once your stuff sells, eBay does take a 10% commission fee.
5miles allows you to sell old toys. It's a great platform because it doesn't charge any commission.
That's right – you get to keep 100% of your sales. For some categories though, listing fees are charged.
Here's where you can get the app:
Next on the list is OfferUp. It has millions of users all looking to buy stuff, which is why it's such a good place to sell toys.
You can sell lots of different items there from clothing to furniture, and it's also a great place to sell toys.
It's a mobile marketplace for local buyers and sellers.
It's so easy to list stuff on there too. You can create a listing for your toys in less than 30 seconds. And the best part is that you don't need to pay to list stuff for sale on there.
Another popular selling website called LetGo has now actually merged with OfferUp.
Here's where you can get the app:
VarageSale, as its name suggests, is basically an online garage sale where you can sell stuff locally.
You can sell stuff in lots of different categories, and you can even sell toys there. If you're looking to sell toys near you, it's definitely one to consider.
Here's where you can get the app:
While you can sell pretty much anything with Mercari. It is also one of the best places to sell kids clothes and toys. It has sections for toys, collectible toys, and vintage toys, so it's a good place to sell kid's stuff.
It's free to list toys for sale on there. But when your stuff sells, you pay a 10% selling fee.
With Shpock, which is a portmanteau of "shop in your pocket," you can sell items in lots of categories, including toys and board games. It's really easy to create a listing on there and there are zero fees as well.
Here's where you can get the app:
eBid is an online marketplace where you can sell stuff at auction or for a fixed price. Impressively, there are 25,000 categories to sell your items through!
Dolls & Bears and Toys & Hobbies are just two places where you can sell your used toys.
The website has a couple of membership levels. The basic Seller account, for the casual seller, is free. With this account, listing is free. When your stuff sells, you will be charged a final value fee of 5%
The paid plan is called Seller+ and with that one, you can choose to have a 0% final value fee.
The cost varies depending on your payment plan:
7 Day: $1.99
30 Day: $6.99
90 Day: $16.99
365 Day: $69.99
Lifetime (special offer running): $139.99
You can list toys from die-cast models to action figures to dolls for free on Bonanza.
When your stuff sells, you will need to pay a 3.5% commission fee.
If you're based in the UK, then consider selling your used toys on Gumtree.
There are lots of categories to sell through, like:
Used Toys
Outdoor toys
Baby & kid's toys
It's the most popular ad site in the UK, making it a good place to list toys for sale.
Since a lot of parents are already on Facebook anyway, Facebook Marketplace can be a good place to Beanie Babies, Cabbage Patch Dolls (the hottest toys of the 80s), Leap Pad, Star Wars figurines, Rubix Cube, Easy Bake Oven and any other kind of toy.
There are lots of categories available, like:
Toy vehicles
Building toys
Outdoor toys
Doll's houses
Educational toys
Stuffed toys
Action figures
Board games
Facebook does charge a selling fee of 5% per shipment or a flat fee of $0.40 for shipments of $8.00 or less.
Brain's Toys differs a little to some of the other websites on the site in that it purchases unopened toys. So if you have some toys you haven't opened, then get a quote from the site.
You can sell lots of different items to Bergen Pickers, like:
Barbies
LEGO Toys
Flash Gordon
It's a good place to sell both modern and vintage toys.
Best Places to Sell Toys Near Me
Maybe you'd prefer not to have to list stuff for sale online or on an app like OfferUp.
Perhaps you just want to take your toys to a store near you and get cash on the spot?
If that's the case and you're looking to sell toys nearby, you might want to check out these places.
You can sell your gently used toys at a Once Upon a Child store near you. The store also accepts children's clothes, shoes, furniture, and baby gear.
Just bring your toys to the store where an employee will inspect them. You'll then get an offer. If you accept the offer, you're paid in cash right there.
The store recommends that you call ahead to find out which items are most in demand.
Rogue Toys is focused on toys like:
DC
Marvel
GI Joe
Transformers
Dolls
So if you have those types of toys to sell you might want to give the store a try.
The company has three stores – two of which are in Las Vegas and the other one is in Oregon. If you live in one of those states are looking for a place to sell toys near you, give the site a try.
Just go into your nearest store and an employee will price your items based on condition, rarity, and popularity. You'll get an offer and if you accept it, you're paid cash on the spot.
If you don't live in Las Vegas or Oregon, you can just ship your items to Rogue Toys and it will send you payment.
Children's Orchard accepts gently used children's toys and clothes.
Bring in your items and the company's buyers will check out your boxes and bins. You'll get cash on the spot for what the Children's Orchard keeps in its store. Or you can choose store credit to earn even more money.
You can sell your used toys to Kid to Kid. Just take your items to your nearest store. Make sure you check your local store for their buying hours though. Generally, buys take around 15 to 45 minutes to complete.
An employee will appraise your items and make you an offer. If you like the offer, you can accept it. You can choose to be paid in cash or get 20% more in trade value.
20. Yard Sales
Your good old-fashioned yard sale can still be worthwhile, especially if you want to sell larger items or have a large selection of different things.
There's no hassle because you don't have to lug your stuff to a store or ship it either. If you have a lot of kid's toys to sell, consider having a yard sale. Also, you can often tap into a market you might not otherwise reach – people who prefer to shop in person, rather than online.
Where to Sell Collectible Toys
If you have collectible toys to sell or vintage toys, check out these websites:
Dylan Universe Comics will buy your vintage toys and collectibles. It says it's paying top dollar for:
Star Wars stuff from the 1980s and earlier, like toys, vehicles, playsets, and more.
Action figures from the 1980s and earlier, like He-Man, GI Joe, Transformers, and others.
Old monster stuff from the 1950s and 60s, like King Kong, Godzilla, Frankenstein, vampires, and more.
Vintage toy robots from the 1950's & 60's.
Space & Sci-Fi related items from the 1970s & earlier.
Vintage superhero collectibles, like toys, posters, costumes, and more
Themed metal lunchboxes.
Video games and systems from the 1990s and older, like Nintendo, Atari, Gameboy, NES, and more.
Sports cards from before 1970, like baseball, football, hockey, and basketball
Non-Sports Cards from before 1970, like Batman cards, and Wacky Packages.
Even if you don't have any of the items that are listed above, Dylan Universe Comics says there's still a chance it'll be interested in your stuff. It's a good place to sell collectible toys for cash.
DNR Collectibles purchases vintage toys.
It likes to purchase:
Action figures
Model vehicles
Barbies
Die-cast toys
Trains
Hess trucks
DNR Collectibles will pick up your stuff. It will pay you cash when it picks up your collection.
Toy Origin pays for pre-owned collectibles, which is great.
Just prepare a list of items you want to sell and take some photos of the items too. Then just use the contact form on the page we linked to above to get in touch with Toy Origin.
Once you've done that, the website will email you back within 24 to 48 hours with a quote.
If you accept the offer, the website will email you a prepaid shipping label. All you need to do is box up your stuff and send it to Toy Origin. You then get paid via PayPal or certified money order.
For selling vintage toys online, Etsy is another one to consider. The website may be associated with craft items and handmade stuff, but it also has a great section for collectibles and vintage items, including toys. You pay $0.20 per listing. When your item sells, you are charged a 5% transaction fee and 4% plus $0.25 for payment processing.
This website allows you to sell lots of different collectibles, like toys and action figures, as well as other vintage items like sports cards, comic books, and video games.
Just call Comics N Toys or use the online form (both can be phone on the page linked above).
Then the company will appraise the items and offer you cash on the spot.
Tips for Selling Toys
Okay, so now you have plenty of places to sell your toys. Here are some tips you should follow to ensure your success!
Research your toy's value
To make sure that you get the best deal, make sure that you do a little bit of research into what your toys are currently selling for. Do some research on sites like eBay to get an idea of the market value. Taking a little time to research what the toys you plan to sell are worth can help you to get the best price for your stuff!
Be honest about the condition of what you're selling
I know that it can be really tempting to say that an item is in better condition than it actually is. But it's just not a good idea. The buyer isn't going to be happy when they see that the condition of the toy doesn't match up with what you put in the listing. You likely won't finalize the sale, or you'll get a bad review which could hamper your future efforts to sell.
So be honest about the condition of the toys that you plan to sell.
Take the time to clean the toys
Most places want toys that are not only in good condition but clean too. Not many buyers aren't going to be impressed by items that are stained or dusty. So give them a quick clean before you sell them. Plus, clean toys will look much better in photos, which brings me to my next point…
Take clear photos
Photograph the toys in an area where the lighting is good. Also, keep the background clear. But most importantly, don't upload blurry photos! Crisp, clear photos are what you want because a potential buyer will want to know what an item looks like before they decide whether to make a purchase.
Closing Thoughts
Whether you have a collection of vintage toys you want to sell or a box of toys your child just doesn't play with anymore, it's good to know that there are plenty of places both online and offline where you can sell toys.
A lot of them pay cash fast as well, with many giving you money on the spot or through PayPal.
Selling old toys is definitely a good way to declutter your home and make some money in the process!
And don't forget that you can also donate your unwanted toys. Check out our list of best places to donate toys.
Do you have any tips on where to sell toys? Let us know in the comments section below.