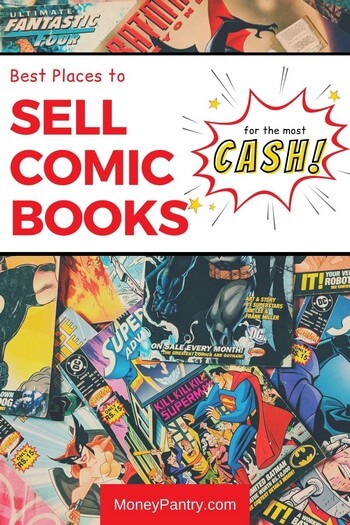 This is the post for you if you want to know where to sell comic books.
Maybe you have a collection from when you were younger, or maybe you've inherited a comic book collection?
Whatever the case, you've got a few options whether you've got a few or a huge collection of comic books and want to sell your books for cash to someone who buys comics books near you online.
Where to Sell Comics Online
Selling online can be a great option. Here are some websites you can sell your comics to…
You can get a quote online at SellMyComicBooks.com. If you like the offer you get, then you can ship your stuff to the company for free. Then, you get paid. It's pretty simple.
Need Easy Extra $300+/Month for Free?
KashKick
: Get paid directly into your PayPal for watching videos, surfing, shopping and more.
Join KashKick Now!
InboxDollars
: Paid over $57 Million to members to watch videos, take surveys, shop and more.
Get $5 instantly!
Branded Surveys
: Get $1 instantly just for joining for free. Plus get paid within 48 hours by PayPal!
Join Branded Surveys
First Opinion
: Get paid up to $10 per survey and $300 per virtual focus groups!
Join Now!
Swagbucks
: Get paid to watch videos, shop online, take surveys and more.
Join now & get $10 instantly!
GetCashForComics buys:
Vintage comic books with a cover price of $.12 or less.
CGC graded comic books
Comic book collections.
It's mostly looking for comics from before 1977, although it does also buy newer comic books.
Just fill out the contact form on the site linked above. You can also email or call the company. The contact details can be found on the page linked above.
In addition to purchasing comic books, the website also buys:
Cards
Autographs
Collectibles
Contact the company and get a quote. ​
Lone Star Comics sells online as MyComicShop. It's been selling comics since 1961 and is the largest comic book retailer in the world making it a great place to trade your comic books for cash.
MyComicShop is a two-generation family-owned business with over 100 employees.
Each year, the company buys millions of comics from sellers across the United States and around the world.
It buys single high value comics as well as collections large and small, estates and dealer and retail store inventories.
It buys:
Comic books
Graphic novels
Comic magazines
It's easy to sell your comics to MyComicShop.
It's mostly looking for older and more valuable comic books. So comics from the 80s onwards aren't that sought after by the site. That's not to say it won't buy them though.
In addition to comic books, MyComicShop also buys:
Original comic art
Pulps
Digest magazines
Fanzines
Vintage paperbacks
Men's interest magazines from before the 1980s.
There are quite a few ways to sell comics to the company, including shipping your stuff to them. You can learn more on the page linked in the heading.
Sparkle City Comics claims to offer the best prices for comic books. The website generally looks for comics from 1970 and earlier. But it also buys a lot of modern comics too.
The site says it spends millions each year purchasing everything from six-figure pieces to entire collections.
In addition to comic books, the website also buys comic art and other comic-related collectibles.
Sell your comics to Sparkle City Comics by filling out the form on the page linked above or giving the company a call. The number can also be found on the page linked above.
One place to consider selling to is Dylan Universe Comics. It's a father and son team that buys old comic books by mail.
To sell your comic books to Dylan Universe Comics, just:
Send an email with your name city and state and a list of your comic books and any other information you think the site might need to know. The site may ask you to send photos of certain books.
The website will make you an offer. If you like the offer you get, agree to the quote and you'll get money via PayPal.
Once you receive payment, you send the company your collection via the USPS. It will reimburse you for the shipping. Or it will send you a pre-addressed FedEx label and you can schedule a pick-up from your home or office. For some collections in the NY Metro area or for large collections, someone from the company will travel to you.
Reece's Rare Comics is a website where you can list your comic books for sale for free. While you don't have to pay a fee to list on the site, you do have to pay a 10% commission fee when your book sells.
It does handle credit card/PayPal fees for you though.
In order to sell a comic book to Reece's Rare Comics, it must have a market value of at least $100.
Get in touch with the website and they'll usually respond within 24 hours.
eBay is another place where you can consider selling your comic books. What's great about using eBay is that you can set your own price. You can check what similar comic books are selling for and then set your price accordingly.
If you do plan to sell on eBay, make sure you take the time to create a good listing that tells the buyer everything they need to know about the comic books you're selling. Also include plenty of photos in your listing.
Infinity Comics will pay you cash for comic books. The website says it loves really big comic book collections or small collections that are made up of key issues. You can give the company a call to discuss your comics. The number can be found on the website linked above.
Superworld Comics has been in the business for 32 years.
The company will travel anywhere in the US, UK, and the rest of Europe.
It's interested in comics from the 1930s through the 1970s.
And it buys comic book art from the 1950s to 1970s. Interestingly, the website says it has a large cash reserve available at all times for immediate purchase.
You can view examples of what the company buys on the website linked above.
GoCollect is another place to sell to. The website is most interested in $.50 and under cover prices with an emphasis on superheroes and pre-1975 books. But it does take books in other time periods and categories. You can get in touch with the company on the website to tell it about your collection.
You may need to answer some follow up questions like what the cover prices are, and you may also have to email the company a few pictures.
Next up we have Always Buying Comics. This website is owned by Todd McDevitt who has been buying and selling comic books since 1986.
The website says you can turn your comic book investment into cash. Visit the website to get in touch.
Gary Dolgoff Comics is buying comics from the 1930s to the 1970s. It is looking for all grades from poor to mint.
Now, although it says it mostly buys older comics, the website will purchase comics from the 1980s until present if they are accompanied by older books. It will also buy original art, magazines, posters, and pulps. The website pays immediately which is great. It also pays finders feeds if you tell the site about a good deal. You get a 5% to 15% finder's fee. For example, if you got the site a $5,000 deal, you could earn from $250 to $750.
Just phone or email the company – all of the contact details can be found on the website.
I Like Comics buys and sells comic books and comic book memorabilia. The website buys Golden Age, Silver Age, and Bronze Age comic books (those published up through 1979).
The website says it is always looking for comics from this period and that it pays very competitive prices.
Although it prefers comic books from the time periods mentioned above, it also buys those from the 1980s up to today.
What's good about I Like Comics is that it buys individuals and full collections.
Founded in 1982, Lee's Comics has lots of experience in the field. It's a leading buyer of vintage comics and related items in Northern California. You can get in touch or go in the store to sell your collection. It has more than 15,000 vintage comics and related items on sale.
Lee's Comics buys:
Golden Age Comic Books
Silver Age Comic Books
Bronze Age Comic Books
CGC Certified Comic Books
Original Art
Comics Magazines
Big Little Books
Graphic Novels
Pulps
The company says that it mostly buys vintage comics because these sell the most. But it can buy modern comics, so those from 1980s onwards, but usually for a small bulk amount per long box.
You can get an offer for your entire collection. You can get in touch via phone or email and the numbers can be found on the website linked above.
Midtown Comics buys comics and collectibles.
The company will purchase:
Golden age comics
Silver age comics
Bronze age comics
Key issues of any age
It also purchases:
Graphic novels
Vintage action figures
Toys
Statues
Pop culture memorabilia
Just email Midtown Comics a complete list of the items you have for sale. Contact details can be found on the website.
You can sell your comic books to Nostalgia Zone. Just send an email or call and the store will make you an offer.
In addition to buying comic books, Nostalgia Zone will also purchase:
Graphic Novels
Trade paperbacks
Books
Magazines
Toys
Games
And other pop culture artifacts.
We Buy Comics has more than 30 years' experience buying comic books.
The website is looking for:
Golden Age Comics
Silver Age Comics
Vintage Marvel Comics
Old 10 cent comics
12 cent comic books
Amazing Spider-Man Comics
Rare First Issues
Uncanny X-Men Comics
Collections or Rare Single books and more.
Zapp Comics will give you cash for your comic books. The company has more than 27 years' worth of experience.
Whether you're looking to sell your entire comic book collection or specific key issues, the website buys a wide variety of comics.
You can sell comics from the 1930s until present.
The website says it pays cash fast with no consignments or waiting for your money.
Although the company is based in New Jersey, the store's owner Ben will travel to any state for collection.
Aside from comic books, the website also buys:
Graphic novels
Action Figures
Magazines
Toys & Collectibles
Just call or email to get in touch. The company says that it responds quickly. All of the company's contact information can be found on the website linked above.
19. Sell through Forums
There are online forums where comic book lovers can meet to chat. These forums can be a good place to advertise your comic books for sale.
Here are two to get you started:
20. Social Media
Social media websites like Facebook, Twitter, and Instagram are also good places to advertise your comic books for sale. For example, there are lots of groups on Facebook where people discuss and sell comic books.
Have a search for comic book groups on social media and consider advertising your collection for sale on there.
Where to Sell Comic Books Near You
What if you don't want the hassle of having to ship your comic books? Is there a way to sell them nearby?
Yes!
Give these tips a try if you've been wondering, "where can I sell comic books near me?"
21. Local comic book stores
Consider selling to your local comic book store. It can be an easy way to make some cash from your collection.
That being said, these stores have overheads meaning you may not get the best price for your collection.
Local comic book stores can be a good idea to get an idea of what your collection is worth though.
And they provide an easy way to sell comics.
Here's how to find your nearest comic book store:
Use Comic Shop Locator
The easiest way to find local comic shops that may buy old comics is through comicshoplocator.com. Simply enter your zip code or address and it will give you a list of all comic shops near you. This covers North America.  If you are looking for stores outside of North America, simply search by country.
Google search
I'd recommend typing in a few search terms like:
Who buys comic books near me
Comic book appraisal near me
comic book store near me
etc.
into Google. This should give you a map with all the nearby stores. Call those stores to ask if they'd be willing to purchase comic books from you.
Yelp
Another way to find stores is to have a search on Yelp. You can often find lists of the best comic stores in your area.
22. Comic book conventions
Getting a stall at a comic book convention (usually referred to as Comic Con) is something to consider if you have a particularly valuable or large collection.
Purchasing a booth at a convention can be pretty costly though so you really need to think about whether it's worth it. That's why it's good to know what your collection is worth first – below, I'll cover this in the "How to sell comic books" section.
Booths can cost hundreds or sometimes even thousands of dollars. You'll find that local shows tend to be much cheaper than larger, well-known shows, like San Diego Comic Con or New York Comic Con.
You can use a site like ConventionScene.com specifically their Comic Book Conventions Schedule page to see a list of all upcoming comic cons in various countries and cities.
23. Craigslist
Next on the list we have Craigslist. When it comes to selling used stuff, Craigslist is still one of the best places.
It's a super popular website so you're likely to find someone on there who's looking to purchase comics.
The best thing about selling to people on CL is that there are no fees like you'll find on eBay. And you don't have to ship anything either.
So it's much less hassle.
The only thing to be wary of when selling through Craigslist is scams. Sadly, CL is a hotbed for scammers. Just be cautious. I'll cover some tips on how to avoid scams below.
Red flags are things like being offered Bitcoin or a Money Order for your collection.
24. Your local newspaper
Putting an ad in your local newspaper can be a good way to find buyers near you. Take the time to create a good ad that draws the reader in and tells them what they need to know about the comic books you're selling.
25. Yard sale/garage sale
Having a garage sale or a yard sale is a good idea if you have comics that have nominal value, like those from the 1980s to present.
For those less valuable ones, sell them at a garage sale or yard sale. You can promote your sale online or in your local newspaper. You can promote a garage sale for free at gsalr.com.
Although the number of potential buyers may not be as much as you'd find on Craigslist or when selling online, you'll likely still find many people who're interested in comic books.
The best thing about having a garage sale is that you don't have to pay any commission. You keep all of the profits which is why it's a particularly good way to sell less valuable comic books.
26. Neighborhood events
Consider selling comics at neighborhood events, like flea markets, trade shows, and festivals.
Anywhere there's a gathering of people, there's usually a comic book fan to be found.
This can provide you with a good opportunity to sell your comic books.
OfferUp is a website where people can buy and sell stuff locally, including comic books and collectibles.
What's great about OfferUp is that it's free to list stuff for sale on there.
A quick note: I've seen people mentioning LetGo as a good place for selling comics. However, LetGo has now merged with OfferUp.
You can list your comics for sale on OfferUp and sell them to people nearby.
Auction Houses/Websites Where You Can Sell Comics
eBay isn't your only option when it comes to selling comic books at auction. You can also work with an online auction house.
With auction houses, you can generally get a higher price than you would selling to someone else. Plus, you can attract more targeted buyers.
Each place will have its own commission and selling fees so make sure that you read the details before listing your comics.
Many auction houses also have restrictions regarding what you can and can't list. So make sure that you actually have comics that you can list.
Here are some comic book auction sites to consider:
Do keep in mind that auction sites often charge pretty high fees. So make sure it's worth it for your comic book collection.
How to Sell Comic Books: Tips for Getting the Most Cash!
Okay, so you have a list of places to sell to both online and near you.
What now though?
How do you get started?
It can be tough to know where to even begin. Don't worry though. In this section, I'll give you tips on how to sell your comics…
Step 1: Organize your collection
No buyer wants to see a box or boxes of old comic books they have to root through. They want an organized collection.
Depending on the size of your collection, organizing it may take some time, but it's so worth it in the end.
Here's how you can organize your collection:
Organize comics by title
The first step is to organize your comics by title. So you may have Star Wars and Batman piles. Make sure that you are in fact sorting by title. Because Marvel and DC Comics aren't titles, but publishers.
Organize by issue number
Next, you'll want to organize each pile chronologically by issue number. This will help you later to research what your comic books are worth.
The issue number can be found on the cover, usually in the top right-hand corner. But sometimes versions may have the number in the left corner. Issue numbers are prominently displayed on the cover, so you should have too much trouble finding them.
Organize the books by number order beginning with the lowest and ending with the highest issue.
Group by storyline
If you have a group of comic books that have corresponding issue numbers, then these can be sold together.
Many buyers want to build their comic book collections, so they may want to buy sets to collect at a quicker rate.
So consider selling comic books that have corresponding issue numbers as a bunch.
Doing this can make it easier to sell more comics at once. Even if there' an issue missing from the storyline, selling comics in bulk can be a much better idea than selling them one by one, as they are often worth more as a set.
Make a list
Pretty much all comic book buyers are going to want a list of the comics you have. These stores are busy and don't want to search through piles of comics to see what's worth buying.
Now that you've organized your comic books, creating a list should be easy. Make a list on a word processing document. You don't have to list every comic book that you have. Instead you can list the number of issues you have, like "15 to 30 of The Amazing Spider-Man.
Step 2: Research the value of your comic books
Knowing how much your comic book collection is worth is so important. Because this ensures you won't be taken advantage of when you come to shop your comics around to buyers.
It's important to be realistic about what your stuff is worth. Sure, we'd all love to make $100s or even $1000s from our collections. That's not always going to be the case though.
Sadly, many comic books are worth less than $0.50 a piece, so they're barely worth your time selling.
That's not to say though that you don't have items worth more than that in your collection.
Your comic book's value will depend on:
Age: Comics from before the 1980s garner more. Older comics tend to be valuable with comics from the 1940s bringing in more than those from the 1970s.
Condition: The better the condition, the more money you'll get
Rarity: Items that are rare will fetch more money.
Other factors can also determine what you'll get. Trends, for example, play a huge role. Demand for a comic book can go up when the creator of the comic book dies or when a character becomes a major motion picture for example.
Although a comic book that's older tends to be worth more, it's not always the case. A Marvel or DC comic will always be worth more than lesser known comics, regardless of the era in which they were published.
Here are some tips for finding the value of your comic books…
Grade your comics
To know what your collection is worth, it's not just what comic books you have, it's what condition they are in.
Being aware of the condition or grade of your books will help you to determine how much money you can get for them.
Many comics are listed as being in mint condition. But finding a comic book in mint condition is pretty rare. It's more common to see comics that are between Good and Very Fine condition.
There's a handy guide you can read here on how to grade your comics.
Look at what other comic books are selling for
Now you know what condition your comics are in, you can start researching their value.
Check on websites like eBay and OfferUp to see what the comics you have are selling for. Have a look at online auction websites as well to get an idea of how much your comics are worth.
Get your collection appraised or check out price guides
Most stores and websites like SellMyComicBooks.com will provide free appraisals. So don't pay someone to do it.
Having your collection appraised gives you a better idea of what your items could be worth.
There are also lots of comic book price guides available online. SellMyComicBooks.com provides tons of comic book price guide articles, which you can check out here.
Step 3: Decide how and where you want to sell
Now it's time to actually sell your comic books. It's important to decide on how you want to sell your comics and who you want to sell them to.
Decide how you want to sell
Do you want to sell your entire collection at once? Or would you prefer to sell in smaller groups or one at a time?
You might want to consider selling your more valuable books separately.  Selling your comics in bulk is a good option if you need quick money. But you might not get as much value. You could also consider selling them in small groups since some buyers would appreciate having a whole collection of a certain publisher.
Decide where you want to sell
The next step is to decide where you want to sell your books.
Online Vs Offline
Whether you want to sell online or offline is really up to you.
There are pros and cons to both.
When you sell online you can reach more potential buyers. Plus, you can often get more money.
When you sell in a store you can get cash on the spot. But since stores have overheads, you may not get the best deal. That being said, you don't have to worry about shipping your comics as you do if you were to sell online.
Get lots of quotes
Okay, I would highly recommend getting a few quotes, regardless of where you decide to sell.
Doing that ensures that you get the best deal. I would recommend you get quotes from at least five places.
Most Valuable Comic Books
Here's are the top ten most valuable comic books:
"Superman, Champion of the Oppressed". Action Comics #1 (1938): $3,200,000
Detective Comics #27 (1939) (this featured the first appearance of Batman): $2,230,000
Superman 1 (1939): $731,000
Marvel Comics 1 (1939): $572,000
Detective Comics 1 (1937) (comic title through which Batman was introduced): $541,000
Batman 1 (1940) (First comic to bear the Batman name): $534,000
All-American Comics 16 (1940) (the first introduction of the Green Lantern): $492,000
Amazing Fantasy 15 (1962) (this introduced Spider-Man): $447,000
Action Comics 7 (1938) (second ever appearance of Superman on a comic book cover): $414,000
Captain America Comics 1 (1941): $343,000
A Few Quick Tips for Avoiding Scams
There are a few things I would recommend you do to ensure you don't get scammed when selling books of any kind including comic books.
The first is to be careful with how you get paid. Scammers often offer to pay you via a money order, check or Bitcoin. I would recommend credit cards, PayPal or cash.
Another thing to be wary of is a popular scam where the buyer pretends that they didn't get the comic books. Putting tracking on your comic book shipment can be a good idea. Just make sure you listen to your gut and if something seems off, then avoid it.
Final Thoughts
I'd recommend giving the places a try if you have some comics you want to sell. Sure, older comic books tend to fetch the most money. However, most places will still buy newer comics so you should definitely consider selling them.
Also don't forget to get your comic books appraised by a few different local stores as well as online buyers. That will help you figure out where to sell your comic books for the highest price!