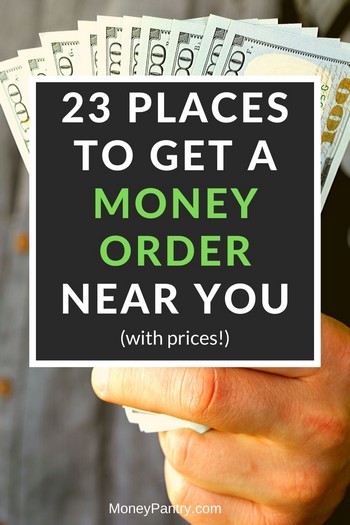 Are you wondering, "where can I get a money order near me?"
Well, I've got you covered. Below, I'm going to give you a list of the best places where you can buy a money order near you (and a bonus tip for finding 1000s more!).
If you need to pay someone, doing it with a money order can be a better way than using a check. And if you're the receiver, it's relatively convenient since there are many places to cash a money order near you.
So, let's take a look at what money orders are, how much they cost, and where you can get one.
What's a Money Order?
A money order is sort of like a check. Only it's better. While it looks and functions like a check, money orders are a more trusted method of payment.
That's because money orders are pre-paid. So they are only issued once a buyer pays for one. Like a check, they are written for a specific amount of money.
Need Easy Extra $300+/Month for Free?
Panel Payday
: Earn up to $75 per survey. They also pay up to $50/hr for mystery shopping.
Join Now!
InboxDollars
: Paid over $57 Million to members to watch videos, take surveys, shop and more.
Get $5 instantly!
Opinion OutPost
: Want fun & high paying surveys? This is the survey site for it!
Join Opinion Outpost!
Branded Surveys
: Get $1 instantly just for joining for free. Plus get paid within 48 hours by PayPal!
Join Branded Surveys
Toluna
: Earn PayPal, Amazon & Tango e-vouchers for taking surveys (& product testing!).
Join & get 500 bonus!
Swagbucks
: Get paid to watch videos, shop online, take surveys and more.
Join now & get $5 instantly!
So, a lot of paces not only accept them, some actually prefer you to pay them with one. Even the IRS accepts money orders.
Why get a Money Order?
There are a few reasons why you might want to purchase one:
To pay someone if you don't have a checking account. This is much safer for bigger purchases in particular where carrying a ton of cash with you just isn't a good idea! Use a money order instead and you'll keep your money safe.
Because it gives you a receipt to show that you paid.
They shouldn't bounce as personal checks might.
To pay an individual or company, because you don't want to pay them with a personal check. They offer privacy. If you're paying a person or company and don't want to share your personal information, money orders are a good alternative. While checks include personal information, money orders don't, meaning your privacy is protected.
You're protected from theft. Money orders are safe to use – you could even mail them if you want to! Because you specify the name of the recipient on the money order, it would be almost impossible to steal your money.
And if you need money right away, you can take your money order to any of these places and cash it instantly.
How much does a money order cost?
The cost of varies from place to place. You can find them for a $1.50 or less in most cases though.
Below, I'll give you the prices at each place that I list.
Most stores sell them for a set fee, and others charge a percentage of the amount you want the money order for. Others will charge a higher amount for money orders over a certain denomination as well.
Some banks may provide them for free, but generally you'll be charged for them.
How to get a Money Order
You'll need to visit a place that sells them and when you purchase it, you need to specify who's receiving the funds. You do this by filling in the name of the person or organization that you want to pay.
Most money orders have a limit of between $500 to $1,000 – I'll cover the limits for each place below.
So, if you need to send more money, you'll need to purchase more than one money order. Some places may require you to have an ID in order to purchase the order.
How do you pay for a money order?
Money orders are paid for with cash, debit card, traveler's checks or by using another form of guaranteed funds.
Check with the place where you're buying, for details of what payment types they accept.
What if I lose my money order?
If you buy a money order and then lose it, you may be able to have it replaced. Most places that sell money orders generally have a system in place to replace a lost one, but you'll probably be charged a fee to get a replacement.
Just check with the place you bought it from to get the details about replacing a lost money order.
Where to Get a Money Order Near You
The two main companies that produce money orders are Western Union and MoneyGram.
While these are the main two producers, these companies allow their money orders to be sold at thousands of locations across the United States.
And, I'll cover them! I'll also give you tips for finding places that sell money orders in your area within minutes!
Here are some of the best places to get a money order near you!
1. Walmart
With a 4,756 Walmart stores in the United States, you're sure to find a location near you. In fact, 90% of the population lives within 10 miles of a Walmart store!
You can purchase money orders from any Walmart Supercenter or Neighborhood Market at the Customer Service Desk or Money Services Center.
Here are the details:
Fee: $0.88 max fee, but exact fees vary by location
Limit: $1,000 max per money order
Provider: MoneyGram
You can also cash money orders there too!
Walmart is one of the most convenient and most competitively priced places to buy a money order.
Find your nearest Walmart store here.
2. Publix
With 1,239 locations, you're sure to find a Publix store near you.
You can get money orders there.
Here are the details:
Fee: $0.85
Limit: $500
Provider: Western Union
It's another convenient place to check if you live in a state with a Publix store.
Find your nearest Publix store here.
3. 7-Eleven
7-Eleven has 8,470 locations throughout the United States. So, it's likely that you have one near you, depending on which state you live in. You can buy money orders at 7-Eleven.
Here are the details:
Fee: 1-3% of the total amount, with a $0.65 minimum fee
Limit: $500 maximum per money order.
Provider: MoneyGram or Western Union depending on the store location
Visit your nearest store to buy a money order.
Find your nearest 7-Eleven location here.
4. CVS
You can buy money orders at CVS. Since it has more than 9,900 locations in 49 states, the District of Columbia and Puerto Rico, you're sure to find a CVS store nearby.
Here are the details:
Fee: $0.99 to $1.25
Limit: $500 maximum per money order
Provider: MoneyGram
Visit your local store to pick up a money order.
Find your nearest CVS store here.
5. Kmart
Kmart stores are closing and by June 2020, there will be just 43 stores in 11 states, which are California, Florida, Maryland, Massachusetts, Michigan, Montana, New Hampshire, New Jersey, New York, North Dakota, and Pennsylvania.
If there's still a Kmart near you, then you can get a money order there.
Here are the details:
Fee: $0.69 – $1.25 depending on the location.
Limit: $500
Provider: Western Union
The fees are reasonable, so it's a good place to go if you have a Kmart store nearby.
Find your nearest Kmart store here.
6. Meijer
One of the Meijer perks is that it has more than 240 super centers in six states, including Michigan, Ohio, Indiana, Kentucky, Illinois, and Wisconsin. If you have a Meijer store near you, then you can get a money order from there.
Here are the details:
Fee: $0.65
Limit: $500 maximum per money order
Provider: Western Union
Meijer is a good placed to purchase them because its fees are pretty low.
7. Kroger
Kroger owns lots of different brands, like Fry's and Fred Meyer.
Through Money Services, you can purchase money orders at Kroger and other store brands in the Kroger family.
There are Money Services desks in more than 2,000 Kroger and other Kroger brand stores.
Here are the details:
Fee: $0.84 to $0.88, but fees may vary.
Limit: $1,000 per money order.
Provider: Western Union
You can also cash money orders at Kroger.
8. United States Postal Service
In the United States there are 31,322 Postal Service-managed retail Post Offices. And they sell money orders! So you may be able to get a money order near you.
Here are the details:
Fee: $1.20 for money orders that are up to $500 and $1.65 for money orders that are over $500.
Limit: $1,000
Provider: It uses its own money order brand.
Since there are so many USPS locations, its one of the most convenient places to get a money order, although not the cheapest.
Find your nearest USPS location here.
9. Your local bank
Many banks offer money orders to their customers. Some may even sell them to non-customers, but you'll generally pay a higher fee.
Each bank will have its own regulations and fees for buying money orders. So contact your local bank to get more information.
Most banks will allow you to cash them too.
10. Your local credit union
Like banks, many credit unions also sell money orders. So contact your credit union for details. Just check whether services are free or not because some credit unions charge you for money orders.
Gas Stations, Grocery Stores & Banks that Sell Money orders
Another tip I have for getting money orders is to look at grocery stores, gas stations and other retailers that cash personal checks near you. This is because they may also sell money orders!
Here are a few examples of stores that provide check cashing services that may also sell money orders:
Stop and Shop
Hy-Vee
WinCo Foods
Kwik Trip
Circle K
Rite Aid
Family Fare
Albertson's
Wells Fargo
Chase
Fifth Third Bank
Bank of America
Regions Bank
You can find the nearest location of any of these places by doing a quick Google search using company name followed by locations like so "Circle K locations".
It's worth calling local stores in general to see if they offer money orders.
There are also lots of independent check cashing companies out there, many of which sell money orders too. To find these independent stores, just search for "buy money orders near me."
Of course, always read reviews of companies before you go ahead and use their services.
It's important to note that these independent check cashing companies and even banks tend to charge higher fees. So I'd go with the retailers and places we mentioned above, but it's still an option to consider.
Note: If you're wondering about Walgreens, unfortunately, Walgreens does not offer money orders. That said, at many of their locations, they do offer money transfers through the Western Union.
Bonus Tip: Find More Places
If you want to find a place to buy a money order near you within minutes, then this is the tip for you.
You know how I mentioned above that most money orders are provided by Western Union or MoneyGram?
Well, these two providers both have a handy tool on their site that you can use to find places that sell money orders nearby.
Both allow you to enter your zip code and then filter the results for money orders!
So enter your zip code, then click "money order" in the filters section. You'll then get a map showing places that sell money orders. It's super simple! I got thousands of results on Western Union when I entered my zip code.
Here's where to get started:
Buy Money Order Online
Unfortunately (or fortunately, depending on how you look at it), most companies do not sell money order online.
Why?
Because it is very hard for issuers to verify your identity and payment method online. And since a money order is guaranteed payment, not being able to verify everything means it just won't be practical so most vendors don't offer online purchases.
That said, there are a few companies that do.
One of the most trusted ones is Xoom, a service by PayPal.
Through this service, you can send and receive money and pay bills in over 30 countries worldwide. As for the fee, it depends on the country of the recipient and the amount of your order.
Money Order Scams
So you may be wondering, "How do I know if a money order I receive is legit?"
You may receive a money order from someone and wonder if it's legit. This is a valid concern. Sadly, there are many scammers out there who send out fake money orders.
There are two main things to keep in mind:
On a legit money order, you'll find security features, like:
Watermarks
A machine-printed serial number and issue date
Multi-colored reflective threads
A machine-printed dollar amount
Issuers use these security features to prevent fraud.
There are warning signs to look out for that indicate an order is fake:
The money order doesn't contain a watermark: MoneyGram, Western Union, and USPS all put watermarks on their money orders.
A watermark you can see without holding the money order up to the light: Watermarks should only be visible when you hold a money order up to the light. To view it, you may even need to move the money order around at different angles in the light.
There are areas on the money order where the ink doesn't look right: If there are any areas where the ink looks unusually lighter or darker, or it's bled, this can be a sign that it's fake.
The numbers have been altered: Check to see whether the serial number or dollar amount looks like it may have been altered.
The dollar amount is too high: If a money order has a dollar amount of more than $1,000, it could be fake.
If you notice any of these warning signs or are just unsure whether the money order you have is legit, call the money order issuer to verify its validity.
Here are the contact numbers:
Western Union: 1-800-999-9660
MoneyGram: 1-800-926-9400
USPS: 866-459-7822
Also, have a look at photos of legit money orders online and compare your money order to these examples.
If someone tries to give you a money order that doesn't look legit, ask for cash instead.
There are also strict laws for money order frauds and scams. To learn more about money order scams and how to avoid becoming a victim, check out FTC's guide.
Final Thoughts
A money order is a great way to pay for things safely and easily. Above, I've given you lots of places where you can get money orders near you. So if you need one, then give these places a visit.
And if you know of any other place, let us know in the comments below.