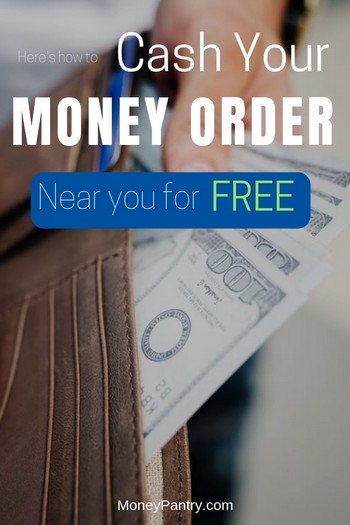 "Where can I cash a money order near me today?"
If you need money today and have received a payment in the form of a money order, that's probably the first thing you wonder about.
In this post, we cover how to cash a money order, as well as the best places (Walmart isn't the only store!) where you can cash a money order.
What is a Money Order?
Before we get to the list, for those of you not familiar with this form of payment, a money order is like a check, in both appearance and function.
The difference between the two is that money orders are prepaid, so they're generally thought to be a safer form of payment than a check.
This is why many people opt to use money orders over checks.
Need Easy Extra $300+/Month for Free?
KashKick
: Get paid directly into your PayPal for watching videos, surfing, shopping and more.
Join KashKick Now!
Panel Payday
: Earn up to $75 per survey. They also pay up to $50/hr for mystery shopping.
Join Now!
InboxDollars
: Paid over $57 Million to members to watch videos, take surveys, shop and more.
Get $5 instantly!
Branded Surveys
: Get $1 instantly just for joining for free. Plus get paid within 48 hours by PayPal!
Join Branded Surveys
iPsos iSay:
: If you have to only sign up for one paid survey site, go with Ipsos (high paying survyes)!
Join iPsos Now!
Swagbucks
: Get paid to watch videos, shop online, take surveys and more.
Join now & get $5 instantly!
Now, there are a dozen or so places that actually issue money orders.
Some of the most popular money transfer companies include:
MoneyGram
Western Union
Post Office
PayPal
Walmart
Ria
Xoom
If you've been given a money order, then you'll want to know where you can get the money for it.
You get can get cash for a money order or get the funds deposited into an account, and we cover exactly how you can do this below.
How do you Cash a Money Order?
If you want to change your money order into cash, then here's what to do:
Step 1: Take the money order to a place that cashes them.
Step 2: Once you are ready to give the money order to the agent, you'll need to endorse the money order by signing your name on the back of it.
Step 3: You'll need to show a valid ID to confirm that you're authorized to cash the money order. Each place will likely have it owns rules as to what constitutes a valid ID. Government-issued IDs, such as a driver's license, passport, permanent resident card or military ID are the best option.
Step 4: Pay any fees required for the service.
Step 5: Take your cash!
It's important to note that the name on your ID must match the name on the money order, regardless of where you cash it.
So make sure that the sender puts your name on the money order in the same way it appears on your photo ID.
Also, if there's an address field on the money order, then make sure your photo ID has the same address too.
Places to Cash Money Orders
While there are many places that sell money orders, there are far less that actually cash them.
So, this can mean that you're much more limited when it comes to cashing money orders than you are when it comes to buying them.
For example, there are many grocery stores, such as Publix, Meijer and Winn-Dixie that sell money orders, but do not cash them.
However, you still do have quite a few options.
Below, we've listed places that cash money orders.
1. At your Bank or Credit Union
If you want to cash your money order for free, the best place, arguably, is at your local bank or credit union. Since banks have large amounts of money on the premises, they're likely to be able to pay the full amount at once.
Even if you aren't an account holder at a bank, you can still cash a money order at most banks. But you will generally need to pay a small fee.
And, to cash large money orders, you usually need to be an account holder.
Some of the popular banks that do that include:
Citibank
Commerce Bank
HSBC
SunTrust
TD Bank
Bank of America
Capital One
Chase Bank
Regions Bank
US Bank
2. At the Money Order Issuer (Post Office, MoneyGram and Western Union)
So what if you don't have a bank account? How do you cash a money order without a bank account?
If you don't have a bank account or you don't have a branch nearby, then it's a good idea to cash the money at a location of the organization that issued the money order.
Money orders are issued by a number of different places, but some of the most popular include:
MoneyGram
Western Union
Post Office
Do be aware though that not every place that issues money orders cashes them, as we mentioned above.
Here are a few popular places that issue money orders which, at some locations also cash them:
Western Union
Western Union sells money orders, but some of its locations may also be able to cash them.
You can contact them to find out if they cash money orders.
It's important to note that Western Union states that not all of its locations, including locations where you can buy a money order, are able to cash them.
Find a local office: You can find your nearest Western Union location here.
At the Post Office
If you have a USPS money order, then going to your local post office is a great option for cashing a money order, as it's so convenient. Some post offices won't charge a fee for USPS money orders either.
You may want to call ahead if you have a large money order to cash.
USPS usually charges around $1.25 for money orders up to $500, or $1.65 up to $1,000.
Find a local office: You can find the closest local USPS here.
MoneyGram
MoneyGram is another popular issuer of money orders. And it also cashes money orders at some of its locations.
Find a local office: You can find your nearest MoneyGram location here.
When you go directly to the issuer, it can reduce the amount of fees you have to pay. In fact, sometimes it can be free! And, you're more likely to get the full amount of cash faster.
Just check your money order to see who issued it and then visit one of that places locations.
3. Walmart
Yes, the same place where you can get your keys made, also cashes MoneyGram money orders. There are so many Walmart stores around, so you're likely to be able to find one near you.
Find a local office: Find your nearest Walmart store here.
4. Kroger
Through Money Services, you can cash money orders at Kroger, and other store brands in the Kroger family.
You can find Money Services desks in more than 2,000 Kroger and other Kroger brand stores
At Money Services desks you can cash a money order, by following the steps we mentioned above. You can get the money as cash or have it loaded onto a prepaid card.
There's a fee charged, but the fees and limits vary by state, so call or check at your local store for details about cashing money orders.
Find a local office: Use this tool to find your nearest Kroger store that features a Money Services desk.
5. Other Stores to Cash a Money Order
Above, we've mentioned a few places to cash money orders.
And, we also mentioned that the amount of places where you can actually cash money orders is much more limited, compared to the number of places where you can buy them.
Another thing to consider is looking at grocery stores, retailers and even some liquor stores and gas stations, that offer small financial transaction services.
There are a lot of stores that do that, like:
Stop and Shop: Find your nearest store here.
Hy-Vee: Find your nearest store here.
WinCo Foods: Find your nearest store here.
It's always worth calling your local stores, in general, to see which ones do offer money transactions and how much they charge.
6. Check Cashing Places
You know those places that aren't banks but cash your check?
Yes, the ones with outrages fees!
They also cash money orders, but this really should be your last resort.
Why?
Because they charge crazy fees. Some charge as high as 10% or more.
So I don't recommend using them, but since this post is about all the places that do cash money orders, I will list some of them for those who may not have access to other options.
The top cash checking places that also may cash money orders (with very high fees!) include:
ACE Cash Express
Speedy Cash
Amscot
Friendly Check
Money Mart
Check Into Cash
Again, please use the other options if you can. You don't want the fees to eat into your actual payment.
How to Deposit a Money Order
If you have a bank account or don't require the cash from the money order, then getting the money deposited into your bank account, rather than cashing it, is generally a better option.
Firstly, it's safer – you don't need to leave the bank, post office or store with tons of cash in your pockets!
So the money is much less likely to be lost or stolen. Plus having the money right in your bank account is generally more convenient.
You do have to wait a little while longer to get the money, but this is definitely the safest and most convenient way to get the funds from a money order.
Getting the money deposited in your account involves the same process as getting the money order cashed. So you'll need to endorse it and have an ID to get the funds.
Avoiding Money Orders Scams & Fraud
While money orders are considered a safer payment option than personal checks, they're still some things you'll want to do to avoid things like scams and fraud.
These include:
Only accept money orders from people you trust
Generally, you'll only want to accept money orders from friends and family.
If you need to take payments for your business, then only accept money orders from local customers.
It's best to avoid taking money orders as payment if you're selling stuff online, such as on a platform like Craigslist or eBay, for example.
It's okay to accept money orders as a payment method for in-person payments because you can check the money order, and you can also take a copy of their photo ID and exchange contact information should an issue with a money order arise.
Look for warning signs on whether a money order is legitimate
Issuers tend to use their own security features on their money orders in order to prevent fraud, such as:
Multi-colored reflective threads
A machine-printed dollar amount
Watermarks
A machine-printed serial number and issue date
So if any of these things are absent, or you see something like a handwritten dollar amount, then the money order may not be legitimate.
Also, watermarks should only be visible when you hold the money order up to the light. You may even need to move the money order around at different angles in the light to view it. If you can see the watermark without holding the money order up to the light, then this is a potential warning sign.
Also, check to see if there are any areas where the ink looks unusually lighter or darker or where the ink has bled, as these can be signs that the money order is fake.
Also, check to see whether the serial number or dollar amount looks like it may have been altered.
If you notice any of the warning signs on a money order that you have, then call the money order issuer to verify the validity of it.
It's a good idea to look at photos of legitimate money orders online and compare your money order to these examples.
Only accept money orders for the amount you've asked for
A common scam with money orders involves the person sending you a money order that's worth a higher amount than what you've asked for. And, then the sender asks you to mail or digitally transfer part of the funds back to them.
So never accept money orders that are worth more than the amount you've requested and never return money to the sender.
Try to Cash your Money Order as Soon as Possible
Some money orders don't expire, but some do expire a year after the issue date. So if you want to ensure you get your money, then make sure that you cash your money order within a year of the date it was issued.
The terms and conditions for money orders appear on the back, so check there to see if it expires.
When you cash your money order quickly, it guarantees that you receive your money.
Resources
Here are a few good resources with tips and tools to help you identify and avoid money transfer related scams and frauds.
I hope this never applies to you, your loved ones or anyone for that matter, but if you've been a victim of Money Transfer related scams, please make sure to report it to the Consumer Financial Protection Bureau or the Federal Trade Commission (FTC) or by calling 1-877-382-4357.
Closing thoughts
Now that you know where to cash a money order near you, next time you receive a money order payment, consider visiting one of the places we mentioned above.
You'll generally need to pay a fee if you cash a money order anywhere other than your bank. So if you don't have a bank account and regularly receive money orders, then you really should consider opening up an account. You'll save money on fees!
Give these methods a go and get your money order cashed or deposited into your bank account quickly and easily.