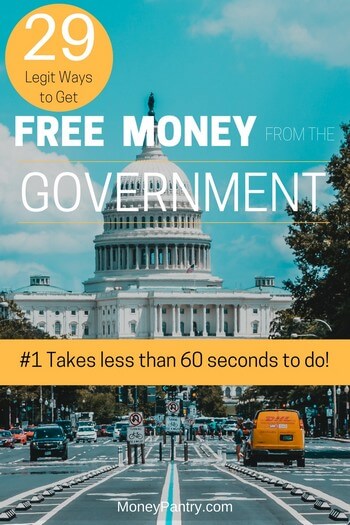 "How to get free money from the government without paying it back".
Wound't it be great if you could do that!
If you look around, there are plenty of government-sponsored programs where the government gives away free money.
These are programs that cover a variety of needs – health insurance for low-income families, senior citizens and single mothers.
There are even rehabilitation programs that came to be after major natural disasters.
Here are 29 ways to get free money from the government.
Need Easy Extra $300+/Month for Free?
KashKick
: Get paid directly into your PayPal for watching videos, surfing, shopping and more.
Join KashKick Now!
InboxDollars
: Paid over $57 Million to members to watch videos, take surveys, shop and more.
Get $5 instantly!
Branded Surveys
: Get $1 instantly just for joining for free. Plus get paid within 48 hours by PayPal!
Join Branded Surveys
First Opinion
: Get paid up to $10 per survey and $300 per virtual focus groups!
Join Now!
Swagbucks
: Get paid to watch videos, shop online, take surveys and more.
Join now & get $10 instantly!
1. Money Owed to You
If you're looking for "free money now, no payback" kind things, this is for you.
Remember that security deposit you put up to get your utility going in the last apartment you were renting?
Did you ever get it back when you moved out of that apartment?
A lot of people forget about those.
And that's not the only case. There are many other instances like that where people are owed money but forget to claim it.
You'd be supersized how much unclaimed money like that is out there waiting to be claimed by their rightful owners.
According to reports millions of dollars go unclaimed every single year.
Here's the thing…
All you have to do to find out whether or not you have money like that out there is visit unclaimed.org and do a quick search with your name.
This is a site made and maintained by the government just for the purpose of returning owed money to their rightful owners.
So if you're wondering how to get free government money you never pay back, give this one a try. Although, technically it's your money.
2. Recover Old Pension Plans
Did you ever ask yourself what happened to your pension plan with that company you worked for years back through which you even had a pension plan?
Everyday, tens of hundreds of companies go out of business for one reason or another. Some get bought out by bigger companies.
Meanwhile, thousands of ex employees forget about their old pension plans they maintained through the now out of business company.
If you have ever worked for a company that went bust, you may be owed money.
And you can find it easily through Pension Benefit Guarantee Corporation.
PBCG maintains a huge database that you can check to see whether or not  there is a pension plan that you were previously associated with that you forgot about.
All you have to do is check with the PBCG (Pension Benefit Guarantee Corporation.)
3. For Buying a Home
The US Department of Housing And Urban Development or HUD provides assistance in various aspects of homeownership. It could be about buying, selling or even repairing the homes.
The assistance does not end with expert opinions and advice, and they actually hand you real money for down payments and closing costs.
To get a fuller picture of the kind of help offered by HUD, go to HUD.gov.
4. For Health Insurance for Your Kids
Health insurance for kids is expensive.
If you're a parent, you already know that.
The good thing is that at the state level, there is this universal health insurance program for kids. It will take care of most health-related expenses for kids, either in full or part.
Expense items like hospital stays, doctor visits, and prescription drugs are all covered.
The only caveat is that at least one of the parent needs to be working.
5. Free College Money
We all know going to college is expensive.
Wouldn't it be nice if you could get free money for college?
Luckily, the government recognizes the importance of college education and through its Federal Pell Grant program, up to $7,000 grant is given away to needy (terms apply) college student every year.
There is no string attached. This is not a loan by the way. You do not have to give it back.
6. Weatherization Assistance Program
We all know that good insulation, storm windows, and even weather-stripping help to bring down energy bills.
All of these options can turn your home into a more energy efficient house.
On a broader scale, encouraging people in the US to be more energy efficient makes sense as well since it can help the country as a whole cut down on energy consumption.
Not to mention, the immense benefits of it as it relates to persevering more of the natural resources we have.
It is for this reason that the US Department of Energy has devised a plan called Weatherization Assistance Program.
It basically rewards homeowners for making energy efficient choices.
To lower your heating and cooling bills, the Weatherization Assistance Program provides funding to insulate and modernize your house to make it more energy-efficient. If you cannot afford to make the necessary improvements yourself, WAP will list only available resources to turn your dreams into possibilities.
You can get up to $2500 in rebates by implementing the recommended actions.
On top of that, you save money on your utility bills by making your home more energy efficient.
7. Get Free Tax Return Preparation
VITA (Volunteer Income Tax Assistance) is an initiative from the IRS with the aim to help low-income families with their taxes.
Now, they do have a few eligibility requirements the biggest one being that your income can not exceed $54,000 a year.
If you are a senior age 60 or older, there is a separate program for you called Tax Counseling for the Elderly or TCE which has volunteers that help you with basic income tax return preparation.
They also answer questions related to your retirement and pension plans.
8. Protect and Repair Your Credit for Free
With identity thefts and credit fraud on the rise, it is now more important than ever to keep an eye on your credit.
Unfortunately, this whole thing is very complicated for most of us.
Thankfully, The Federal Trade Commission (FTC) has a website that makes it relatvily easy to do jyust tat.
On FTC.gov you can report identify thefts, file consumer complaints against companies, find out about the latest scams and  even put yourself on the "Do Not Call" list.
But that's not all…
If you file a complaint against a company and the FTC rules in your favor, you will even get your money back from those companies.
So if you have ever been scammed or even think you may have been a victim of fraudulent activities, make sure you file a complaint with the FTC.
All you have to do is visit their website (link above) and fill out a short form.
9. Mortgage Down-Payment Assistance
We mentioned HUD above, and how that program can help you with various aspects of homeownership.
But, that's not the only program that the government offers for homeowners.
The Federal Housing Association also offers grants that can assist you with the down-payment on a home.
This is so useful, because many of us want to buy a home, but struggle to come up with the funds for the down-payment.
Check out this page to see what grants are available in your state.
10. Get a Government Loan to Start a Business
Wanna start a business but don't have the funds for it?
Don't pay crazy interest rates, instead get a low interest rate from the SBA's Small Business Development Center.
The SBA has thousands of Development Centers across the country with professionals that will also help you with free advice and consulting on starting a small business.
Sure, a small business loan isn't free money, but it sure beast the hell out of the interest rates you'd have to pay if you went with a bank or other privet party loan.
11. Get Your Unclaimed Tax Refund Check
Where to find it:
There are 3 ways you may be owed a tax refund check:
Undelivered Federal Tax Refund Checks: Tax refund checks are always mailed to your last known address. If you've moved but failed to notify the IRS, your check will be returned to the IRS.
Unclaimed Federal Tax Refunds: This happens when you don't file a return even though you are eligible. Your refund will basically go unclaimed.
State Refund Checks: You are owed tax refunds at the state level.
Be sure to check out all three to make sure you're not leaving any money out there.
12. Claim Unrecovered United States Savings Bonds
If you've lost your savings bond, have a damaged or destroyed paper savings bond or have had yours stolen, then you can recover it.
You just need to provide the bond serial number.
And, if you don't have that you'll need to provide other information, like the specific month and year of purchase and your social security number.
The U.S. Treasury will provide an electronic replacement of your bond.
13. Unclaimed Back Wages
You can claim unpaid wages by searching the Wage and Hour Division's database. The WHD database, which is part of the U.S. Department of Labor, features details about workers who have money waiting to be claimed.
14. Unclaimed Veteran Life Insurance Funds
If you or a family member are a veteran and you had an insurance policy, then you could be owed funds.
You can go to the U.S. Department of Veterans Affairs website and do a search for unclaimed insurance funds.
You just need to enter the veteran's name and you can see if there are any funds waiting to be claimed for current or former policyholders or their beneficiaries.
15. Damaged Money
Have a $50 note that your dog ripped up or $20 that was water damaged?
If so, don't assume that the money is just gone – you can actually claim it back.
Really!
The Treasury Department will exchange damaged and mutilated U.S. currency.
So, you can turn your currently unusable cash, into shiny new money that you can spend (or save!)
Visit the site we linked to above to learn more about getting mutilated money replaced.
16. Get Free Cash for Food
Unfortunately, many people struggle to feed their family. If you are experiencing financial hardship, and are having a tough time with food costs, then you could get money from the government to help you out.
There are a few programs that it has which could help you:
17. Childcare Cost assistant
For families, one of the biggest costs of having a child is the cost of childcare. Paying for regular childcare can really put a dent in your income each month.
Fortunately, the government can help you out.
Each state offers income-based financial assistance for childcare bills.
18. To Help with the Cost of Phone Bills and Internet
Lifeline is a government program designed to make communications services more affordable for people on a low income.
So, if you're finding it tough to pay for wireline and wireless services, then you should definitely check out this program.
Each month, Lifeline gives you a discount on $9.95 discount on services, such as telephone service and broadband purchased from participating providers.
It's designed to give people on a low income affordable broadband and get access to the jobs, education and opportunities it provides.
Check out the guidelines for eligibility on FCC's official website (link above) – it's available to people on a low income, but also to those who participate in certain assistance programs.
19. Get Cash for Heating and Electricity
The government also provides financial assistance to people who need help paying their heating or electric bill, through the Low Income Home Energy Assistance Program.
If you're on a low income, then you might qualify.
Through the program, you can get help with energy costs, like home energy bills, energy crises, weatherization and energy-related minor home repairs.
You can view the eligibility criteria for it here.
20. Get Affordable Medical Insurance
Above, we talked about getting assistance with health insurance for kids, but you can also get assistance with your insurance.
The Affordable Care Act gives subsidies for health insurance to families. Essentially, when you buy coverage through Healthcare.gov, you could be eligible for a credit toward insurance premiums.
21. Receive FHA-Insurance Refunds
If you had an FHA-Insured mortgage, then you might be eligible for a refund from HUD/FHA.
All you need to do to find out if you are owed a refund is search the HUD database.
If you don't find your name, then you can also call 1-800-697-6967 to ask about your status.
22. Claim Your Senior Citizen Benefits
There are several benefits available to senior citizens. So, if you're a senior citizen, there could be free money from the government waiting for you to claim.
The National Council on Aging has a handy tool called BenefitsCheckUp. Basically, it's a search engine that you can use to find out whether you are eligible for 2,500 federal, state and private benefits programs.
These programs help to pay for everything from food to medication.
Since 2001, NCOA's BenefitsCheckUp has helped more than five million people to find over $18.6 billion in benefits.
Learn more about the BenefitsCheckUp tool here.
23. Enjoy Veteran Benefits
If you're a veteran, then you could be entitled to money through benefits.
For example, the U.S. Department of Veterans Affairs can help you if you need medical care. Visit this page, and you can locate your closest VA facility where you can get assistance.
24. Student Loan Forgiveness
Unfortunately, the cost of college is astronomical right now.
If you have student loan debt, then you could have it partially cancelled with student loan forgiveness. You can do this through the Public Service Loan Forgiveness Program.
To qualify, you must be employed by a government or not-for-profit organization, and have a loan backed by the federal government.
You need to make 120 qualifying monthly payments under a repayment plan, and the program forgives the remaining balance on your loan.
This means that it takes around 10 years to get a loan forgiven.
25. Get Free Credit Report
Most people don't know that they can get a credit report for free, under federal law.
Every 12 months, federal law allows you to get a free copy of your report from each credit reporting company – so the major ones, like Equifax, Experian, and TransUnion.
26. From Bank Failures
Did you know that you can claim back funds from failed financial institutions?
This means that if you had money deposited in a bank that failed, then you could get it back!
Under the FDIC, each depositor is insured to at least $250,000 per insured bank.
All you need to do is visit the FDIC website.
On there, you can learn more about failed banks and how to find unclaimed funds.
27. From Credit Union Failures
As with banks above, you can also get money you've deposited into failed credit unions back as well.
The National Credit Union Administration (NCUA) will pay you back the money you put into a credit union that failed.
Just visit the NCUA website here (don't confuse it with the Credit Union National Association (CUNA), which is basically an industry group for credit unions). You can search for unclaimed deposits on there.
28. Get help with foreclosure
The threat of foreclosure, unfortunately, is always there for many families.
If you're struggling with your mortgage payment and know you may not be able to keep up with it, there is a great home mortgage payment assistant program that can help.
The program is known as  the Homeownership Preservation Foundation and it offers a free hotline that you can call to talk to specialists who will guide you through the process.
They even help you set up a plan that works with your current income level.
You can call the toll-free number at 888-995-HOPE.
You can also visit 995HOPE.org.
29. Get your Unemployment Benefits
If you're out of work, it causes quite the financial strain. If you don't have a job at the moment, then you might want to consider filing for unemployment benefits.
Each state offers its own unemployment benefit programs.
There's a website called CareerOneStop, which you can use to find contact information and places to file for unemployment benefits in your state.
This website is sponsored by the U.S. Department of Labor.
Warning about free money scams
The idea of getting free money from the government is so appealing that some people are willing to spend money to get it.
As you might have imagined, some people see this as an opportunity to make money for themselves by selling the dream of free money to interested people.
There are tons of books and programs by so called gurus that supposedly show you tons of ways to get free money out of U.S. government.
One of the most famous ones is a book by Kevin Trudeau, "Free Money They Don't Want You to Know About".
This guy has been convicted of larceny and credit card fraud in the early 1990s and sued by the FTC in 1998 for making false or misleading claims in his infomercials promoting his books.
Scammers like this guy have been making tons of money by selling the "free money" dream.
Please be careful.
Don't waste your money on these scams.
There is no secret that these people can tell you about.
You can find all the information you need about any kind of financial aid program that the government has put in place, without buying useless books.
You just learned about some of them through this post.
You can find out about other programs through various websites, especially websites' of different government agencies.
Also, please realize that the U.S. government is not going to literally hand you money.
Sure, there are programs that were put in place to help people in different situations by giving them grants and loans, like the ones I have mentioned above, but you have to prove you qualify for whatever grant or loan you are applying for.
You can't just walk in there and expect the government to hand you a briefcase full of free cash.