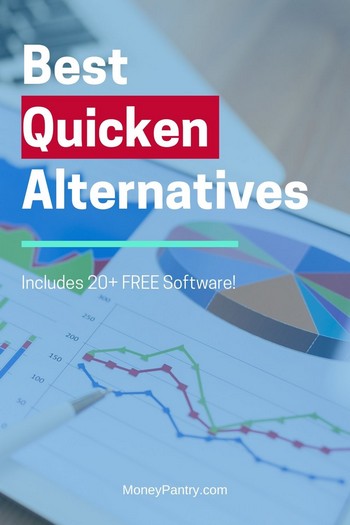 Managing money is hard, especially if you're doing it on your own. Luckily, there is software out there that can help you plan out your expenses and keep track of your hard-earned cash.
One of the most popular ones out there is Quicken, a competitor and alternative to Mint. It's a financial management program created by the people at Intuit.
But did you know there are other programs out there that can offer features the now 37-year-old Quicken's software can't?
In this post, we'll be looking at the best Quicken alternatives out there, and even some free personal finance software replacement for Quicken.
Best Alternatives to Quicken
These are the most popular alternatives out there. Some of them have free features you can use but most of them cost money or require a monthly subscription. Most also offer a free 30 day trial.
With that said, here are the best Quicken alternatives.
Need Easy Extra $300+/Month for Free?
KashKick
: Get paid directly into your PayPal for watching videos, surfing, shopping and more.
Join KashKick Now!
InboxDollars
: Paid over $57 Million to members to watch videos, take surveys, shop and more.
Get $5 instantly!
Branded Surveys
: Get $1 instantly just for joining for free. Plus get paid within 48 hours by PayPal!
Join Branded Surveys
First Opinion
: Get paid up to $10 per survey and $300 per virtual focus groups!
Join Now!
Swagbucks
: Get paid to watch videos, shop online, take surveys and more.
Join now & get $10 instantly!
Price: $69.99 (one time fee)
Available only for iOS, Banktivity is an app that allows you to condense your banking information into one place to make planning for the future easier.
Calendarbudget is based around a simple idea: building a budget around a calendar. It's available on the App Store and Google Play.
Chronicle mainly functions as a reminder for bills, both present and future, and helps to keep track of your spending history. Chronicle has built-in support for multiple households, too! It is available for Mac, iPhone and iPad.
If you have a Quicken account already, you can import all your information to CountAbout for free. They have a free 15-day trial, so you can get a feel for it before you buy.
This one's geared towards entrepreneurs, and has software to help build invoices, as well as keep track of expenses.
Price: $35.99 (for Mac) – $8.99 (for iOS)
This program is made specifically for Mac and iOS. It has a limited demo version you can download for free, so you can get a view of what iFinance has to offer.
Price: $39/mo (Cloud version)
While a free option is available for this app, it has a cloud-based version that's much more powerful and allows you to access your information from multiple devices.
Price: $49.99 (one time fee)
Moneydance comes with the ability to handle multiple currencies, as well as a handy mobile app you can get on the App Store or Google Play.
Price: $29.99 (one-time fee)
Moneyspire sends you customizable reports on how your money is doing and how your finances change over time. The Pro version even allows you to create and track customer invoices.
Offers synced bookkeeping across multiple platforms, as well as a lot of automation tools to take care of any monthly payments that need to be kept track of.
Based out of the UK, this is a resource for self-employed people who need help with their record-keeping. It requires a recurring membership, not a one-time purchase, so be aware of that.
Although Personal Capital is more centered towards investing than managing finances, it still is a great software like Quicken. After all, investing is part of money management.
It has two services, a wealth management app and ore importantly (for the purpose of this post) a free financial tracking app that does most of the things that Quicken does.
Price: $0.00 – $19.95/month
Pocketsmith has a clean, friendly UI and can not only keep track of your past and present finances but can project how you'll be doing in the future.
Price: $15.00 – $50.00/month
Intuit's latest paid program, this took over after they sold Quicken to a third party. They have a tiered payment system so you only pay for the features you need.
15. Receipts (Quicken alternatives for Mac)
This program is only available for Macs, but it offers a wide range of features including support for scanners and automatic sorting of data.
Tiller makes it easy to keep all your "financial life" in a spreadsheet, where it's updated automatically each day. You can start with one of their many templates to create a customized template for yourself. They also offer a 30 day free trial.
YNAB has teaching tools to not only help you make a budget but learn how to handle money yourself in the future. It also features a 34-day free trial, which isn't too shabby.
Free Software Like Quicken
Looking for free alternatives? These are the best ones out there that you can use. Some of them are app-only options and others work on a desktop. It's up to you to decide what kind will fit best for yourself!
Advertising itself as "the best free Quicken and Microsoft Money alternative," AceMoney's free Lite version offers a bunch of services (as long as you limit yourself to two accounts).
A free app available on the App Store and Google Play, Bankin' allows you to categorize your spending and predict how much money you'll have at the end of the month.
A simple, practical solution for finance management. It has a downloadable version for windows, as well as a web version that you don't need to download!
Eqonomize is a simple program designed to budget for small households, and is available for Windows and Linux.
EveryDollar is a simple and easy to use software that lets you create a monthly budget quickly and easily. It's a product from Dave Ramsey, one of the top money management experts.
There is a free and paid version. If you have a small business with more complicated finances, you might need the paid version, otherwise, the free version is great for personal money management.
For details and to learn whether it's worth it or not, read our honest review of EveryDollar.
Available only on Google Play, Expendy is a tool that can track your daily expenses by category as well as chart your income and expenditures.
Finice can help you chart your expenses, make a budget, and analyze how you're doing financially.
FrontAccounting is free but encourages donations as it is run by a nonprofit. It's a fairly unornamented, no-nonsense accounting program.
A Java-based program that works across multiple platforms. It can integrate with your OpenOffice/LibreOffice accounts as well as your chipcard bank accounts and works on Windows or Linux.
Available on Windows, iOS, and even Linux, GnuCash is a good alternative for those looking for a way to keep track of their bank, stocks, and expenses without adding another subscription service to their list.
Grisbi was originally created in the year 2000 by French developers, and the English translation is a bit wonky, but it's a free open-source software available on Github.
This is a very simple, plain-text accounting software for people who want a no-frills and free budgeting app. Despite this, it supports multiple currencies and can produce balance sheets, income statements, and cash flow reports.
HomeBank is one of the most globally accessible software out there, having been translated into 56 different languages. It's designed to be easy to use and offers support across multiple platforms.
Created by the nonprofit KDE e.V., KMyMoney is a free open-source alternative to other financial software.
View your transactions through easy-to-read charts, establish a budget, and even set up email alerts for specific events or transactions so you can stay on top of things!
If double-entry accounting is all you need, this lightweight program is for you. Uses the UNIX command line, so if that's your OS of choice, here you go!
Intuit's newest financial management software. It's free to sign up, and its user interface looks more polished than Quicken does to the point where people online, especially on Reddit, refer to it as the money management tool that is "like Quicken but better".
Available only for iOS, Money offers a number of features for free but also has in-app purchases to access more services.
This app is built for users in the United Kingdom and uses the Pound as its currency. It allows you to transfer money and work with more than 40 banks and providers.
This app is only available from the Google Play store and offers in-app purchases (so it's not exactly free), but it does offer a nice amount of features with a simple interface that you can use without purchasing anything.
This is a free, open-source software that you don't even have to install. It can be run from a USB drive, so you can take it (and your data) anywhere.
This is Microsoft's accounting program, so it's only available for Windows. If you've used previous versions of Money Plus, this one is a good replacement for those, as they are no longer supported.
Originating from Germany, so you may have to use Google Translate on the site, Pecunia is an open-source program designed to be a secure way of keeping track of your banking data.
An open-source program based on KDE's KMyMoney, Skrooge can run on more obscure operating systems like Linux, BSD or Solaris, in addition to the usual Mac OS and Windows.
Final Thoughts
There are a lot of programs similar to Quicken out there that can do what Quicken does, and a lot of them do it for free. It's nice having a lot of options, but it's important to take your time and find the right one for you, depending on your situation.
If you have a small household with only a couple of sources of income, it might be better to get a simple lightweight app that you can have with you and update as you go.
But if you run a business? It might be better to buy a program that has more features and can keep track of things like inventory and invoices.
Do you have a program other than Quicken that you use and didn't see here? Tell us about it in the comments!