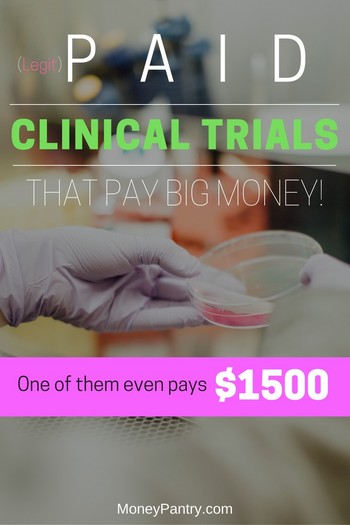 I have written about making money with clinical trials in the past.
University and research groups have open paid medical research studies all the time.
These studies help researchers increase their understanding of various diseases and health issues we face today and how we can cure and solve those problems.
And they cover a wide range of issues. Whether you are a smoker, obese or slightly overweight, diabetic, or a perfectly healthy person, there are studies that you can participate in.
In many cases, medical testing studies actually help scientists test and develop new and better treatments and cures for these issues.
Want $5 Free?
Join InboxDollars for free. InboxDollars pays you to watch videos, search, shop, take surveys, and more. They have paid out $57 Million so far!

So why would they pay you to participate?
Well, would you do it for free?
No!
Your time is valuable.
Most of us aren't willing to just donate our time to these studies.
So researchers reward participants with cash, prizes and in some cases free treatments.
So essentially, you get paid to be a test subject.
But here is the problem…
Finding legit and open clinical studies that pay big money is hard.
Usually, these studies are done locally and unless you or somebody you know, have been involved, you wouldn't even know where to look.
So I created this post as a one-stop shop for finding the latest paid clinical studies.
I am going to be listing new paid clinical trial opportunities regularly on this page. So be sure to bookmark this page and check back often as I add new ones as I find them.
Sign up as soon as you can
These studies are usually done for a short period of time until researchers gather enough data.
Also, each study has a need for a certain number of participants.
So in order to get in, you have to make sure to be one of the first ones to apply.
The easiest way to do that is to bookmark this page and check back often as I update this list with new open studies.
Need Extra Cash for Free? If you like getting paid for surveys, and are going to join only one site, I would recommend Ipsos-iSay. Ipsos is the most fun and well-paying panel. Give it a try to see how you like it. It is free anyway!

Note: Newer trials are listed first.
1. Rheumatoid Arthritis Study
Rheumatoid Arthritis is an autoimmune disease. It attacks the lining of the joints, causes intense pain, swelling, redness, and stiffness in joints. There are 1.3 million people in the U.S. alone who have RA. Worldwide, the number is a staggering 21 million.
To qualify, you must have a diagnosis of Rheumatoid Arthritis.
2. Type 2 Diabetes Study
Type 2 Diabetes is a chronic condition that over 29 million people in the US have suffer from.
3. Depression Study
This is something I personally have been suffering from for years.
Depression is a mental health disorder that more 3 million adults suffer from in the US alone.
This study pays you up to $500 for your participation.
You may also receive study-related care at no cost from local doctors and study medication at no cost.
4. Diabetes (Diet & Exercise) Study
More than 387 million people around the world suffer from Type 2 Diabetes, a disorder that disrupts the way your body uses sugar.
This study aims to further our understanding of it and how we can manage it better.
Besides the cash compensation you may also receive study-related care from a local doctor and study-related medication for free.
5. Pediatric ADHD Study
Unfortunately, ADHD is one of the most common heath problems kids face. This study aims to increase our understanding of it.
6. Uterine Fibroids/ Endometriosis Study
To qualify, you must have reports diagnosis of Uterine Fibroids/ Endometriosis and Reports regular menstrual cycles.
Besides the cash compensation you will also receive study-related care and medication for free.
7. Crohn's Disease Clinical Study
To qualify, you must have been diagnosed with Crohn's disease, active symptoms: diarrhea, fever, abdominal pain, mouth sores, cramping & do not have any serious associated diseases like Cancer, HIV/AIDS, Hepatitis, etc.
Closed studies
As I mentioned, these studies don't last a long time.
So every once in a while I'll update this page with new studies and move the older ones that are now closed to this section.
These studies are shown here for archival reasons.
Arthritis Study
Earn up to: $700
Official application page: Arthritis Study
According to estimates, one in five adults in the U.S. is diagnosed with a form of arthritis.
And OA, a progressive disease, is the most common form of arthritis with no cure.
To qualify for this study, you have to be 18 or older and must have been diagnosed with osteoarthritis in the knee and/or hip.
Paid Psoriasis Survey
Earn up to: $400
Official application page: Psoriasis Study
This study targets people with Psoriasis. There are an estimated 6 million patients in the US who have Psoriasis.
In order to qualify, you must have a diagnosis of moderate plaque psoriasis. It is open to residents of most states.
For your participation, you will be paid up to $400.
Paid Asthma Clinical Trial
Earn up to: $1500
Official application page: Pediatric Asthma Study
Asthma is a common chronic inflammatory disease in children with symptoms that include wheezing, coughing, chest tightness, and shortness of breath.
There is an estimated 6 million U.S Children's suffering from it.
This study is aimed at parents of kids ages 12 – 17 who have been diagnosed with Asthma for at least 1 year.
COPD Clinical Research Study
Earn up to: $1000
Official application page: COPD Study
If you are between 40 to 85 years of age and have been diagnosed with COPD, Emphysema, and/or Chronic Bronchitis, you can earn up to $1000 to participate in this clinical trial study.
Gastroparesis Clinical Research Trial
Earn up to: $490
Official application page: Gastroparesis Study
You must be between 18 to 80 years old with type 1 or 2 diabetes with report symptoms of Gastroparesis which are nausea, vomiting, early satiety, bloating, and upper abdominal pain to participate.
If you do qualify, you will be paid up to $490.
Bookmark this page
Again, these clinical trials are usually conducted for a short period of time. So make sure to apply as soon as possible.
Bookmark this page and come back to it often as I will update it with new clinical trials and studies that do actually pay.