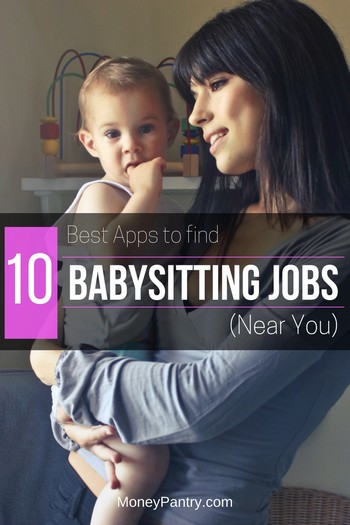 Do you love kids?
Do you love cash?
Don't mind a little hard work that is super rewarding?
Then we may have found a way for you to enjoy all of these things at once.
Babysitting is one of the oldest ways to make money.
In today's busy world the call for babysitters is not going anywhere.
Need Easy Extra $300+/Month for Free?
KashKick
: Get paid directly into your PayPal for watching videos, surfing, shopping and more.
Join KashKick Now!
Panel Payday
: Earn up to $75 per survey. They also pay up to $50/hr for mystery shopping.
Join Now!
InboxDollars
: Paid over $57 Million to members to watch videos, take surveys, shop and more.
Get $5 instantly!
Branded Surveys
: Get $1 instantly just for joining for free. Plus get paid within 48 hours by PayPal!
Join Branded Surveys
First Opinion
: Wanna get paid for every single survey (+ high paying online focus groups) with cash or direct deposit? This is for you!
Join Now!
Swagbucks
: Get paid to watch videos, shop online, take surveys and more.
Join now & get $5 instantly!
In fact, according to the 2017 Care.com Babysitter Survey, babysitting jobs are not only becoming more available but are also paying more than ever, with an average rate of  $13.97 per hour in 2016 which is up by 26% from 2010.
With this in mind, check out this list of babysitting apps to make money with, pick one or more that you think will work for you, and start making cash babysitting.
What You Need to Start Babysitting
Different children will require different needs but there are a few things parents are always going to be looking for.
The top thing parents are going to take into account before hiring you is your clean background and experience.
Background and Experience
The more experience you have the better off you are.
Clean histories and happy parents can almost guarantee you a job.
Even if you are new to this what little experience you have may be enough.
Get your past paying parents to write you a letter of recommendation. This shows that not only did you do a good job but you are also thinking about future parents and their needs. These letters can always be reused until you have some newer, updated ones.
Another thing parents are going to be looking for is:
Formal Training
When it comes to babysitting, you don't need a degree to get jobs but it never hurts.
Most states do require you to take some classes to be ready for certain scenarios.
For the most part, these classes are fairly cheap, easy to attend (fits your schedule), and are 100% beneficial to you and your future charges.
Be sure to know what your state requires before you take any jobs.
If you have the time and money, go to your local community college and take a couple of extra classes.
They may give you insight into how to do your job and where to improve in some areas and of course make you more hirable.
Also, "SAFE SITTER" courses are an excellent idea. When you complete the course you receive certification that you can put on your resume.
The "SAFE SITTER" courses also give you a reference book for when you are on the job and a safety kit in case you ever need it.
CPR Certification
CPR certification is another great tool to increase your chances of getting hired.
By visiting the American Heart Association's website you can find a CPR course near you.
Classes cost less than $20 and can save someone's life.
You wouldn't want to be in a choking situation wishing you knew what to do.
Safety
Something else to keep in mind is where you will be babysitting.
If you are going to the child's home you shouldn't have to worry about safety hazards.
If you are going to be working from home you may need to do a check of your house just to be sure you are in the clear. Some of the classes you might take will cover this in detail.
There are also thousands of articles and videos online that can help you do this.
Try searching for things like "baby/child-proofing homes" or "house safe for children."
This can also be a major point in landing a job. Be sure to tell parents that you have done the research and have made sure that your home is just as safe (if not safer) than their own home.
Parents will feel much more at ease knowing that their sitter has thought about this and has acted on it.
As a side note, being a non-smoker is a huge plus. Parents don't like smokers around their children and we would hate for you to lose a job just because of one nasty habit.
Babysitting Apps: Find Babysitting Jobs
In the old days, you'd have to go to neighbors and friends to let them know you can babysit for them.
These days, while you can still do that, there are apps that make it extremely easy to find babysitting jobs near you.
Here are some of the best ones:
Average Wage: Up to $1000 per week
This site is great for both babysitters and nannies.
One of the only truly free apps, UrbanSitter lets you set your own schedule and wages.
By entering your information and creating an account, you are able to browse job boards and apply for any you may see. Parents also have to go through verification so you can rest assured that your leads are legitimate.
Parents can also view your profile and specifically ask for you.
From there it's as easy as accepting jobs that you applied for or have been offered.
Another great part of this app is how families are able to communicate with one another. This can work to your benefit. If you get one job, the parents may post how good you are. Other parents can then see these comments which will help you get more jobs.
By offering the best service, UrbanSitter almost assures that you will get more jobs.
This app is also great for nannies looking for full-time positions.
Whether you are looking for full or part time jobs, UrbanSitter may be the best site for you.
Average Wage: $14.33 per hour
Offering services in almost all major cities across the US, this app helps parents find sitters of all types. Whether it be for a couple of hours before or after school or even weeks at a time, SitterCity has a job you are looking for.
All you need to do is join. They will ask for basic info as well as a more detailed work history.
Once you have an account created it's up to you to find jobs and apply for them.
Be sure to keep in mind all of your qualifications, the needs of the family, and how those things match up.
SitterCity is free to join however they do offer you an opportunity to have a background check performed. The cost is either $15 or $60 depending on which option you pick.
In both cases, you will receive a tag on your profile showing parents that you passed.
This means more jobs for you and less competition in the future.
With this app you can also be more in demand by becoming a Featured Sitter. For $9.99 per month, you will receive free background checks as well as being promoted more than those who are not Featured.
SitterCity has great ways for you to get more jobs and make more money.
Average Wage: $11 an hour
From live-in nanny jobs to daycare jobs, Sitter offers childcare options for all types of sitters.
Setting your own schedule and cost makes this app pretty sweet.
By choosing Sitter you are able to view jobs in your area and apply for the ones best suited for you.
You can also choose whether your profile is viewable by potential parents or not. Of course, we would suggest that you take advantage of this part of the app because there is no such thing as bad press.
Sitter.com leaves background checks up to the parents looking for sitters. When you post your profile or apply for a job the parents will have the option to check you. Expect to be checked at least the first few times until you build up a good base of reviews and recommendations.
By paying for a featured or premium account you are assured that your results will be at the top of searches if you meet the qualifications.
Also, with an upgraded account there are no limits to how many messages you can send or receive.
Right now featured accounts are $150 per year while premium is $220.
Average Wage: $400 per week
Voted one of the best apps of 2017, Bubble offers a safe way for parents to find sitters.
With this app sitters can create a profile and let the parents find them.
Also, when you create a profile, it's suggested that you link your social media to your profile. This is an easy way for parents to see what you are all about and whether you would be a good match for them.
This app is also great because it allows sitters to rate families. In other words, a family with problem children may have a hard time finding a sitter (or at least a cheap one) because sitters can now communicate with one another.
This aspect can also help sitters find out things about potential families and any special needs they may have.
Accepting or rejecting an offer is as easy as a click of a button. Bubble does everything it can to make sure you have all the information needed to make this decision.
This app takes its fee from the family and not the sitter. That means everything you earn gets paid directly to you in the app.
Bubble also assures you are going to be paid by making sure parents have sufficient funds before they hire anyone.
Average Wage: $15 per hour
With over 1 million jobs dispersed with not a single safety incident, SeekingSitters may just be the safest babysitting site out there.
Experience is a must with this site as they pride themselves on professionalism and safety.
Sitters that work for this app follow the S.T.Y.L.E. model:
Safely take care of kids,
Use Time wisely on educational or creative activities,
Not Yakking on the phone while they are supposed to be working,
Looking like the sitter they are by wearing a SeekingSitters T-shirt, and
Leaving the place looking great when they Exit.
You will be background checked once you have applied for a profile with this app.
This app uses professional private investigators so if you have a skeleton or two in your closet this may not be the site for you.
Whether it be part time or full time, SeekingSitters will work with your schedule.
With all this in mind you should remember that you will be matched with a family rather than pick and choose one. The Matching Experts will do all they can to make sure that you fit with the family that you are going to work for.
6. SitterNote (also known as CluckCluck)
Average Wage: $11 an hour
This app is pretty cool because of its user interface and just how easy it is to get done exactly what you need to.
Of course, parents will be able to search through profiles so try and make yours the best it can possibly be. They will then choose you not the other way around.
The coolest part about this app is the ability for parents to make lists or notes about their children for the sitter. The sitter can then use this information that is found directly on the app to give great care to the children.
Other information, such as doctor's numbers or emergency information can be accessed via the app.
Also on this site parents are able to directly pay you over the phone.
A downside of this app is the lack of background checks for either the families or the sitters. You would hope that at least some screening is done but it is not specified just how much or when these checks take place.
Overall, this site is for the 21st century parent and 22nd century sitter.
Average Wage: $15 per hour
The largest and most expansive of all the apps, Care has been around for a long time and is one of the most trusted companies in the world with over 2 million users in over 20 countries.
To get started make a profile and do a good job. It will reflect not only you but the job you will do as a sitter.
Like the other sites, you will look for jobs and apply for them. You will then be hired by the families based on what they see on your profile.
The good thing about Care is that it isn't just for babysitters, nannies, elderly caregivers, pet sitters, even errand runners can find jobs.
Care doesn't seem to charge their sitters either which means that it's totally free as far as we can tell.
As far as customer base Care can go either way. Sure there are a lot of people looking for babysitters but that also means there are a ton of babysitters. Even though they have the reputation, you may have better luck with a smaller site simply because of the number of competitors.
Even if you aren't finding jobs on this app there is still plenty for you: you can see what everyone else in your area is charging so your rates can be comparable.
You can also find all kinds of articles that can help you become a better sitter or understand certain situations in a new light.
Also kids will love all of the activities that Care includes on its site.
8. Zum (San Fran, LA, and Orange County)
Average Wage: Up to $32 per hour
This site is just like Uber – basically Uber of babysitting apps!
Kids need rides home from school or practices and you can be the one to make that drive.
The hiring process is rather rigorous.
First you must apply and meet with Zum.
From there you will be submitted to several background checks including DOJ and FBI as well as driving and a fingerprinting.
If you get through all that then your '06 or newer vehicle has to pass a 20 point inspection.
If you get through all these then you are ready to Zum.
The rides vary from daily to one-time, multiple stops to straight home, and also how much child-care is needed.
Of course, you will always have to make sure kids get home but sometimes you may need to stay at practice with them or help them with homework when they get home. All of this is dependent upon the needs of the family.
The thing to keep in mind with this app is the fact that you will be driving with kids who just got out of school. They could get a little rowdy and you need to keep your cool and get them home safe and sound.
If you think you can do it apply to be a Zumer today.
Average Wage: $1,000 per week
Geared more for long-term commitments, this app allows you to search for potential families for free in all the major cities across the US.
Be it live-in or live-out style of care, eNanny finds families and nannies that would do good for each other. Even though you may search, the company itself may give you leads or hints as to who to choose.
There are a lot of babysitting jobs just not as many as the other sites.
This is the only site that offers its own brand of training. By becoming certified, this app will help you more because they know you are able to take care of yourself on the job.
The best part?
All of the training is done online meaning you can do it from anywhere or anytime.
Your profile with eNanny keeps track of all the families you are interested in, have viewed you, and you have interviewed with. This is much easier to manage than a notebook with all this information.
Average Wage: $12.50 per hour
Since 1987, this site has connected families with sitters by using location technology.
Out of all the sites, this one is probably the least complex and most straightforward.
This site tries to keep babysitters and families from the same neighborhoods together.
To join, simply go online and fill out an application. It will ask very general questions. It is also free to join and look for potential families.
This is another site that does no background checks.
All correspondence is carried out off-site either by email or telephone.
Also, no payments are taken over the site. These things are left up to the families and sitters themselves.
What Else You Might Need
Once you have landed a job there a few things that can make your night go a lot easier.
Having enough phone numbers is key to this job.
Not only do you need the parent's phone number you should also get another family member's, a family doctor's, and maybe even a neighbor's.
You also need to know the rules of the house you are coming into.
You don't want to take the chance of losing future jobs because you didn't follow rules or allow a child to do something wrong.
Be sure to cover these rules before the parents leave for their engagement.
Also having some specifics (age, weight, height) of the children you are watching can also go a long way.
Heaven forbid you get in a position where this information is crucial (such as in an emergency room) and you can't be of any help to anyone.
Knowing where everything you may need is also helpful.
Medicine, special toys, or even extra blankets are examples of things you don't want to be without just because you didn't ask.
Apps Pro Babysitters Use to Make Their Job Easier
Now that you have landed your babysitting gig, there are other apps to help you.
These apps won't actually help you find a babysitting job but make things so much easier when you do.
This app allows you to easily track exactly what goes on while the parents are away.
Some parents may want to use this app anyway. If they don't, doing so may prove just how trustworthy you are which may lead to more jobs.
One of the best parts of this app is the usability and how easy it is to figure out.
You can easily store different children and include allergies or specifications the parents give you.
These things are now constantly at your fingertips.
This app also allows you to keep track of things as they are happening. You can then send it to the parents in real time or just create a log for the night that you can give to them later.
With this app, you can keep track of meals, medication taking, naptime, bedtime, any other major event.
This app will also calculate wages for you. All you need to do is set a rate for each child and let the app know when you start and when you leave. It will give you a total of what you are owed.
How does turning your iPhone, iPad, iMac, or even iPod touch into a baby monitor sound?
Well with this app that is exactly what you can do.
If the batteries go dead in mommy and daddy's monitor or even if you want to give yourself a little bit of extra comfort this app is perfect.
Put any of these devices in the baby's room and it becomes the monitor. You can then use a second app to control the monitor and keep track of your young one.
In addition to being a microphone, this app also allows for video.
How nice would it be to be watching a movie while the child sleeps but knowing AND seeing that they are okay.
Even if you aren't glued to the screen (say you have an older sibling that doesn't go to bed quite so early) you can still choose to get notifications when odd noises or movements take place.
This app will also play music, fairytales, or background noise when you are out of the room. This means fewer visits to a sleepless child's room.
You can also talk to a child using this app. Talking into your device will cause the app to play this to the child.
Another great feature is allowing parents to check in throughout the night. You and the parents will be able to watch and know the baby is okay.
Just like you can have more than one watcher you can also have more than one watchee. This makes things easy when you have children of different ages and especially children in different rooms.
This program, though designed with the busy parent in mind, can certainly make your life as a babysitter easier.
Whether you want to join an already existing account or create your own for a long-term sitting job, this app can save you time when it comes to scheduling, shopping, or even finding recipes for your kids.
With this app either you or the parents can:
set appointments, practices, or lessons,
create to-do, honey-do, or chore lists,
make shopping lists and update tem in real time,
keep recipes for later or view new ones,
send updates to other on the account,
and receive notifications about all these things.
Using this app as a babysitter can be beneficial because you can show parents how things were done, in what order, and how it went.
Rather than having two or three different ways to keep track of these things, Cozi can and will do it all.
Another great benefit is that this app is available for almost any device which means that you can access it super easily.
This app, also known as YouTube 4 Kids, is a great way to access over a million videos and episodes made for your kids.
This app works directly from YouTube and utilizes only their videos.
Having a way to show videos to children you know they will like (and you won't get in trouble for showing to them) can be a lifesaver in a pinch.
From Disney videos to Baby Einstein, this app has only child-friendly free content.
Rather than wasting your time searching for something, pull up this app on the TV and let the child pick what they want to watch, all while knowing that everything is safe for them to watch.
Even though it may seem silly, you never know when you may get in a pinch.
For example, say you have to take a child to practice in a part of town you don't know. On the way they let you know they have to go.
You don't want to send your child to a practice when they have to go. Rather than looking around and trying places without a bathroom you can simply go to this app and find out where the nearest, safest restroom is.
This can also prevent you from having to clean up a mess in your backseat or a car seat and save a child and yourself a little embarrassment.
The Best Summer Job
Now we all know that teenagers love to make money babysitting.
But these sites don't let anyone younger than 18 create accounts to look for jobs.
It's still not impossible for teenagers to land these jobs.
If you are younger than 18 or even know of someone who is, and you want a babysitting job the best we can suggest is to get your name out there.
Make flyers, talk to people at church or sporting events, talk to people you know need babysitters.
There are also many other summer jobs for students and teenagers _ whether you are 11, 12, 13, 14, 15… – out there.
Generally, once you get started, your side hustle will begin to spread by word-of-mouth and that's when you can start making some good money on your spring, summer, or winter break. Even on weekends.
Things to keep in mind
These apps can help you make money but always imagine being on the other end.
Parents hate leaving their kids (well, we also need a night off once in a while) and it's hard for them to find someone to trust with the responsibility of their offspring. Your commitment to child care puts their mind at ease.
That being said always remember the commitment you are making:
These parents are trusting you with their most cherished possessions,
You and you alone may be the one making big decisions and you must be ready for that at all times- emergency or not.
These decisions are going to affect more than just you and your life.
You and you alone are now charged with another life. Don't let this scare you but always remember exactly what that means.
This is a job and you shouldn't forget that.
We have all seen the classic "put the kid to bed and call my friends" clips. Don't be one of these types. Keep your friends away and make the children your only priority.
Final Words
Parents are always going to have something to do and kids are always going to be needed to be watched.
Babysitting has been a constant form of income for a lot of people for a long time for that reason.
The income can be great but remember that this means a huge responsibility for you.
Everyone knows the saying, "It takes a village."
In this interconnected world, we are making that truer every day and you should take advantage of these apps every chance you get.
Parents today are looking for easy ways to find dedicated babysitters and these apps allow them to do just that.
Now that you know about the sites and their benefits use them to expand your business.
They make your job easier, give parents the peace of mind they deserve when they leave the house without their youngsters and can help you make great side money or even make a full time job out of it.
Remember, loving kids is only half of this job. Let everything else be easy as pie by using these apps and start watching the money pile up.