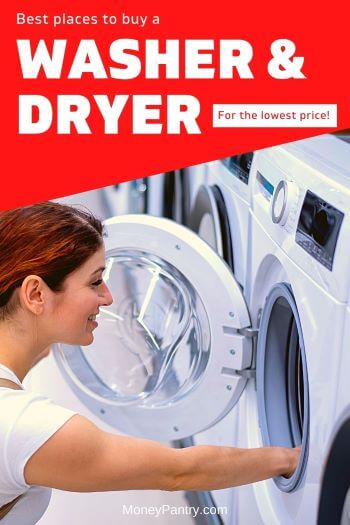 When the old washer and dryer breaks down, it's time to get a new one. But, where is the best place to buy large appliances like a washer and dryer?
There are so many options. You can shop online through some of the top eCommerce stores. You can also shop for a washer & dryer bundle at home and appliances stores near you.
In today's post, I'll cover some of the best places to buy a washer and dryer. This includes stores where you can find laundry appliances at super low prices, and retailers who offer great deals, discounts and more.
Where to Buy a Washer & Dryer
You can find machines from the most expensive and reliable brands to brands offering the cheapest washer and dryers for under $500 via these stores and websites.
Including brands like:
GE
LG
Samsung
Maytag
Kenmore
Roper
Amana
Summit
and more.
Here are the top ten places to purchase washing machines and dryers.
Need Easy Extra $300+/Month for Free?
Panel Payday
: Earn up to $75 per survey. They also pay up to $50/hr for mystery shopping.
Join Now!
InboxDollars
: Paid over $57 Million to members to watch videos, take surveys, shop and more.
Get $5 instantly!
Daily Goodie Box
: Want free stuff? DGB will send you a box of free goodies (Free Shipping - No Credit Card).
Get your box now!
Branded Surveys
: Get $1 instantly just for joining for free. Plus get paid within 48 hours by PayPal!
Join Branded Surveys
Toluna
: Earn PayPal, Amazon & Tango e-vouchers for taking surveys (& product testing!).
Join & get 500 bonus!
Swagbucks
: Get paid to watch videos, shop online, take surveys and more.
Join now & get $5 instantly!
Sears provides great prices on washers and dryers, as well as on all-in-one washer dryers.
You can find washers on there for as low as $476, dryers for as low as $424, and all-in-one washer dryers for just $1,807.37.
For some items, you can get free delivery on orders of $59 or more, or free store pickup. Otherwise, shipping costs $79, which is pretty high. Also, Sears often provides deals like up to 35% off select appliances.
With free delivery on lots of products and super low prices, Walmart is definitely one of the best places to shop if you're in the market for a new washer and dryer.
You can find washers and dryers for less than $500! The store offers washing machines, dryers, and washer dryer combos. And the best part is that you can either get items delivered or pick them up from your local Walmart store, which is always convenient.
Best Buy has a great range of washers and dryers to suit everyone. You can find top loading washers, front loading washers, and more. And, there are different types of dryers available too like gas dryers and electric dryers.  You can find many washers and dryers on there that cost less than $500!
What I like about Best Buy is that it offers free delivery on tons of its washers and dryers and its other appliances too. At the time of writing, there was an offer where you could get free delivery on orders worth $399 or more.
Another good place to shop is at Lowe's. The store is awesome for purchasing laundry appliances if you're looking for lots of savings.
Lowe's offers some great prices on washers, dryers, and washer and dryer sets with appliances priced for less than $500!
And, free local delivery is available for major appliances that are worth $299 or more. There are tons of deals available on the site that can save you $100s.
With a huge variety of washers and dryers on offer, Home Depot is a good place to purchase your new appliance. It offers free delivery on many items too. And, there are some great deals and discounts available on the site that can save you $100s on your new appliance.
Okay, next on the list, we have Wayfair. Now, Wayfair is a good site if you're looking to buy new stuff for your home, whether it's furniture, bedding, or, yes, appliances like washers and dryers.
Wayfair is a great place to look if you're in the market for a new washer or dryer. You can get many washers and dryers for less than $1,000, and some appliances for under $500.
It offers a great selection, and you can get free delivery on orders of $35 or more – so, yeah, free shipping is always a good thing.  Aside from great prices and free shipping on many orders, Wayfair also offers a lot of deals where you can save $100s on a new washer or dryer, and there are often sales on appliances.
Whether you are looking for the best place to buy a refrigerator, Microwave, Coffee Maker or in this case laundry appliances, Appliances Connection has a huge selection.
If you're looking for an inexpensive washer or dryer, then I would definitely shop at Appliances Connection. The website offers some of the lowest prices I've seen out there.
You can get washers for as low as $268, dryers for as low as $250, and washer/dryer combos for just $999. You can get free delivery on orders of $99 or more, which is awesome. Who doesn't want free delivery?
Aside from low prices, the site also features a lot of deals where you can save $100s on appliances and the site often runs sales – so even more savings.
Another website that I would recommend for really low prices is Amazon. The website offers a large selection of washers and dryers that are $200 or less. It's particularly good for portable washers.
You can get free shipping on orders worth $25 or more that are shipped by Amazon. And, there are many Prime eligible appliances that ship for free if you are a Prime member.
One of the best things about Amazon though, aside from its low prices and free shipping, is the fact that there are so many reviews on there. So, you can easily have a read and find out which products are great and which ones are worth skipping over.
AJ Madison is another place to check out. It's another site offering great prices with washers and dryers available for less than $500! What's great about the store is that it offers free nationwide delivery! There's an appliance rebate center on the site as well. This offers rebates that can save you $1,000s, and you can easily view offers on there.
Costco is another awesome place to shop for appliances because it offers a lot of different washer/dryer options. So you are sure to find the washer or dryer to suit you and your home. The store offers a 2-year warranty and up to 4% in cashback rewards.
The store also offers services like in-home delivery and installation and haul away services.
Tips for Buying a Washer & Dryer Set
Knowing where to shop for your new washing machine, dryer, or washer/dryer combo is great. In this section though, I just wanted to cover some tips that you should use when purchasing your new appliance. After all, appliances like this are big ticket items that not only cost a lot but are also going to be used by you and your family for years. So, you want to make sure that you purchase the right appliance.
Here are some tips for purchasing a washer and dryer.
Get cash for your old appliance
You should consider selling your old washer and dryer. You can then get some cash to put towards your new appliance. Read our post on where to sell used appliances for cash near you for a list of top places to get the most money for your old appliances.
Choose the right style
Okay, so front load vs top load is the main question people think about when purchasing a washer. It really depends on what type of machine you like to do your laundry.
Now, there are pros and cons to top-loaders and front loaders:
Top-loaders
With a top-load washing machine, you don't have to bend or kneel down to load your laundry into the machine or add laundry detergent and fabric softener. But that's certainly not their only benefit. Top-loaders also tend to have a larger capacity, and they can be less expensive too!
The only problem is that because they can be so deep, if you're shorter it can be tough to reach the bottom of the machine to grab your laundry. If you do opt for this type of machine, check to see if you can reach the bottom of it comfortably before you purchase it. If you have to lean in too much or find that you need to go on your tiptoes to reach the bottom, then the machine may not be ideal.
Front-loaders
Okay, so front-loaders are great because they tend to be more energy-efficient and use less water than top-loading machines. That's not the only reason these are a good option. Front-loaders also give you the option of having a stackable washer and dryer combo. The downside to front-loading machines is that they tend to be more expensive than top-loading machines, and also you have to bend or kneel down to load your laundry into them, which isn't always convenient.
Choose the right option for the space in your home
Okay, so now you have decided on whether you want a front loading machine or a top-loading one, you'll want to decide on a machine that suits your home in terms of size and the space that you have.
Now, if you don't have a lot of space in your home, then you may want to look into getting a stackable washer and dryer set. Although you may not be able to fit larger items like comforters or a ton of laundry in stackable washer and dryer sets, they are ideal for limited spaces. Also, consider getting a compact dryer if you only have a small space to put your new appliance.
If space isn't an issue, then, of course, you can go with whatever size you want. But, make sure you'll have enough room to actually get the appliance into your home. The doors and hallways need to be wide enough to accommodate the machine, and, you'll want to ensure that it fits into a space that has hot and cold water lines within three feet of washer hookups. Take some time to measure your space properly, so that you can easily fit the machine into your home when it's delivered or when you bring it home.
Buy at the right time
Okay, so another thing that you are really going to want to consider is when you purchase. So, it's not just where you purchase your new washer and dryer that can make a difference to the amount of money you end up spending, but also the time at which you make your new purchase. We explained this and just how much you can save in our post about the best time to buy a TV.
So what is the best month to buy a washer and dryer?
If you purchase your new machine at the right time, then you could save yourself a lot of money. The best time to buy a new appliance is when manufacturers roll out their new models. This is because when a manufacturer brings out a new model, retailers will reduce the price of models from the previous years in order to make more room for these new models.
Manufacturers bring out new washer and dryer models in September and October making fall the best time to purchase one.
Now, I get that if your dryer or washer just broke, you're not going to want to wait around until fall to get a new one. However, if you can wait, then I recommend holding off until fall to buy your new washer and dryer because you will likely get a better deal, and who doesn't want to get a better deal, right?
Do a price comparison
Another thing that I always recommend that people do before purchasing expensive items like washing machines and dryers is a price comparison.
Now, I know that comparing prices can be a little time consuming. However, it can result in big savings and when purchasing a major appliance, saving money is so important because it can be really expensive.
Plus, with so many price comparison sites and apps, these days it's easier than ever to compare prices in a few seconds.
So, once you decide on a washer and dryer that you like, make sure that you compare the price of it at multiple stores. Doing so can save you $100s!
Consider a retailer that offers a price match guarantee
Now, when deciding where to buy your new appliance, you may want to consider choosing a retailer that price matches.
Some retailers will match the price of certain competitors either before or after you've made your purchase. This means that if you want to purchase from one store but find a better price at another, you could still get the new appliance from the store you originally wanted to shop with at that lower price if that store price matches.
Here are some examples of retailers who price match:
Best Buy
Home Depot
Lowe's
Walmart
For a bigger list (and links to their Price Match guarantee page) check out our list of stores that price match.
By the way, if you happened to find the best price on your Washer & Dryer set on Amazon, be sure to read our list of stores that price match Amazon. You may be able to get your bundle even cheaper.
Read reviews
Okay, so I have a tip that is so important and while it may seem obvious many people overlook it, and that's to read reviews. Always, always read reviews of any appliance that you want to purchase.
Sure, the product description might say how great the washing machine and dryer are but you may find that the customer reviews of a unit are not so great. I really would recommend that you take the time to read some reviews so that you can get a better idea of what customers think about a machine.
It can save you the hassle of purchasing an appliance that turns out to not be very good! Amazon, of course, is a good place to look for reviews, but if you can't find your specific model on there, just do a quick Google search for reviews. You should then get a better idea of what the appliance is actually like.
Enjoy the Laundry!
Hopefully, this post helped you to decide on where to purchase your new washer and dryer!
I know, I know, nobody really enjoys doing the laundry, but using your brand new set of washer & dryer for the first time could feel like using a brand new toy for the first time. And knowing you've saved money by purchasing your set for the best price possible is a good reason to be happy.
Have you bought laundry appliances recently? If so, what do you think are the best places to buy and washer and dryer? Let us know in the comments section below.