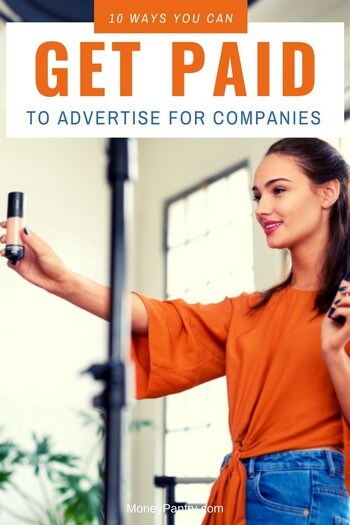 Nowadays, companies are turning more to individuals for advertising.
While companies once promoted themselves on TV, in magazines, and other traditional media, this has changed in the past decade or so thanks to the "influencer economy".
Now, companies are just as likely to pay a beauty blogger or a stay at home mom with a social media platform to advertise their brand.
That's where you come in.
You can get paid to advertise for companies!
But why would a company pay me to advertise?
With more content to consume than ever, people are much better at tuning out ads.
Need Easy Extra $300+/Month for Free?
KashKick
: Get paid directly into your PayPal for watching videos, surfing, shopping and more.
Join KashKick Now!
InboxDollars
: Paid over $57 Million to members to watch videos, take surveys, shop and more.
Get $5 instantly!
Branded Surveys
: Get $1 instantly just for joining for free. Plus get paid within 48 hours by PayPal!
Join Branded Surveys
First Opinion
: Get paid up to $10 per survey and $300 per virtual focus groups!
Join Now!
Swagbucks
: Get paid to watch videos, shop online, take surveys and more.
Join now & get $10 instantly!
People don't like feeling like they're being advertised to either.
That's why companies have had to get a little more creative with how they advertise. Now, brands try to promote their products and services in a way that's subtler than your traditional TV commercial.
And they're turning to individuals like you to do it.
Companies will pay you to advertise for them in a variety of different ways.
Top Ways to Make Money Advertising for Companies
So, companies are willing to pay you to promote their products and services, but how do you get started making money with this?
Well, there are plenty of ways.
Below, I give you the top ten ways to make money advertising for companies.
1. Create sponsored blog content
Consider creating sponsored blog content for companies.
If you have your own blog with a decent following, brands will pay you to create blog posts for them. This could be a quick mention of the brand in a post, or it could be a full post about that brand.
For example, let's say you have a travel blog and a company that makes backpacks wants to work with you.
They might pay you just to mention their product. So, you could create a blog post like "top 10 travel essentials," which includes one of the company's backpacks as one of the list items.
Or you might do a full review of the company's backpacks.
Where to get started
There are websites you can join that connect bloggers with brands who're looking to pay for sponsored content.
Here are a couple of examples:
BlogExpose
BlogExpose pays you to create sponsored blog posts for brands. Sign up to the site, and you'll be able to browse opportunities and apply to the ones you're interested in.
PayPerPost connects brands and bloggers. With the site, you can make money writing content for brands on your blog.
Blogvertise will pay you to write blog content. It also gives bloggers other ways to make money, like with ads, pay per click, and pay per sale links on your site as well.
Of course, your blog will need to get traffic for companies to want to pay you. Building up your blog can really pay off in the future. If you don't have a blog, but would like to get into writing sponsored posts, then consider starting your own blog.
Read my guide on how to monetize a blog to get started.
2. Get paid to advertise on your website or blog
Next on our list is something that pretty much anyone can get started with – working with Google AdSense. It's the easiest way for you to make money advertising on your website.
Google AdSense is an advertising program. You can sign up for AdSense and put ads on your blog.
When someone views or clicks on these ads, you get paid.
It's not a lot, but the more visitors your site gets the more people see the ads, which increases your profits.
In my experience, Google AdSense offers one of the easiest ways to get paid to advertise for companies.
You don't have to do anything except sign up and put some premade code on your site. It's so simple.
How to get started
Simply visit Google AdSense and sign up for a free account, add your site and verify that you are the owner of it.
Follow the step by step process to create the kind of ad you want (size, color, etc).
Once you've created your ad, Adsense will give you a code that you can place on your site/blog where it automatically displays ads related to the content of your site.
Every time someone clicks on one of those ads, you earn anywhere from a few cents to $50 or more.
Warning: DO NOT ever click on your own ads. Adsense will ban your account and you won't get paid anything. And that's beside the fact that you'll be cheating advertisers of their money when you click on their ads when you have no intention of buying the product or at least learning more about it.
3. Make sponsored YouTube videos
Brands don't only seek out bloggers to create sponsored content. Many brands also want to work with YouTubers.
YouTube is a huge platform with millions of visitors. And brands want to leverage those visitors.
That's where YouTubers come in.
YouTubers can mention a brand in their content and increase brand visibility.
Where to get started
If you have a YouTube channel with a decent number of views and subscribers, you could get paid to create content for brands.
To get started, sign up for YouTube BrandConnect (former Famebit).
YouTube BrandConnect is a platform where YouTubers can find sponsorship opportunities.
The site also offers opportunities to Instagrammers (more on social media advertising below!).
4. Get paid to advertise on your car
This has to be one of the easiest ways to get companies to pay you!
If you don't mind displaying ads on your car, then work with a car wrapping company.
Car wrapping companies wrap your car in ads for free. Then just for driving your car, you get paid!
You could make $100s a month!
The company gets advertising on your car and you make money, so everyone wins!
Where to get started
Here are a few companies that'll pay you for advertising on your car:
This is a good alternative to the other options on this list if you're not really into social media, or blogging.
5. Get paid to advertise on Twitter, Facebook, Instagram…
Do you have a big following on social media?
If so, you could make money by collaborating with brands.
Brands are willing to pay people with large followings on social media, called influencers, to post about them on social media sites like Instagram, Twitter, and Facebook.
Where to get started
There are lots of sites out there that connect social media influencers with brands who're looking to advertise their products or services.
GOsnap is a service for influencers on Instagram and Twitter (and for YouTubers as well!)
With it, you can find paid sponsorship opportunities from brands. You can decide whether or not to join a campaign. You are paid by the number of followers you have.
SponsoredTweets pays you to promote brands on Twitter. It helps influencers to monetize their social media channels through brand sponsorships.
IZEA will pay you to create and share sponsored social media content for brands.
It describes itself as the industry's largest social media influencer marketplace.
6. Try affiliate marketing
Next up on our list is affiliate marketing. This is another way to make money advertising for companies, without needing a huge following on your blog or social media accounts.
Anyone can get started with affiliate marketing.
With it, you post product links and when a customer clicks on one of those links and buys something, you get paid a percentage of the sale.
It's super simple.
Where to get started
There are lots of affiliate marketing programs you can join, like:
Also, some brands, like Target and Bluehost have their own affiliate marketing programs you can join.
So, if you like a particular brand, check to see if they have an affiliate program that you can sign up for.
Simply search online for the brand's name, followed by the words, "affiliate program."
You can share your affiliate marketing links on:
Social media posts.
A comparison review site.
A product resources page.
Blog posts.
Videos.
Landing pages – this is a website with a static sales page.
Newsletters
Affiliate marketing is a great alternative to creating sponsored content. If you don't want to create content directly with brands, then using affiliate links instead is a great option.
7. Review brand's products
Companies want their products to be seen and recommended, and one of the best ways to do this is with reviews.
When you buy something online you probably check the reviews first, right?
I know that before I buy stuff on Amazon, I always have a quick read of the customer reviews.
People tend to trust reviews from other customers, more than they do the claims made by the company itself.
Companies know how important customer reviews are to other customers. That's why they're willing to pay you for reviews.
Now, not all companies will give you money for reviews. Some will give you free stuff instead.
Where to get started
Here are a few places where you can make money or get free stuff by reviewing brands' products and services:
8. Be a brand ambassador
If you prefer to get out of the house and socialize, then you might want to try working as a brand ambassador.
Like with the other opportunities on the list, being a brand ambassador involves working to promote a company.
But, the way in which you do it is slightly different.
You're not getting paid to advertise for companies online.
Instead, brand ambassadors represent brands at places, like:
Nightclubs
Bars
Sports games
Conventions
Beaches
Trade shows
Fairs
Concerts
College campuses
Festivals
Brand ambassadors do things like hand out flyers, give out free samples, and greet people.
So, basically, you're promoting brands in person!
Where to get started
Here are a few places where you can find brand ambassador work:
Brand ambassadors can make $14 to $50 an hour depending on the company they work with.
9. Wear a t-shirt
Some people make money wearing t-shirts and other items of clothing for brands.
Jason Sadler for example made $100,000s wearing t-shirts for businesses.
He founded I Wear Your Shirt in 2009, a website that used t-shirts to advertise businesses.
Sadler made $70,000 in his first year of business wearing t-shirts.
Awesome, right?
Sadler wore different shirts for each day of the year, and he advertised for the companies by taking photos and uploading videos about them online. I Wear Your Shirt closed in 2013.
But, it shows that there are companies out there who'll pay you to wear their t-shirts.
Where to get started
During my research I found one site called Teespay.com that claimed to pay people to wear t-shirts.
After scouring reviews on Reddit and other sites though, it seems like people never actually got paid for wearing the t-shirt, or they received no t-shirt in the first place.
So, it's likely not worth your time.
What's the alternative?
Well, you could start your own online business where you offer to wear a company's t-shirt. You could advertise your services on Fiver or Craigslist.
Contact your favorite brands, and see if they'd be willing to sponsor you to wear their t-shirts.
Another option is to contact small, local businesses and let them know that you're offering to advertise their company by wearing a t-shirt with their logo on it.
Offer to take quality photos of yourself wearing the t-shirt and upload them to social media platforms, like Instagram. You can also let companies know that you'll wear their shirt at busy places and events to increase their brand's visibility.
The more you offer, the more the brand will be willing to work with you.
10. Get a tattoo
Yes, you read that right.
Companies will pay you to get a tattoo of their logo.
Now, one thing to mention is that I'm not talking about your lasts a lifetime type of tattoo.
No, these are temporary tattoos.
Still though, this form of advertising certainly isn't for everyone. I don't think I'd give it a go, but if you're more of an extrovert, it could be the perfect opportunity for you.
Where to get started
Visit LeaseYourBody.com if you're interested. The site pays you to wear temporary tattoos, which display a company's logo, in exchange for cash.
How Much Money Can You Make?
The amount of money you can make promoting products for companies depends on lots of different factors.
Each method I listed above pays differently.
Also, for things like creating sponsored content and being a social media influencer, how many followers you have can make a big difference.
Bloggers and influencers with big followings are likely to make more money.
The same goes for affiliate marketing. The more people who see your affiliate links, the more clicks, and sales you'll get, which means a higher income for you.
You could make anywhere from $100s to tens of thousands each month advertising for companies.
Vox reports that people can make $100,000 for posts on YouTube and Instagram.
Start Getting Paid for Promoting Brands & Products
There are plenty of ways to make money advertising for brands. And, what's great is that the opportunities are so varied.
If you're a bit of an introvert and don't really have a large following on social media, give affiliate marketing a try.
Or, if you're a social butterfly on Instagram, leverage that following as a social media influencer.
There are so many opportunities now to make money from brands that anyone can get started with it.
So, give these methods a try!
Have you ever been paid to promote a company? What method did you use, and what was your experience like?
Let us know in the comments below!