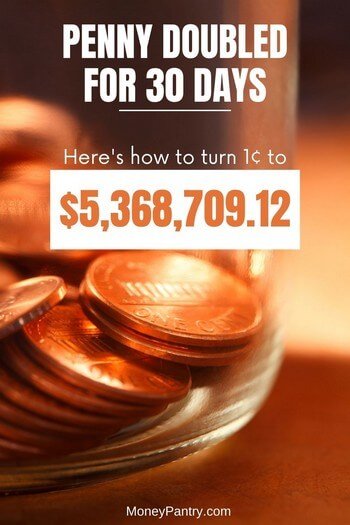 Would you rather have $1 million or a penny that doubles every day for thirty days?
Many people hear the words "a million dollars," and consider it to be a lot of money. On the other hand, the word "penny" doesn't exactly conjure up ideas of wealth.
Spend a little more time pondering the question though, and you'll discover that you'd actually rather take those pennies over that million dollars!
In today's post, I'll cover why a penny doubled for 30 days works out to be more money than a million dollars.
Why Choose a Penny Doubled for 30 Days Over $1 million Right Now?
If you do the math, it's easy to see why it's better to have a penny that doubles for 30 days over $1 million or even $2 million now.
This is a tricky question since doubling a penny doesn't seem like it would amount to much.
Need Easy Extra $300+/Month for Free?
KashKick
: Get paid directly into your PayPal for watching videos, surfing, shopping and more.
Join KashKick Now!
InboxDollars
: Paid over $57 Million to members to watch videos, take surveys, shop and more.
Get $5 instantly!
Branded Surveys
: Get $1 instantly just for joining for free. Plus get paid within 48 hours by PayPal!
Join Branded Surveys
First Opinion
: Get paid up to $10 per survey and $300 per virtual focus groups!
Join Now!
Swagbucks
: Get paid to watch videos, shop online, take surveys and more.
Join now & get $10 instantly!
With the power of compound interest though, that penny will eventually be worth a lot more than a million dollars.
At the end of that 30 days that $0.01 is actually worth $5,368,709.12.
Surprising, right?
This is an example of just how powerful the effects of compound interest can be.
Albert Einstein once said that "Compound interest is the eighth wonder of the world. He who understands it, earns it … he who doesn't … pays it."
So, a penny doubled everyday for 30 days is not only worth more than $1 million dollars, but it's also worth more than $2 million dollars, and $3 million dollars, and $4 million dollars! And it's all thanks to compound interest.
The Power of Compound Interest
So, the answer to the question that I asked at the start of the post is pretty clear. You'd take the penny that doubles over the million dollars.
It's important to note, however, that it's all about the power of doubling. The longer the doubling period, the more money you end up with.
For example, if you were to get a penny and double it only for 25 days, you'd end up with $167,772.16. That's a whole lot less than $5 million.
A penny doubling every day is a simple example of compound growth. It can be difficult to believe that a penny will turn into millions, because most things in life experience linear growth, which is also known as arithmetic growth. This is when something grows at a relatively constant amount per unit of time measured.
Let's say you want to save $1,000. So, you look at your finances and see that you can afford to save $100 a month. After 10 months, you'll have saved $1,000. This growth is arithmetic because it increases by $100 each month.
Compound growth is different. It occurs when you invest that money into the stock market.
If we use the example of saving $100 a month again, but instead of saving that, you invest that money in the stock market. You make an initial investment of $100 and then make a monthly contribution of $100.
You get 5% interest annually.
After the first year, you'd have $1,305 in savings.
After two years, you'd have $2,570.25.
After five years, you'd have $6,758.39.
If you were to save $100 a month, then it increases by $100 per month.
After 5 years, you'd have $5,000.
With compound interest that same $100 that you invest works out to $6,750.39.
You can use this calculator to see how compound interest works when you invest different amounts.
This is the power of compound interest.
Penny Doubled for 30 Days Chart
If you want to see what a penny doubling for 30 days looks like, then check out the chart below. It shows you how much money you'll have on each day.
As you can see, the money doesn't even reach the $100 dollar mark until day 15! This shows how the longer the money doubles for, the more you'll get.
Here's a chart showing the growth of a penny that doubles for 30 days.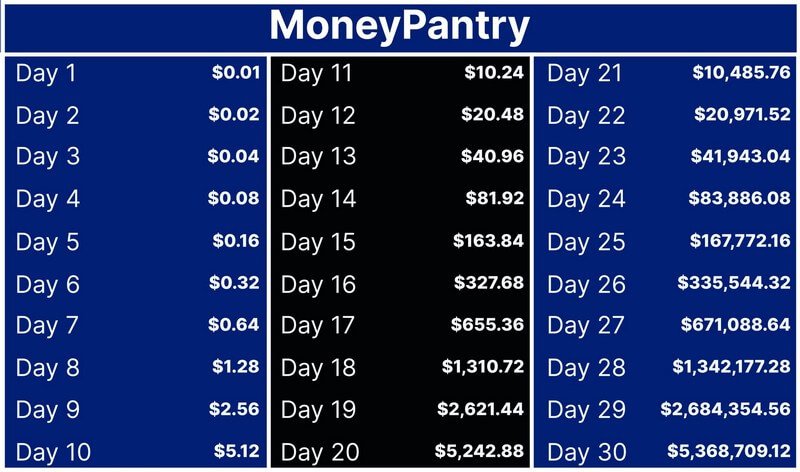 Closing Thoughts
The key here is to invest. You want to earn compound interest as it allows you to turn a seemingly small amount of money into a large sum. The earlier you can invest, the better because it will result in more money.
Although 5% interest might not seem like a lot of money at first, after 10 years, you'll start seeing large returns. After 30 years, you will likely have a lot of money and that's great for retirement.
If you were to make an initial investment of $100 and then monthly contributions of $200 for 25 years with an interest rate of 10%, you'd end up with $237,116.41.
Some people are concerned about investing in case they lose money. Yes, it's true that the stock market does fluctuate. The market can go up or down, and sometimes quite significantly.
However, over a long time period, the market is always up. Sure, there are periods where it is down, but if you're investing for decades, then you're guaranteed to be up. Think of investing as a long-term process that you'll reap the rewards from when you're older.
With compound interest, you let your money work for you, and you can turn a sum of money as seemingly paltry as a penny into millions of dollars.
If you're not sure on how to get started with investing, there are plenty of great resources online.
Here are a few articles to get you started:
As you can see, a penny that doubles for 30 days is the better option than a million dollars. And it's all thanks to compound growth. So, if you can, consider investing your money now, as it will pay off in the future.