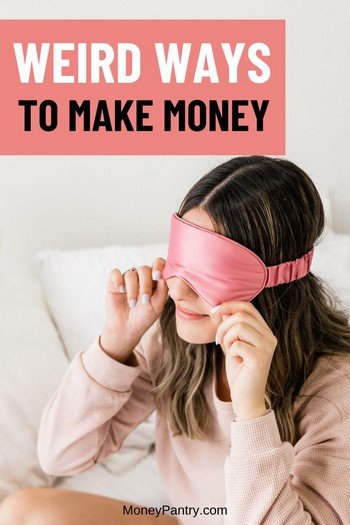 Looking for weird ways to make money?
Tired of the usual go-to money-makers like freelance writing or driving for Uber and want to try something unusual that excites you?
We've got you covered. In today's post, we'll be covering some of the weirdest and most unusual ways to make money and exactly how you can get started.
Weird & Strange Ways to Make Money
Here are some of the most unique, uncommon and creative ways to make money.
1. Sell your used toilet paper tubes
Yes, you can actually make money by selling your old toilet paper tubes. Who'd have thought it, huh? This is a genius idea because it's something you already have in your home and would otherwise just throw out.
How to get started: List your old toilet paper tubes for sale on eBay.
2. Become a professional sleeper
Surprisingly, you can earn money for something you do every day – sleep! Yes, the scientific community conducts research into sleep and requires participants for this research. It's not just scientists that offer paid opportunities either. Some brands will pay people to try out things like pillows, mattresses, or sleep masks.
Need Easy Extra $300+/Month for Free?
KashKick
: Get paid directly into your PayPal for watching videos, surfing, shopping and more.
Join KashKick Now!
InboxDollars
: Paid over $57 Million to members to watch videos, take surveys, shop and more.
Get $5 instantly!
Branded Surveys
: Get $1 instantly just for joining for free. Plus get paid within 48 hours by PayPal!
Join Branded Surveys
First Opinion
: Get paid up to $10 per survey and $300 per virtual focus groups!
Join Now!
Swagbucks
: Get paid to watch videos, shop online, take surveys and more.
Join now & get $10 instantly!
How to get started: Search Google and job boards for things like "sleep study," "sleep tester", and "mattress tester."
3. Become a beekeeper
Bees are so important for our environment, so you could help the planet while making some money by becoming a beekeeper.
How to get started: Check out The Honey Bee Society to learn more about what you'll need to get started and how to help your bees be successful.
4. Sell your hair
Selling your hair is definitely one of the weirdest ways to earn money! But, you can actually sell your tresses for a little extra cash.
5. Compete as a professional eater
If you can put away food fast, consider being a professional eater. This side hustle isn't for the faint hearted but it sure can be profitable with competitions paying $100s or even $1,000s in prizes to contestants. The annual Nathan's Hotdog Eating Contest for example pays a $10,000 prize!
6. Be a statue
Did you know that you can make money just standing there? Yup, you can make money without lifting a finger by acting as a statue on a busy street. You can earn some extra cash from passers-by and tourists who leave tips. You can make as much as $60 to $80 per hour depending on the time and traffic of the location you choose.
How to get started: Hit up Google to learn all about being a living statue. Search for things like "how to make money as a living statue."
7. Be a test subject
Participating in medical trials, clinical research, and research studies isn't for everyone but it can be a good way to make some extra cash.
How to get started: Search Google and job boards for phrases like "medical study participant," "clinical study participant", "medical study participant," "test subject," "medical experiment participant," and "research study participant."'
8. Taste food
As a food taster, you're paid to test out foods for different characteristics, such as flavor, smell, taste, appearance, and the quality of the ingredients. Basically, you're a quality assurance worker. The average pay for this gig is $18 an hour or $37,983 per year.
9. Be a seat filler
If you're looking for an odd way to make money that's also pretty fun, then you could be a seat filler. This is a great way to see shows. Because companies and venues don't want their auditoriums to look empty, some of them hire people to fill seats.
You can fill seats at theaters and concerts. You just have to keep how you got the seat a secret.
10. Be an elf at Christmas
Being an elf at Christmas is a weird way to make money but it can be a lot of fun. And, who doesn't need a little extra cash in the lead up to Christmas, right? This seasonal gig can be a great option.
How to get started: Search Google for the phrase, "Christmas elf jobs" and find work on sites like Indeed, Glassdoor, and SimplyHired.
11. Wait in line
Waiting in line is something that many of us do on a regular basis, but it's actually a way to make money if you wait in line for someone else. Some people will pay people to wait in line for a concert ticket, to buy groceries, to pick up dry cleaning, for a parking permit renewal, or for a new tech gadget.
The more popular the event or product, the more you can charge. You can always listen to music or a podcast while you wait, or even use other money-making apps like Swagbucks.
How to get started: Use TaskRabbit to find gigs that pay you to wait in line.
12. Organize other people's things
Some people struggle to keep their stuff organized or just don't have the time to do it themselves, so they hire someone to do it for them. So, you could get paid to organize people's things for them.
Really Unusual Ways People Have Made Money
Here are a few more truly unusual and bizarre ways people have made money.
13. Selling the right to name your baby
What can be better than a mobile billboard?
How about a breathing, walking live person?
In its publicity stunt, GoldenPalace.com has paid women to have its logo painted on many big bellies as well as voluptuous breasts.
It is alleged that a woman was paid over $15,000 by goldenpalace.com to have her baby named after the giant internet casino. I detest those who hate their name, but I have no argument if this kid grows up hating his name!
14. Sell virtual real estate
The world was amused when Anshe Chung, or should it be her real-life counterpart, Ailin Graef, was announced as the first person to gain the first real-world million from a strictly virtual business.
How is that possible?
She managed that by buying, developing and subsequently selling virtual real estate.
She managed that by buying, developing and subsequently selling virtual real estate.
Granted, a big portion of her riches is in Second Life's currency, Linden dollars. But real people are ready to trade real money for this virtual currency. It is reported that Graef makes +$150,000 a year!
15. Sell Irish rirt
Nowadays, products are getting quirky! Alan Jenkins, an entrepreneur from Belfast, and Pat Burke, an agricultural scientist from Tipperary, moved just enough Irish muck to the US to just
Alan Jenkins, an entrepreneur from Belfast, and Pat Burke, an agricultural scientist from Tipperary, moved just enough Irish muck to the US to just make $1m (£512,000).
Things sure look promising for their company, Official Irish Dirt, as queries are reportedly flooding in from overseas Irish people who want to lay their hands on that old dirt from their motherland.
16. Geese Police
It was an accidental business for David Marcks. David had always used his dogs on golf courses to chase away geese. It struck him one day that this could be a lucrative business and went on to set up Geese Police in 1986.
The business helps to drive away unwelcome geese from town parks, corporate properties, golf courses, or even front lawns. Careful
Careful training is planned so that these border collies won't harm the geese while chasing them away.
It has since enjoyed a brisk business and reportedly made just under $2 million in 2000. David is now aiming higher by pitching his service to highly affluent individuals.
17. Butterfly Supplier
Can one survive selling butterflies? Or how about becoming a millionaire along the way?
Jose Muniz proved that this was not simply a pipe dream. Jose is now a big time live butterfly supplier.
Story has it that Jose first took on a bet to prove that selling butterflies may be a decent vocation for a livelihood. 7 years have since passed, and Jose (a former business consultant) and his wife, Karen, are now the proud owners of Amazing Butterflies (amazingbutterflies.com), which specializes in supplying live-butterfly, with offices in Tamarac, Fla. and San Jose. The company is reported to make $1 million in revenue in 2006.
The company is reported to make $1 million in revenue in 2006.
18. Socks Subscription
A Swiss entrepreneur by the name of Samuel Liechti was inspired enough to start a business that would bring socks to its members a few times a year.
For a fee of $89 up, each "sockscriber" enjoys automatic replenishment of 9 pairs of socks throughout the year.
Crazy as it sounds, there seem to be enough takers of this service to make the business viable. These people would prefer the socks delivered to their doorsteps rather than grabbing these from the stores.
It prompts the question how much is a fair price in exchange for convenience?
In fact, the take-up rate is so encouraging and the last we heard of Mr. Liechti is that he is planning business expansion.
19. Face Advertising
Your face could be the replacement for big billboards where they display advertisements.
Buymyface.com offers just such advertisement space.
Ed Moyes and Ross Harper are two popular examples often quoted in this business and they got enough to pay off their student debt (at £50,000 a year, that stunt is no mean feat).
Ads were painted on the faces of Harper and Moyse, and they went on, going about all sorts of activities while being filmed or photographed. What they do ultimately depends on the advertisers.
For example, they have been asked to go skydiving or diving in the cold water in winter. Advertisers can go on to put this stuff up, with their brands being featured prominently.
The first ad for the duo went for exactly £1, and they managed a total billing of £3,500 in their first 10 days (with job requests coming through every single day).
Embrace the Quirk!
Unleash your adventurous spirit and explore these unconventional paths to earning money. Remember, the world of weird money-making ventures is vast and ever-evolving.
Embrace the odd and intriguing opportunities that come your way, and who knows? You might just stumble upon a truly weird way to make money that becomes your next quirky source of income. So go ahead, step outside the box, and let the weirdness pay off!