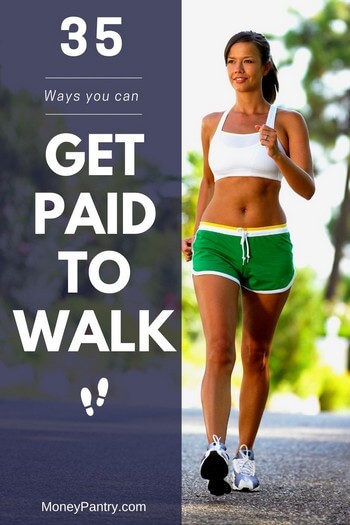 If you can walk, you can earn!
Getting exercise is great for your health, but it is even better when you make money from it too. In this article, we'll be showing you all the ways you can get paid to walk.
There are seven major health benefits to exercising outdoors, according to Piedmont Healthcare.
Some of these benefits are:
It's a natural antidepressant against Seasonal Affective Disorder
It challenges your body
It helps establish a habit of regular exercise
It provides mental relief
You can use it to socialize
It's free
When you combine all of that with the ability to make money, it's hard to say no!
Thankfully, there are a bunch of apps that pay you to hit the pavement and get walking! Listed below are the best ones out there that will help you get the most money out of your exercising.
Apps that Pay you to Walk Around
Here are the best apps that really pay you for walking.
Achievement is a way to earn points by tracking a broad spectrum of fitness activities, including your daily steps! You can also earn points by tracking your heart rate, meditation, and food intake.
Combining a game-like structure with tracking software and tailored timelines, BetterPoints is a platform to challenge yourself to improve while earning rewards in the process. It is a paid service, however, so it's hard to determine how worthwhile the discounts and rewards you get can be.
More of the giving type? Charity Miles is a way to earn money for your charity of choice by running! They've helped to raise over $2,750,000 for good causes since their beginning.
CircleCare is a corporate wellness solution for employees to earn points for performing healthy actions, like being active, logging their vitals, and taking their medicine.
As a social media wellbeing app, Earthmiles allows you to connect with others while earning points toward wellness-specific rewards. If you're a fitness buff or looking to get a headstart on your path to a healthier you, this app is perfect!
Earn free stuff and coupons from companies as you meet your goals! It also has social media functionality, so you can get fit with your friends. FitFetti is currently rated 5 stars on the app store.
Get active, get rewards, simple as that! You can connect it to your phone or your fitness tracker (Fitbit, etc.). The app is currently only available in L.A. and provides offers from local stores and restaurants.
FitPotato is a cute app that lets you earn cash for walking! You can also compete with other users of the app to win a weekly prize.
HealthyWage is one of the first apps that pay you to lose weight. This app offers big cash prizes for losing weight! Compete to meet your goals alone, or team up to win bigger prizes! The top prize for the next team challenge, as of this writing, is $10,000, so you stand to make some serious money on this one.
Higi is a whole system dedicated to your health! Check into one of their health stations at select pharmacies to get metrics on how your body's doing, then get rewarded by their app!
Job Spotter is an app from Indeed, the job site, that rewards users for taking pictures of Help Wanted posters they see in their area. Job Spotter's rewards can be redeemed for gift cards at any time.
Boasting prizes like gift cards from Amazon or Sephora, up to big-ticket items like the iPhone X or drones, LifeCoin is a way to earn points with each step you take. Your steps are confirmed by GPS, so you can't just shake it like a pedometer to win, you have to get out there!
A sleek app that introduces new health and fitness challenges every day. Lympo allows options for indoor or outdoor activities, so there's no excuse not to get active!
Measure the effort of your workout, convert your measured effort into coins, then redeem your coins for prizes from brands like Starbucks, Amazon, or even Disney World!
Love dogs? Who doesn't? With Rover, you can get paid to walk them (or provide them with daycare, keep them overnight, or even drop in for some at-home dog-sitting)! Rover could be your excuse to get out of the house with a furry friend and get some cardio done!
The main selling point of the app is its analytics software, which gives you detailed information about your steps per minute, calories burned, and more. The app also has a reward system built in to add a motivating factor. You can cash these rewards in for discounts or PayPal payouts!
Motivating yourself to walk can be hard. Stepbet has its own way to make sure you follow through with your resolution: with gambling! You put money down along with other players, and the money of the losers gets split up among the winners!
As the app's tagline says, it pays to walk! Your paces are converted into SweatCoins which can be used to buy goods and services. SweatCoin guarantees data privacy, and will not sell your information to a third party.
Tailster is a free service that allows users to set up their own pet care business. The service comes with the Tailster Carer app, which allows caregivers to send updates to the pet's owner.
Like Rover, Wag is an app that connects dogs in need of walking to people with legs. Got legs? Love dogs? Then wag is a perfect way to get paid to spend some time with a furry friend!
The setup should be familiar by now: make healthy choices, the app rewards you with discounts. This one is good for people who are already rewards members with Walgreens because this can be used in tandem with that.
WinWalk is a streamlined app that rewards you for every 100 steps you walk. It's available for free only from the Google Play store. If you want a simple way to earn rewards without eating up your battery with a GPS-heavy app, WinWalk is for you!
Other Ways to Get Paid to Walk
If your goal is to earn money while getting active, there are a lot of ways to get paid for doing things that require legwork. If you think about it, it's a perfect way to get a varied workout: they give you an objective route plus a time limit to accomplish it.
Here are a few jobs with a side of jogging:
Become a mystery shopper with BestMark, one of the oldest mystery shopping companies in the US. Pose as a customer, create a scenario that will show how a company reacts to a given situation! It's a good way to earn a little extra money while feeling like a secret agent.
DoorDash is available in over 4,000 cities in the United States, so chances are you're near an eligible spot. "Dashers," as they're called, deliver food from restaurants, so it doubles as a good way to learn about new places to grab some grub!
Offering part or full-time positions, Favor is a personal assistance service that gives its runners a variety of tasks from food delivery to picking up dry cleaning.
Get paid to shop! Field Agent offers cash for people to act as mystery shoppers, auditors, or product testers. The service is made easier with the app, which lets you pick up gigs on the fly.
27. Gigwalk (also known as GigWalkers)
Available on: iOS and Google Play
Gigwalk is a straightforward service. Just sign up, connect your PayPal account, and companies post little jobs for you, usually to look at their products or events from a consumer's perspective.
28. Human Billboard
Want to get some fresh air? Love giant carnival barker-style signs? You can get paid by local stores to advertise for them while carrying a sign around! It'll put some extra cash in your pocket while supporting the local industry.
Prefer to walk in air conditioned spaces? Instacart is a grocery shopping service that offers positions either delivering to people's front doors or just doing in-store shopping for customers to pick up.
Shipt is a grocery delivery service boasting potential earnings of up to $22 an hour for experienced shoppers, so there's some serious earning potential there! Plus, employees get a free membership to the service.
As a "Tasker," you'll be able to run errands all over town, according to a schedule you set. The service offers other tasks, too, if you've got the skills for them, like handyman tasks, furniture assembly, or furniture transport.
Guided Tours
Know a lot about your local town? Showing people around can be a good way to get out, get social, and get paid!
Have a degree and don't know what to do with it? Context is a service specifically made to connect tourists with experts who can teach them a lesson as they tour.
Excited about the place you live in? Why not show people around it. Rent a Local Friend connects passionate, authentic locals to people taking tours of their area.
If you have between 30 minutes and two hours to spare in a day, you can sign up for Sidewalk. Just create a profile, plan your route, and get ready to tell a story as you go!
ToursByLocals is a multinational platform designed to market tours to travelers who are interested in your part of the world. If you've got the lowdown on local experiences that would be missed by standard large-crowd tours, this is the site for you!
Tip to Help You Get Started
It's always important to be prepared when you are going out to exercise.
Here are some tips that can help you get started:
Final Thoughts
So now that you know how to make money by walking, there's only step left:
Download your favorite apps, get off your computer or cellphone, and start walking!
Have you tried any of these apps out yourself? Let us and our readers know what you thought of these and which one is your favorite get paid to walk around app, in the comments below!