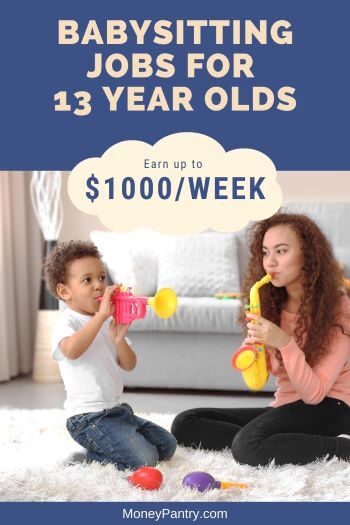 Are you looking for babysitting jobs for 13-year-olds?
Babysitting can be a good option if you are looking for a few side hustles for teenagers to make extra money. You can babysit around your school schedule, with many parents looking for sitters in the evening hours and during the weekends.
If you are interested in working as a babysitter, you might want to know which places hire 13-year-olds. Well, this is the post for you. Below, I'll cover the best ways teenagers can find babysitting work.
Where Can I Find Babysitting Jobs for 13-year-olds?
Okay, so I'll level with you here, most websites where you'll find babysitting work only allow those who are 18 years old to sign up. That's no good if you're 13-years old, 14 years old, or 15 years old and hoping to find work.
Fortunately, there are a couple of options that you can try if you're looking for babysitting jobs for 13-year-olds.
If you are looking for babysitting work, then I would recommend signing up for Bambino Sitters. It's a website that parents can use to find babysitters.
Need Easy Extra $300+/Month for Free?
KashKick
: Get paid directly into your PayPal for watching videos, surfing, shopping and more.
Join KashKick Now!
Panel Payday
: Earn up to $75 per survey. They also pay up to $50/hr for mystery shopping.
Join Now!
InboxDollars
: Paid over $57 Million to members to watch videos, take surveys, shop and more.
Get $5 instantly!
Branded Surveys
: Get $1 instantly just for joining for free. Plus get paid within 48 hours by PayPal!
Join Branded Surveys
iPsos iSay:
: If you have to only sign up for one paid survey site, go with Ipsos (high paying survyes)!
Join iPsos Now!
Swagbucks
: Get paid to watch videos, shop online, take surveys and more.
Join now & get $5 instantly!
The best part is that while most babysitting job sites are for people over 18 years old, Bambino Sitters allows people who're as young as 13 years old to sign up.
You will, however, need to get the consent of a parent or legal guardian to join the site.
Once you're signed up, you can find nearby babysitting jobs with vetted parents.
And, you don't even have to search through a job board. Instead, parents will request you. There's an app you can use to find babysitting jobs.
You get paid directly through the app with secure deposits made automatically into a Venmo or bank account.
Sign up using the link in the section heading.
2. Advertise locally
Okay, so like I said before, there aren't that many websites, other than Bambino Sitters, where 13-year-olds can sign up for babysitting jobs. So, a really great option is to advertise your own babysitting service.
This is pretty simple to do, but it can get you lots of clients.
Here are some ways you can advertise your babysitting service:
Word of mouth
One of the easiest ways to get babysitting work is to simply let your family members and friends know that you're looking for work.
This way, they can recommend you to any parents they might know who might mention that they're looking to hire a babysitter.
Just ask your parents if they'd be willing to let friends and family members know about your babysitting service.
Once you have picked up your first few clients, you'll likely find that people will recommend you to others, as long as you do a good job of course.
This can be an effective method for getting work because parents often know other parents from things like their child's playgroups or daycare.
Get some business cards made
If you can afford it, consider getting some business cards created. Then, you can hand these out to parents. Although you do have to pay for business cards, it's a relatively small cost that can result in extra babysitting jobs.
Plus, people are much more likely to recommend your services if they have a business card with your phone number and contact information handy.
You could also ask families who you've babysat for to post your business card on community boards at any schools, daycares, or other organizations they're part of.
Post an ad online
You can find lots of clients by advertising online. You could advertise on classified ad websites like Craigslist. Outline your services and your rates. Now, it's really important to practice proper safety. Have your parents help you to create your listing and respond to any queries. Also, if you are going to meet up with someone you met online, make sure you go with your parent or guardian, and meet in a public place. Never meet someone from the internet on your own.
You can get to know the person and make sure everything seems okay before you agree to a babysitting job. Most families want some kind of interview or a meeting before they are willing to leave you alone with their children. So, any stranger that just asks you to go straight to their home for a babysitting job is suspicious and must be avoided.
Find work through Facebook
On Facebook, you can find parents in your area who may want babysitting services. Always be safe when looking for work online though. Ask your parents to help you out. Your parents could help you to message people they know through Facebook.
You could write out a quick message offering your service, and then send it to parents on Facebook.
Also, ask any parents that you babysit for if they are part of any local parenting groups. If they are, you could post about your babysitting services there, or get the parents you've babysat for to mention you to their Facebook group.
Again, though, safety is key. Make sure you and your parents properly vet potential clients you find online.
Be sure you check the rules before posting on any Facebook group to make sure you're allowed to advertise. Otherwise, your message may be deleted, or you may get kicked out of the group.
Create babysitting flyers
Another good way to advertise your babysitting service is with flyers. You could post these on bulletin boards at local daycares, schools, community centers, libraries, and anywhere else that you think parents may see it.
The flyer should let the reader know what service you're offering, and what to expect. Use words like "reliable" and "trustworthy."
And, you should also include the area where you're offering the babysitting service and the ages that your babysitting services cover.
It's also a good idea to mention any special services that you might offer, such as weekend babysitting, any First Aid or CPR certifications that you may have, and after school care.
You'll also need to include contact information like a phone number and an email address.
Sure, creating flyers and distributing them can take a little extra work compared to advertising online, but the payoff can be worth it.
Again, be sure to be safe when meeting with potential babysitting clients. Let your parents know about the flyers and have them vet potential clients with you. Always be aware that most parents will want to interview you before hiring you and wouldn't just ask you to come over and babysit right away.
Post an ad in the local paper
Another way that you could find babysitting work near you is to post an ad in your local paper.
Not as many people read newspapers as they used to, but it can still be a good way to drum up business. Running an ad every now and then, such as right before the summer holidays, can be a good way to get some extra babysitting work.
Partner with a local daycare center
Another option is to contact daycare centers near you and ask if they would be willing to refer some of their clients to you.
This option works best if you either know the daycare provider or if you have babysat some of the kids who go to that daycare and know their parents.
It's a good idea to meet them in person and ask if they would be willing to advertise for you.
Since most daycare centers don't provide care in the evenings or on the weekends, they likely won't see your babysitting business as a competitor. Instead, they might see it as a nice recommendation they can offer to parents, and it's likely that many parents ask daycare workers if they have any babysitters they can recommend.
Babysitting Job Sites for Teens
There aren't that many babysitting websites out there that offer jobs to 13-year-olds. Most, with the exception of Bambino Sitters, only offer babysitting jobs for 18-year-olds and those who're older.
That being said, websites change their policies, so in the future, these sites may indeed allow those who're under 18 years old to sign up.
So, do check on the sites below to see if they allow you to sign up in the future.
If not, you can try these sites when you're older.
Sittercity is a website where you can find jobs that fit your schedule. You can find fulltime, part-time, and after school babysitting jobs on the site.
You can create a free profile on Sittercity, and then search and apply for the jobs that best fit your skills.
UrbanSitter is another place to look for babysitting jobs. What's great about UrbanSitter is that it allows you to be flexible with your working hours. This is great for fitting in jobs around school.
There are lots of jobs available like:
Date night babysitting jobs
After-school babysitting jobs
Part-time & fulltime babysitting jobs
Vacation babysitting work
Backup babysitting work
There are lots of jobs available on there, and UrbanSitter claims that its top sitters earn $1,000 a week! You keep 100% of your earnings too.
You can work as often as you want. Set your own schedule and rates for your babysitting work.
You can create a profile and start browsing jobs. Also, for your safety, every parent must verify their identity before they book a babysitting job on UrbanSitter.
On Sitter.com, you can find 1,000s of babysitting jobs. Parents post job requests to the site, outlining what types of babysitting services they require. You can apply for the jobs that suit you.
The website has a bunch of handy filters you can use to narrow down the results too. For example, you can filter the results by the age group you're looking to babysit, job location, and your availability, so whether you are looking for part-time or fulltime work.
Babysits is another website where you can browse babysitting jobs. You can filter the results by things like type of babysitter needed. Also, the website is free for babysitters to use.
Other Babysitting Apps & Sites to Find Work
Here are a few more sites that work more or less the same way as other companies mentioned above.
Job Search Websites
Another way to find babysitting work is to try out job search websites.
This includes:
On these sites, you can find babysitting work from a variety of clients. Some may hire 13-year-olds, but many jobs will require you to be older, like 18-years-old. Still though, it's definitely worth a look to see what babysitting jobs are available.
Tips to Earn More from Babysitting Jobs (ages 11 and up!)
As I said above, one of the best ways to get work as a babysitter is by word of mouth. If you do a great job for one parent, they're likely to recommend you to other parents that they know. This is a great way to land more work.
Now, if you are just starting out with babysitting, you should follow these tips for success.
If you do, you'll help yourself to get more babysitting work in the future.
Here are my top tips for babysitting:
Get the information you need from the parents
Babysitting can be a fun job, but there's also a lot of responsibility. After all, you are responsible for caring for a child and for keeping that child safe.
Before the parents leave, you must ensure that you have the following information:
The parent's full names
The children's full names and ages
The address of the house (you can give this to your parents and it's good to have this in case you need to provide it to any emergency services)
Children's names and ages
Cell phone number for parents
Emergency services number (usually 911)
Directions to the house (in case you need to give directions to any emergency services)
Name and phone numbers for close neighbors
Special medical information for the children, such as asthma or food allergies
Where the parents will be (so the name, address, and phone number of the place)
Phone numbers at the house
Location of exits
Location of first aid supplies
Location of the fire extinguisher
Location of flashlights (in case of power cuts)
Nationwide poison control hotline number: 1-800-222-1222
Time the parents are expected home
Children's bedtimes and bedtime routine
A list of any food or drink to be given to the children
Medications for children if needed and when they are to be given
Feel free to copy and paste the list above and print it out so that you can provide the parents with it before you start your job. Or you can take a photo of it with your phone and send it to the parents.
Ask for a tour of the home before the parents leave
As I said earlier, it's important to get the parents to write down important information like phone numbers. But, you should also ask for a tour of the home when you arrive. That way you can have the parent show you important things like:
Exactly where the child's room is located
Where the child's toys are kept
Where any medications are stored
Locations of phones and how to use them
Where first aid supplies are
Where exists are
Any specific hazards that might attract kids
How many locks there are on the doors and how to lock and unlock them (this is really important).
Make sure that you understand all instructions before the parents leave.
Be aware of any allergies
Allergies can be pretty common, and it's important that you are aware of them.
Common food allergies in children include:
Milk
Eggs
Soy
Peanuts
Wheat
Shellfish
Fish
Nuts
On the list above, I mentioned how you should get information from the parents on any allergies their children may have. But, that's not all. You should also take the time to check any food labels before feeding a child anything. You'd be surprised how often you'll find allergens, like peanuts, in foods where you wouldn't expect to find them.
So, take the time to check food labels carefully for allergens. If the child has a severe food allergy, ask the parents to set aside food specifically for that child to eat.
Make sure the house is secure and don't let other people in
Ensure that the house is secure. Here are some tips:
Make sure the outside lights are turned on in the evening
Lock the doors and windows as soon as the parents leave
Keep the doors locked if you go outside.
Do not let anyone in the house unless you know them, and the parents have said it is okay.
If someone you don't know comes to the door and you are suspicious, don't let the person in.
Never identify yourself as the sitter on the phone. Instead, just say the parent can't come to the phone and offer to take a message.
Keep any phone calls you have to make brief. It's important not to tie up the phone in case the parents are trying to call.
Don't have any friends over while you're babysitting.
If someone claiming to be a police officer or a firefighter knocks on the door, make sure you ask for their badge number before you let them in. Once you have the number, call the police or fire department and ask for verification as to whether it's a real officer or firefighter at the door.
Also, make sure you're cautious of anyone who claims to be a friend or family member. If you don't feel comfortable letting someone in, then don't. Call the parents to verify they know this person before you answer the door. Again, tell the person that the parents are out and that you can pass on a message for them.
Keep kids away from hazards
Not only should you keep yourself safe when babysitting, but also the children of course. That's why you will need to keep kids away from any hazards.
Here are some tips for doing so:
Keep kids from playing on the stairs and make sure that the stairs are clear of obstacles, like shoes and toys. Also, if there's a gate across a stairway, make sure it stays closed.
Never leave a small child alone in the bathtub – not even for a second.
Always keep an eye on a child when they're in a walker, swing, or stroller.
Don't let children play around glass windows or doors. Children can sometimes run into glass windows or doors because they don't see them.
To prevent falls from a changing table be prepared before you change the baby. Have everything you need before you start, like wipes, diapers, and clothes, within your reach. Never turn your back on the baby.
After the children are put to bed, check on them every 15 minutes to make sure they aren't crying, they're covered up, and are not in danger of falling out of bed or suffocating.
Children can choke on any small items they put in their mouths. So be sure to keep objects like small pieces of food, coins, pins, toy parts, small toys, and any other small objects that could cause choking away from children.
Know where any medicines household cleaners and bleaches are, and keep them out of reach of children. Sadly, children can eat things like laundry pods and medicines, mistaking them for food.
A few general safety tips you can follow to keep kids away from hazards and ensure their safety are to:
Never have the TV or radio on so loud that you can't hear the child crying.
Ensure the children are supervised at all times.
Take a babysitting course, and first aid or CPR training. In some areas, it's mandatory for childcare providers. Having training can make you significantly more prepared to handle any problems that arise. Plus, these courses only take a few days to complete, and often you can charge a little more since you are more qualified.
Prevent fires and know what to do in the event of one
Like I said earlier, it's a good idea to get a tour of the house so that you know where the exits are in case of a fire. If there is a fire, get the children out immediately. If possible, close the door to the area where the fire is, stay close to the floor, and do not open a door if it's hot.
Once you and the children are out of the house, go to an approved neighbor's house (this is why it's important to get the contact information of the neighbors before the parents leave) call 911 and do not go back into the home for any reason.
After you've called 911, make sure you call the parents to tell them where you and the children are. Once the fire department arrives, then you can go back outside to direct the firefighters to the fire, if you need to.
Avoid fires by not letting children play with matches or candles. Keep them away from any hot appliances, such as the stove. Again, children should be supervised at all times.
Conclusion
There are quite a lot of places where you can find babysitting work as a teenager. Sadly, a lot of jobs are only available to those who're 18 years old. But, Bambino Sitters does allow 13-year-olds to sign up which is great.
And as I said above, advertising your babysitting service is another good way for you to get babysitting jobs whether you are 13 years old or older.