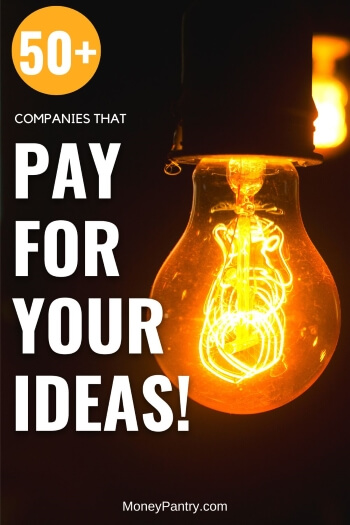 Looking to get paid for your ideas?
Whether it's the latest kitchen tool that makes cooking a whole lot easier or an app idea, there are so many companies that pay for ideas and inventions.
In today's post, I'll cover places where you can submit ideas and also give you tips for making money from ideas and inventions.
A Quick Note Before We Get Started…
Before we get started, I want to cover something important.
A lot of companies have pages where you can submit ideas online or a contact number you can use to get in touch regarding concepts you may have.
That being said, some companies are vague as to whether they actually pay you or not and what they actually pay.
Need Easy Extra $300+/Month for Free?
KashKick
: Get paid directly into your PayPal for watching videos, surfing, shopping and more.
Join KashKick Now!
Panel Payday
: Earn up to $75 per survey. They also pay up to $50/hr for mystery shopping.
Join Now!
InboxDollars
: Paid over $57 Million to members to watch videos, take surveys, shop and more.
Get $5 instantly!
Branded Surveys
: Get $1 instantly just for joining for free. Plus get paid within 48 hours by PayPal!
Join Branded Surveys
iPsos iSay:
: If you have to only sign up for one paid survey site, go with Ipsos (high paying survyes)!
Join iPsos Now!
Swagbucks
: Get paid to watch videos, shop online, take surveys and more.
Join now & get $5 instantly!
A lot of sites will say "oh this company pays you for ideas." Yet when you visit that company's site, there's absolutely no mention of payment.
That then leaves you wondering, well does this company actually pay?
And that's not ideal. Unless I contact all of these companies with ideas or read specifically on the site that payment is offered, I can't 100% say that a company pays you and I like to be thorough with my research!
That's why I've decided to separate the list for you.
I've done one section for companies that DEFINITELY pay you if they accept your idea.
These companies actually state that they'll pay you on their website.
Then I've done a separate section for companies who do take idea submissions but don't mention payment on their site.
That's not to say they don't pay but they're just vague about whether they compensate you for ideas or not.
Now that's out of the way, let's get started on the list.
Companies that Pay You for Ideas & Inventions
Okay, so let's start out with some companies that pay you for ideas.
These businesses are upfront on their site saying they pay you!
Companies in multiple industries from homeware to automotive are actively looking for new ideas that can help them to come up with some great products for their customers.
This means that you can make money from your ideas and inventions!
Great, right?
Here are 7 companies that buy ideas…
1. Quirky
Quirky is a website that pairs inventors with product designers and big manufacturing companies. The website offers lots of information so I would highly recommend having a browse.
Every month, Quirky picks new ideas to turn into real products. If your product is chosen, then Quirky will make it, sell it, and pay you each time someone buys your invention.
2. New Soda
New Soda is a company that makes kitchen gadgets.
The best part is that the company pays you royalties for inventions. That's great, right?
It's looking for ideas from "designers, inventors, Mums, Grandads, even kids."
If the company thinks your idea is one that it could sell, it will invest in getting your product made. Then if people like it, you can earn royalties when your product sells.
You can submit your idea using the site's idea submission form. Along with your idea, you can send any drawings or concepts that you have. You'll also need to send your contact details.
The company's design team will then review your ideas and will get in touch if your idea is further explored and if your idea is not successful, the company will also let you know.
Next, the company will get a prototype and design for your product and test the design before putting it into production. Then it will agree on the final packaging and color options.
Then it will take your product to exhibitions and trade shows and show international buyers, and it will contact its network of sales agents who can sell your idea to stores across the world.
Once your item starts selling, you'll earn a commission on every unit that is sold.
3. Invention City
Invention City offers licensing deals to inventors. The website has a free submission form that you can use to submit your ideas. You can also pay for someone to review your idea, costing $95.
The company will contact you if it is interested in your idea. If you don't hear from Invention City within 5 business days, then it means the company isn't interested in your idea.
According to the site, if you have a basic understanding of the invention process, then the submission process can be completed in about 20 minutes. But will take longer if the invention process is new to you.
The company may offer you a licensing deal. The company's licensing deals are structured to pay royalties on sales made by Invention City itself and the typical royalty range is 1% to 5%. And it's structured to pay revenue sharing on sub-licensing – the typical range is between 20% and 60% to the inventor.
Invention City says it offers deals on approximately 1% of the inventions submitted and that it has around a 10% success rate in getting inventions licensed and sold.
4. Henkel
Henkel produces lots of well-known products like Schwarzkopf hair dye and Persil detergent. The company works in three industries, which are:
Adhesive Technologies
Beauty Care
Laundry
The German company is looking for product ideas with its Henkel Innovation Partnership Program. It's looking for new technologies, product ideas, patents, and other intellectual property that helps the company to make its products and business models better.
What's great about Henkel is that it not only focuses on professional external innovators but also on students and customers, like you!
You could work with the company if you're a patent holder with a:
Granted patent
A published patented application
Or a registered and published utility model or design
It's looking for patented ideas for products, processes, and designs that relate to its three business areas. So if you've invented something that fits the criteria, then let the company know about it.
Henkel is also looking to work with inventors with innovative ideas. So if you have a technical solution to its formulation, packaging, or process challenges, the company may work with you. It's looking for partners who have a solution to its challenges.
According to Henkel, it will "reward you with a fair share of what the innovation is worth."
5. Cal-Van Tools
Want to turn your idea into cash? Well then submit it to Cal-Van Tools. Submit your product idea through the company's royalty program and you'll get paid. If you have tool ideas, then this could be the company for you.
You can submit your idea using the form on the website, which is really handy.
6. FastCap
FastCap gets the majority of its ideas from cabinetmakers and contractors. You can submit an idea to the company. FastCap says that it's found that around 1 in 100 are good enough to take to market and fit a need in the marketplace and that 1 out of every 1,000 is a "home run."
The company pays between 2% and 5% royalties on innovative, new ideas for the woodworking trade.
According to the company, while the majority of the royalties are 5%, some products require intensive development and sell for smaller margins and dictate a smaller royalty.
The 2% to 5% royalty is based on the actual sale price that FastCap sells the product to a distributor for.
The distributor then puts their markup on a product and sells it to a professional woodworker or tradesperson. The royalty is based on what FastCap sells the product for, not what the distributor sells the product for.
Royalties are paid monthly, which is great. And you don't need to have a patent to submit your idea.
You can find way more information about the process on the website.
7. Idea Buyer
Idea Buyer is a company that helps to launch new product ideas. Its partner products sell in stores like:
Cabela's
Walmart
Buy Buy Baby
Macy's
Bass Pro
Lowes
Home Depot
Ace Hardware
Dick's Sporting Goods
Amazon
You can submit your idea for a chance at one of the company's exclusive partnerships.
If selected, Idea Buyer will make you an offer to do a joint venture to launch your idea to the market.
Simply submit your product idea to apply for the program and you will be contacted within 24 to 48 hours.
Companies that Take Idea Submissions
Okay, so in this section, I'm going to cover more sites that take idea submissions. I've put them in this section because, as I said above, they're pretty vague about payments and don't say explicitly mention whether they compensate you for ideas.
Still though, I've included them because although payment is not specifically mentioned on the site, it doesn't mean you won't be compensated.
My advice for these sites would be to read the fine print first before you submit anything.
And make sure you protect your business ideas. I have more tips on that below though, so do make sure you check out the tips and FAQs section below.
8. Under Armour
Under Armour is a super popular clothing brand. The company is looking for ideas from people like you and it actually has a super detailed guide to submitting your ideas and what it's looking for.
If you have an idea, just register, and share it with the company. It reviews every submission in the order in which they are received in approximately 4 to 6 weeks.
Handily enough, Under Armour actually has a list of categories of ideas that interest it. Here are some examples:
Apparel – General
Apparel – Women's Specific
Apparel – Youth Specific Accessories
Footwear – General
Hunting/Fishing
Wearable Technology
Visit the website linked below to learn more about the process of submitting your concepts.
9. Dorman Products
Dorman Products is a company that makes products in the automotive industry.
It's actually taking ideas from people like you.
You can submit a product idea for a new or existing Dorman Product category.
It's really simple. Just fill out the form on the website and the company may be interested in your idea.
The company doesn't mention how much it pays on the site.
10. BD
BD is a medical device company. You can submit your ideas to the company.
You'll have to send your idea by mail, as it says it cannot accept email submissions at this time.
You can print out the Consideration of Suggestions document and mail it if you'd like to submit your idea to BD. If you can't print the document, you can request a copy.
The company will contact you directly if it decides to pursue a more detailed evaluation.
Sadly, if BD declines your idea, you won't get the results of the evaluation.
The process generally takes around 4 to 6 weeks.
11. Jokari
Jokari produces tons of different products, from kitchen gadgets to storage and organization solutions.
Since it does offer such a wide range of products, it's no surprise that Jokari is looking for ideas and inventions from people.
Currently, the company is actively searching for the next big idea in houseware.
There are a few ways to contact the company about your idea:
Phone
Contact form on the website
Email
Get in touch and the company will explain the process to you.
12. Wilson Sporting Goods
Wilson Sporting Goods is a sports equipment company.
You can submit your idea to the company online. That's pretty convenient, right?
Just complete the form to submit your idea for consideration. Submissions are reviewed periodically. The company will be in touch once it completes its review of your submission.
13. Escalade
Escalade makes products in the sporting goods and outdoor recreation markets.
It's looking for new ideas from users of these products. You can share your ideas with the company by email or phone. That's handy. Just visit the page linked below for more details on how to submit your concepts.
14. Eco-Products
Eco-Products is a brand that mostly makes food and drinks related items, like plates, cups, utensils, and food containers. As its name suggests, Eco-Products aims to be eco-friendly with its products. It says it's challenging people to rethink single use products.
You can submit your idea to the company using the form on the website linked below.
15. Play with a Purpose
Play with a Purpose offers active play toys that help kids to be active in the playroom, classroom, and outdoors. Its products help kids to discover how to improve their fine motor skills, balance, climbing, jumping, and tossing and catching mechanics.
The company may be interested in partnering with you if you have a working prototype, a drawing, or an original idea. You'll need to contact Product Development to learn more about the company's product development process. You'll be glad to know that all information is confidential.
You can get in touch by phone or by using the contact form on the company's website.
You can learn more on the company's website.
16. Unilever
Most of us have at least one product made by Unilever in our homes since the company operates numerous popular brands like Dove, Ben & Jerry's, and Vaseline.
The company mostly makes products in the food, hygiene, and personal care categories.
If you have a new design or technology that could help Unilever to grow its business and solve the challenges it set, then you could work with the company through Open Innovation.
Through Open Innovation, Unilever is looking to partner with:
Established suppliers
Start-ups
Academics
Designers
Individual inventors
And anyone with a practical innovation that can help the company to meet its challenges.
You can submit your idea to the company and learn more about the process on the company's website.
17. Mustang Survival
Mustang Survival makes water rescue equipment. The company is looking for new ideas. But the company prefers to work with people who have patented or patent-protected inventions.
It does review unpatented inventions, but you will need to submit a signed New Product Disclosure Form, and also a detailed written description of your invention that may include photographs or drawings.
18. The Coca-Cola Company
Did you know that the Coca-Cola Company takes idea submissions?
It does!
It doesn't provide too many details. But there's a contact form you can use to get in touch to submit your idea and you can then learn more about the process.
19. Hershey's
Another big brand that accepts idea submissions is Hershey's. The company has an idea submission form on its website. It's pretty vague with the details.
The first step is to enter your birthday and once you've done that, you'll have to agree to the terms and conditions.
I did notice that this was one of the T&Cs, "I understand and agree that The Hershey Company is not required to, and may not, compensate me for using my idea."
Do keep that in mind! This is why Hershey's is appearing a little further down on the list, as there is the risk you won't get paid for your idea.
20. 3M
3M is appearing last on our list because although lots of other sites report that it pays for ideas, I found otherwise when I read its submission policy.
Since 3M sells a huge range of products it makes sense that the company would be looking for ideas.
It offers products in a huge range of categories, such as electronics, automotive, and health care.
However, although 3M does take unsolicited ideas, it says "Your submission automatically becomes the property of 3M; there is no compensation of any kind owed to you."
So this isn't necessarily the best way to make money from your ideas.
21. Sharper Image
Sharper Image is one of the oldest companies behind some of the most popular toys, gadgets and other tech products. And since they release so many new products, they are always looking for new ideas.
You could get paid for new toy ideas, gadgets as well as ideas for new tech items.
They have a dedicated team of technicians in charge of receiving and reviewing new product ideas summited by potential inventors. To pitch your idea, you would have to send them an email. Be sure to include a detailed description of your idea, a video or clear pictures or your new invention.
Pitch your idea to this email address: productideas@sharperimageonline.com
Companies that Buy Ideas for Apps
Have a great idea for an app?
Well, you can make money from that too!
These companies pay for mobile app ideas:
That's not all though. Another way to get paid for app ideas is to contact companies that make apps.
And if you ever wanted to sell ideas to Google, Apple and other tech companies that may not have a dedicated department for buying new ideas, this is your best option.
Here are some companies that you could contact about your app ideas:
Sell Your Website or App Ideas Directly
Another way to make money from your app ideas is by selling them directly to interested entrepreneurs and investors.
One of the easiest and best ways to sell app ideas is through online marketplaces.
Whether it's a new app idea or a domain name that you think is going to be important and worthy soon, online marketplaces (listed below) make it easy to find interested buyers.
Here are a few market places for selling domain, website and app ideas:
More Companies that Buy Inventions
Here are a few more companies that also pay for new ideas and inventions.
As you can see, many of the most famous brands in the world accept new product ideas. But if you have an idea for a company that's not on this list, it doesn't mean they don't accept it if you contact them. Just send them an email and ask.
How to Make Money Selling Your Ideas: Tips
Here are some tips and also some advice on selling your ideas.
Read the fine print
Each company has its own terms and conditions for idea submissions. That's why taking the time to read the fine print is so important.
Some companies won't pay for unsolicited ideas for example.
And others won't keep your ideas confidential. So a company may not agree to sign a non-disclosure agreement, for example.
Others will blatantly say they will not compensate you.
Take the time to read the fine print so that you know what to expect from the process.
Get a patent if the idea is a good one
What's a good idea though, right?
Well, that's hard to say. If you feel strongly about an invention or concept that you have, it may be worth patenting it. Getting a patent can increase your chances of making money, provided a company is actually interested in your idea of course.
And if you ever watched the popular ABC show, "Shark Tank" you know it's one of the first questions most sharks including Mr. Wonderful (Kevin O'Leary) ask entrepreneurs.
For inventions, getting a patent can be a crucial step.
Patents protect the rights of inventors. It's basically a 20-year exclusive property right for an invention.
When you have a patent, it allows you to exclude others from making, using or selling your invention.
There's an article you can read here that outlines the different forms of intellectual property rights protections recognized by U.S. law, such as:
Copyrights
Trademarks
Patents
Licenses
Only submit ideas to relevant companies
An automotive company isn't going to want ideas for kitchen gadgets. So don't just mail out your idea to every company on our list. Instead, think about what category your product idea best fits into, research companies, and then see which ones your idea best suits.
Doing this saves you from wasting time contacting companies who just won't be interested in your concepts.
FAQs on Selling Ideas
Selling ideas is a complex topic with a lot to consider, from whether or not to get a patent to how you get paid.
That's why in this section, I've included some common questions and answers that'll hopefully help you to understand the process a little better.
Can you really make money from ideas?
I'll level with you here, getting paid for ideas and inventions isn't the easiest way to make money.
This is because, as you saw from some of the places on the list above, some companies won't compensate you for ideas.
Sometimes, you will need a patent on your idea.
And patents don't come cheap – more on that below.
If you really believe in your idea though, it may be worth patenting it.
That being said, you can make money selling ideas!
As you saw above, there are lots of companies that buy ideas. And many that will pay you royalties on your inventions.
Can you sell an idea without a patent?
You can sell an idea to a company without a patent. But the company does need to enter into some sort of contract, like a non-disclosure agreement (NDA) because it could steal your idea otherwise.
How much can I get paid for an idea?
It really varies. There are so many factors at play, like what company you are selling your idea to and how valuable the company feels your idea is.
For example, you could make less than $100 from your concept, or tens of $1000s.
Some people even make millions from their ideas. You may not make millions, but this can definitely be a way to make some serious cash.
How can I get money for my ideas?
There are a few different ways you can get paid by companies that buy ideas:
Get a set amount for your concept
Get a percentage of any profits made
Get a set amount for each item or unit that's sold. For example, you may get $.20 per item or $20 per thousand items sold.
How much do inventors make on royalties?
How much you'll make on royalties depends on:
The company that you're working with
How many units are sold
What percentage you get
Here's an example from Quirky to illustrate how much you could make:
Let's say your product idea gets made by Quirky, and you get a 1.5% royalty on the wholesale price of your invention.
The wholesale price is set at $20 per unit. So for every single unit that is sold, you'll make 1.5% of $20, which is $0.30.
If retailer purchases 100,000 units of your invention, you'll earn $30,000. And, you'll get payment 4 times per year for the sales of the previous quarter.
Royalties are generally the most lucrative way to sell your idea. You could generate hundreds of $1000s per year with royalties for inventions.
How do you pitch an idea to a company without it being stolen?
If you want to ensure your idea is not stolen, you will need to patent it. You can try to get an NDA, as I mentioned above. However, getting it patented is the best way to ensure a company doesn't steal your idea.
Where can I submit invention ideas for royalties?
The payment model offered varies from place to place with some offering a one-off payment and others offering royalties.
Lots of the companies on the list above pay royalties, such as:
Invention City
Quirky
New Soda
Cal-Van City
FastCap
Make sure you read the terms that apply before you submit your idea to ensure you know what payment model to expect.
Or when the company tells you they're interested in moving forward with your idea, you can discuss whether royalties are available as a payment option.
How much does it cost to patent an idea?
Getting a patent on a "simple" invention can cost anywhere from $5,000 to $7,000. In some cases, you'll pay more than that. It's really best to do some research before you decide whether or not to get a patent.
What is a poor man's patent?
Are you wondering, "how can I patent my idea for free?"
If so, you may have heard about a poor man's patent.
Basically, you describe your invention in writing and mail that documentation to yourself in a sealed envelope via certified mail, or some other type of proof-of-delivery mail. The idea is that the sealed envelope and its contents could be used against others to establish the date that the invention was in your possession.
Now, a poor man's patent is not really a great replacement for a real patent.
Read this article for more details on a poor man's patent.
How can I invent something with no money?
If you have no money, you can still make your invention a reality. Just work with one of the companies that we mentioned above. Many of them will cover the cost of prototypes and things like that. All you need to get started is a good idea, a great description of it, and maybe some drawings of what the completed product will look like.
Closing Thoughts
If you want to get paid for ideas, then you're going to have to put in some hard work. Most things worth having though require hard work, don't they?
So if this is something you're really interested in, consider contacting one of the companies that buy ideas in our list above.
Remember to always read the fine print and keep your ideas safe when submitting them to companies.
Do you have any experience selling ideas to companies? If so, let us know about it in the comments section below.