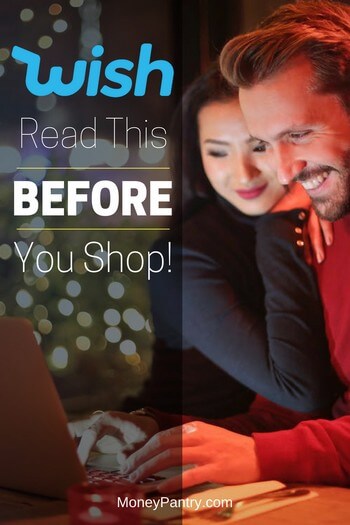 Feel like a shopping spree but don't want to empty your wallet?
Check out Wish.com or the Wish app.
It's so easy to get lost in a rabbit hole of discounts.
It's also hard to know whether the deals are too good to be true.
Here's a little guide to help you through…
What is Wish?
Wish is a shopping website and app that highlights "millions of quality products at deep discounts."
Need Easy Extra $300+/Month for Free?
KashKick
: Get paid directly into your PayPal for watching videos, surfing, shopping and more.
Join KashKick Now!
InboxDollars
: Paid over $57 Million to members to watch videos, take surveys, shop and more.
Get $5 instantly!
Branded Surveys
: Get $1 instantly just for joining for free. Plus get paid within 48 hours by PayPal!
Join Branded Surveys
First Opinion
: Get paid up to $10 per survey and $300 per virtual focus groups!
Join Now!
Swagbucks
: Get paid to watch videos, shop online, take surveys and more.
Join now & get $10 instantly!
The app is available from the Google Play Store and the Apple iOS store.
Is Wish Legit?
Wish is a Better Business Bureau accredited company, based out of San Francisco, California. It was started in 2010 and really took off in 2015.
While it has an A+ rating from the BBB, it also has an 87% negative customer review rating.
Of 393 customer reviews, 33 are positive, 18 neutral and 342 negative. A total 1,178 customer complaints have been closed in the past three years – 538 in the last 12 months alone.
Take that for what it's worth and proceed cautiously.
How to Get Started with Wish.com
You can sign up for an account on the website or via the app, once you've downloaded it to your phone or tablet.
There's an option to sign up through Facebook or Google, which makes it extra easy to get started.
If you've signed up previously and already have an account, you can also login with those credentials.
Where to get it:
Navigating the Site
The app and website are both fairly easy to use.
The design and functionality of the site and app are seamless, image-based and very engaging – almost addicting.
Here's what to expect:
Your profile
Your Wish profile features your followers, as well as those friends you're following.
I don't personally remember following anyone, but the people on my lists are also Facebook friends, so I probably connected them at some point.
You can also see your Wishlist items – items you haven't purchased but have favorited – as well as any rewards connected to your account, your order history, deals and promotions, and settings for system reminders, social and SMS connections, account settings and payment.
Quick links
In the home screen or on your app, you can search for items or browse them by categories, which include:
Gadgets
Accessories
Hobbies
Home Decor
Sterling Silver Jewelry
Makeup & Beauty
Phone Upgrades
Baby & Kids
Fashion
Bottoms
Watches
Shoes
Wallets & Bags
Tops
Underwear
Wish Outlet
The Wish Outlet claims to offer selected brands at up to 97% off.
Again, you can browse the items in this section by category, or see listings for recently viewed brands, including:
Apple
Puma
Hanes
Vizio
Yves Saint Laurent
Calvin Klein
Canon
Of course, that's not all.
I don't know that I trust the brands on this site. At the level of discounts being offered, it seems possible that the items are either no longer on the regular market, or may be knock-offs.
One of the items that caught my eye in particular while researching this piece was a Canon Rebel T6 EOS DSLR camera kit for $570. The slashed out price next to it lists $900, to give the appearance that the package was marked down significantly, which may or may not be the case.
Just to cover all my bases, I compared the item to an almost identical item at Walmart.com listed for $549.99. Not only is the WalMart item cheaper in this case, but the seller is a more well-known brand. At this point, if making that purchase, I would prefer to do it at WalMart.
That might not be the case for every item that comes along.
Express shipping section
Normally, items ordered from the site take several weeks to arrive (up to 22 days or so), but a section of the app marked with an orange truck promises shipping in about a week on selected items.
If you need to find something and you want to make sure it arrives by a specific time, browse this area.
Now that you're acquainted with the site/app, it's time to start shopping.
The Shopping Experience
Once you find an item or items you're interested in, click for more info.
Each item page has a standard setup:
Item name (really more of a description of the item than a name in most cases)
Photos of the item
Original price and Wish price
Size/color options (if applicable)
Buy and Save buttons
Product overview
Related products list
Item description
Customer ratings
Store ratings
Shipping details
If you want to save the item for later, click "Save" to add to your favorites, which you can find later in your account profile.
To add to your cart, click "buy."
Once an item is added to your cart, you'll see a quick note about how much you're saving, and then you can keep adding items or checkout as you please.
On the checkout page, you'll be given the option to select text message updates if you want them. If not, don't check that option.
Click "checkout" once you're done, and follow the prompts to complete your transaction.
Buy with other shoppers
On some items, you'll notice the option to "buy with other shoppers."
These are usually limited time deals, indicated by a ticking timer next to item listing.
The option is supposed to make the purchase cheaper for both parties.
Blitz Buy
Blitz Buy is an in-app or in-site game that allows you to spin a wheel daily for special deals and discounts.
These are also only available during a certain period of time, so watch the timer to make sure you can take advantage of the offer.
Items Guide
There are tons of items for sale on the site – almost anything you can imagine, from clothing to computers to male enhancement devices.
Some have little symbols next to them.
Here's what you need to know about those:
Free! Pay only shipping
I don't know about you, but I am a sucker for anything free.
One of the biggest traps on the site for me are the items marked "Free."
And they really are free – except for the shipping.
There are a number of items available, ranging from jewelry to crafting items to electronics.
If you see an item you like, make sure to add it to your cart or save it. You may run across the item again later, only from another vendor at another price. You'll want to make sure you can take advantage of the lowest deal when you're ready to check out.
Ads
Some items are being shown in your feed because they're being advertised to you.
These are marked as such across from the name of the item, just below the picture.
Wish verified
Wish, like Amazon and eBay, is a conglomerate of third-party sellers.
If an item is verified, it is marked with a blue check.
This just adds a level of safety to the customer's purchasing experience. I know it makes me feel a bit better.
Shipping
Shipping, unfortunately, is a huge downside to the site.
Where Amazon will deliver items to Prime members in two days, you might be stuck waiting months before you get an order.
Many times, I order a handful of items and have totally forgotten I purchased them by the time they arrive at my house.
As long as you go into the purchase knowing this, it can actually be kind of fun trying to guess what item has arrived in your mail when you finally get it.
Yesterday, for example, I bought a ring with an estimated month long shipping estimate. Chances are, it will arrive sooner than that, but you just can't guarantee anything.
I don't recommend using Wish to purchase birthday presents or anything timely unless you buy way ahead.
If you sign up for notifications, the site will let you know when an item has been shipped. You can even track it in your app or on the website, under order history.
However, tracking isn't that solid. In fact, sometimes my app asks me for updates instead of the other way around. (i.e. Have you received that item yet?) If your app starts asking, make sure you provide feedback. That way, you're more likely to receive help if an item never arrives.
Wish Coupons
Believe it or not, there are coupon codes online that can help you save even more on sites like Wish.
Check them out on Retailmenot.
Here are a few you can try today, especially if you are a new customer:
50% off for new customers: lrvkcyb
Up to 50% off: lclxcfl
50% off first purchase: lgkbvdx
50% off first order: kbwnvqp
50% off first purchase: mncqgsq
Returns
The company claims to take returns within 30 days of delivery.
After requesting one, expect to hear back within 72 hours or so. Unfortunately, it's the buyer's responsibility to pay for shipping and any return fees if necessary.
It sounds easy enough, but there are more bad than good reviews noting poor customer service out there.
Just don't expect this process to run smoothly if you find yourself in that situation.
Best & Worst Items to Buy on Wish
Overall, the quality of the items on Wish are hit and miss.
That said, there are some items that are probably fine to buy, and others you might consider paying full price for elsewhere.
The thing is, how do you choose?
A lot of that is up to you. My advice:
Buy
Because really, what could it hurt?
Items marked free! Especially if shipping is only like $2. As long as you're OK being out that money if the item never arrives or doesn't work, what's the worst that could happen?
Novelty items. These are the most fun to buy on the site. I almost expect them to be junk anyway, so expectations, while low, are almost always surpassed! My daughter has a pretty sweet plush poop pillow that I purchased on a whim for $1 plus shipping. It provided enough laughs and fun in the first hour to make the purchase totally worth it.
Notebooks. I also recently purchased a bullet journal for free, so it ended up costing me $2 for shipping. A bujo on Amazon would have cost me at least $10. The quality isn't the best – it's a little flimsy – but it's a working notebook and looks a lot like the photo on the site.
Costume jewelry. Costume jewelry is my biggest addiction on this site. With so many cute rings listed for free, who can resist? I've also purchased several necklaces as gifts for my daughter's grandparents, which have always gone over well with them.
Party Decorations. You can get pretty much any type of decoration or prop to help make your next party a success. Especially if you don't plan on using the decorations again, why pay a ton for this sort of thing?
Cell phone accessories. Electronic accessories like a lightning cable adapter or earphones can be hit or miss on Wish, but I've had a lot of luck with charging cables and cute phone cases. In fact, I just got one featuring my favorite Sanrio character, Gudetama. It's fairly high quality, super cute, and it cost me less than $2 total.
Avoid
Sure, you could hit the jackpot with these discounts on Wish – but if the stakes seem too high if the item doesn't work out, better purchase these elsewhere:
Clothes. I've heard a lot of complaints that the clothing on the site is all sized pretty small. Just beware if you're spending a lot of money or have sizing issues that you might not have the best luck on this app. Better to try on an outfit where you can return or replace it more easily.
Makeup. I've bought some metallic nail polish from the site that looked nice and went on smoothly but smelled like paint thinner. I've heard and seen more Wish makeup horror stories than I care to recall. The least of the issues with makeup is that it doesn't last or provide good coverage. I shudder to think about the chemicals in some of this stuff coming straight from China and what they can do to your body.
High-end electronics. I've also read horror stories about people who have claimed they bought a $70 inch TV only to receive a keychain remote control instead. In some cases, the seller changes the listing after a purchase. I've also seen electronic items that appear to be solid knockoffs and turn out to be mostly non-functional. I think, where it matters, you have to know that you're getting what you pay for.
Cookware. Probably most of the cookware sold on the site is fine for use, but I hesitate to play around with the quality of the items that cook my food every day. I saw one YouTube reviewer talk about a garlic press that appeared to have metal shards flaking off. (I'd rather leave those out of my spaghetti, thank you.)
Baby items. Similarly, why take a chance that an item isn't safe or high quality when it comes to your children?
My Experience with Wish.com
I actually love perusing Wish while I'm sitting on the couch watching TV or just passing the time. I find the whole experience to be very addicting.
More often than not, I'll fit my cart with free to $2 items and end up spending $15 total. Then, I'll go a long spell without purchasing anything.
To date, I've purchased:
Fake snow (mostly good, except I can't read the instructions because they're only in Chinese)
Multiple novelty rings
Blemish removal kit
Bullet journal
Decorative Washi Tape
Sharpie markers
Squishy toys
Makeup sponges
Nail polish
USB ports
Of these items, only the USB ports were a bust – one worked and the other didn't.
As I mentioned before, the shipping takes a long time. But we've made a game of it at my house. When a package with a Chinese label arrives at our doorstep we try to guess what's inside.
I love that once you start making purchases and interacting with the site or app, you'll start seeing more items like the ones you've viewed and bought.
I also enjoy that you can pay with Paypal credit. For me, this adds an extra layer of safety to the process.
Wish App Reviews by Shoppers
I looked online, especially on Reddit to read other reviews.
Common complaints from users of the Wish app and website have to do with the quality of the items purchased, with the shipping process, or with customer service.
Some people claim their items never arrived or took forever to arrive.
That only happened to me once, when an item I ordered got lost in the mail. The seller ended up replacing the item and sending me a new one, although I would not have been out much if it had never arrived.
Others say the customer service is horrendous, although the BBB rating says otherwise. To be clear, you're often dealing with a third party seller and not Wish itself, which can complicate customer service matters significantly.
Tips
Here are some tips for having fun – and not getting burned – on Wish.
Never spend more than you're willing to lose if an item doesn't arrive or doesn't work as promised.
Read customer reviews for each item and store you consider.
Pay more attention to the customer photos than the one included in the description for a better idea of what you'll be buying.
Compare prices to other vendors before making a significant purchase.
Avoid deals that appear too good to be true. (They probably are.)
Lower your expectations. (You might be pleasantly surprised.)
Maximize savings with Wish coupon codes.
Final Thoughts
From garlic presses to faux Apple AirPods, you can find almost anything on Wish.
While you might hit the jackpot with a discounted item, it's always more likely the item will not come completely as advertised or may not work at all.
The bottom line is – spend cautiously.
Know that if a deal seems too good to be true, it probably is.
I've never been brave enough to spend more than $3 plus shipping on a single item, but there are quite a few YouTubers who have braved deeper waters than myself. If you have a little time, check out some of those.