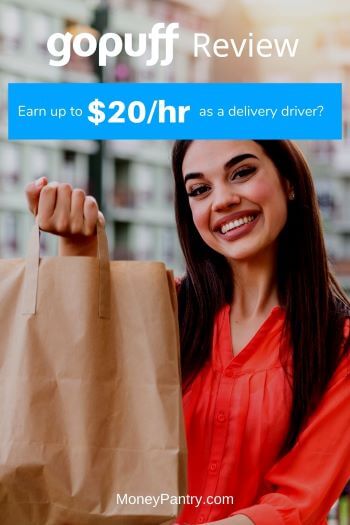 If you've searching for GoPuff reviews, you're probably considering a delivery gig to earn extra cash on the side.
One of the most popular ways to make money on the side nowadays is to deliver food through companies like Instacart, DoorDash, UberEats, Shipt, and GoPuff.
This is because of the flexibility they offer. Drivers are able to pick up shifts when it suits them and deliver food in their own car. Almost anyone can sign up and start making money.
GoPuff might not be as well known as UberEats or Instacart, but it's still an option that many people consider when looking for their next side hustle.
It's a consumer goods and food delivery company that operates within the United States and the UK. Currently, you can sign up to be a Driver Partner and make money delivering everyday essentials.
But, is GoPuff worth it? Or are other companies, like Instacart, a better option?
Need Easy Extra $300+/Month for Free?
KashKick
: Get paid directly into your PayPal for watching videos, surfing, shopping and more.
Join KashKick Now!
InboxDollars
: Paid over $57 Million to members to watch videos, take surveys, shop and more.
Get $5 instantly!
Branded Surveys
: Get $1 instantly just for joining for free. Plus get paid within 48 hours by PayPal!
Join Branded Surveys
First Opinion
: Get paid up to $10 per survey and $300 per virtual focus groups!
Join Now!
Swagbucks
: Get paid to watch videos, shop online, take surveys and more.
Join now & get $10 instantly!
In today's post, I'll cover everything there is to know about the company from how much it pays you to whether or not it's legit.
Let's get started on the review:
What is GoPuff?
GoPuff is a company founded in 2013, which delivers essentials, like food, baby items, pet products, and alcohol, to customer's homes.
Headquartered in Philadelphia, GoPuff now operates in more than 650 cities throughout the United States. And, it has about 500 micro-fulfilment centers as of October 2021.
Customers can use GoPuff to have stuff delivered to their homes in as little as 20 to 40 minutes.
How Does GoPuff Work for Delivery Drivers?
Now you know what GoPuff is, you're probably wanting to know how driving for the company works. Well, in this section, I'll cover everything you need to know about being a Driver Partner at GoPuff.
Step One: Sign up
The first step is to sign up to be a Driver Partner, which you can do here.
To drive for GoPuff, you need to meet the following requirements:
Be at least 21 years old.
Have a valid U.S. driver's license
Have a vehicle and insurance in your name
Have a smartphone with the most up-to-date operating system
Be willing & able to pass a pre-paid alcohol delivery training course (where applicable).
Step Two: Download the app and schedule delivery blocks
Once you're signed up, you will receive an initial welcome email that contains the address of the GoPuff micro-fulfillment center (MFC) for your delivery area.
At this point, you will also need to download the GoDrive app. This is the app you'll use for managing your deliveries. You can also find the address for the MFC you selected in the app under "Account" and "Facility Information."
You can schedule delivery blocks ahead of time or you can deliver on-demand.
Delivery blocks are released every Thursday at 12 pm local time. Even if you can't see any available delivery blocks, you'll receive push notifications when other partners drop their delivery blocks throughout the week, so make sure you keep an eye out. Otherwise, you still have the option to deliver on-demand for as little or as long as you'd like.
Although you don't have to select delivery blocks to receive orders using the GoDrive app, doing so makes you eligible for a minimum earnings guarantee. It allows you to earn a predictable rate per hour even if the demand is low.
Delivery blocks are available during what the company anticipates being its busiest times. This way, drivers can maximize earning opportunities, while having the protection of an earnings guarantee in case demand is unexpectedly low.
Step Three: Head to your local MFC
When you are ready to start taking deliveries, you will need to head toward your local MFC.
Once you arrive at the MFC, login to the GoDrive app, and then swipe right to "Start your Workday." It's important to note that GoDrive will only allow you to start your workday if you are physically at or nearby the MFC.
Now, you'll need to wait for an order to be assigned to you.
Step Four: Make deliveries
When an order is assigned to you, you'll need to take the delivery from the MFC and deliver it to the customer's home.
If the customer's order includes alcohol or any other age-restricted products, then use the goDrive app to scan their ID.
Step Five: Get paid
Once you have completed deliveries, you'll get paid. Payment is sent via direct deposit, which is really handy.
But, how much exactly can you expect to earn as a driver for GoPuff?
Well, that's what we're going to cover in the next section. I'll cover how much money can you expect to make and some of the features the company offers that allow you to earn a little more money.
How Much Does GoPuff Pay Drivers?
Drivers receive payment for a few things with Gopuff.
This includes commission for each order, weekly rewards, and more. I'll cover each one in more detail below.
Commission per delivery
First of all, you earn commission on your deliveries. This is basically a flat fee you'll receive for every order that you deliver.
While the fee is specific to each micro-fulfilment center, you can expect to earn a commission of between $2.25 and $5 per order.
In some markets, delivery drivers may be able to deliver multiple orders at once, meaning you could earn multiple commissions.
If you accept an order, but it's then cancelled for reasons outside of your control, then you still receive commission.
Weekly rewards
Okay, so commission isn't the only type of payment that GoPuff is offering its delivery drivers.
At most MFC, you also have the opportunity to earn a Weekly Reward by completing a certain number of deliveries.
Now, it's important to note that the tiers for your Weekly Reward will vary based not only on your MFC, but also the current market conditions.
When changes occur, they are displayed in the goDrive app, under the "Earnings" tab beginning Monday.
All drivers with the company are eligible to earn a Weekly Reward for one micro-fulfilment center in a given week. Weekly earning periods start and end at 5 a.m. local time on Monday.
All deliveries that you complete count towards your Weekly Reward. However, the reward you receive will be for whichever location you complete the most deliveries.
Here's how much you can earn with the Weekly Bonus Reward:
40 deliveries $70
60 deliveries: $90
85 deliveries: $110
110 deliveries: $130
So, you have to make at least 40 deliveries to earn a weekly bonus reward.
Boosts
Sometimes you can earn a Boost, so at busy times there will often be an extra dollar amount added per order.
Boosts are labeled in your earnings summary as "Special Events Commission."
For example, it could be "Earn an extra $2 per order tomorrow from 3 pm to 3 am, at your facility."
These boosts are usually announced by text message, as well as in-app, so make sure you keep an eye out for these offers.
Minimum earnings guarantees
Aside from the commission, weekly rewards, and boosts that GoPuff offers, you can earn even more with the company's minimum earnings guarantees.
All of the company's U.S. locations provide an earnings guarantee for delivery partners that opt to pre-arrange when they would like to deliver.
Remember I mentioned earlier how you could schedule delivery blocks ahead of time? Well, this is why that's such a good idea. Sure, you can choose to deliver on-demand, but if you do, then you miss out on that minimum earnings guarantee.
The earnings guarantee is a minimum rate that you're guaranteed to earn for every pre-arranged hour that you spend online at the MFC, or out delivering orders.
So, every Thursday at Noon, local time, GoPuff micro-fulfilment centers will publish a list of available delivery time blocks on the goDrive app for the following week.
You get the option to select a pre-arranged delivery time, although, as I said before, it's not a requirement of delivering with GoPuff.
This minimum earnings guarantee ensure that you earn a more predictable rate per hour, even if demand is low.
This minimum rate is specific to each MFC, and it is calculated weekly.
To calculate if you are eligible for the guarantee in your market, GoPuff will look at your earnings from commissions per order from pre-arranged hours on the platform that week, and if you earned below the committed hourly earnings for your market, then the company will top off your earnings to ensure that you meet its communicated minimum.
These pre-arranged blocks are available during the times when GoPuff anticipates being the busiest. This means that delivery partners are able to maximize their earning opportunities, while having the protection of an earnings guarantee, in case demand is unexpectedly low.
You can expect the minimum rate to be about $14 an hour.
Tips
Customers can choose to tip delivery drivers. So you could earn extra money for each delivery that you make.
When customers place an order, they have the opportunity to add a tip before and after it is delivered.
What's good about the platform is that it allows you to keep 100% of customer tips.
Is GoPuff Legit?
So, now you know how it works, you're probably wondering is GoPuff a legit company?
Well, on Trustpilot, GoPuff only has 2.1 stars, which is "Poor" rating. That's not ideal and is quite off-putting for anyone who's considering a job with the company.
The company does have a profile on the Better Business Bureau (BBB). However, GoPuff is not accredited by the BBB, and it has an "F" rating. Customers also rate it a pretty low 1.5 out of 5 stars. Again, that's not ideal. Of course, these are a mix of reviews from both drivers and customers who've used GoPuff to order groceries and other items.
Still though, the company doesn't seem to be particularly well-reviewed anywhere online. That's not to say that there are no good reviews of GoPuff at all. It's just that there seem to be a lot of poor ones.
On Indeed, reviews from drivers with the company were also mixed.
Some drivers say that company is good to work for.
One driver from Austin, Texas says:
"I also work favor and gopuff is easy to work, and I use less gas, income is fair, they have bonuses to earn, and the people are nice, a great source for extra income, very flexible, has perks, and ways to make more during high demand. Pros: Flexible, easy to do. Cons: Pay could be better."
Another driver from Rochester, New York, says:
"Not a full time gig. Can be great if combined with other gigs. And always make sure to stay and do your thing. Management sucks. But the people great. I would recommend working if have other jobs with it. Pros: People. Cons: Management"
Many people had complaints about working for GoPuff.
One driver from Athens, Georgia says:
"This company is trash! Unorganized and Pathetic GoPuff is the absolute worst company I've ever worked for. Management is as incompetent as it gets. Driver pay is constantly changing, with VERY little notification. I have never seen a company run as poorly as the GoPuff in Athens, Ga. DON'T WASTE YOUR TIME WITH GOPUFF, THEY ARE A COMPLETE JOKE!!"
Lots of drivers complained about management not being very good and that their pay was often cut.
One driver from San Luis Obispo County says:
"The company has no regard to the low Man on the totem pole. I am a delivery driver and the beginning it was a nice job to work for. Now in less then 3 Months they take away any extra incentives,the go drive app to get hours is lousy. Your lucky to get 4 hours and have 15 seconds to grab against the too many drivers they hire which lessen the chance of getting anything. Driver support never respond to your feedback on improvement. They don't have a good work environment and too much nepotism within. When a driver gets 4-5 days of good hours and steady. They manage to get rid of good drivers just as bad as they hire too many!! It's obvious the CEO don't care cause they are on top of the totem pole"
I saw quite a lot of complaints like that.
Is GoPuff Worth It?
GoPuff has some good reviews online, with some drivers saying they've used it with success. But, there are so many poor reviews from drivers too. You may want to give it a try, but I wouldn't discount working for another delivery company.
I would really recommend Shipt over GoPuff because it has much better reviews on Trustpilot and Indeed.
Shipt has a 3.4 rating on Indeed, which is higher than the 2.9 rating GoPuff has.
Shipt also has 4.4 stars on Trustpilot, compared to the 2.1 stars that GoPuff has on the platform. So, Shipt could be a better option.
GoPuff is good in the sense that you don't have to pick up shifts ahead of time if you don't want to. You can instead simply work on-demand, but this lowers your pay. At Shipt, you could earn up to $22 an hour, which is higher than the rate offered by GoPuff.
Overall, I'd give it a miss. The reviews of GoPuff aren't great, with many people complaining about management, lack of deliveries, and poor pay.
Have you ever driven for GoPuff? If so, leave your review in the comments section below.