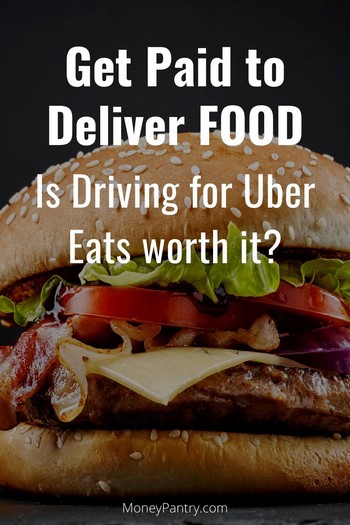 On-demand food delivery services are becoming increasingly popular – Postmates, DoorDash, and now UberEats.
We did an Uber review a while back where we talked about how you can make money as an Uber driver, getting passengers from point A to B.
But how about delivering food?
If you've got access to a bike, a scooter or a car and a valid driver's license, then you could earn yourself a good side income driving for UberEATS.
In 2014, Uber expanded to not only provide a taxi service to its customers, but also a delivery service.
In 2015, the service was renamed UberEATS and a separate app for food delivery was released.
Need Easy Extra $300+/Month for Free?
KashKick
: Get paid directly into your PayPal for watching videos, surfing, shopping and more.
Join KashKick Now!
Panel Payday
: Earn up to $75 per survey. They also pay up to $50/hr for mystery shopping.
Join Now!
InboxDollars
: Paid over $57 Million to members to watch videos, take surveys, shop and more.
Get $5 instantly!
Branded Surveys
: Get $1 instantly just for joining for free. Plus get paid within 48 hours by PayPal!
Join Branded Surveys
iPsos iSay:
: If you have to only sign up for one paid survey site, go with Ipsos (high paying survyes)!
Join iPsos Now!
Swagbucks
: Get paid to watch videos, shop online, take surveys and more.
Join now & get $5 instantly!
Through UE, customers can get a wide variety of foods delivered right to their doorstep.
When the app began it was only available in a few cities across the country.
But, now it's available in a plethora of cities in the United States and in places in Europe, Australia, Asia, and Africa.
Delivering food could be a great way to earn extra cash on the side – even if you just do it on the weekend.
Check out our UberEATS driver review and see if this opportunity is a good fit for you.
How to become an UberEATS delivery driver
First, here's what you'll need to do become a driver:
First, you need to sign up which you can do so here.
Generally, you just need to provide basic info, like your name, email, phone number, and city, plus your social security number.
You also need to choose which delivery transportation type you plan you use.
Next, you'll need to upload a copy of your driver's license, and sometimes you might have to upload insurance and registration documents too.
Also, you have to add a photo of yourself to your driver profile.
Finally, you have to submit to a background check.
You might have to visit an Uber driving center for orientation.
Overall the whole approval process takes around three to five business days.
Please keep in mind, however, that the service isn't available in every city.
You can check the availability of UE in your area by following the instructions on this page.
How does driving for UberEATS work?
Working for UberEATS is a really simple process.
It works very much like Shipt.
The difference is, with Shipt you get paid to deliver groceries.
With UE, you get paid to deliver food from restaurants to customers.
Here's a breakdown of how it works:
Once you become an UberEATS driver and you've downloaded the app, you'll get requests for food delivery right to your phone.
If you opt to complete a delivery, you'll head to the restaurant to pick up the food.
You can choose to deliver food orders using your car, bike or scooter.
Then, you'll head over to the customers' location to deliver the goods. If you're not sure where you're going you can use the Uber app as your guide.
Then, you get paid.
That's essentially it!
As a driver, the process is really simple.
You don't have to place orders yourself or prepare anything – all you're responsible for is picking up and delivering the food.
The app, along with the customer and the restaurant take care of the rest:
Using the app, the customer selects the food they want from the restaurant they want.
Participating restaurants have their own UE order app, as well as an iPad to process orders. When a customer puts an order in, the restaurant receives it and starts to prepare the food.
Next, the app sends a request to drivers within the closest proximity to the restaurant. Then, it's time for the driver to step in to pick up and deliver the food.
UberEATS driver pay: how much can you earn?
So, now that you know how it works, you're probably wondering what the UberEATS salary is like.
Well, how much you earn will really depend on how many deliveries you make.
This is because UE pays per delivery, rather than per hour.
Also, your location could also be another factor that affects how much you earn.
The company is pretty quiet regarding how much it pays its drivers – and it's difficult to find an exact number on the official website (with the exception of the section for London delivery drivers – for delivery drivers in London, the minimum payment received for each delivery is £5.33).
But, there are figures reported by current and previous drivers.
Some drivers report that earnings are based on mileage – so longer trips will net you more cash, and some report that they get a minimum payment per delivery too.
Here are a few examples of earnings reports from drivers:
Two employees in the United States report on Glassdoor that they earn about $10 per hour.
One employee from the UK reported earning £6 per hour cycling for UberEATS, again on Glassdoor.
There are so many factors involved from location to current driver promotions, that giving an exact estimation across the board simply isn't possible.
Many drivers from the US state that they earn a base rate of between $2 to $4 per delivery, plus around $1.10 to $3 per mile.
Pay rate structure will vary, depending on many factors, like city and market, so keep that in mind when you're applying for a position.
There are a few things that you can do to maximize your earnings, like ensuring that you qualify for any promotions and offers that are available at UE and keeping a look out for incentives.
What do you need to drive for UberEATS?
You must be at least 18 years old to work with UE.
Plus, you'll need to have the physical capacity to lift 30 pounds.
When it comes to delivering, you can use a car, bike or scooter as your method of transportation.
Here's what's required for each type of vehicle:
You have to be at least 19 years old to deliver food with your car, have a driver's license and be legally able to work. The company's car requirements are pretty simple – all you need is a vehicle that was manufactured from 1997 onwards.
To deliver food using your bike, you will need to be at least 18 years old, so a year younger than you have to be to drive your car for UE. Also, you'll need to be legally able to work.
Just like if you want to deliver food with a car, you need to be at least 19 years old to use your scooter with Uber. You'll also need a driver's license and insurance, as well as the ability to legally work.
The benefits and drawbacks
Overall, this is a good money-making opportunity, especially if you're looking to add a little to your savings each month or want a bit of extra money to spend.
Here's what's great about working with the company, and a couple of drawbacks.
Tip isn't included
Unfortunately, the app doesn't include an in-app tipping feature, which is a little bit annoying as it doesn't encourage tipping.
That being said, customers can choose to give you a tip if they want to, and you can accept it – just don't solicit tips.
No pre-paid card is required
One of the great things about working with UberEATS is the fact that you don't need any type of card from the company to pay for the food.
There's no pre-paid card that you have to take into a restaurant in order to pick up food.
The restaurant knows to expect you and will hand the food right over – all you need to do is tell them you're from Uber and give them an order number.
Sometimes there's a wait for food
Occasionally, you might find that you arrive at a restaurant to pick up your delivery, and the food's not ready yet.
This can happen for a number of reasons – the restaurant might be having a busy day for example.
While you usually don't have to wait long for the food to come out, it still adds time onto your journey, which you aren't getting paid for – after all, you aren't covering any miles.
This can really drive down your earnings per hour.
You don't need a car
For Uber's main service, you need a car, as you're providing essentially a taxi service for people, but with UberEATS you don't need one.
You can deliver food on a bike or a scooter.
So, if you don't own a car, or you can't always get access to a car, then UE is a good money making option.
It's really simple to make money
Driving for UE is a pretty easy way to make money.
All you need to do is pick up food and deliver it – it's as simple as that.
You'll obviously need to check a few things off in the app, but this only takes a few minutes.
For example, you'll need to confirm your UE order with the restaurant, and the pick-up order number and customer's name.
And, unlike with the traditional Uber service, with UE, you don't have to have anyone in the car with you while you're driving around.
The pay isn't that high
Compared to other money-making opportunities, the reported pay from UberEATS isn't particularly high.
After all, drivers report earning a base rate of only $2 to $4 per delivery.
This means that you have to do a lot of deliveries each hour to make a good income or take advantage of longer deliveries, as you get paid more per mile, but again, it all comes down to your time.
If you're driving for UberX and UberEATS, and you're already out in your car, then it might be easier to complete more deliveries.
Tips for getting the most out of UberEATS
If you do decide to do this, then make sure that you follow these tips to get the most out of the experience.
1. Take advantage of driver incentives
You can really maximize your earnings if you take advantage of the driver incentives available from the app.
The company often runs promotions for drivers that allow them to earn extra cash, like completing multiple orders in a certain time-frame or making deliveries during certain hours of the day.
While the great thing about UberEATS is that it allows you to work whenever you want and choose your own working hours, it can be more profitable to pick up deliveries during the time driver incentives are available.
Make sure that you look out for promotional notifications on your phone, and, if you can, choose to make your deliveries in a way that nets you bonuses.
Incentives and promotions vary by area, but here are a couple of examples of the promotions/incentives that the company and other drivers state are sometimes on offer:
Increase your base rate by taking advantage of the Boost Guarantee.
This incentive multiplies the base rate you earn per delivery, when you make trips within a specific hotspot, during certain times.
For example, you could earn 2.5X the base rate, plus your regular mileage.
You can view boost incentives from within your UberEATS Driver app.
An incentive UE sometimes offers in certain areas is trip bonuses.
These bonuses give you extra cash if you complete a certain amount of deliveries, usually in a specific timeframe.
For example, it might be complete 16 trips and earn $65 extra.
This offer could run on a set amount of days or over the course of the week.
What's great about trip bonuses is that Uber doesn't charge a commission on them, meaning that, as the driver, you keep the entire amount.
In some cities, drivers may be eligible for hourly guarantees, if they make deliveries during specific times or certain days of the week.
With this bonus, you can earn a specific hourly amount – unless your trip fares exceed that amount.
Generally, hourly guarantees are offered during times where customer demand for delivery drivers is high, such as at lunch time, or breakfast time.
2. Carry change with you
As we mentioned before, the app doesn't offer in-app tipping, but customers can still give a cash tip upon delivery if they choose to.
So, you'll want to make sure that you carry change with you – some drivers recommend carrying $20 in change.
This makes it easier for customers to tip you the right amount and ensures that you get the cash.
3. Try to maintain a good rating on the platform for all aspects
If you maintain a high order acceptance rate, a low cancellation rate and high ratings in general on the app, then you usually qualify for more incentives and promotions.
4. Handle all orders carefully
Keep all food in the insulation bag provided by the company and make sure you handle it carefully.
All food should be stored securely, in an upright position.
This will ensure customer satisfaction, keeping your driver rating high and increasing your chances of receiving a tip.
5. Keep your phone charged and with you
Have your phone on you at all times, so you don't miss out on nearby delivery opportunities or profitable incentives.
Make sure it's charged to full capacity.
If you plan to do multiple trips, consider getting a portable charger.
6. Remember parking
One of the downsides of picking up food and delivering it is the aspect of parking.
Sometimes, it's easy to park and sometimes you might struggle to find a spot.
Firstly, be aware of any meters or no parking zones.
Carry change with you in case you have to pay for parking and never park in a no-parking zone.
The last thing you want to do is get a parking ticket. Be careful of double parking too.
Last word
Driving for UberEATS is a nice side income stream if you don't mind doing a bit of driving, or cycling around your city.
It's not the most profitable gig per hour, but if you follow these tips, you can still make a pretty decent amount.
After all, $10 per hour, as many drivers report earning, isn't bad for simply picking stuff up and dropping it off.