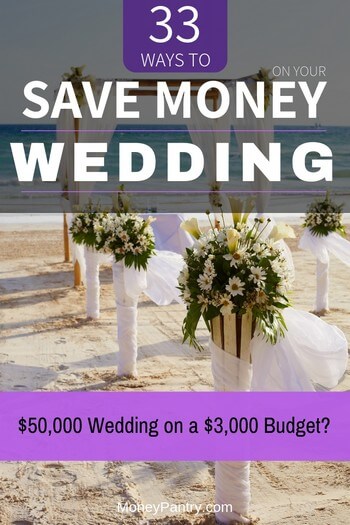 When I was a little girl, I dreamt that one day I would find the right partner, have the perfect wedding, and we'd be together forever.
Nowhere in that fantasy was there room for a $33,391 bill (believe it or not, that's the average cost of a wedding in the United States these days)!
Luckily, when I found my person and married him in 2012, we were able to keep the bill to around $8,000 total – even with 300 on the guest list. (The average wedding cost was closer to $28,500 back then, but more than 70 percent in savings still isn't bad!)
With a little creativity, a little DIY, and a lot of help from family and friends, your dream wedding is doable for less.
You can have the appareance of $50,000 wedding with a budget of $5,000!
The trick is to pick and choose what matters most to you and your partner, and nip and tuck in the areas that don't.
Need Easy Extra $300+/Month for Free?
KashKick
: Get paid directly into your PayPal for watching videos, surfing, shopping and more.
Join KashKick Now!
Panel Payday
: Earn up to $75 per survey. They also pay up to $50/hr for mystery shopping.
Join Now!
InboxDollars
: Paid over $57 Million to members to watch videos, take surveys, shop and more.
Get $5 instantly!
Branded Surveys
: Get $1 instantly just for joining for free. Plus get paid within 48 hours by PayPal!
Join Branded Surveys
First Opinion
: Wanna get paid for every single survey (+ high paying online focus groups) with cash or direct deposit? This is for you!
Join Now!
Swagbucks
: Get paid to watch videos, shop online, take surveys and more.
Join now & get $5 instantly!
Here's a little wedding how-to, and some savings ideas along the way.
1. Set a budget.
Before you go down any other road, figure out what you're comfortable spending, and what you can afford.
Also, make a list of some possible expenses.
In addition to this handy little how-to, websites like theknot.com and weddingwire.com are chock full of checklists that can help make sure you're considering every detail.
Next, rank them in order of importance to you and your partner, so you know where you're comfortable scaling back, and where you'd feel more comfortable spending more.
Once you've done that, consider what you can contribute, and other sources that might help you pay for the wedding (i.e. parents, grandparents, etc.)
It's a good idea to pull that money into a separate budget or account so that it's squared away for the big day.
Now, you're ready to get started.
2. Begin planning.
Wedding planning is like a choose your own adventure novel – wedding style.
You can do it yourself, or hire a professional.
Do it yourself (recommended)
Especially if you're organized, like control, or are into a little DIY, consider becoming your own wedding planner.
You've got all the tools you need at your fingertips:
An internet connection
Google Drive for getting organized
Pinterest, for every idea you'll ever need and more
Best of all, this option is free.
It's also a little more work, so make sure you're prepared, up to the challenge, have a good support system and have plenty of time going in.
Hire a wedding planner
If you prefer to avoid getting your hands dirty and your top priority is to keep stress levels in check, maybe consider hiring a wedding planner.
This option can run you anywhere from a couple hundred dollars (say, if a friend does it for you) up to $10,000 (for a total pro). Shop around to find the deal that best suits your needs.
If they're good at what they do and the price tag isn't too steep, a good wedding planner can haggle with vendors and help you cut costs in other areas to offset their fee a bit.
3. Set a date.
The time of year – and even the day of the week – can help make or break your wedding budget.
If your options are open, choose wisely.
Any day but Saturday
Saturday is prime time real estate for weddings, so if you want to save some cash, get married on a Friday, a Sunday afternoon, or even during the week.
Steer clear of wedding season
June, August, September & October are the most popular wedding months.
Save a little cash by having your wedding in January, February or March, which are the least in demand, according to theknot.com.
Skip the holidays
Holidays tend to keep vendors busy, which means holiday weddings are often extra expensive!
Unless you've always dreamed of a holiday wedding and no other day will do, consider a new date.
4. Save on wedding venue.
Once you've got a date in mind, choose your location.
There's no place like home
And that's because it's free.
If you can, get married in your own home and save a ton on facilities rental.
Make it legal at the courthouse
If you can't do it at home, consider a courthouse wedding – it's a classic budget-saving move.
It's also an intimate choice that leaves your options open for a big reception with family and friends elsewhere if you like.
Go outdoors
If you're not afraid of a little weather, take your wedding outdoors.
Any tents or pavilions you need to rent will add to your budget total, so the more natural the setting (i.e. open air), the better on your pocketbook.
Get married and have your reception at the same place
If you can, get married and have the reception at the same location.
It'll be twice the fun for only half the cost.
Pick a venue that doesn't force their vendors on you
If you must rent an indoor facility, check out your local VFW hall.
Ours only charged us a $300 rental fee for the whole day – at least half the cost of other venues in town – and did not specify what vendors we could or could not bring in. That left our options wide open for food and other services.
A preferred vendors list doesn't have to be a bad thing, but if you're limited to only those included, you might get stuck with only higher priced options that can be total budget killers.
5. Draft your guest list.
The number of guests on your invite list has a heavy hand in determining whether your nuptials will break the bank.
Take a good hard look at yours.
Make it an intimate affair
If you can, avoid including everyone. Consider celebrating with family only, or a small group of family and close friends, to keep the guest list and your bill as small as possible.
When intimacy isn't an option – like when your family is enormous –
Make categorical cuts instead of individual ones
Rather than picking and choosing guests to drop off the list, group people into categories and drop those instead to avoid hurting individuals' feelings.
Make it adults only. This will eliminate children and parents who are unable or unwilling to come without their little ones in tow, without making it too personal.
Drop distant relatives. Consider including only immediate family members, or expanding your list to include aunts, uncles and cousins, but not second cousins or your third cousin once removed.
Eliminate coworkers. Unless your coworkers are your best friends, they may understand why they aren't invited – as long as no one from work is invited. Inviting some (but not all) of your officemates breeds resentment you might want to avoid since you probably need that paycheck.
6. Save on wedding invitations
Now that you know who you'll invite, it's time to get the word out.
Traditionally, you'll want to get the date on people's calendars, then follow up with a more formal invitation.
Here are some ways to cut some of those costs:
Go digital with Save the Dates
The point of a Save the Date is so that your guests won't make plans for the day of your wedding.
Especially if you're planning to send a more formal invitation closer to the date, a digital Save the Date card is perfectly fine.
Typically, you'll want to  include some language that makes this clear – i.e. "formal invitation to follow."
Try:
Email
Private Facebook event or message
Text message
Get a free wedding website
Some of the best free wedding website options include:
They allow you to notify guests about your wedding date, as well as continue to update them on important wedding details and information about the bride and groom, including registry information.
Most are totally free!
Pictures are worth 1,000 words
And they can make great invitations too!
Print affordable Save the Date cards and even invitations from sites like Vistaprint.com and Shutterfly.com, or from your local Walgreens or CVS photo kiosks.
Need a coupon code to save even more money?
Check out Retailmenot.com for coupon codes (read our RetailMeNot review for tips and hacks to save even more) from any of these vendors and more.
Send a postcard
Postcard Save the Dates and invitations cost less because they don't require envelopes.
And they're infinitely more fridge-worthy.
Consider condensing your wedding mailers to postcard size to save a few bucks.
Make your own
Handmade wedding invitations or save the dates can be charming, unless there are too many to make.
If you're up for the task, you can guarantee yours will be unique.
Better on a computer?
You can design your own invitations using Microsoft Office software, image manipulation software like Photoshop or Gimp, or you can use free graphic design sites like Canva.com to customize some pretty fabulous templates.
Canva even lets you download your finished product as a JPG or printable PDF – completely for free.
From there, you can grab some fancy paper and print them yourself at home, or spring for some help at your nearest copy shop or Kinko's.
Hand address invitations
Whatever form your invitations take, you'll save money by addressing them by hand, because hiring a service is pricey.
Try inviting your wedding party or some friends over for some wine and make this chore into a fun night in.
7. Secure an officiant.
The national average cost of a wedding officiant nationwide is around $278. An even cheaper option?
Have a friend do it!
If you don't already know someone who is ordained or can legally officiate weddings, choose a friend who is willing to get ordained.
Organizations like Universal Life Church will do the ordaining online in seconds, and for free. (I know because I just did it, seconds ago.)
All your friend has to do from there is check the marriage laws in the appropriate state and order the proper legal documents to perform your ceremony.
This Classic Wedding Kit will run you (or your friend) about $39.99.
8. Save on wedding  photography & videography.
Photography and videography aren't as easy as they look, and you don't necessarily want the only images from one of the most important day of your life left in the hands of someone who doesn't know what they're doing.
That said – professional photography and videography aren't cheap.
Luckily, there are ways to save and still capture the memories you'll cherish forever.
Skip the videographer altogether.
Perhaps you can't imagine not being able to watch the replay of your special day, but if photos will be enough for you, cut out the videographer altogether.
The best ones I know cost thousands of dollars for a single video, so this can be quick savings right up front.
If you absolutely need some version of the event on video, but don't care to pay a pro –  designate a friend or family member to capture footage on a decent cell phone or home camera.
Free programs like Windows Movie Maker or iMovie can help you throw together a personalized video in a snap, as long as you don't care that it's not Oscar-worthy.
Hire your photographer part-time
If you're not lucky enough to work with a talented fellow photographer who is willing to offer a deep discount (like mine did), consider keeping yours on the clock for only part of the day.
The best photo opportunities don't really start until an hour or so before the wedding, and typically wrap up after the first dance.
Schedule your photographer during those times to cut the number of invoiced hours almost in half.
Still want those "getting ready" photos?
Have a friend snap them with a camera or cell phone. Chances are, those aren't the photos that will make it onto a giant canvas on your wall, so those methods will probably be just fine.
Skip the second shooter
A good second shooter can add fantastic dimension to your wedding album, but can also add a hefty price tag.
Any wedding photographer worth his or her salt will have no problem getting those shots you want (for the most part) on his or her own.
To help this along, make a "priority shots" list for him or her to reference on your big day.
Pass on prints and photobooks
These items often carry a hefty price tag when you buy them from your wedding photographer.
Either skip them altogether (and go digital) or do them yourself!
As long as you can get digital copies and a print release from your photographer, Mpix.com offers fantastic professional quality photos for an affordable price.
Shutterfly.com, though a little less fancy, even offers prints for free if you download their app.
Shutterfly and blurb.com both offer easy photobook creation software, and affordable books.
Remember to check the web (and Retailmenot) for coupon codes to help you save even more!
Crowdsource your extras
As I said before, you probably don't want to trust your guests (especially if you have an open bar) with the only photos you'll have from your one wedding night. But there's no harm in getting a little extra from your guests!
Set up a personalized wedding hashtag and ask your guests to share photos on social media.
You can collect the images later by searching the hashtag online.
Get creative with this one – the more personal the better.
Bonus points if you can work names in like #BenniferinLove or #HappilyEverHarrison.
Another option is to set up a DIY photobooth using tablecloths, lights and other materials as a background – silly props optional – and encourage guests to snap photos with their cell or with leave-behind polaroid or disposable cameras.
9. Save on wedding food.
Catering is another significant cost associated with weddings, but there are plenty of ways to keep it down.
Avoid sit down dinners
Sit down dinners that require servers are often one of the most expensive catering options, even if you chose the type of food carefully. Someone has to pay the wait staff, after all.
Try a buffet instead, or even have your guests dine family style.
Both options are not only cheaper, but might add a unique twist to your reception.
Ask if kids eat cheaper
If you will have children in attendance, ask your caterer if kids' meals are discounted, so you don't end up paying full price for tiny humans.
Do lunch instead
If your wedding is during the daytime, consider closing the gap between the wedding and reception by hosting a lunch reception instead.
Lunch menus are often cheaper than dinner menus, and can save you a ton on your catering bill.
Make dessert the star of the show
Consider skipping a meal altogether and doing a cocktail and appetizers reception, or a reception with only cake and punch.
With these types of things, expectations are key – if you do skip a meal, make sure your guests know ahead of time what they're in for.
There's (almost) nothing worse than expecting a meal and getting the shaft.
10. Curate the cake (or cake alternative)
A great wedding dessert should look good on the outside, and taste good on the inside, but it doesn't even have to be cake.
It's your day, do what you want!
Construct it with cardboard
Wedding cakes can be show-stoppers.
They can also be mostly fake, and no one ever has to know.
If you buy a smaller cake – even just the top layer or two, you can fake the other layers with tiers made out of cardboard but covered in icing. This can give the appearance of a massive, elegant, masterpiece that doesn't have to cost like one.
Just make sure you have enough cake, or something else, to serve your guests at the end of the day.
Say 'I do' to sheet cakes or cupcakes
Sheet cakes don't traditionally scream wedding, but they have the capacity to feed a crowd and taste amazing in the process!
Consider ordering a sheet cake from a local bakery or grocery store to either supplement your "tiered" cake or replace it entirely.
You can also try your hand at baking it, or get a family member or friend who is a talented baker to do it.
Cupcakes can serve a similar capacity. They are often cheaper than cakes themselves, plus they can be crowdsourced – ask a few trusted friends and family members to bake a dozen or to and you can wow with multiple flavor options.
Plastic, glass, or even cardboard cupcake stands can be purchased or rented fairly cheaply, and you can build a "wedding cake" look by layering cupcakes on different tiers underneath your topper.
Avoid costly fillings and finishing touches
If you order a cake or cupcakes, avoid exotic fillings and costly decorations to save money.
Less exotic fillings, or even non-filled cupcakes are an option.
As far as decorations, you can add the finishing touches to a cake or cupcakes yourself by adding ribbon or flowers that match the rest of your decor.
Opt for an alternative dessert
Sometimes opting for a dessert outside of cake or cupcakes works well, especially if you can bill it as a signature dessert.
Signature bitesize cheesecakes anyone?
Sam's Club carries Members' Mark cheesecake bites (63-count) for around $15.78 in my neck of the woods.
A little more decoration and a little less package and no one has to know they're from Sam's.
Just saying.
11. Save on drinks for your wedding
There is no rule written that you have to have alcohol at your wedding, so if you're not into it and you don't think it will be a big deal for your guests, consider skipping it altogether.
If you do choose to have it, consider these options.
Go with a cash bar or limited open bar
I've been to several weddings with cash bars, and I don't mind. I love it when a wedding includes an open bar, but I also know not everyone can afford this. Especially if the bride and groom and their families aren't big drinkers.
If an open bar is a priority, try limiting the time or drink options available (think well drinks instead of premium).
Have the open bar last until dinner, and then convert to a cash bar. Another option is to set a quantity limit – beer is free until two kegs are gone, then the bar converts to cash only.
Exclude certain types of alcohol
Some weddings opt to limit the open bar to beer or beer and wine only, and ask guests to pay cash for cocktails.
Choose a signature cocktail
A signature wedding cocktail is a fun way to incorporate liquor into your open bar without breaking the bank on every type of alcohol.
Stock the bar yourself
If stocking the bar yourself is an option, it might save you some cash.
Skip the champagne
Or provide it only for the head table. Everyone else can toast to the bride and groom with whatever they're already drinking.
12. Save on your wedding dress (and tux)
Wedding dresses run the gamut from casual to glamorous, and their price tags can vary just as much.
Grooms are a little easier to dress, but it can sometimes cost hundreds to rent a tux for just one night.
Don't worry, you don't have to get married in the nude to save a buck.
Bridal fair freebies
One of the very first things I did as a newly engaged woman was attend a few local bridal fairs.
Check them out. They're packed with vendors who are dying to give you a deal.
One of the things I won just for walking in the door was free tuxedo rental for the groom and his groomsmen.
What it amounted to their most basic black tux, but the vendor gladly credited the freebie toward a higher end dark brown tux we had our eye on. In the end, he saved himself and his guys about a hundred bucks each.
Buy off the rack/snag a sample dress
If you can, check out sample sales or try your luck buying off the rack.
You can often find discounts from 25-75 percent by doing so.
And the best part – you get to take your dress home with you that day!
Get a little unconventional with clothing
Will you wear white on your wedding day?
Even if you're leaning toward that tradition, you can often find white, non-wedding dresses that can be equally stunning.
If you have a small frame or thin build, check out prom sales.
If you're getting married in the summer, try on some white sundresses.
You never know what you'll fall in love with.
If you dare to venture away from tradition and opt for a non-white dress, your options are even more wide open – the sky's the limit.
Likewise, men don't have to wear tuxes at weddings especially if the theme of the wedding is a bit more casual.
A simple suit or even slacks with a shirt and tie can be all you need.
The best part?
You won't have to return your clothes in the morning!
Borrow your clothes
I'll admit, this one freaks me out a little – but you can totally even borrow your dress, tux or suit for your wedding day if you so choose.
Making your ensemble the "something old" might be just the ticket for your budget.
Buy a slightly used wedding dress
Most people wear their wedding dress (hopefully) only once.
And since wedding dresses are usually very expensive, many brides opt to resale their dress.
There are actually a few sites where you sell used wedding dresses. That's great for you since you can buy the same dress from those sites for far below the cots of a brand new one.
You can also occasionally find new unworn dresses on these sites!
I know several women who've sold their dresses before being worn due to various reasons; brides changed their mind about the dress, gained weight and it no longer fit, and let's be honest, sometimes weddings are cancelled at the last minute.
Here are a few sites where you can buy slightly used dresses:
13. Accessorize wisely.
Like the perfect dress, tux or suit, often the accessories can make or break a look.
Luckily, they don't have to cost an arm and a leg.
Revisit your favorite teen accessories retailer
Stores like Claire's, Icing, Forever 21 and the like have multitudes of jewelry options that can put the bling in your wedding without putting a dent in your wallet.
I found multiple options at Claire's. Since I couldn't decide on a necklace and earring set, I bought two and swapped them out between the wedding and reception.
For under $10 each, they offered me a lot of freedom on my special day.
Borrow jewelry
Not a fan of cubic zirconia?
Try borrowing or renting some higher-end jewelry.
Sites like Rent the Runway, Switch and Adorn will let you don designer jewelry on your special day without having to go all in.
Get creative with footwear
Don't have the perfect shoes for your special day?
Consider renting or borrowing a pair of high-end pumps, especially if you know you won't wear them again, rather than making a large investment.
Not into heels?
Get creative with your footwear.
Lots of brides are choosing unique wedding footwear in the form of sparkly Toms and Converse, or personalized sandals.
Embrace your love of the literary by getting married in custom flats or heels penned with your favorite poem or song lyrics.
14. Save money on wedding entertainment
Looking to save some money on entertainment?
Whether you prefer live or recorded music, here are some options to save more money.
Reach out to local colleges
Especially those with music departments. You can often book a talented student musician or student ensemble that will cost less than the pros.
Choose a homegrown DJ (or DIY)
Yes, you can create your own playlist and guarantee you'll love every song played at your reception by using iTunes or Spotify.
All you need is:
Music or a Spotify Premium subscription
Computer or mobile device
Speaker system
Microphone
If you go in this direction, consider hiring a friend or nominating someone to act as your emcee throughout the night.
People often think of song lists when they think of wedding DJs, but a good emcee helps keep the night moving along and the crowd engaged in your party.
You won't want to be without one.
15. Save money on flowers
Flowers are everywhere in weddings.
Traditionally, they're carried by the bride and her bridesmaids, they're worn on the lapels on the groom and groomsmen, and they even serve as decorations in most weddings I've been to.
And they can be expensive.
Do your own flowers
Check out your local grocer's florist and/or consult fiftyflowers.com to create your own floral arrangements.
Go with the faux
Fake flowers might not seem that appealing as real ones, but there are a lot of upsides to skipping the florist in favor of your neighborhood craft store.
They're cheaper. This is a no-brainer if you want to save money on your wedding.
You can buy them out of season. I knew we were going to have a fall wedding, and we got engaged in December. With fall decorations on sale at Old Time Pottery, we went and bought almost their entire stash of fake foliage and flowers to match for almost 75 percent off. For less than $70, we ended up with enough to create bouquets, boutineers, centerpieces and enough decorations to fill the chapel and reception hall.
Some literally last forever. The best part about fake flowers? They last. My mother had a bouquet of silk flowers before me, so she created mine with the flowers we purchased, and threw a few of the roses from her bouquet into mine. They were my something old, and one of my favorite wedding details. One day, maybe my daughter will be able to work flowers from our bouquets into hers.
If you're not into silk flowers, try paper flowers or other alternatives.
Downsize or opt for alternatives.
One simple option is just to buy fewer flowers.
Use other items for decoration. Have bridesmaids  don simple but elegant boutinettes instead of full bouquets, and skip the boutineers altogether.
Attendants can also carry something different, like lanterns, if you choose.
If you still want something green and something real, consider using greenery and foliage instead.
These can be just as stunning as flowers, especially when the theme or timing of the wedding fits so perfectly.
16. Save on wedding decorations
Decorations can be an opportunity to show off your unique style and save money in the process.
Use secondhand decor (or plan to reuse yours)
Lots of helpful items can be found at antique shops secondhand shops or even dollar stores.
My brother and his wife used stacks of old textbooks and mini-terrariums, created from items they collected from second-hand stores, for their stunning centerpieces.
Anything you can resell or reuse after the wedding is a better investment.
If you must buy new items for decoration, make sure they have a second life left somewhere in them.
Incorporate recycled materials
While books found a second life in my brother's wedding centerpieces, old wine bottles took center stage in mine.
Most of the various sized and colored wine bottles were collected from family and friends over the course of several months, but local bars were also willing to donate their used bottles for nothing at all.
We peeled the labels from dozens of them and used them as vases for our fake flowers.
To add a personalized touch, I added hand-monogrammed tags, which featured our initials and hung around the bottles' necks at each table.
Use non-flower alternatives
Non-flower alternatives can also make unique centerpieces.
Try incorporating fresh fruit or seashells, especially if they can fit into a theme.
Our fall wedding featured mini pumpkin gourds cut into votive candleholders at each table and large pumpkins with our initials carved into them as our stage decorations.
Other decor tips
Your wedding decorations can really run the gamut, especially considering the location and feel of your event.
Here are some other ways to cut costs:
Use plastic instead of glass wherever you can.
Lose the linens – use sheets instead.
Use bigger tables – fewer tables require fewer centerpieces
Other wedding tips & hacks to save even more
Everyone's going to have a different idea about what the perfect wedding will entail.
The items above are only a few of the easiest and quickest ways to reduce your bottom line.
Looking to save more?
Here are a few other things to consider:
17. Encourage open seating
Seating charts and place cards cost money and require tons of effort.
Make it easier on yourself by making your reception an open seating event.
18. Skip printed menus
Especially if you're serving the same thing to everyone, there's really no need for a menu.
19. Avoid unecessarily heavy personalization
Unless it's DIY or easy to do, skip on the heavy personalization.
It can only increase costs and the effort needed to pull off a successful event.
20. Do away with favors
If anything, other people should be doing you favors not asking you for 'em.
After all, it's your big day not theirs!
21. Eliminate or cut back on gifts
Cut back, eliminate or DIY your groomsmen and bridesmaids gifts.
22. Don't print programs (or print one per couple)
If you do – turn them into something useful, like fans for an outside wedding.
That's a program I can get on board with.
23. Shop on Black Friday
Likewise, take advantage of any other massive sale happening between now and your big day.
24. Shop beyond wedding retailers
As I've noted throughout this post, dollar stores, secondhand shops and craft stores can be some of the best places to shop for anything you need to throw a successful wedding. Check out Amazon and eBay while you're at it!
25. Arrange for pickups to skip delivery fees
Designate a friend or family member to help pick up flowers, decorations, and other items. Make sure you choose someone who won't be busy with the bridal party during critical delivery times.
26. Use a 0% interest credit card or a card with good points
Make initial purchases on a zero percent interest credit card, or a card that earns good cash back rewards.
You can even make money while you're spending on your wedding!
Just remember to pay the card off promptly, and don't get carried away.
27. Display vendor cards for discounts
Some vendors will allow you to display their cards at your wedding to access discounted prices. Consider it!
28. Ask for help instead of gifts
If a friend or family member is wondering what to get you for your big day, ask for their help instead!
Just make sure you keep an organized list of who is in charge of what so details don't get missed.
29. Order in bulk
Where applicable, ordering items in bulk can often save you money.
30. Borrow transportation instead of renting
Instead of renting a limo, consider borrowing a vehicle for your wedding night. A vintage car works nicely and makes for great photos if you know someone who is willing to step in.
31. Don't book your honeymoon without a travel agent
Hotels and other vendors build agents' commission into their prices.
When you book alone, they keep the fee!
If you work with an experienced agent, it's not only free, but he or she might be able to save you money on your trip.
32. Sample size your makeup
That way you don't have to buy an all-new stash for a fresh look on your wedding day.
33. Consider alternative wedding rings
Many couples are choosing to go in a non-traditional direction with their wedding rings, like bands or gemstones rather than the traditional diamond.
If diamonds aren't necessarily your best friend, opt for something with more personality, and a way smaller price tag.
My green tourmaline love knot ring from Gemvara, for example, symbolizes my individuality and our amazing relationship for only about $300.
Talk to us
Have you planned a wedding recently?
Tell us where you were able to save money (and where it didn't pay to save).