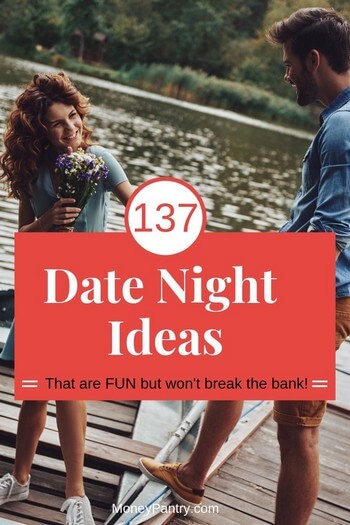 Dinner and a movie is a classic combo, but it can get old fast.
If you're feeling like you're in a bit of a rut with date night, then you're probably on the hunt for some new ideas and fun things to do at night (or day, if you prefer!).
We've got you covered!
From inexpensive activities that are perfect for couples on a budget, to fun ideas for those looking for creative stuff to do, we offer a huge range of different things to do on date night.
Check out our list of the best date night ideas!
Free Date Night Ideas
When you are super short on cash but still want to enjoy yourself, give these free date night ideas a go.
Need Easy Extra $300+/Month for Free?
KashKick
: Get paid directly into your PayPal for watching videos, surfing, shopping and more.
Join KashKick Now!
Panel Payday
: Earn up to $75 per survey. They also pay up to $50/hr for mystery shopping.
Join Now!
InboxDollars
: Paid over $57 Million to members to watch videos, take surveys, shop and more.
Get $5 instantly!
Branded Surveys
: Get $1 instantly just for joining for free. Plus get paid within 48 hours by PayPal!
Join Branded Surveys
iPsos iSay:
: If you have to only sign up for one paid survey site, go with Ipsos (high paying survyes)!
Join iPsos Now!
Swagbucks
: Get paid to watch videos, shop online, take surveys and more.
Join now & get $5 instantly!
And don't worry, free things you can do can be just as enjoyable as expensive nights out.
Also, keep in mind that we do include more free ideas in the other sections of the post!
1. Go to a museum
There are museums dedicated to everything from natural history to film. So visiting a museum is great for date night or day!
You may not know this, but there are a lot of free museums near you. Even a lot of paid museums have a day where admission is free.
2. Try camping or "glamping" in your backyard
Set up a tent in your back yard and enjoy an evening together outdoors. You could even charge up your mobile devices and watch a movie together. Or you could play board games or just enjoy each other's company.
Wanna go camping in the wilderness? Here's a list of free camping spots near you.
3. Take a scenic drive
And take in the sights that your area has to offer.
4. Visit a nearby lake
Go to the lake and enjoy a nice date together. If the weather is good visiting a lake is a great idea. You could take food with you as well. Just enjoy each other's company and nature at the same time!
Check out this Wikipedia page for a list of lakes near you.
5. Volunteer
Why not make the world a place together? You and your date could volunteer to help an organization that you both care about, like a local animal shelter, for example.
6. Visit thrift stores
Hunting for gems at local thrift stores can be a super fun thing to do together – and it's totally free.
Plus if you do decide to make a purchase, you'll likely get a great deal. Buying stuff secondhand is also great for the environment.
7. Visit the flea-market
Find even more treasures than you would at the thrift store at local flea markets. From unique handcrafted furniture to antique jewelry, there's plenty of great stuff to look through at the flea market.
8. Watch a movie outside
Who says that a movie has to be watched on the sofa? Get creative and recreate that good old-fashioned drive-through experience. It'll be cozy, fun, and definitely a refreshing change to the usual dinner and a movie concept.
9. Work out together at home
Workouts don't have to be done in the gym. At home, you can easily get in a great workout and you can do it together. It's a great bonding activity. Bodyweight exercises require no equipment and little space either. And with so many great apps that pay you to exercise, you may even be able to make a few bucks instead of spending it on your date night.
10. Go to the library
Learn about history, read folk tales, or take in a good thriller at the library. For a casual, laid-back date, the library is a great idea.
11. Visit an antique store
There you can browse stuff and chat about what you find, and maybe you'll even come across a few gems that you want to purchase. Decorate your home and have a stellar date at the same time – it's a win-win!
12. Go on a run together
This is a good idea for day-time dates. After your fun-run, you could even try one of the more casual dates ideas on this list.
13. Go hiking on a nature trail
Take in the sights and sounds that Mother Nature has to offer.
Cheap Date Night Ideas
While not totally free, these ideas are cheap, making them ideal for couples on a budget.
14. Attend a book reading or poetry reading
Are you both literature fans?
Then attend a local poetry or book reading together. It's cultural and cheap!
15. Visit a botanical garden
Look at the beautiful flowers and plants at your nearby botanical garden.
16. Hangout at the pool
Depending on where you live, you may have enjoyed lazy summer days by the pool when you were younger. Well, recreate that. Relax poolside with your date.
17. Start a brew your own beer project
This is a great way to spend time together and make some memories. Brew your own beer together. You'll have fun, you'll spend time together, and hopefully, you'll get some tasty beers from it. Even if the beer does turn out badly though, you'll still have those memories of making it together!
18. Switch hobbies!
Maybe you enjoy painting and perhaps your date likes cooking? Well switch hobbies.
You can each teach the other how to do your chosen hobby. It's a fun way to get into each other's shoes and learn something new in the process.
19. Plant a garden together
This is another long-term project that can serve as a relaxing and rewarding idea for date night. Maybe you could grow your own herbs or start a new flower bed.
20. Go on a bike ride
A bike ride is the perfect date activity for a sunny day! And, assuming that both you and your date have bikes already, it's a cheap activity as well.
21. Play tennis
Playing tennis is another fun outdoor activity to consider.
22. Bake cookies together
You can chat, work together and enjoy tasty cookies together after the baking is done.
23. Go on a train ride
Take in some new sights in a new setting by going on a train ride together.
24. Attend an art festival
Do you like artwork? If so, visit an art festival with your date. You can see some new artwork and have plenty to talk to each other about.
25. Go to see a national monument
There are plenty of them. It gives you and your date something to talk about, and it's a nice way to spend time together.
Check out National Park Service's list of national monuments to find one you like.
First Date Night Ideas
Are you going on a first date with someone?
Well here are ideas for a first date to suit every budget.
These date ideas are also great for married couples, second dates, etc., but they're particularly great for first dates.
26. Go Bowling
At the bowling alley, there's a game to focus on. This can help to break that awkward silence that always seems to threaten the first date. You'll have something to talk about – the bowling game. It will keep the conversation flowing. Plus you can cheer each other on!
27. Attend an orchestra performance
Are you or your date interested in classical music?
Then attend an orchestra performance. It shows that you're cultured and it's a fancy activity for your first date together.
28. Go to a bar with billiards or board games
Combining drinks and games, visiting a bar that features billiards or board games is a great way to break the ice. And, like with the bowling idea above, you don't have to worry about filling the air with conversations!
30. Go out for frozen yogurt or ice cream
Learn about what toppings your date enjoys by going out for frozen yogurt or ice cream. It's a great way to get to know each other! Plus ice cream requires little chewing, so it won't get in the way while chatting – important on that first date!
31. Take a ferry ride
If the weather is good, take your date on a ferry ride. It's relaxing and adventurous at the same time, making it the perfect thing to do on a first date.
32. Go out for cocktails
You and your date could try out some cocktails. Of course, don't go overboard – this is a first date after all – but it's a good way to relax, and try some new drinks in the process.
33. Go to an outdoor theater
For a more relaxed version of typical theatrical performances, go to an outdoor theater.
34. Go out for breakfast
Sometimes, for a first date, dinner seems too formal, but coffee feels a bit too short. A great idea that falls between the two is to go out for breakfast.
If the date doesn't work out, then you have an excuse to leave (as you have to get on with the rest of your day) and if it does go well you have the whole day left to spend more time together.
35. Visit a local coffee shop
For those looking for a classic, first-date activity, then going to a coffee shop is a great idea. It's a great way to get to know someone. Plus, you can even take your coffees to go and walk around the neighborhood as you chat.
Date Night Ideas for Married Couples
When you're married, date nights are still important.
It's easy to get into a bit of a rut though and keep doing the same activities over and over again.
Below, we've listed some date night ideas for married couples that are fun and suited to a wide variety of budgets.
The activities in our other sections, including fun date night ideas and cute date night ideas, are also great for married couples. But the activities below are particularly suited to married couples.
36. Learn a new language together
Start learning a new language together. If you enjoy visiting a particular country, learn its language and you'll impress the locals on your next visit. The best part is that you can use these free language learning apps so you don't even have to spend money to learn a new language.
37. Take a dessert tour of your city
Try out your city's best rated desserts together.
38. Go on another "first date"
Dress up nicely, and go out on another "first date" where you ask the types of questions that you would on a first date. It's a fun date idea for married couples, and it's a great way to learn some stuff about your spouse that maybe you've never asked about before.
39. Take a self-guided restaurant tour of your city
Visit various restaurants for an appetizer or a small plate. You can try out new foods, in new restaurants. Just check out lists online of popular restaurants in your city.
40. Visit the beach together
Go to the beach, and watch the waves. When you're married, with work and everything, it can be hard to find the time to really chat with each other and relax. Sitting on the beach or walking along the shore together can be a great way to spend some real quality time together.
41. Make a playlist of throw-back songs
Create a playlist of songs you both used to listen to when you were first dating. Then you can talk about the memories that the song brings up. You can play the playlist during a romantic meal at home.
42. Attend a trivia night at a local bar
And work together to try to win! It's a great activity for competitive couples. Working as a team can be a great bonding experience as well.
43. Visit a street fair or food festival together
There will be lots of activities you can do together, and foods to sample. Plus there's the opportunity to people watch, which is always a fun activity to do with your spouse.
44. Take a trip to the zoo
For married couples, doing new stuff can be fun. If you don't often go to the zoo, then give it a try. It's actually a fun date activity. You'll get fresh air, see all the animals, and just enjoy each other's company.
45. Take a tour of a brewery
If you're looking to get out of the house, but don't want an outdoor activity, then taking a tour of a brewery can be a great idea. You can sample new beers together, and learn something in the process too!
46. Make a pizza at home
Gather ingredients and make a fancy pizza together at home. It's pretty fun and you get to try out new toppings and flavors. Then you can enjoy it over a candlelight dinner for two at home.
47. Attend a wine and design class together
During these classes, you learn how to paint a picture, while being served wine.
Wine and artwork? That's a winning combination. You can take your paintings home and display them in your home too if you want.
Date Night Ideas at Home
Sure, going out somewhere can be a lot of fun, but staying home is often just as great.
For a date, your home is the perfect romantic, laid back, and enjoyable setting.
Below, we've listed some at home activities that you and your date can do.
You can have fun, enjoy each other's company, and, if you've just started dating, get to know each other better.
And you don't even need to leave the house!
Let's take a look at some of the best activities couples can do at home on date night.
48. Binge watch a Netflix show together
Whether it's a show you've seen before that you both love or a totally new show for both of you, pick a show from the big list of Netflix shows and have a marathon of it!
49. Print out your favorite photos and frame them!
You and your partner can print out your favorite photos, whether that's photos of each other, or your pets, or your family.
Then you can frame them. Going shopping for frames can be another great activity to do as well. You'll have photos to place in your home that you both love.
50. Create a list of goals
Create a list of goals, a bucket list, or a list of dreams – whatever you want to call it.
List all of the things that you want to do. This is such a great bonding experience. You can also see if you and your date have similar interests. This is a good way to get to know each other better.
Also if you're a married couple, it can not only strengthen your bond, but it can also help you to plan your future together.
51. Make a craft together
Think about the craft ideas that you both did when you were kids – then pick up some supplies, like colored construction paper, googly eyes, pipe cleaners, and popsicle sticks, and then let your imagination and craft skills do the rest!
52. Make a time capsule
Creating a time capsule together is a great way to show your commitment to your date, and it's also a great activity for married couples. It's a good way to cherish your memories.
53. Make Dinner Together
Cooking at home and together, if you don't normally do so, can be a really fun activity. You can chat with each other, have a couple of drinks, and just enjoy each other's company as you make a meal together.
54. Have an at-home wine and cheese night
Try out wines and cheeses from different regions that you haven't had before.
Date Night Ideas for Winter
During the winter months, many of activities, like bike riding, walking across the beach, and going on a picnic are off limits due to the weather.
Fortunately, there are plenty of things you can do!
Check out these winter date night ideas.
55. Make a gingerbread house
You can get one of those sets or build it from scratch yourselves!
Or, you could even make the house only using items that you already have at home – this can make for some funny looking gingerbread houses!
56. Make your own chocolate fondue
Just heat up some chocolate at home and start dipping. You and your date can get to know each other while you eat. Plus, it's a great way to get to know one another on a cold winter's evening. You get dessert, without even having to leave the house!
57. Make your own hot chocolate
Skip those premixed packets that you usually buy at the store, and make your own hot chocolate together. You can even add toppings like marshmallows, sprinkles, or whipped cream. Not only will you learn about each other's favorite toppings, but it's just a relaxing activity to do together.
58. Check out ice sculptures
These look amazing, so if you've never seen them before this is such a good date idea. Check to see if there are any ice sculptures nearby that you and your date could see.
59. Attend a hockey game
It doesn't have to be an NHL team. You could go to watch a local or college team, or perhaps even a local semi-pro team. Watching a hockey game is a fun way to get out of the house during the winter, and it's not super expensive either (if it's not an NHL game).
60. Start a house project together
Whether it's repainting your bedroom, or building a planter out of old pallets, there are plenty of projects that need to be done around the house, and winter, when it's cold outdoors, is often the perfect time to do it. So make a date of it! Dedicate a night to working on the project with your partner.
61. Have a dollar menu date
Yes, fast food isn't good for us; we all know that.
However, that's not to say that from time to time we can't indulge ourselves!
Rather than going out to a traditional sit-down restaurant, visit the drive-thru of your favorite fast food pace, and only order stuff that's on the dollar menu.
It's cheap, and you can eat in the warmth of your home – you don't even need to get out of the car at the fast food place! At home, enjoy a cozy dinner courtesy of the drive-thru – you can make up for it with healthy food the next day!
62. Go sledding
Sledding isn't just for kids. When you're young it's a super fun activity, so why miss out on that fun as an adult? Just hit the hills with your date this winter, if you live somewhere that's lucky enough to get snow, and go sledding.
63. Decorate a tree together
Whether you're a married couple, in a long-term relationship and are living together, or are only a few dates in, decorating a Christmas tree is a great date night idea for winter. You can pick out a tree together and even shop for decorations if you need new ones.
Then, you can string the lights, hang the ornaments and make the tree look great. Turn on the holiday music and have a drink of hot chocolate or eggnog together, and you've got the perfect festive date night.
64. Learn how to knit
What better time is there to learn to knit than when it's cold outside? It's a fun hobby to learn, and if one of you gets good at it you can knit a sweater or a blanket to keep you both warm during the chilly winter months.
65. Make s'mores at home
You can roast marshmallows over the fireplace.
If you don't have a fireplace, then a stove top can work well. And the flame from a candle works surprisingly well – trust me, I've tried it!
66. Take a drive to view the holiday lights
Drive to a place that's known to have beautiful lights during the winter, and check them out. Sometimes, these lights have a space that you can walk through. Even if you just take a drive around your town you can have a look at the holiday lights on people's houses. Take some hot chocolate with you to keep you and your date warm.
67. Give snowshoeing a try
With snowshoeing, you can stay active during the winter, and have fun outdoors with your date. Please do be careful when walking in the snow. You don't want to get lost out in the cold. Plan your route, always check the weather before you head out, and always stick to the trail. Check out this guide on how to stay safe when snowshoeing.
68. Build a snowman
Wrap up and go outside to make a snowman – again if you are lucky enough to live in an area that gets snow! You can dress the snowman in extra scarves or hats that you have at home. It's a fun, nostalgic, activity that's perfect for a wintertime date.
69. Bake some holiday treats
One of the best parts of the holidays is all the sweets treats you get to enjoy. So on a cold winter's night or day, stay home with your partner and bake together. You can then enjoy your baked treats together, and share them with friends, family members, or coworkers – if there are any left!
70. Plan your New Year
During December, consider sitting down together and planning some fun stuff that you could do next year. You could plan a vacation or a weekend getaway for spring or summer, or research concerts and events that are coming up. It's fun and exciting to plan for the future together.
71. Design a holiday card together
Create your own Christmas card together on your computer. There are even cards available online that you can customize together. You can add photos and insert your own text.
Check out these free, customizable Christmas cards from Greetings Island. You can print them out or send them as an ecard. This is a fun date night project for the wintertime.
72. Look at the holiday window displays
There's no better time for window shopping than during Christmastime. It can be fun walking through town beneath the Christmas lights and looking at all of the festive-themed window displays
73. Do an outdoor winter photo shoot
Take some photos together in the beautiful setting of the outdoors during wintertime!
You could even put the photos on a Christmas card!
74. Have a Christmas movie marathon
Whether it's a cheesy holiday move on Lifetime or a funny Christmas film on Netflix, consider cuddling up with your partner and watching holiday movies together. It's a great way to get into the festive mood. And when it's cold outside, there's nothing better than watching movies under a blanket in a warm house!
75. Have an indoor picnic
Sure it's too cold outside for a picnic, but does that mean that you have to miss out? Heck no! Instead, have one inside. Put a blanket on the floor, and enjoy a picnic in the warmth of your home!
Creative Date Night Ideas
Here are some date ideas that are unique and creative. So if you're looking for something different for your next date night, give these a try!
76. Test drive a car
Even if you have no intention of buying, this can be a fun way to spend an afternoon!
77. Rent your dream car
Is there a car that you or your partner loves? – what you would call your dream car? Well, rent it! You can take your rented car on a weekend getaway, or even just drive to some local spots and explore.
78. Sing karaoke together
There's nothing that bonds a couple like getting up and embarrassing yourselves in front of a crowd – unless of course, you can both actually sing! It fun, creative, and an entertaining way to spend an evening together.
79. Treat yourself to dinner at a fancy restaurant
It's a great excuse for you and your date to get dressed up!
So if you can fit it into your budget treat yourself with some fine dining at a fancy restaurant.
80. Take a spinning class together
Workout, and cheer each other on!
81. Take a boxing class
This is definitely not your typical date idea! But, it can be fun to try out an activity that you've both never done before. And you'll get the endorphins flowing, putting both of you in a good mood!
82. Learn to dance
Find a dance studio that offers lessons for beginners and for couples of course, and learn to dance together. You could consider booking a private couple's lesson as well.
83. Create your own wine tasting
You don't have to go somewhere to do a wine tasting. You can create your own one at home!
Visit a local wine store and ask for recommendations on great wines, or look at reviews online. Then you can set up your own wine tasting.
84. Go to Medieval Times
Super fun and not the typical setting for a date, Medieval Times is a creative date night idea.
85. Take a trip to a gourmet grocery store
Try out some new foods and have a great time cooking them together later.
86. Do a food truck tour
You can sample Chinese, Mexican, or Japanese food, and more by visiting food trucks in your area.
87. Go on a riverboat cruise
These often include dinner and a show as well, so it's a good way to spend a couple of hours together it a new setting.
88. Watch a play
Seeing a play is a good alternative to going to the movies.
89. Go to a wildlife reserve
Enjoy nature and the creatures that reside in it at your nearest wildlife reserve.
90. Visit a science center
Learn something new and have plenty to talk about with each other during a visit to the science center.
91. Attend a ballet
For a cultured date, attend a ballet with your companion.
92. Attend a college sports game together
It's cheap and it offers a lively atmosphere for a date together.
93. Visit an aquarium together
Watch beautiful and unusual fish together at an aquarium. This is a good activity to do together because it gives you plenty of talking points.
94. Explore a nearby city
Pick a nearby city that you've never visited before and just explore. You can check out the shops, local galleries, and even get a bite to eat together.
95. Check out a new band
Let loose while enjoying some new music!
96. Or go to gig of a band you both love
If there's a band that you both love, check to see if they are touring in your area. If they are, book a show and go to see them together. You'll both have a blast listening to your favorite band, and you'll make some great memories in the process.
Cute Date Night Ideas
Check out these cute date night ideas.
97. Do a photo-booth crawl
You can find photo booths in plenty of places, such as bars, restaurants, and malls. See how many you can visit in one afternoon or night!
When you get home, you can have fun looking at the photos that you and your date took. You could even make a collage of them or put them into a scrapbook.
98. Go on a picnic
This is a really overlooked date idea. When the weather is good, take a well-stocked picnic basket with you to a local park, or even just to your backyard and enjoy an afternoon together.
99. Play board games
This is such a fun activity that's ideal for competitive couples, or even for couples who are only on their second or third date.
100. Visit the arcade
Arcades aren't just for kids. For date night they can be super fun! Spend some time playing games together and just enjoy yourself.
101. Read aloud to each other from your favorite books
You and your date could bring a copy of your favorite book, and the read aloud from the first few chapters. It's a good way to take an interest in each other's favorite books.
102. Make a scrapbook together
Work on a scrapbook project together. Going through old photos together alone is a lot of fun! And, when you're done making the scrapbook, you'll have a book of memories to look through.
103. Visit a candy making factory
If you have a sweet tooth – and let's face it, who doesn't! – visit your local candy-making factory together.
104. Make your own ice cream
It's easier than you'd think. And there are plenty of tutorials on how to make homemade ice cream out there, as well as recipes. You don't even need an ice cream maker! So it's a pretty cheap activity that can be a lot of fun.
105. Go to a tea room
Enjoy tea, a few bites to eat, and, of course, each other's company by visiting a tea room.
Date Night Ideas Near Me
Are you looking for something interesting or fun to do nearby?
Check out these ideas.
106. Go to a free outdoor concert
It's a great way to spend an afternoon on a day when the weather is nice. Most areas host outdoor concerts that are free.
107. Visit a local farm and pick your own fruit
Get out in nature and pick your own fruit. It's a great way to relax and enjoy time together. Then you could use the fruit to make food together or just to enjoy later!
108. Take a pottery class
Attend a pottery class together and make something pretty for your home. Or just laugh at the disasters you both might make – creating pottery is harder than it looks!
109. Visit a Farmer's Market
You and your companion could go to visit a farmer's market. You'll not only find tasty fresh fruits and vegetables that you could cook together later, but you can also find crafts, baked goods, and even entertainment at some markets.
110. Go shopping together
Simple to do and you don't have to buy anything. You can just window shop. It offers plenty of talking points and the opportunity to people watch.
111. Go to a jazz club
Listen to some new music and have fun while you do by going to a jazz club. It's a good hobby for music fans and just for those who enjoy an entertaining evening.
112. Go on a Groupon Date
Check on Groupon for discount activities, restaurants, events and more in your area.
Romantic Date Night Ideas
If you want a romantic date check out these ideas.
113. Go Stargazing
Looking up at the stars together makes for a particularly romantic date night. So find a cozy spot, grab a comfy blanket, and enjoy each other's company while you look up into the magic of the night sky.
114. Take a ride on a Ferris wheel together
This is a romantic way to spend time together and you can take in some great sites too.
115. Go for a hot air balloon ride
It's classic, it's daring, and it gives you the perfect excuse to cuddle – all making for the perfect romantic date.
116. Visit a drive-in movie theater
Snuggle up in the back of your car while watching an old movie at a drive-in theater. You can also take snacks and drinks with you to enjoy during the move. It's a good twist on the usual dinner and a movie date.
117. Go on a Sunset Hike
Go for a walk together near to when the sun sets and enjoy a romantic sunset view together. If you're not a morning person, then this is better than having to get up super early to see the sunrise.
118. Cuddle by the fire
It's a romantic way to spend an evening. Even if you don't have a fire, just grab a blanket, and find a channel with a fireplace display – there used to be one on Netflix if I recall correctly – and just enjoy each other's company.
Fun Date Night Ideas
Looking for something to do that's super fun?
Well, check out these date ideas.
119. Try Go-Cart Racing
If you're looking for something really fun to do, then give go-cart racing a try. It's both hilarious and competitive!
120. Go Roller Skating
For the more adventurous types, roller-skating is a great date idea. It's particularly good for day-time dates. So give it a try. Even if you or your date aren't good at it, you can just have a good-spirited laugh at one another!
121. Visit an Amusement Park
For the adventurous ones who like an adrenaline rush, going to an amusement park is a great idea for a date night or a day-time date.
122. Go Canoeing
For an outdoor date, canoeing is definitely one to try – especially if you and your date like active hobbies.
123. Visit a water park
An outdoor waterpark can be a lot of fun on a hot day. But even if the weather isn't playing along, there are lots of indoor waterparks you can go to as well.
124. Go horseback riding
If you and your date are feeling particularly adventurous, go horseback riding.
125. Go ice skating
Laugh together as you try to hold each other up or when your date falls over (in a good-natured way of course!) on the ice rink.
126. Renaissance Faire
Immerse yourself in history by attending a renaissance fair together. Enjoy the costumes, the food, the atmosphere, and of course, spending time with each other!
127. Go to the circus
Watch amazing stunts at the circus. It's a creative way to spend some time together, and you'll have plenty to talk about.
128. Do an escape room challenge
When you go to an escape room challenge, you can work together, and solve the puzzles of the room! This is such a fun activity that's suited to married couples and couples on their first date alike. Sometimes, you can find deals for these on sites like Groupon, so you can save money.
129. Go to a comedy show
Go to a live comedy show and share a laugh together!
130. Visit a trampoline park
It's a real blast and definitely one of the more creative activities out there for a date.
131. Go play Frisbee golf
It's another super fun activity that's a creative way to spend time together.
132. Attend an open mic night
Take in performances, good and bad, at a local open mic night. If you're feeling brave, you could even take part yourself!
133. Visit the driving range
Driving is one of the most fun elements of golf. Even if you're not good at golf, you can still have fun trying to hit the golf ball!
134. Visit the batting cages
This can be a lot of fun! You or your date, depending on who's got the batting skills, can help each other to improve, or just gently tease the other's skills!
135. Take an improv class
For more adventurous, extrovert couples, taking an improv class can be an ideal activity. You'll likely have a lot of fun.
136. Play Laser Tag
It's super fun and a great way to have an enjoyable and often hilarious date night.
137. Visit an indoor gymnastics gym or obstacle course
If you or your date are the athletic types who like doing more active things, then consider visiting an indoor gymnastics gym or obstacle course.
Closing Thoughts
As you can see, dinner and a movie aren't your only options for a great date night.
There are plenty of other ideas you can use to create a fun and interesting date night.
Whether you are looking for a fun or romantic idea, or are going on your first date or spending time with your spouse, give some of these awesome date night ideas a try!