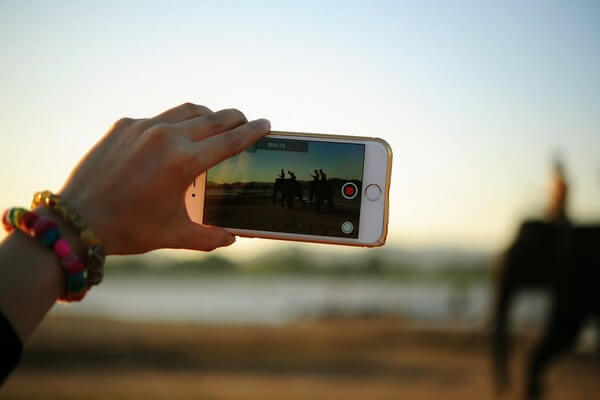 From making money by simply watching videos to getting paid for uploading videos, there are plenty of ways to make extra money nowadays.
But, did you know that you can actually make money selling your home videos?
Yes, the same footage you take during the holidays, parties, weddings, birthdays, graduations… you get the idea!
You might not believe it, but there is a company that will pay you for your videos!
This is an awesome opportunity for anyone who wants to earn a little extra cash.
You know what the best part is?
Need Easy Extra $300+/Month for Free?
KashKick
: Get paid directly into your PayPal for watching videos, surfing, shopping and more.
Join KashKick Now!
InboxDollars
: Paid over $57 Million to members to watch videos, take surveys, shop and more.
Get $5 instantly!
Branded Surveys
: Get $1 instantly just for joining for free. Plus get paid within 48 hours by PayPal!
Join Branded Surveys
First Opinion
: Get paid up to $10 per survey and $300 per virtual focus groups!
Join Now!
Swagbucks
: Get paid to watch videos, shop online, take surveys and more.
Join now & get $10 instantly!
You already own the only tool you need for this to work…
Your smartphone!
Nowadays, shooting quality video is easier than ever. Smartphones today can record higher quality videos than the professional grade video cameras (and camcorders) of the past.
"But where can I sell my videos?"
Well, there is a company called NewsFlare that makes it easy for you to sell your videos to media and news outlets.
What is Newsflare?
NewsFlare is an online marketplace for user-generated video content, and it's also a news community.
Essentially, it acts as a place for companies and news outlets, like CNN and AOL to source and buy news footage.
These videos are then used in a variety of different places like on documentaries, and websites.
Whether it's videos of the weather or stunts, the site sells a wide range of videos.
Newsflare also accepts both professional and amateur videos. So you don't need to have fancy camera equipment to be able to sell through the site – which is great!
How it works
The concept of Newsflare is pretty simple.
Organizations, websites, and various media outlets need video content, and through Newsflare people provide this content.
Essentially, Newsflare offers two types of services:
Video Licensing
YouTube Monetization
Both make it possible for anyone with a camera, whether that's a camera phone or a DSLR to make money from videos.
Here's a little more information on how both of Newsflare's opportunities work:
Video Licensing/Selling
From BBC to Yahoo!, Newsflare has built connections with some of the world's biggest buyers, and these buyers are looking for content.
And, they're willing to pay for it.
There are a few ways that you can make money.
Newsflare allows organizations to license videos from the platform. The site has a partnership with the Associated Press. So, your video can be placed into the AP video hub, where it will be seen by AP's international network of customers and potentially be bought.
If your video is licensed, then you get 50% of the profit that Newsflare makes from licensing your content.
But, that's not the only way that you can make money selling home videos with Newsflare.
Newsflare also has partnerships with production companies – like MTV and the Discovery Channel who are looking to purchase footage on a per-second basis.
If one of these production companies does decide to purchase your footage, then it can be pretty profitable – Newsflare states that many video makers have made thousands from selling their videos.
Finally, you can also make through revenue share. Newsflare has built a relationship with many online publishers, like AOL and MSN for example and provides them with a revenue share partnership.
Here's how it works:
Newsflare offers your video to an online publisher.
The online publisher then uploads this video content onto their website – and they place advertising around it.
You then receive 50% of the ad revenue.
With this method, you have to wait for the ad revenue to accumulate, so it does take a little longer.
What happens once you upload a video?
If you do decide that you want to license or sell your video through Newsflare, then you simply need to upload it to the site.
When you've uploaded your content, then Newsflare's team will review it. Make sure that you include details, like the time, location, date, and a description if you want your video to be approved.
Once the video has been reviewed, Newsflare will market the video to its clients.
Things to Consider
Once you upload your video Newsflare will attempt to license your videos to one of its many buyers.
You still own the rights to your content, but you give the site permission to license it.
It's important to note that when you do license a video through the site, it's on an exclusive basis. This means that you can't sell that video to another agency. But, Newsflare states that it does this because it keeps prices higher.
Your video might be edited if a buyer requests it, and if your video contains things like copyrighted music or a lot of text, then Newsflare might create another version of your video that's been altered to fix these issues and make the video more marketable.
If you want to remove a video from the platform, then you'll need to go into your Newsflare account and request deletion of your video.
YouTube Monetization
In addition to video licensing, Newsflare also offers a YouTube monetization service.
Newsflare is a YouTube Partner. So, when you work with the platform, it allows Google AdSense to place ads on the videos on your channel.
When these ads generate revenue, you get a 50% profit!
Pretty cool right?
Here's how it works:
You ask Newsflare to monetize your YouTube video.
The platform will claim ownership of your video.
Then a copy of your video will be created on the Newsflare YouTube channel.
But, the video still remains on your channel, and you still have the rights to it.
Ads will appear in the video, and you'll start to be able to make money from ad revenue!
If you want to monetize your YouTube videos through Newsflare, then you need to contact them via email at newsdesk@Newsflare.com.
Benefits of monetizing through Newsflare
Newsflare uses a tool called Content ID. With this tool, Newsflare can locate every copy of your video on YouTube, and allow you to get ad revenue on all of these copies. So, essentially you can make extra cash!
With YouTube, you need to meet a payment threshold to be able to withdraw payment, and often it can take a while to meet it. But, Newsflare has a lower payment threshold, meaning you can cash out sooner!
If the video gets published on one of the platforms partner websites, like MSN or AOL, then you also get a revenue share.
How much can you earn?
How much you can earn from selling home videos with Newsflare really depends on factors like which buyer licenses the video, how the buyer uses the video and how many views the ads on the video get.
Some people have reported making hundreds from videos they've licensed through the platform, and according to Newsflare, if a production company like MTV picks up your video, you could make thousands.
So, there really is a great earning potential with the platform.
If you want to stay up to date with your video sales and your revenue share, then just go to your account settings and click on "sales"
How do I get paid?
Payments from Newsflare are made via PayPal. It's fairly easy to set up a PayPal account if you don't already have one, and it's a safe way to get paid online.
You can set enter your PayPal info on the sales page here.
When and how often you get paid varies. You get paid within 24 hours of the sale for direct licensing sales.
For videos that are licensed through the revenue share partnership program, payment is based on views, meaning that your earnings will take time to build up. So, you will have to wait a little to get paid.
Once the revenue does add up, you get paid as soon as Newsflare gets payment from its partners.
Handily enough, Newsflare has a table that lists the payment periods for different partners, so take a look here for more information.
If you are monetizing a YouTube video through Newsflare, then you need to accrue £10 (Newsflare is a UK company) in order to be able to withdraw your earnings.  If you don't reach that threshold within a month, then Newsflare keeps the balance until you do reach the threshold, for up to a year.
What types of videos can you sell?
Newsflare accepts a wide range of different videos. News events are sought after, but a range of other videos, from stunts to weather footage to funny pets are also in demand.
Here are a few things to consider when choosing a video to sell:
Avoid uploading videos that include music you don't have the rights too and videos that include a lot of text and graphics.
You must be the copyright owner of the video that you upload.
Your video mustn't include any offensive, defamatory or libelous material, and it mustn't breach the rights of a third party.
On the Newsflare homepage, there is a recently sold section, which you should definitely check out for ideas of what videos are popular on the site.
With Newsflare you can either upload videos of your own choosing, or you can check the video assignments section and respond to one of the assignments.
Bottom Line
Armed with just your cell phone, you could make a pretty decent amount of cash selling your videos through Newsflare.
It's so easy to do and it can be super profitable!
Imagine making a couple hundred extra dollars just from something you shot from your cell phone.
It would be awesome, right?
Give it a try and let us know how it goes.
And if you have ever made money from selling your videos, please share your experience and how you did it in the comment section below.