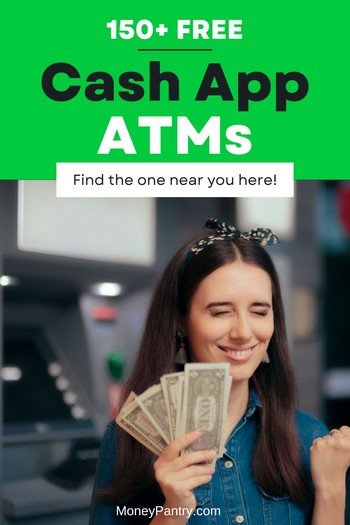 Cash App (review) is great because people can use it to obtain loans, file taxes, send/request money and even get an instant $50 loan.
Besides allowing you to send, receive and borrow money, Cash App also offers a Cash Card, a debit card Cash App members can use to withdraw cash from ATMs.
Since ATM fees add up over time, you may wonder "Are there any free Cash App ATMs near me?"
The average ATM is used to withdraw funds 300 times a month. Even though today we have credit cards, debit cards, PayPal, and other handy payment options, there are a few reasons why it's still necessary to access cash:
Some eateries, especially ice cream establishments, are cash-only businesses.
If you need to catch a bus, it's good to have cash on hand since most buses don't take debit or credit cards.
More and more restaurants carry self-order kiosks where customers can place orders at their tables and pay tips. With that said, some restaurants still accept cash tips since they haven't upgraded to modern restaurant technology. So if you want to leave a tip, you're ready to go with a one- or five-dollar bill (or more).
Cash App ATM Locations Near Me
Before I answer questions regarding free Cash App ATMs, here's a sample of Cash App ATMs around the country:
1. 1st Capital Bank
Need Easy Extra $300+/Month for Free?
KashKick
: Get paid directly into your PayPal for watching videos, surfing, shopping and more.
Join KashKick Now!
InboxDollars
: Paid over $57 Million to members to watch videos, take surveys, shop and more.
Get $5 instantly!
Branded Surveys
: Get $1 instantly just for joining for free. Plus get paid within 48 hours by PayPal!
Join Branded Surveys
First Opinion
: Get paid up to $10 per survey and $300 per virtual focus groups!
Join Now!
Swagbucks
: Get paid to watch videos, shop online, take surveys and more.
Join now & get $10 instantly!
2. 1st Financial Bank USA
3. 1st Source Bank
4. 1st Bank and Trust Company
5. 21st Century Bank
6. Abby Bank
7. Academy Bank NA
8. Alliance Community Bank
9. Ally Bank
10. Alpine Bank
11. Amboy Bank
12. B1Bank
13. Baker Boyer Bank
14. Bancorp Bank NA
15. Bank of America
16. Bank of Bird-In-Hand
17. Bank of Colorado
18. C3Bank NA
19. Cache Valley Bank
20. Campbell & Fetter Bank
21. Carter Bank & Trust
22. Citizens Independent Bank
23. Clear Lake Bank & Trust
24. Dacotah Bank
25. Dallas Capital Bank
26. Decorah Bank & Trust Company
27. Denison State Bank
28. Dime Community Bank
29. Dogwood State Bank
30. Eagle Bank & Trust
31. Earlham Savings Bank
32. East West Bank
33. Elderton State Bank
34. Embassy Bank for the Lehigh Valley
35. Empire State Bank
36. Falcon International Bank
37. Farmers & Merchants National Bank
38. Fidelity Bank and Trust
39. Fifth Third Bank NA
40. First American Bank and Trust
41. First Century Bank NA
42. Garrett State Bank
43. Gateway First Bank
44. Genoa Banking Company
45. Gibsland Bank & Trust
46. Golden Valley Bank
47. Great American Bank
48. Hancock Whitney Bank
49. Harmony Bank NA
50. Hawaii National Bank
51. Heartland Bank & Trust Company
52. Hiawatha National Bank
53. Highpoint Community Bank
54. Idaho First Bank
55. Independence Bank of Kentucky
56. Industry State Bank
57. Intercredit Bank
58. International Bank of Commerce
59. Intracoastal Bank
60. Jackson County Bank
61. Jefferson Security Bank
62. John Marshall Bank
63. Jonah Bank of Wyoming
64. Jonestown Bank & Trust Company
65. JP Morgan Chase Bank
66. Karnes County National Bank
67. Kaw Valley Bank
68. Kensington Bank
69. KeyBank NA
70. Kirkwood Bank & Trust
71. KS StateBank
72. Labette Bank
73. Lake Elmo Bank
74. Legacy Bank & Trust
75. Lending Club Bank NA
76. Lewis & Clark Bank
77. Lone Star National Bank
78. Mabrey Bank
79. Malvern Bank NA
80. Meadows Bank
81. Merchants and Farmers Bank
82. MidAmerica National Bank
83. Modern Bank NA
84. Napoleon State Bank
85. New Mexico Bank & Trust
86. New Peoples Bank
87. North Dallas Bank & Trust
88. Northstar Bank
89. NSB Bank
90. Oak Valley Community Bank
91. OceanFirst Bank NA
92. Ohio State Bank
93. Old Dominion Bank
94. Old Plank Trail Bank Community Bank NA
95. Oregon Coast Bank
96. Pacific Valley Bank
97. Park Ridge Community Bank
98. Peoples Community Bank
99. Pinnacle Bank
100. Platinum Bank
101. PNC Bank NA
102. QNB Bank
103. Quad City Bank & Trust
104. Quail Creek Bank
105. Quantum National Bank
106. Queensborough National Bank & Trust Company
107. Queenstown Bank of Maryland
108. Raccoon Valley Bank
109. Raymond James Bank NA
110. Regions Bank
111. Republic Bank
112. River Valley Community Bank
113. Round Top State Bank
114. Sabine State Bank
115. Sandy Spring Bank
116. Sauk Valley Bank
117. Schaumburg Bank & Trust
118. Shore United Bank
119. Signature Bank NA
120. TD Bank NA
121. Tennessee State Bank
122. Thomasville National Bank
123. Titan Bank
124. Tompkins Community Bank
125. Tri-County Bank & Trust
126. UniBank
127. United Business Bank
128. United Community Bank
129. United Prairie Bank
130. Univest Bank & Trust
131. US Bank
132. Valliance Bank
133. Varo Bank
134. VeraBank
135. Vermillion State Bank
136. Virginia National Bank
137. Vision Bank
138. Wayne County Bank
139. Webster Bank
140. Wells Fargo
141. Yampa Valley Bank
142. Yellowstone Bank
143. Zions Bank
Additionally, here's a list of popular retailers with ATMs:
144. Costco
145. CVS
146. Dollar General
147. Dollar Tree
148. Family Dollar
149. Rite Aid
150. Target
151. Walmart
152. Walgreens
153. Winn-Dixie
Frequently Asked Questions about Cash App ATMs
Here are answers to some of the biggest questions about using your Cash App card at an ATMs
So, are there any free Cash App ATMs near me?
No and yes. Why do I first say no? Because when you use a Cash Card, you'll be charged a $2.50 transaction fee, and withdrawal fees range between $2.00 to $3.00+.
However, there are two ways to bypass ATM fees.
The first way is to use your card at any ATM that accepts Visa cards. (Cash Card happens to be a Visa card.) Most of the ATMs I listed above should take Visa cards.
You can find a Visa ATM via the Visa Global ATM Locator. Type in your address, city, or zip code before clicking the magnifying glass icon to begin.
The second way to avoid fees is to take advantage of Cash App's direct deposit offer. How does it work?
You have to accept qualifying direct deposit payments worth at least $300 per month. Also, you're allowed up to three free withdrawals a month. But Cash App reimbursements all your ATM fees up to $7 per withdrawal. How awesome is that?
Are there any ATM withdrawal limits?
Unfortunately, there are, but the limits are in place for security purposes. You can withdraw up to $1,000 per day, per week, and per ATM transaction.
If you're getting cashback funds, they count toward your ATM withdrawal limit, too. Keep track of your Cash Card balance through your Account Activity via your computer or smartphone.
Is it possible to increase ATM withdrawal limits?
Unlike banks, there's no way to increase your withdrawal limit as of now. You never know, though. It could happen one day.
How do I obtain a Cash Card in the first place?
Ordering a Cash Card is simple, and it doesn't cost you any money. Use it at an in-person or online business that's Visa-friendly. You can even transfer cash to your bank account.
Furthermore, you need to be at least 18 years of age to order your own Cash Card. (Those 13-17 can order a card as long as they get a parent's/guardian's signature first.)
Follow these steps to get your card:
Go to the Cash App home screen and touch the Cash Card icon.
Tap "Get Free Cash Card."
Then press "Continue" and follow the rest of the prompts.
Your card should arrive within 10 days. If you don't want to wait that long, you can use it right after ordering it either by using its card credentials (you'll find them in the Cash Card tab) or connecting it to a Google Pay or Apple Pay account.
How do I activate my Cash Card?
You can activate your Cash Card with and without a QR code. How?
If you have the QR code handy:
Visit the Cash App home screen to press the Cash Card tab.
Touch the Cash Card image, then touch "Activate Cash Card."
A prompt will ask your permission to use your phone's camera. Press "Ok."
Afterward, scan the code.
If you don't have the QR code:
Scroll to the Cash App home screen and tap the Cash Card icon.
Press the Cash Card image, then "Activate Cash Card."
Touch "Use CVV Instead," and type in your card's expiration date and CVV number.
How do I add money to my Cash Card?
You have to connect your bank account to your Cash Card to add funds. Your bank account also needs to meet certain criteria:
Maintain an active status
US-based
Have at least $1.00 in your account
This is how you connect your Cash Card to your bank account and add money to it:
First, visit the Cash App home screen and press the "My Cash" tab.
Next, click on "Add Bank."
Enter your routing and account numbers to validate your account. (Cash App validates your account by withdrawing one dollar from it.)
After the validation process completes, visit the "My Cash" tab and tap "Add Cash."
Select the amount of money you want to add to your card before clicking "Add."
Validate your transfer via PIN or Touch ID.
If you want, you can load your Cash Card at Walmart or with a debit/credit card.
Here's how to add funds using these options:
Walmart
Drop by your local Walmart to load your Cash Card for only $3.
Debit/Credit Card
Visit the "My Cash" tab on the Cash App home screen.
Choose "Add Cash," and pick the money amount to add to your card.
Press the "Add" button.
Is there anything else I need to know about the Cash Card?
Yes, absolutely!
The Cash Card comes with three cool features: Round Ups, Boosts, and Design Features.
Round Ups
What are Rounds Ups? They're the cashback rewards you receive to use toward Bitcoin or Stock. You can invest with just one single dollar.
Boosts
Enabling Boosts to your card lets you save money on popular merchants like Starbucks, Domino's Pizza, and Lyft.
Design Features
If you like art projects, you'll be glad to know that you can design your Cash Card the way you want it to appear. Feel free to use freestyle, emojis, signatures, animals, and much more. Note that re-designs cost $5.
Putting it All Together
Getting electronic payments is a real boon of the 21st century. Nevertheless, you might find yourself in a situation where you need to get some greenbacks.
And for you and millions of other Cash App users, it can't get any easier than just driving up to one of the many free Cash App ATMs near you to withdraw cash from your account any time!