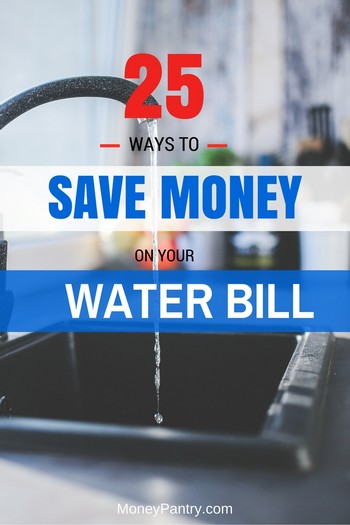 Whether you want to save money for a vacation, or just cut down your overall monthly bills a bit, you should definitely consider cutting down on your household water consumption.
Whether you live in an apartment or a house, water wastage is a real problem.
How big of a problem?
According to the EPA, 1 in 10 homes have leaks that waste more than 90 gallons of water each day.
That is a crazy amount of wasted water.
But here is the thing…
Need Easy Extra $300+/Month for Free?
Panel Payday
: Earn up to $75 per survey. They also pay up to $50/hr for mystery shopping.
Join Now!
InboxDollars
: Paid over $57 Million to members to watch videos, take surveys, shop and more.
Get $5 instantly!
Opinion OutPost
: Want fun & high paying surveys? This is the survey site for it!
Join Opinion Outpost!
Branded Surveys
: Get $1 instantly just for joining for free. Plus get paid within 48 hours by PayPal!
Join Branded Surveys
Toluna
: Earn PayPal, Amazon & Tango e-vouchers for taking surveys (& product testing!).
Join & get 500 bonus!
Swagbucks
: Get paid to watch videos, shop online, take surveys and more.
Join now & get $5 instantly!
You can easily save $100 to $500 a year on your water bill by taking a few simple steps.
There are plenty of things that you can do to reduce the amount of water your household uses, and save money on your water bill in the process. Plus, when you use less water you're helping the environment too!
Save Water, Save Money!
We've put together a list of 25 effective ways to conserve water and save money on your water bill.
These tips can also help you to save money on your utility bills overall. So, check them out and start saving.
Kitchen
The kitchen is where the action is – at least when it comes to water consumption.
Use these tips to reduce your water consumption in the kitchen.
1. Reuse Dishes Where You Can
One of the easiest ways that you can save money on your water bill is to reuse certain dishes.
So, if you're at home, designate one cup that you're going to drink tea or coffee from for the day, and one glass that you're going to drink water from for the day.
And, if you're having a dry snack or meal, then you could reuse your plate. When you reuse your dishes, you put the dishwasher on less, so you use less water as a result you'll save 6 gallons of water per load not done.
Of course, there are certain dishes that you won't be able to reuse, but stuff like cups and glasses can easily be used more than once.
2. Soak Dishes Instead
If you're trying to clean off pots and pans before you put them into the dishwasher, make sure that you don't rinse them under running water – this uses a lot of water.
Instead, leave pots and pans to soak – it's a much more effective way to remove debris, plus it uses less water.
Soak pots and pans instead of letting the water run while you scrape them clean.
3. Don't Hand Wash Dishes
A lot of people think that hand-washing dishes will keep their utility bills low – but, it can actually have the opposite effect.
Hand-washing dishes uses much more water than running the dishwasher does.
While the average dishwasher cycle uses about 6 gallons of water per cycle, when you hand-wash dishes, you use 2 gallons per minute!
So, even if it only takes you ten minutes to wash the dishes, you'll still be using much more water than you would if you'd used the dishwasher instead.
4. Avoid Defrosting Frozen Foods with Running Water
Defrosting food with running water is an easy way to use a ton of water, and if you're doing it frequently, skyrocket your energy bills!
Running the water uses 2 gallons per minute.
If you want to save money on your water bill, take food out to thaw in advance of when you need it, and place it in the fridge or on the kitchen counter to defrost or use the microwave's defrost setting.
5. Keep Bottles of Water in the Fridge
When you want a drink of water from the tap, you leave the water running while you wait for it to get cold.
But, as mentioned above, running the water for just a minute can use two gallons of water.
So, instead of running the tap until the water gets cool enough to drink, fill up a bottle or a pitcher with water, and place it in the fridge.
It will keep the water cool.
Then, you won't have to waste water running the tap every time you want a drink, and you'll have a cold drink waiting for you.
6. Wash Fruits and Vegetables in a Pan or Bowl
Cleaning off fruits and vegetables can use a lot of water if you don't do it the right way.
Don't rinse them off under running water – this uses so much water, and can really up your water bill if you do it often.
What you should do instead is fill a pan with clean water and then clean them off in there.
It uses far less water.
7. Only Put the Dishwasher on If It's Full
One of the easiest ways to waste water is by running the dishwasher when it's not completely full.
While using the dishwasher to clean your dishes does use less water than hand-washing them does, it still uses 6 gallons per load. So, if you put the dishwasher on half-full all the time, then you do twice as many loads as you need to, and you use twice as much water in the process too!
So, before you start the dishwasher, make sure you fit in as many dishes as you can.
If you do that, your dishwasher won't go on as often, and you will save money on your water bill.
Bathroom
This is the place where we use water the most.
So a few hacks here and there can pay off big time when it comes to your water bill.
8. Turn Off the Tap When Brushing Your Teeth or Shaving
It's tempting to keep the faucet running when you brush your teeth or shave. But, it's also an easy way to waste water and send your hard-earned cash down the drain.
Even if you run the faucet for just a few minutes each time you brush your teeth, if you do that twice per day, you could use more than 300 gallons of water a month!
That's a pretty substantial amount that can have a big impact on your water bill.
So, turn off the tap when you're not using it. Don't let it run while you're brushing your teeth or shaving.
9. Shorten Your Showers
Taking a shower uses far less water than taking a bath does. But, if you take long showers, it still uses a pretty decent amount of water.
When you take a bath, it uses between 30 to 50 gallons of water.
On the other hand, the average shower only uses 2.5 gallons a minute, so if you keep your showers, short, at ten minutes or less, you'll save even more water.
A ten-minute shower uses about 25 gallons of water.
So, if you can cut that time down further you'll save even more.
If you shower every day, and you reduce each shower by just one minute, you'll save more than 17 gallons of water per week – that's more than 500 gallons per month.
10. Get a Water-Saving Showerhead
Upgrading your showerhead really helps to cut down your household water usage, and your water bill in the process.
Choose a low-flow showerhead, like a WaterSense labeled showerhead. Low-flow showerheads use less than 2.5 gallons of water – the standard amount the average showerhead uses.
While getting a better showerhead might cost a little more upfront, it offers bigger savings in the long term.
11. Consider Upgrading to a Modern Toilet
Many older toilets, especially those that were installed before 1992, use 3 to 5 gallons of water per flush and some can even use up to seven!
Newer toilets, however, use much less per year – thanks to Federal plumbing standards.
Modern toilets can only use up to 1.6 gallons of water per flush – and many use just 1.28 gallons.
That's a lot of water saved per flush – which has a big impact on your water bill.
So, if you can afford the upfront investment, then you should definitely consider getting a modern toilet installed. WaterSense labeled toilets are a good choice.
While it will be a big upfront cost, over time, you'll get the money back on your investment with how much water you save.
Laundry
You don't do laundry every day, but when you do, it consumes water like there is no tomorrow.
Thankfully, there are a few things you can do to reduce the water consumption of your water-thirsty washer.
12. Wear Your Clothes a Few times Before Washing Them
Sometimes, people wash their clothes because they think they should, rather than because they actually need to.
Often, you'll find that certain items, like jeans and jackets, can be worn multiple times before they actually need to be washed.
So, wear your clothes a few times before you wash them – you'll run the washing machine less, which can save you 30 to 40 gallons of water per load.
13. Save Your Laundry until You Have a Full Load
Another way to save money on your water bill is to do fewer loads of laundry.
And, the best way to do this is to only run the washing machine when you have a full load.
Save up your laundry until you have enough to fill the washer.
If you often run it half full, then you are essentially doing double the amount of loads that you need to.
Outdoor
We all want green lawns (though we never seem to get it and the neighbor's lawn always looks better than ours.)
Unfortunately, that comes with a price.
If you don't want to pay that price in full, consider these hacks.
14. Use Mulch
If you want to use less water when you're caring for plants and trees in your garden, then put a layer of mulch around them.
Add about two to three inches of it around the base of any trees or plants in your yard.
Mulch or compost is incredibly effective at reducing evaporation – which means you won't need to water them as much.
It's a simple, cost-effective way to use less water, and you'll reduce your water bill.
15. Water Your Outdoor Plants at the Right Time
Did you know that the time you water your lawn and outdoor plants can have a big effect on how much water you'll use overall?
It's true.
If you water the lawn in the middle of the day, a lot of the water will evaporate before it even gets the chance to soak into the soil – so you'll have to water it again soon after.
So, leave watering the lawn and your plants until early morning or late evening. It will be cooler then, and the water evaporation rate will be much slower.
16. Only Water the Lawn If It Really Needs It
A lot of people use more water than they need to when they water their lawn.
Generally, a lawn only needs about an inch of water per week.
That's around half a gallon per square foot – so a lawn that's 10'x10′ needs around 62 gallons of water.
You can also waste a lot of water if you water the lawn too often – so make sure that you only do it when it really needs it.
How do I know if my lawn needs water or not?
There is a simple way to find out. It is known as the "Footprint" test.
Here is how you can perform the good ol' footprint test:
Simply step on the lawn.
If the grass springs back up after you move, then it doesn't need to be watered.
If the grass stays flat after you move then it does need water.
17. Don't Use Water to Clean Sidewalks and Driveways
If the driveway or sidewalk by your house needs to be cleared of debris, then use a broom, rather than a hose to do it.
A garden hose can use anywhere from 6 to 24 gallons of water per minute!
So, if you're clearing a couple of areas, then you can really make your water bill skyrocket.
So, use a broom instead.
18. Keep Pools Covered
If you have a swimming pool or a wading pool in your garden, then make sure you keep the cover on when it's not in use.
When a pool is left uncovered the water evaporates at a much quicker rate – which means you need to use more water to keep it filled.
So, if you want to reduce evaporation and keep your water bill low in the process, then keep the pool covered.
General
Here are some more tips for things that don't fall into the 4 categories above:
19. Add Aerators to Your Faucets
Consider adding aerators to your faucets. This will significantly lower your household water bill.
A faucet aerator is a small fixture that you attach to the tip of your faucet. They add air into the stream of water, meaning that when you run your faucet it uses fewer gallons per minute.
Aerators also increase water pressure, and they prevent water splashing – so they're pretty great all around!
And, the best part?
They're relatively cheap and super easy to install – most of them can simply be screwed into place.
So, consider adding them to all of the faucets in your home.
20. Reduce the Amount of Water in the Toilet Tank
A really simple way to cut down your household water usage is to put a plastic water bottle (or even a brick) in your toilet tank.
It sounds a bit strange, but it's actually really effective and easy to do.
Here is how:
Fill the bottle or bottles with water, and maybe even a bit of sand, and screw the lids back on.
Then, place them back into the toilet tank.
After you flush the toilet, the tank won't need as much water to fill up, meaning that, in the future, you'll use less water per flush.
Just make sure that you don't place the bottle near any important mechanisms, and that there's a minimum of 3 gallons of water remaining in the tank – otherwise it won't flush properly.
Even if your toilet only uses a little less water per flush, you still save water each and every time you flush the toilet.
21. Fix Your Leaks and Save 10% on Your Next Water Bill
Leaks in the home are one of the biggest causes of high water bills. Many people don't realize just how much water even a small leak can waste.
According to the United States Environmental Protection Agency (EPA), each year, the average household loses more than 10,000 gallons of water through leaks.
The EPA states that by just fixing easily corrected leaks in the home, you could save 10 percent on your water bill.
So, if you do know of any leaks around your home, make sure you fix them as soon as possible.
You can often fix small leaks, like dripping faucets, for example, yourself.
Unfortunately, many leaks in the home go undiscovered. And, your home unknowingly wastes gallons of water on a daily basis, which skyrockets your bills.
That's why it's so important to check your home thoroughly for leaks.
Here are a few tips for finding leaks in your home:
1. Check Pipes and Faucets
Check every single visible pipe and faucet in your home to see if any of them are leaking.
Just one faucet that drips one drop per second can waste over 3,000 gallons of water in a year!
That's a fairly substantial amount.
2. Find Hidden Leaks by Checking the Water Meter or Bill
Even when you take the time to check your home thoroughly, you might still miss a leak. Not all leaks in the home are easy to find.
So, a great way to check for hidden water leaks is to check your water meter or the water bill.
Read your water meter before you leave the house and when you get home from work. If it changes when no one is in the house, then it means that there is a leak.
You can also read your water bill to look for signs of a leak.
According to the EPA, if your family uses more than 12,000 gallons per month of water during the winter, then that's a sign of a leak issue.
3. Check the Toilet
The toilet tank can also spring a leak, and it can sometimes be hard to detect.
A good way to determine whether or not the toilet tank is leaking is to use food coloring.
Here is how:
Put a little bit of food coloring – a drop will do – into the toilet tank.
Don't flush the toilet. Just leave it.
Check back in 30 minutes.
Then, if you see the color appearing in the toilet bowl you know you have a leak.
4. Inspect your Appliances
It's not just pipes and faucets that can leak – your appliances can too.
Don't forget to check appliances, like the dishwasher and the washing machine for leaks or drips as well.
22. Upgrade to Energy Star Appliances
Consider replacing your current dishwasher and washing machine, with Energy Star ones – if you have the money to do so.
Energy Star is an international standard for products that are energy efficient.
Appliances that feature the Energy Star mark use less water and less energy.
For example, an Energy Star labeled washing machine uses just 10–20 gallons of water per load, which is much less than the 30 to 40 gallons a standard washing machine uses.
This means that your utility bills will be reduced.
23. Be Creative when Watering the Plants
Watering the plants uses more water than you'd think. But, there are a couple of simple things that you can do to reduce the amount of water you use:
If you're running the tap until the water gets hot, collect the cool running water and use it later to water your plants.
Dropped an ice cube on the floor? Don't let it go to waste. Drop the ice cube onto a plant and it will water it as it melts.
If you've rinsed your fruits and vegetables in a pan, then use that water again to water the plants.
If you're willing to be a bit more creative, then you can save money on watering your plants.
24. Save on Car Washing
Did you know that washing your car can waste a lot of water, especially if you use a hose to do it at home, as many people do?
If you want to save water and money on washing your car, then consider the following:
Take your Car to the Car Wash
Did you know that the average professional car wash service uses 70% less water than you would if you washed your car at home with a hosepipe?
Really!
Car washes are much more water-efficient, so consider taking your car to one.
If you don't have the time or the money to visit a car wash, then use a bucket of water, rather than a hose to clean your car. Fill a large bucket and wash your car with that, and you'll save gallons of water.
Leave the Car out in the Rain
A really budget friendly way to clean your car, without using water from your home or your cash is to simply leave it out when it's raining. Rainwater is free, and it's pretty effective at cleaning cars.
25. Insulate your Water Pipes
Insulating your hot water pipes is one of the most effective ways to save money on your water bill.
When you insulate the hot water pipes, it keeps the hot water in the pipes warmer. It prevents it from cooling down as quickly – meaning that you won't have to run the tap for as long for the water to heat up.
So, you'll waste less water running the tap, and save money on your water bill in the process.
Final Word
Even if you just make a few small adjustments, you'll save so much water and save money on your water bill as well.
So, give these tips a try and see if your water consumption goes down.