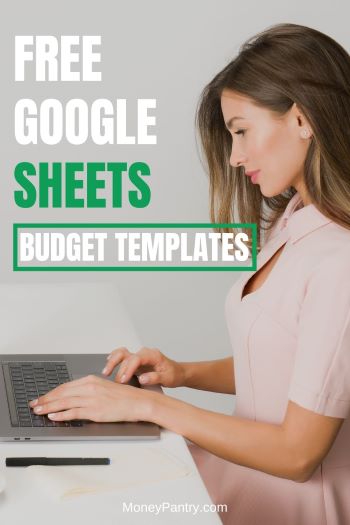 While budgeting apps can help you with your savings and long-term money goals, many of them require you to link a bank account.
Perhaps you don't feel comfortable doing that. If so, then a free Google sheets budget template could be a better option for you.
With free printable budgeting templates, you can track expenses and your income and get more control over your finances.
Thankfully, there are many free Google sheets budget templates. Some are simple budget templates that you can use to track your income and outgoings. Others are more complex allowing you to track your entire budget for the year, and others are designed to help you budget for specific things, like a wedding, business expenses, or college.
Free Personal Weekly, Monthly, & Annual Budget Template for Google Sheets
Whatever you are budgeting for, you'll likely find one of the free budget templates below useful for you. There's a budgeting sheet to suit all budget styles.
This free Google template utilizes the 50/30/20 budgeting strategy.
Need Easy Extra $300+/Month for Free?
KashKick
: Get paid directly into your PayPal for watching videos, surfing, shopping and more.
Join KashKick Now!
Panel Payday
: Earn up to $75 per survey. They also pay up to $50/hr for mystery shopping.
Join Now!
InboxDollars
: Paid over $57 Million to members to watch videos, take surveys, shop and more.
Get $5 instantly!
Branded Surveys
: Get $1 instantly just for joining for free. Plus get paid within 48 hours by PayPal!
Join Branded Surveys
iPsos iSay:
: If you have to only sign up for one paid survey site, go with Ipsos (high paying survyes)!
Join iPsos Now!
Swagbucks
: Get paid to watch videos, shop online, take surveys and more.
Join now & get $5 instantly!
The 50/30/20 rule encourages you to spend only 50% of your monthly income on necessary expenses. When you only spend half of your income on needs, it means that you aren't living paycheck to paycheck.
With the 50/30/20 budgeting system, your cash is divided into three categories:
Needs: 50%
Wants: 30%
Savings and extra debt payments: 20%
Examples of needs include things like living expenses, insurance, and minimum monthly loan payments. Wants may include things like eating out at restaurants or streaming services. The 20% for savings and extra debt payments should also include savings for your emergency fund and retirement.
While separating your necessary monthly expenses (needs) from wants can be difficult at first, it can be an effective way to budget.
With this form of budgeting, you're more likely to be able to afford a one-time financial cost or a temporary pay cut without having to go into debt.
This free Google budget template has a tab for one person and a tab for two people, which is useful.
Budgeting for the entire year can be really useful for reaching your long-term savings goals. With this Annual Budget Template by Smartsheet, you're able to view details for each month, as well as totals for the entire year.
Handily enough, the template also includes a summary sheet that can help you to see spending and financial fluctuations over the course of a year.
You can use the template for business or personal use simply by adjusting the sources of income and types of expenses listed. Overall, it's a very useful free budgeting template.
Aspire Budgeting has a free Google sheet you can use for budgeting. It follows the zero-based budgeting method.
This is a popular budgeting method that's recommended by people like Dave Ramsey who utilizes the method in his EveryDollar app.
If you don't already know what zero-based budgeting is, it's basically, a method of budgeting where your income minus your outgoings equal zero. This way, you know exactly where every dollar is going.
For example, let's say you earn $2,000 a month and your bills and expenses are $1,800 a month. This would leave you with $200 over. With the zero-based budgeting method, you still need to tell that $200 where to go.
You could use that $200 to pay down debts or put that $200 into your savings account, for example.
If this type of budgeting sounds like it could be for you, then try Aspire Budgeting. With it, you can see an overview of your budget with just a quick glance, quickly add transactions as you make them, and run reports to get new insights on your spending.
This free Budget & Transaction Tracking Template by Greenshift is another free template that can help you with your finances.
With it, you can enter your income and expenses. What's great about this free template is that under the Expenses category, you can enter your planned expenses and your actual expenses.
This is useful for me because I often plan to spend a certain amount of money on groceries but often end up exceeding that planned amount.
So, the fact that his template allows you to see the difference between your planned expenses and your actual expenses is really useful.
You can also see the difference between your planned income and your actual income, which can be really useful for freelancers in particular, or anyone who doesn't earn a set salary.
Smartsheet has lots of great templates for budgeting and this is another example. This bi-weekly budget template is designed for planning around a bi-weekly paycheck. With it, you can adjust the dates to match your paydays and subtract your expenses from your base income.
What's great about this template is that it calculates the difference so that you can track your net income, and it shows you how much of your income you are moving to your savings.
Income on the sheet can is split up into handy categories, such as salary/wages, interest income, dividends, and refunds/reimbursements.
Expenses are also separated into useful categories and subcategories, such as Home, where you'll find subcategories like mortgage/rent, and gas/oil, and Transportation, where you'll find subcategories like car payments, auto insurance, and fuel.
If you are looking for a free Google sheet budget template for business purposes, then try this one from Smartsheet.
This Business Budget Template is ideal for small business owners and keeps the budgeting process straightforward and streamlined.
With it, you can track income and expenses for each month, and there are lots of categories, such as payroll expenses, accounting and legal, and office supplies, which can help your business's budget to stay on track.
If you're a college student who's looking to start budgeting, then you might want to give this College Student Budget from Smartsheet a try.
With it, you can list your income and expenses for each semester, which can help you to plan for bills, school supplies, and other incidentals. The template is great for helping you to ensure that important costs are covered.
The Complete Budget & Receipt Tracker template is a great tool for budgeting.
It has a monthly budget sheet where you can document your expenses each month
What makes this a great option is that the spreadsheet also has a Google form linked to it that allows you to record and categorize your transactions on the go, and add a receipt photo, tag, and description. These images are saved to Drive and the link to the photos can be found next to the transactions.
You don't have to use the receipt tracker, and can instead just enter your monthly budget, but it's a useful addition. If you want to keep better track of what you're spending, this is a really useful Google sheet.
If you are looking to keep track of expenses, then try this Expense Budget Report from Smartsheet. It can be used to calculate business trip expenses, both for budgeting planning and for tracking expenses while you're traveling or attending events.
If the expense report is also used for requesting reimbursement, then it's important to keep receipts for every expense incurred.
What's good about this spreadsheet is that you can add or remove sections to create a customized expense budget report.
This family budget planner is another useful free Google sheet budget template. You can enter your income, home expenses, such as mortgage/rent and phone, and daily living expenses, such as groceries and clothing, for each month.
Google has an Annual Budget Template that you can use to plan and track your monthly spending for the entire year. You can enter your information in the Expenses and Income tabs. You can rename or delete categories in these tabs. Your changes will automatically be reflected on the Summary tab, which shows an overview of your projected/actual spending.
Google has a Monthly Budget sheet too. This is budget template is an income and expense tracker. It provides a dashboard that can be customized with your desired income and expenses by category, so you can track your budget throughout the month.
You can enter your expenses and income into the spreadsheet.
Home renovation projects often end up costing you more than you thought they would, which is why this Home Renovation Budget Template is so great. With this simple template, you can itemize all of your home renovation costs, such as labor and materials. This helps you to plan accordingly and also accommodate any surprise costs.
It's a great tool for keeping your home renovation project on track and within budget.
If you are looking for a budget for the whole family, then consider this Household Budget Template from Smartsheet.
It can be used as a family budget planner, and take household expenses into account, such as costs related to your child's education or extracurricular activities. It's great for balancing your household budget and tracking your savings.
Another option you could try is this Money Management Template by Vertex42.com. This is a money management spreadsheet that provides the same functionality as basic budgeting and money management and personal finance software.
With the Yearly Budget tab in the spreadsheet, you can enter your income and expenses for each month. You can view a monthly budget report and a yearly income & expense report.
Overall, it's a great money management tool.
On the Personal Monthly Budget sheet by Vertex42.com, you can enter your income and expenses for the month.
With it, you can compare your budget and actual spending on a monthly basis.
The spreadsheet calculates the difference between your budget and actual spending and formats it to make it easy to see where you may be overspending.
The Simple Budget Worksheet by Vertex42.com helps you to create a simple budget.
You can enter your monthly, weekly, or bi-weekly income. Then, list your other bills and expenses for that pay period. The total savings is calculated by subtracting the total expenses from your income.
The main purpose of this Simple Budget Worksheet by Vertex42.com is to help you calculate how much you can put towards savings each month.
The spreadsheet uses a graph to show you how your savings can be divided up. It lists four different places to put your savings, including Savings, Emergency, Debt Payoff, and Other Goals. The spreadsheet allows you to choose what percentage of your total savings to devote to each category.
You can change the labels for the savings categories to suit your particular financial strategy.
Overall, it's a good choice if you are looking for a simple budget sheet.
This Weekly Budget by Smartsheet is ideal for weekly paycheck budgeting, that is if you get paid on a weekly basis, this is great because it allows you to budget your expenses weekly. You can enter your income and expenses and these each feature categories, which makes it easier to budget.
Weddings can get real expensive real fast. That's why having a budgeting template like this Wedding Budget from Smartsheet can be so useful.
Having a budget in place ensures that you don't overspend and can prioritize the most important aspects of your wedding day.
This wedding budget spreadsheet allows you to enter an estimate and the actual amount for many different wedding expenses, such as jewelry, bridal gown, groom's tuxedo, and videography.
You can adjust the template to suit you as well.
As I mentioned earlier, zero-based budgeting is a budgeting method where your income minus your outgoings equals zero. You give every dollar a purpose. So, if you earn $2,500 a month, but your outgoings are only $2,000 a month, then there's $500 leftover in your budget.
Since the aim of zero-based budgeting is to get your income minus your outgoings to equal zero, you have to give every dollar a purpose. So, you will need to find a use for that $500, like putting it into savings or a retirement fund for example.
If you are interested in this budgeting strategy, then you will want to try the Zero Based Budget Spreadsheet by Smartsheet.
This template is designed to help you plan your budget and ensure that the final difference between your income and outgoings is zero, and to make adjustments if you're getting different results. It's a really great tool that's perfect for anyone who's looking to try the zero-based budgeting system.
Closing Thoughts
It can be really tough to save money and make sure that you're not overspending. That's why using a Google spreadsheet can be so helpful. With these spreadsheets, you can easily keep track of your income and expenses, and make sure that you are staying on track with your spending, saving, and financial goals.
Give these free Google sheets budget templates and try and start improving your finances!