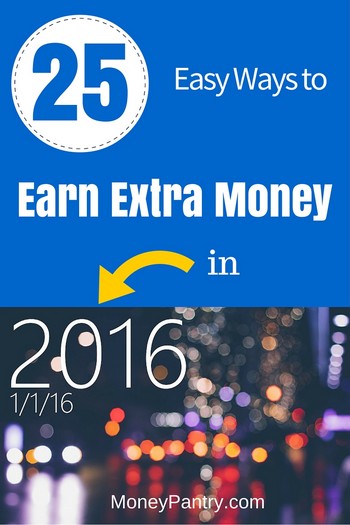 Ah, the New Year– it's a time of new beginnings, coming off of a series of holidays.
But all that revelry tends to deal quite the blow to our wallets, and it won't be long before we're all thinking of our bottom line again. You may have even made a new resolution to make more money this year.
Well you're in luck, I have compiled a list of 25 ways to make extra money in the new year. That's two that you can try a month! And you definitely have time to try more than one a month, because some of them are very casual.
So in the interest of starting 2016 off right, let's get down to business.
1. Write a Few Jokes for Cracked.com
Some publications are highly exclusive clubs that virtually nobody can join, like the New Yorker. Other publications are the sort that invite newcomers.
You've almost certainly heard of Cracked.com, one of the foremost websites for reading entertaining articles about a variety of subjects (usually numbered lists.)
Well, you're actually welcome to submit an article to them, and they'll publish it if they like it!
The pay isn't openly advertised, but with a big name site like Cracked, you can figure that it will be a respectable sum.
If you've got skill in writing, give it a shot– you might end up on the front page, and then your foot is in the door.
2. Get Paid to Watch TV & listen to the Radio with Media Rewards
Media Rewards is a website that pays you for watching TV and listening to Radio while their app runs in the background gathering data anonymously. This information helps companies create better products or improve their existing ones.
In return for your participation, you earn various rewards
3. Let Google Track Your Information with iPsos Screenwise
It's no secret that Google is a company which sells the information it gets from its users. But most people are OK with that, so long as Google never personally inconveniences them with the fact.
However, you can pick up some light cash for letting Google additionally track your cellular behavior. Installing an app called iPsos Screenwise lets (iPsos works on behalf of Google) them monitor where you spend your time on your phone, and they'll pay you a low earning in return.
For maximum results, try installing the Screenwise extension for your Chrome browser as well.
Install the app and keep it installed for 7 days and Google will pay you $8. After that, you earn an additional $2 for every week you keep the app installed.
If you don't want to use Google's app, you also have a few other options which I will list below.
Other apps:
Nielsen Digital Voice: Simply download their secure app. Don't worry; it's non-invasive and won't affect your computer's performance.
Media Insiders Panel: Install their app on up to 3 devices and earn $15 a month just for having it installed. Have it installed for the whole year and now you are looking at around $200 extra for doing something that takes less than 30seconds.
Nielsen Mobile Panel: This comes from the famous Nielsen research company, but its only for iPhones and iPads. Installing this app will earn you an extra $50 a year.
MobileXpressions: You can download this one on the majority of smartphone and tablet devices. I have a member for a long time, but I have heard that they give new members $50 just for joining and installing their app.
4. Get Paid to Search, Listen to Radio, Read Emails & More with InboxDollars
What we're taking about here is a website called Inbox Dollars, which will give you money for doing any number of various tasks that it suggests to you.
It might sound similar, but this website isn't exactly the same as other GPT sites due to some unique options such as getting paid to listen to the Inbox Dollars radio station.
Another nice thing about Inbox Dollars is that you have the option of being paid by check. Not only is this hard cash, it's a lot more utilitarian of an option than the myriad sites which will pay you in gift cards. Note that you'll need at least $30 worth of earnings to receive the check, but you can get it as a check nonetheless.
Inbox Dollars does offer a few of the normal GPT tasks that you've come to know. Things like signing up for Netflix accounts, rebates on purchases made elsewhere, participating in free trials, etc.
There are also a variety of unique options, like the aforementioned radio station and small tasks such as signing up for newsletters.
No matter what you choose to take advantage of, this website is a nice change of pace for all the Get Paid To sites out there, and I personally recommend checking it out.
5. Cash in Your Old Books with Bookscouter
Everybody has stuff sitting around that they aren't using, or that they no longer want. For you, that stuff might be books.
Assuming that you don't want to donate them to a library (which is a good thing to do, of course) you can make some money by selling them. But there are so many places to sell them, how do you choose what way to do it?
Bookscouter is my answer to that question.
Bookscouter is a service we've talked about here before, and it's worth mentioning again. Bookscouter uses your ISBN or barcode (which you can scan with your smartphone is you get the Bookscouter app) to calculate among a variety of book resellers and tell you where you can get the best deal.
This situation is sweetened even further when you realize that many resale companies will offer you prepaid shipping labels, as well.
Sure, you won't get the initial purchase price back by reselling… But you can mitigate the resale costs as much as possible by using Bookscouter, and it's a must-use service for anyone who has some old text to offload.
A good piece of news for you deal hunters out there: couponchief.com is offering you money for finding and sharing coupons with their pays2share program and the earnings get bigger the more coupons you manage to share.
They'll give you 2% of whatever sales you assist in, with a cap of $25 per retailer that you link to.
So it is in your best interest to hunt around for as many store's coupons as you can, and rake in the passive income.
7. Make Money with Google Using Google Helpouts
Helpouts is one of the many programs Google has launched in recent years as part of their goal to fulfill as many commercial niches as they can.
This is a service where you stream video with a client and get paid to help them with stuff. Basically, teaching them a skill, or providing some kind of consultation.
You give up 20% of earnings to Google for fees, but that's not too bad considering that you get Google's reliable organization as a middleman.
This is a very meta suggestion for you all! The website List Verse is a website all about the ever-popular "list article." They're looking to make a lot of content, and they're prepared to pay you to create it! You can write and submit
an article, and if they approve it, you'll get $100! That's certainly no chump change. If you don't have skill in writing, don't worry: you can still make an easy $40 if you get a photo-based list approved.
Bing, Microsoft's answer to Google, has quite an uphill struggle against its competitor.
Luckily, they're willing to pay the price– literally!
Sign up for the service called Bing Rewards, and you'll get points towards gift cards just for making searches on Bing.
Most people would use Google before they'd use Bing, but is the same thing true when you could be getting paid for using Bing?
10. Get Paid to Beta Test with Erli Bird
Usually, beta testing is pro-bono work done by passionate gamers. But there is money in app beta testing as well as select video games.
Developers will pay Erli Bird (who will then pay you) to do a review of their product.
Generally this involves recording your screen as you use the app/game, commenting as you go about it, for a length of 15 minutes or so.
Pay is $10 to $20 per review, depending on if you do a computer or a mobile review.
11. Get Cashback from eBates
This is more of a way to mitigate costs in 2015 than just to earn cash, but it is something worth getting into with the new year.
It can be a bit of a dubious industry, so we recommend the biggest name: eBates.
eBates is a well-known, well-recognized service that offers rebates in return for purchasing things through any of their partners.
Their partners are the sort of places you'd probably be purchasing from, anyway; Wal-Mart, Amazon, or Kohls, to name a few.
Each company has a rate that is returned to you, usually 1 or 2 percent, when shopping through eBates. This is a no-fuss process, just pay and earn.
You won't be making huge returns on your rebates, but they really are free rebates!
Currently, they are offering a $10 gift card for joining.
12. Earn Cash for Using Your Phone with Fronto
I assume you use a cell phone many times during the day. Why not get paid for it!?
There is an app called Fronto that monetizes the space on your lock screen. It basically displays small ads.
You earn points by you swipe in a direction and participate in whatever is being advertised.
It could take you to the advertiser's website, or to a page where you can download another app, etc.
The number of points you earn per task varies. But every 2500 points equals one dollar, which will be paid to you via PayPal.
13. Get Paid for Posting Photos on Instagram with Instagrid
Instagrid Network is a company that pays you for your activities on Instagram
You can get paid for posting photos or using hashtags.
You may also get hired to photograph events in your area or abroad.
14. Get a Temporary Tattoo for Money Using LeaseYourBody
I am sure you have heard of the guy and the gal who got thousands of dollars from a company to tattoo their logo on their forehead. Well now you can do the same, except your tattoo will be a temporary one.
LeaseYourBody is a website where you can go put up a profile. You can set a certain dollar amount that you are willing to take to put a temporary tattoo on a part of your body.
Then advertisers can see your profile and if they like it, they'll contact you. If you agree to do the temporary tattoo, you will be paid the amount you specified.
Since the new year starts with a party, let's jazz up the list with something a little more fun.
You can make money reviewing music online.
A site like Slicethepie or Hit Predictor will pay you small rewards for listening to a sample of music (usually around a minute long) and giving a short 2-3 sentence review.
Slicethepie has an incremental system where you "rank up" and earn more for your reviews as you do them. It is the better site of the two for getting cash in pocket for your time, but Hit Predictor will also give you rewards in the form of a point redemption.
Their prize store is somewhat limited, but they also have the unique option of entering raffles.
16. Profit as a Fashion Designer with Teespring
A new industry has appeared on the internet, and that's the industry of t-shirt design. Teespring will allow you to design and sell shirts for profit, at no cost to you.
We won't go over the exact mechanics of the situation here, but rest assured that this is no scam.
You really will make money for selling shirts you designed, just as advertised, though there is a responsibility on your side to actually sell them!
You set a sales quota when you design the apparel (which can also be things like baseball tees and sweaters) and once you meet it, the shirts are printed, shipped, and you get paid.
Different sites have different profit margins, and the amount you make relies heavily on how successful you are at promoting your T-shirts.
I actually do this from time to time, specially when there is a hot new social or political issue. Slogan on T-shirts attract a lot of people from both side of the issue.
My most successful campaign I made over $3000 in 10 days selling about 250 T-shirts. So it can be profitable if you can manage to get people to buy your T-shirt.
17. Take Photos for Foap iOS – Android
Are you the type of person who loves taking pictures of things with their cell phone? If the answer is yes, then you should most definitely check out the iOS app called Foap.
Foap is an app that you can download for free, though you do need to sign up for an account to use it. Then, you take a photo and upload it– if someone buys the license for your photo, then you get $5. A photo can be bought multiple times, so you'll get the $5 every time you sell that same picture– pretty neat, huh?
Generally, you should upload pretty scenery shots. You can upload pictures of people, but only if it is something someone would want to buy. A picture of your child might do, but a selfie is definitely a no-go. You also won't be able to sell your picture if the moderator team doesn't approve it, so be prepared to take & upload several!
18. Cash in Unused Gift Cards with CardPool
Gift cards are one of the most gifted items for Christmas. And naturally, a lot of us get gift cards that we will never use.
So what do you with those unwanted gift cards?
Well, you can sell those for actual cash, if you would like to.
CardPool.com is a website that will allow you to sell your cards for a percentage of their value– usually somewhere between 75% and 90%.
You can try competitor sites like Card Cash (Previously PlasticJungle) and Raise if you don't want to use CardPool.
19. Bet on Your Weight Loss with HealthyWage
Millions of people have losing weight as their new year resolution. If you are one of them, now you can actually earn some cash by sticking to your resolution.
This might sound like a crazy idea, but it is actually an emerging service that is meeting with a lot of attention. DietBet (who identify as "DietBet") and Healthywage are services that give you the opportunity to make money off of your weight loss.
How it works is that you place a "bet" on your weight loss, with an amount to lose and a time to do it by. "10 pounds in 2 months," for example.
The bet is the amount that you pay every month to motivate yourself to lose the weight.
If you've lost the weight by that time, you get a split of the total pool of money that people pledged on their own weight loss.
If you lose, you're out the money.
It sounds like a trick, but these are earnest services that exist to motivate others to lose weight, and they use our universal love of money to do the motivating. Who'd want to lose $300 bucks, after all?
They have pretty powerful anti-cheating measures, as well, so don't worry about being undercut by dishonest participants.
20. Help Others Lose Weight
Advice for the flip-side of our previous entry!
You might not need to lose any weight. In fact, you might be in quite good shape already. If that's the case, there are lots of people right now who are trying to make good on their New Year's resolutions about losing weight, and you can be there to help them (and make a profit all the while!)
Print out some fliers and post on your local Facebook about starting a "weight loss boot camp."
Charge a moderate fee per participant and the rest is just public relations.
Don't feel bashful about taking on so many people at once; teamwork is a valuable resource in the world of motivation. The more people who are in your boot camp, the more legitimate you look and the more social draw it has on participants (and both of these options are good for everybody.)
You can stage workouts at the park, pack runs around the neighborhood, or maybe even pilates at your house.
Regardless of what you're doing, employing a little bit of creativity will do you well because this is entry-level business running. And business always combines well with creativity.
Resources to use:
Craigslist
Local bulletin boards
Facebook
21. Complete a Few Tasks in Your Spare Time on Zaarly
While there is a whole world of microtask websites that will pay you, we're actually talking about real-life tasks here.
Websites like Zaarly and Taskrabbi are sites that will contract your assistance out to people in your area who need it.
You can sign up as a specialist, or a general assistant; there are availabilities for both.
A task might be something very simple, like running to the corner shop to get someone coffee, or might be something like helping someone clean their house.
These sites are only regional, sadly. You will want to check their websites to see if they are offering services in your area. Generally, their services are centered around cities, so you'll have more luck if you live in an area like that.
22. Give People a Tour of Your Town with Vayable
Update: Vatable is no longer in business.
A fun and social way to make money in the New Year, Vayable allows you to register your tour with them and accept bookings for several weeks in advance.
You'll make a post that says something like, "I'll show you the best Moroccan food in New York." and set a price for it. People then book it, and you make your schedule based around this.
It's a simple process.
For best results, make your proposition as appealing as possible.
A trip to the local pub? Yeah, that's good. But an accordion backed serenade on the Seine, well, that's probably going to net you more customers.
23. Become a Secret Shopper for Market Force
I'll only touch on this one briefly, because I've written several articles about secret shopping/ghost shopping including this one.
As a brief overview, however: a secret shopper is someone who is paid to do business somewhere and appraise their facilities/customer service/products.
Basically like being a consumer spy.
There are a variety of secret shopper employers, and different advantages to them all.
As a rule of thumb, though, try to sign up with a company who will cover as many of your costs as possible. The more they're paying you to do, the higher your profit margin for this job.
24. Take a Survey or Two with SurveySavvvy
Using paid surveys is probably the easiest legit way of earning some extra cash in your free time.
Sign up with a site like SurveySavvy for free. Then whenever they have available surveys, you get an email notice (you can also login to your account anytime to check for new surveys). Take the survey and get paid anywhere between $1 to $10 or more depending on the length of the survey. An average survey takes about 10 minutes and pays $2.
The best part about SurveySavvy is that you also earn $1 for every survey your friends (who you referred to the site) take. Imagine referring 20 friends; Every time they all take one survey, you earn $20 without even taking a survey yourself.
25. Write a Few Articles on About.com
Some of the options on this list make all the sense in the world to get into during the New Year, and some of them really are evergreen opportunities.
To top off this list, I'll give you a bit of evergreen advice: You absolutely can get paid to write.
There are so many ways to do it; up above we talked about writing for Cracked, and there are a few other big names you can write for like BuzzFeed and the Escapist.
But these are not your only options. Many people, in many places, need things written for them, and they'll pay you to do it.
The great thing about writing is that it is a skill that you build differently than other skills. You sit down and dedicate time to learning an instrument, you toil away at the computer learning to code. But you can practice writing all day, all the time. You're practicing writing when you talk to someone, or when you text them, or when you leave a comment on Facebook. Any time you communicate with someone, you're practicing writing.
You can find opportunities to write everywhere once you realize it. You can check out my list of sites that pay you to write.
Final Thoughts
Well, there's a whole world of advice for how to make money.
Goodness knows that I've engaged in that by starting this website!
You can always check my other articles if you want more ideas about how to make money, but I can also offer this general advice: none of the options mentioned here are going to help you get rich or quit your day job.
Nonetheless, they offer real ways for you to earn some extra money in the year ahead.
I hope this list has given you some good ideas, and furthermore, I wish you, the reader, good luck in 2016!