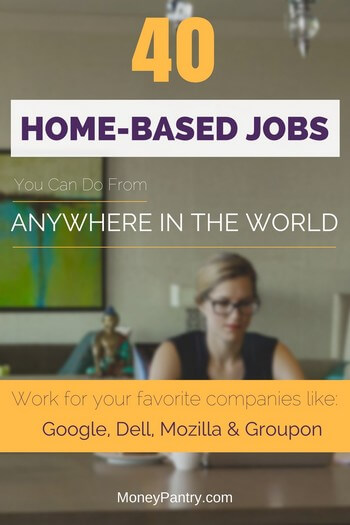 Wouldn't you like to work at home from anywhere in the world?
I recently published a list of legitimate work at home jobs which got a lot of attention from our readers.
Unfortunately, as it is the case with many of the sites and companies we feature here at MP, most offer opportunities to residents of only a  few western countries, mainly the U.S., U.K, and Canada.
But we do have a lot of international readers. So we got a few emails from some of our overseas readers asking about global work from home jobs and opportunities.
Mina from Durban, South Africa, writes:
…I checked out almost all the companies on your list of legitimate work at home companies, but seems like most only hire workers from the US and a few other western countries. It would be nice if you could publish a list of companies who hire people from other parts of the world as well…

Need Easy Extra $300+/Month for Free? KashKick

: Get paid directly into your PayPal for watching videos, surfing, shopping and more.

Join KashKick Now! InboxDollars

: Paid over $57 Million to members to watch videos, take surveys, shop and more.

Get $5 instantly! Branded Surveys

: Get $1 instantly just for joining for free. Plus get paid within 48 hours by PayPal!

Join Branded Surveys First Opinion

: Get paid up to $10 per survey and $300 per virtual focus groups!

Join Now! Swagbucks

: Get paid to watch videos, shop online, take surveys and more.

Join now & get $10 instantly!

She is right!

Sadly, most big companies that hire people to work from home, are only looking to hire people from a few big western countries.

That said, I promised Mina and other readers that I would do some research to find out if there are in fact businesses that are open to employing internationally.

And I am happy to say that I have been able to gather a rather large list of such companies.

So, for our International readers, here are…

40 Worldwide home-based online jobs

1. Google

Where to apply:

Google is employing home-based quality raters of ads from all over the world through a temp agency.

Ads quality raters must have a college degree.

However, be careful of some scams that dupe people into thinking that the home-based work being offered is for Google. Be sure to use Google's official job section (linked above) to apply

2. Dell

This computer manufacturer offers plenty of home-based jobs.

You can search for these work-from-home opportunities of Dell by using the word "remote" when searching on the site.

3. VIPdesk

VIPdesk employs workers from home as agents handling customer concerns through phone, email, and chat.

These agents answer inquiries, issues and conduct research for clients who are from Canada, the United Kingdom, the United States and Singapore. But the majority of the jobs are from the US and hence they look to hire employees with high fluency in the English language.

Those who are also fluent in French, German, Spanish or Italian are also desired.

4. AccuTran Global

This firm wants part-time workers who can either be typists or transcribers of meetings, conference calls, and interviews for financial establishments.

AccuTran Global hires employees based in UK, Canada, and the US.

It pays these contractors anywhere from $0.005 to $0.0066 per word.

5. VirtualBee

This firm offers data entry jobs and is in search of "keyers" who are required to enter encoded data so that they will come out as nonsensical.

Applicants must take an evaluation before working for the firm.

The company places applicants who scored high in the evaluation on a waiting list and reach out to the applicants once there is work ready.

The payout rates are different but would range from 40-55 cents per 1000 keystrokes.

Employees must have accumulated at least $50 before they can get their payments.

6. Amazon's Mechanical Turk

Amazon's Mturk (which we reviewed recently) is one of the first small job sites and provides lists of HITs or Human Intelligence Tasks.

Employees can select and finish the HITs for a fixed price.

The completion of tasks under HITS would usually earn someone a couple of cents or dollars.

You can get paid in US dollars, Indian rupees or Amazon gift certificates, depending largely on your current location.

7. 1-800-Translate

This firm has openings for translators, as well as on-site interpreters.

Applicants must have finished college.

8. DotDash (former About.com)

DotDash is the company behind the former About.com site which is now broken down to a few different sites like TheBalance and VeryWell.

These are sites that cover a wide variety of topics from finance and jobs to health, travel and everything in between.

So they are always looking for writers and video producers.

9. CCI Call Center International

This international call center is in need of independent contractors who can work from home and can speak different languages.

10. Aim-for-A Tutoring

This firm needs online tutors who can teach science, math, and English to students coming from different countries.

Aim-for-A Tutoring requires that applicants have teaching experience and have completed college.

11. Appen Butler Hill

This firm needs home-based translators, interpreters and search evaluators to join their team.

12. Automatic Data Processing (ADP)

ADP provides a wide range of business processing services worldwide.

These business processes include administration of benefits, time and attendance tracking of employees, automotive dealership, talent management and human resource management, among others.

One can find many work-from-home opportunities at this firm by looking at the firm's database and selecting "home office" option when asked for the location

13. Classof1

This international firm provides online tutoring services such as helping in the completion of assignments, preparations for exams, as well as the development of content and e-learning courses.

Classof1 is based in India and offers its services to K-12 students based in U.K., U.S., and Australia.

14. BrainMass

BrainMass wants online teaching assistants who will answer inquiries from students to join their team.

This firm wants to employ those who have a master's degree or Ph.D. and these teaching assistants will get a percentage of the payments made by the pupils.

BrainMass pays their online teaching assistants in dollars.

15. Covance

Covance is a global company that is into biopharmaceutical contract research that operates in more than 25 countries.

This firm has more than 10,000 employees around the globe and in search for home-based clinical research associates who can also travel around 65% of the time in certain areas like Canada, US, and Europe.

16. Salesforce.com

Salesforce.com as a customer relationship management (CRM) software firm focuses on social, mobile, and cloud technologies.

It has job openings for different positions for some of its departments.

17. ApartmentTherapy

Apartment Therapy is a home and decor site/online magazine. They cover everything related to apartment living.

They have a fun and very interesting work culture.

One of the cool things about this company is that you can work remotely from anywhere in the world.

Their current open positions include:

Ad Operations Campaign Manager
Junior Editor, Video
Production Coordinator
Senior Producer, Video

18. Mozilla

This is the company behind FireFox, one of the best internet browsers (which you may be using right now to access this site.)

Mozilla is a non-profit organization, famous for its culture of openness and collaboration.

They hire remote workers for many different kinds of at home jobs.

Here are a few examples:

Internet Policy Manager
Computer Vision and AR Browser Research Engineer
Lead Product Manager
Software Engineer
Financial Analyst
Marketing Specialist

I have read a few reviews on GlassDoor from people who have worked with Mozilla and they all describe it as "one of the best companies I have ever worked with."

19. Clickworker

Clickworker is a global crowdsourcing firm that employs independent contractors for a variety of services such as writing, researching, translating and entering of data.

Contractors get paid per piece.

Contractors must first register and undergo an assessment before they can start taking on some work.

20. Herzing University Online

Herzing University Online is a private college based in Wisconsin.

Many of the work-from-home positions that can be found in the online division offering online courses are extra online faculty jobs.

There are also other openings that are home-based or virtual but may oblige someone to spend time at the local office, as well.

21. WordExpress

WordExpress takes in freelance translators from different parts of the world since the firm translates materials in more than 100 different languages.

The firm is also in need of interpreters, desktop publishers, voice talent and sales managers and reps.

22. EduwizardS

Eduwizard is an online marketplace that lists online freelance tutors for a fee.

Online tutors who wish to be included in the firm's listing can set their own rates for tutoring services but will need to shell out money to be part of the list of EduWizards.

23. SDL

SDL is an internal information management firm that is in need of freelance translators who already have at least two years work experience as a freelance translator.

Applicants with at least one year of in-house translation experience are also welcomed.

24. Tutorvista.com

The online tutors of Tutorvista.com are highly experienced teachers who boast of graduate degrees and are mostly based outside the United States.

25. Laureate Education, Inc.

Laureate Education, Inc. develops online education courses for Walden University, Kendall College, New School of Architecture & Design and College of Santa Fe.

The Laureate Higher Education Group employs people from different parts of the world but the majority of the jobs require that applicants have finished their master's degree at the very least.

Job seekers may find jobs by choosing "virtual" when asked for job location when searching on the website.

26. Working Solutions

Working Solutions is a BPO firm that hires work-from-home freelancers that will do call center online work and data entry jobs.

The company pays around $7.50 to $30 per hour and employs people from all states within the United States, as well as employees from different parts of the globe. But Working Solutions limits the number of employees located outside the US for their call center jobs.

This BPO Company also employs agents who can speak bilingually in more than 30 languages.

27. Ockham

This global firm provides services to biotechnology and pharmaceutical firms and is in search of telecommuting employees who are skilled in research, IT and project management, among others.

28. PPD

PPD offers services to the healthcare industry such as drug discovery, development, and lifecycle management services.

The firm has openings for home-based positions for medical writers and clinical research associates (CRA).

29. Quicktate or iDictate

This firm provides transcription services and is on the lookout for home-based transcribers.

Work from home transcribers of Quicktate are paid $.0025USD for every word. Medical transcription workers of and iDictate and Quicktates are paid $.0050USD per word through PayPal.

Transcribers of Quicktate who are highly skilled can get work from iDictate.

iDictate has a broader range and longer documents that need to be transcribed.

The firm is in need of bilingual transcribers who are fluent in English and Spanish but are also on the lookout for transcribers who can transcribe in other languages such as French, Italian, German, Chinese, Farsi, Portuguese and Japanese.

30. TeleTech@Home

Teletech is a big international business process outsourcing (BPO) company.

It employs part-time workers for home-based assignments as call center representatives in the UK and US.

Teletech@Home also wants bilingual agents to join their team.

31. WorldLingo

WorldLingo hires home-based freelancers from all over the world for a variety of jobs such as proofreaders, editors, journalists, desktop publishers, interpreters and voice-over talents.

Take note that there are many freelancers who are capable of doing various tasks depending on their skills have found other platforms to sell their services to clients from different parts of the world.

Those who do not have a PayPal account can even take on jobs from clients abroad since there are platforms that facilitate the selling and buying of the services of freelancers.

One good example is Elance where a contractor can get paid through its Elance Global Payments services.

32. Lionbridge

This firm wants translators and interpreters from different parts of the world who are home-based.

University students are also welcome to apply. Plus, it also hires English-only and bilingual posts for Internet assessors.

Internet assessors are the equivalent of the ad quality rater jobs offered by Google.

33. Smarthinking.com

Smarthinking.com offers tutoring services for students of different ages and learning capacities.

The firm is looking for tutors who can work virtually and has a US bank account.

The company hires during May to August and November to December.

The firm accepts undergraduate and graduate students, experienced tutors, and high school instructors.

34. Sun Microsystems

The firm is in need of work from home support engineers who are skilled based in the US and other countries, as well.

35. UniversalClass

This firm offers continuing educations courses online for libraries and schools, among others.

UniversalClass have instructional writers for their offered courses who get paid $.04-$.07 for each word.

UniversalClass only accepts online instructors who are certified, have college degrees and have at least four years of experience.

36. Virtual University

Virtual University pays $200 as honorarium for those who write their online courses.

37. WordLingo

WorldLingo offers translation to global companies which is why they hire freelance translators from all over the world to meet the demand of their clients.

They have two categories of translator:

Generalist: You must have 5 years of continuous translation experience in a commercial environment, have membership of the professional translation association in your country of residence, a degree from a recognized institution
Specialist: All the requirements for a Generalist plus a university degree in your area of specialty and 2 years of continuous translation experience in your area of specialty.

You can follow the link above to create your account and fill out the application form.

38. Translatorsbase

This is a virtual meeting place for clients and freelance translators.

Clients from all over the world post job details, you respond with your application and experience and if you are good match you get the project.

39. ZeroChaos

This is a full-service provider of an holistic suite of contingent workforce solutions.

They have openings for a wide variety of jobs from accounting and administration, to program management, to marketing and business development.

They even, from time to time, have search engine evaluator jobs.

40.  Groupon

Yes, the same site, one of the best coupons and deals sites.

They hire people from allover the world for a variety of at home work positions.

Including:

Accounting, Finance, and Tax
Administrative and Facilities
Customer and Merchant Support
Human Resources and Legal
Marketing and Editorial
Design and UX
Engineering
Information Technology
Operations and Data Analysis
Product Management

Some of these positions have multiple opening in different countries and cities around the world.

Takeaway

As you can see, there are a lot of companies that do offer global work at home positions.

Be sure to bookmark this page as I will update the list if and when I find other companies that do hire at home workers globally.