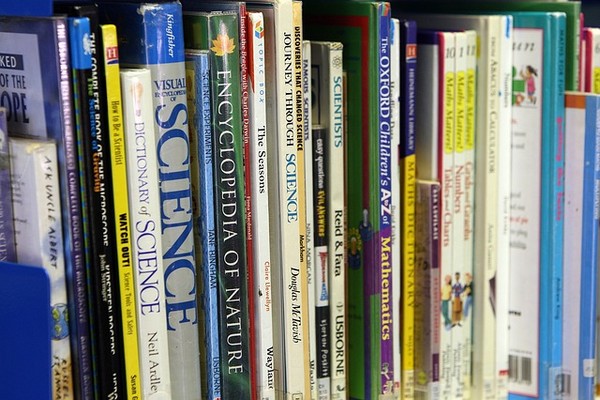 "Where can I sell my old books for the most cash online?"
I get tons of emails from MoneyPantry readers asking that question. It seems like lately more and more people are looking for places to sell their books.
Books are a part of our everyday lives from a very young age – starting out with colorful alphabet books, bedtime story books, moving onto teen novels, then adult fiction or romance novels.
According to UNESCO (United Nations Educational, Scientific and Cultural Organization), on average, over 300,000 books are published every year in the United States alone.
And that doesn't even include many thousands of eBooks that are self-published online.
It is very easy to amass a huge number of books over the years, without even realizing it, until you see them sitting in boxes in your attic, garage, or weighing down your bookshelves.
Most people read a book once and put it away forever because they don't know what to do with it after that.
Some people may dump books in the trash, but this is like throwing money away because you can sell your used books online.
Here are two sites where you can sell your old, used (or new) books for cash with just a few clicks:
This site has a useful tool where you type in your book's ISBN and their search engine will search on over 40 book buyback sites to find you the one that pays the most for it.
They also have an app that you can use on the go. For some people, this can be very useful. You can start a little side business by buying and selling used books using the app.
This website buys used books directly from the owners and all it takes is a few simple steps:
Visit the website and you'll find a form in the middle of the page. Enter the ISBN for your books and click on "price my books".
Enter your contact information and select your preferred method of payment, i.e. PayPal or check.
Either print out a shipping label or request some to be mailed out to you and then ship the books to the given address.
You will get paid within 3 business days once your books have been received.
Other Sites to Try
Although I personally would prefer to sell on the two sites I mentioned above, there are also other sites you can try.
From what I have seen so far, you can get the most money with less hassle from the two sites I mentioned above.
But, if for some reason there is a book you just can't sell on either of those two sites, try the more traditional sites like:
Buying Books for Pennies to Resell for Profit
You don't have to limit yourself to just the books you have.
You can buy books from thrift stores, yard sales, and even on eBay and Craigslist, and re-sell them online for profit, using sites like BookScouter.
Consider asking your family, friends, neighbors and colleagues if they have any books they want to get rid of.
Check classified sites like Craigslist, where you could find books in the "free items" section.
You could also post your own ad on Craigslist offering to pick up used books for free.
Shop at thrift stores or garage sales where you'll be able to buy used books for just a few pennies.
A Few Things to Keep in Mind
Make sure the book is in good condition before you buy it. While a little wear and tear are to be expected on used books, torn or missing pages, badly damaged covers, or permanent markings inside the book will make it unsaleable.
Most buyback companies will provide you with a prepaid shipping label, but it will be your responsibility to pack the books carefully. Books damaged in transit are not likely to be accepted, leaving you out of pocket.
Don't forget about payment fees. You could get paid either through check or PayPal, but if you choose to deal through PayPal, those fees will reduce your profit margin.
How Do I Know How Much a Book is Worth?
You can install the free BookScouter app, or you can login to Cash4Books on your phone to enter the ISBN of any book you find to instantly see how much people are paying for it.
It's as simple as that and it is a really easy way to make some extra money.