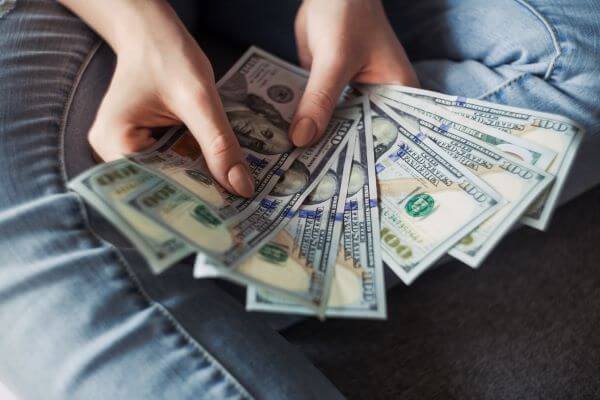 Using spare time as a way to make extra money is an easy way to make a few dollars whenever you have a few minutes.
Here are 10 methods that you can use to easily and quickly put some extra cash in your pocket:
1. Make $10 Fast with QuickRewards
This is my favorite site for completing free offers and getting paid cash fast into my PayPal. I've talked about it in detail here.
Basically you sign up for free, spend 20-30 minutes completing some free offers (visiting sites, subscribing to free newsletters, playing games, etc), then cash out.
The cool thing about this site is that there is no minimum requirement for cashing out. You can get paid even if you have 5 cents in your account.
That said, if you spend 20 minutes or so on this site, I am sure you can easily make $10.
The best part is that they pay via PayPal within hours.
Wanna try to see how fast you can get that $10 in your PayPal? Sign up here and get going.
2. Make Money Fast Selling Used Books
Who doesn't have tons of books lying around the house?
We all do!
You, too, probably have tons of books sitting in your basement gathering dust.
But you can make some quick cash by selling your used books.
Forget about selling on eBay or Craigslist. That means you have to wait for buyers.
Instead, use BookScouter.com to sell your books quickly.
It's very simple really…
Enter the 10-digit ISBN number of your book and hit enter.
The system will then look up to see how much the book is worth, and within seconds you'll get an offer.
If you accept the offer, you can print out a prepaid shipping label from their site, send in the book, and within 2 weeks or so you get paid.
You can choose whether to be paid in PayPal or by Check.
3. Take a Few Surveys with Opinion Outpost
I've been involved with paid surveys for 8 years now. I have seen all kinds of legit and scam sites. But Opinion Outpost is one of those sites that I have made the most money with. This is a real panel backed by a legit market research company.
You sign up for free, fill out your profile, and whenever there is any survey that matches your profile, you get notified.
This year alone, members of Opinion Outpost have redeemed over $2,000,000 worth of rewards.
Yes, that's 2 million dollars!
Ready to get paid for your opinion? Sign up at Opinion Outpost.
4. Make $5 Over and Over Again
Fiverr is an online marketplace where people sell any kind of service starting from 5 bucks.
It can be anything from writing services to voiceovers, design, making prank phone calls, recording yourself singing a song,…
Basically anything you can think of, no matter how bizarre it may be, can be sold on Fiverr.
I made $2,654 on Fiverr in 2013 offering a few different gigs.  There are people who make a 6 figure income there!
Ready to get started?…
Visit Fiverr and sign up for free. Put up your profile, get a gig up and running and start making money.
5. Get Paid to Read Emails
InboxDollars is a great site where you can literally get paid for reading your emails, signing up for offers, taking surveys, and even shopping.
It's 100% free to join InboxDollars. In fact, they'll give you $5 just for signing up.
How cool is that?
Once you earn $30, you can request a check, which you will receive in 2-3 days.
Wanna give it a try?…
Here is their sign up page where anyone from any country can sign up for free.
6. Get Cash for Cleaning Out Your Closet
ThredUp is like an online consignment store.
How it works:
Visit their site and order a "Clean Out" bag.
Fill the bag up with unused clothes you have in your closet.
Print out the prepaid shipping label from the site and send the bag to them.
Earn 40% of the resale value for each item.
You can either ask for store credit or get paid via PayPal.
You can sign up here.
7. Get Paid to Scan Your Groceries
The Nielsen company is a reputed market research firm that has been around for ages. Nielsen Homescan is a division in the company that focuses on consumer purchases.
Here is how it works:
Visit Nielsen Homescan and sign up for free.
Once you become a member, they'll send you a scanner.
Whenever you grocery shop, simply scan the barcodes on the back of each item. Nielsen uses this data to gauge consumer activity when it comes to grocery shopping.
What do you get for doing that?
Well, you earn points for scanning each item. You can then turn those points into great rewards such as toys, electronics, jewelry, household items, and so on.
8. Get a Cashback Credit Card
Who wouldn't want to make money with credit cards?
This is a no-brainer to me. Cashback credit cards work the same way as any other credit card, except you earn money whenever you use them.
The money is usually paid to you in one big lump sum at the end of the year. Although some companies do pay you this money monthly.
The best cashback credit cards pay you up to 5% cashback for the first few months and then it goes down to 1.25% on every purchase you make.
For example, with the American Express Platinum Cashback card, spending $500 a month earns you around $130 in the first year. Sure, $130 doesn't sound like much, but if you are going to make those purchases anyway, you may as well use a cashback card to get some money back.
9. Get Paid to Try Apps
I have talked about this before as well. Elusive Stars is a company where app developers use to test new app ideas before spending hundreds of thousands of dollars developing them.
As an app tester, your job is simply to install the app, play with it for a few days (or weeks, depending on what the developer wants), and get paid. That's it!
If you like to give it a try, here is the link to Elusive Stars' home page.
10. Get Paid to Work out
Now you can have another reason to keep up with your "exercise more" resolution.
The GymPact app pays you to work out!
Here is how it works:
First, you need to install the app. Then, you will create a "pact", which is a workout routine that you are going to commit to. You then identify the number of days you will do this workout and how much you are willing to pay for each day you don't.
If you follow through on your pact, you get paid a few dollars (the amount is based on your initial setup). Of course, this money comes from those who didn't commit to their workout.
It's a great way to commit yourself to exercise more and make some extra cash.
Final Words
There you have it, ten easy ways you can earn extra money in your spare time without getting scammed.