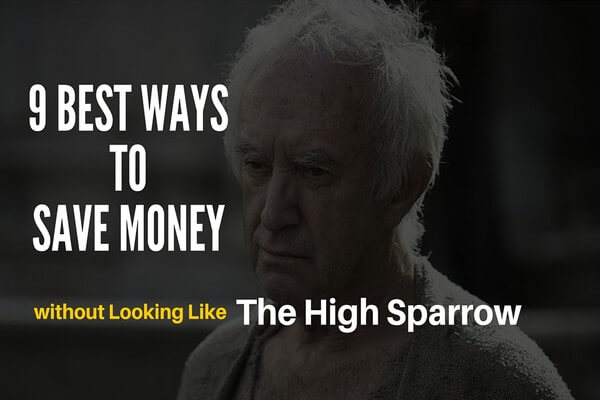 What do you think is the best way to save money?
When most people think about saving more money, the first thing they consider is making cutbacks.
But, are sacrifices really the best way to save money?
After all, there's only so much you can cut down on. That's why, it's best to consider a number of different options for saving money.
The only practical way of saving money
To me, if you want to save money, you have to do two things:
Increase your earnings
Decrease your spending
Here is the thing, if you don't make enough money, it doesn't matter how hard you try, you won't be able to save much or at all.
Need Easy Extra $300+/Month for Free?
KashKick
: Get paid directly into your PayPal for watching videos, surfing, shopping and more.
Join KashKick Now!
Panel Payday
: Earn up to $75 per survey. They also pay up to $50/hr for mystery shopping.
Join Now!
InboxDollars
: Paid over $57 Million to members to watch videos, take surveys, shop and more.
Get $5 instantly!
Branded Surveys
: Get $1 instantly just for joining for free. Plus get paid within 48 hours by PayPal!
Join Branded Surveys
iPsos iSay:
: If you have to only sign up for one paid survey site, go with Ipsos (high paying survyes)!
Join iPsos Now!
Swagbucks
: Get paid to watch videos, shop online, take surveys and more.
Join now & get $5 instantly!
If you make $2000 a month and your expenses (and we're talking about unavoidable expenses like mortgage, food, utilities, health insurance, car insurance, etc) add up to $2000, there is nothing you can do to save money.
To get over that issue, you have to somehow make more money.
It's much easier to save money each month when your income is $2500 and your expenses are $2000.
A. Increasing your earnings
But, how do you increase your earnings?
Well, fortunately, there are a few different ways.
Train in a more lucrative career
If you don't feel like your current job has the potential to provide you with a better income, then consider training in a more lucrative career. You could attend classes at a local college or even teach yourself some new skills using the Internet.
Alternatively, if your current job has the potential for growth, then aim for a promotion or learn some new skills that will further your career.
If you're self-employed, then think about the ways that you could make more money from your business.
For example, if you're a freelance graphic designer, then consider charging more per design. Really consider the value of your work and don't be afraid to charge what it is worth.
If you own a local business, then consider putting your brand on Facebook. This could increase your brand's visibility and customer base, and its profits, in the process.
Essentially, think about the things you can do to attract more customers, whether that's broadening the variety of products and services you provide or boosting your marketing efforts.
If you can't make any more cash in your current job, and you don't want to completely change careers, then why not take up a side job?
A side job is a great way to earn some real extra cash that you can save.
You could get a part time job, like bartending or babysitting.
Or, you could start your own small side business. For example, if you're skilled at making your own jewelry, then you could set up an Etsy store and sell it.
Alternatively, you could make money freelancing.
If you can write, you could work part time as a freelance writer. There are tons of businesses, blogs and websites that will pay you to write content for them.
Similarly, if you're artistic, then you could make a great side income as a freelance graphic designer.
You could also tutor people online or in your local area and get paid for it.
If a side job is not for you, then consider working more hours at your current job. Ask your boss for overtime.
Investing is a great way to get more out of your money. So, if you've already saved up a bit, then consider investing some of it.
You don't have to be rich to invest either. There are many websites out there, like Stash Invest, which allow you to invest as little as $5.
And, aside from stocks, there are tons of other assets that you invest in. So, fire up Google and start learning about investing.
Use Swagbucks for extra cash
You can make money online, just by giving your opinion.
Nowadays, there are tons of websites, like Swagbucks, that will pay you to participate in Surveys. While it won't make you rich, if you're willing to put a bit of time into it, then you can make a decent side income.
To see how you can earn an extra $758,25 a year using Swagbucks doing what you already do online, check out my guide to making money with Swagbucks.
B. Decrease your spending
Even if you are earning more, if you don't control your spending, then you still won't save as much money as you'd like.
The combination of increasing your earnings and decreasing your expenses is the key to becoming a better saver.
Here are a few tips to decrease your spending and maximize your savings.
1. Determine what your biggest expenses are
You can't save cash effectively, if you don't know what your biggest expenses are. Once you can determine where you spend most of your earnings, you can pinpoint exactly where your paycheck is going and how to limit these expenses.
You could go through your accounts and make a list of all your biggest expenses, and figure it out from there. But, an easy way to keep track of your spending is to use a money management app, like Mint.
The Mint app allows you to manage your earnings, spending, saving, and budgeting. It provides you with a great overview of your spending habits – meaning you can easily determine what your biggest expenses are.
Consider accommodation costs
The biggest outgoing that most people pay every month is their mortgage or rent. If you own your home, and are paying a lot on your mortgage each month, then consider downsizing to a smaller property.
If selling up and moving to a smaller house isn't a viable option for you then, consider renting your property out or getting a roommate.
If you're renting your property, consider downsizing to a smaller place.
Think about transportation costs
Owning a car and driving to work every day can get pretty pricey – so, why not consider switching to a different mode of transportation?
Whether it's a bike or the bus, there are plenty of ways to reduce your transportation cost.
If you do feel like you can't do without a car, then consider carpooling or sharing your car with a family member.
Another great option would be to use your car to make money with Uber and other similar programs.
And if you have two cars, consider selling one of them.
Reduce recurring expenses
From laundry detergent to cable, you probably have a lot of little, but frequent expenses. Everyone has recurring expenses, whether they're daily, weekly monthly or even quarterly.
Unfortunately, while these little expenses may seem small, they soon add up – and they can have a big impact on your savings. That's why you need to take the time to evaluate your recurring expenses, and see where you can maybe cutback a little.
Whether it's coffee or magazine subscriptions, think about whether or not you really need these things.
For example, if you have Netflix subscription, do you really need a cable one too?
Or could you get rid of one and save yourself some cash?
It's always important to take the time to learn a little bit about taxes.
Taxes vary from state to state, so read up on some local tax information. You might find that there is a way to reduce the amount you pay in taxes – legally of course.
For example, you might learn that you're eligible for earned income tax credit.
Interest can be your best friend or your worst enemy when it comes to saving. It all depends on whether you pay it or you earn it.
So, if you're paying high interest rates on your credit cards or loans each month, then it's going to negatively impact your savings.
On the other hand, if you open a bank account that pays you interest on your balance or you choose low interest loans, and pay your credit card off in full each month, then interest is going to positively impact your savings.
Sometimes you might need to buy big-ticket items, like a TV or a new bed, and sometimes you'll just want to. That's why it's important to ask yourself, before you make a purchase, whether the item is a want or a need.
If it's a want, don't buy it.!
If it's a need, then buy it, but don't purchase it using money you don't have – so don't purchase on credit.
Also, always check around for the best deal before you make a purchase.
Check the outlet sections of websites like Amazon, to see if you can get products on sale. It's also a good idea to do a quick search online to see if there are any discount coupons available.
Do you really need someone to cut your lawn, wash your car or paint your living room?
It's unlikely!
You can probably do those things yourself and save bit of money.
So, consider doing things yourself, rather than hiring people.
Of course, if there's no way that you can do something, then hire someone. But, always ask yourself is it really necessary?
Best ways to save money
Okay, so now you know a few ways that you can limit your expenses and increase your income.
Now, the next step is to learn how to become an effective saver. While there's technically no "best" way to save (simply because we all have our own unique situations and one size doesn't fit all,) here are some of our favorite ways to save money.
1. Get rid of your debt first
The first step to becoming an effective saver is to get rid of any debt that you might have.
If you're starting out with a lot of debts, it can be really tough to try to save money.
So, using the methods for increasing your earnings and decreasing your expenses, outlined above, work on getting yourself out of debt.
Once you've paid off your loans, it will be much easier to save cash.
2. Make payments even after you pay off your debt
After you pay off a loan keep making payments.
But, make the payments to yourself, rather than the bank of course.
So, if you've been paying a $100 on a car loan each month, and you've paid it off, deposit $100 each month into your savings account.
Essentially, put the same amount of money that you were paying for a loan into savings.
That's money you were spending anyway, so it's not going to affect your budget. You'll end up with a pretty big chunk of savings before you know it.
3. Try the 52-Week challenge
A fun way to save money is through the 52 week challenge.
It adds a nice competitive edge to money saving too.
Basically, with the 52 week challenge, you save an amount that corresponds with which week it is.
So, in week one you save $1, in week two you save $2, in week three you save $3 and so on. By week 52, you save $52 and you'll have saved $1,378 by the end of the challenge period.
A lot of people start this challenge in January, so that the first week of the year corresponds with the first week of the challenge, but you can start the challenge anytime – just make sure that you keep track of your weeks.
5. Set aside your savings from the grocery store
To save money on groceries, when most people visit the grocery store, they use something, whether it's a coupon or a loyalty card.
Each time you visit the grocery store, check out your receipt to see how much you saved. After that, deposit the exact same amount into your savings account.
It's a simple way to save up cash that you probably won't miss.
6. Use the good old Change Jar method
Change jars are an old-school saving method, but they work!
Only allow yourself to spend folding money, and tell yourself that you must put all change in your change jar.
Don't let yourself spend it.
Each day, see what change you've got and deposit it into your jar – you'll save up more money than you think and much quicker than you'd think too.
7. Make your cards work for You
Did you know that there are many credit cards and debit cards that can actually help save you money?
The Bank of America offers a Keep the Change Program, which can assist you in saving money.
Simply use your regular Bank of American Debit Card when you make a purchase, and the bank will automatically round up the cost of your purchases to the nearest dollar. And then the bank will transfer the difference from your checking account to your savings account.
There are also tons of credit cards out there that will give you benefits, like cashback on your purchases, reward points and frequent flyer miles.
For example, the Amazon Rewards Visa Card gives you 3% cashback and the American Express Blue Cash Preferred® Card gives you 1% cashback on all purchases.
8. Use Amazon's Subscribe and Save to save more on everyday purchases
As we mentioned above, recurring expenses, like coffee and laundry detergent, can really add up – even if they're little.
That's why using Amazon's "Subscribe and Save" feature is a really good idea, specially if you combine it with these Amazon money saving tips.
If you purchase certain items over and over again, you can "subscribe" to them on Amazon. Then, you'll be automatically sent these products each month on Amazon – but best of all, you'll get the product discounted, along with free shipping!
So, if you're already buying these things each month, you can save yourself a lot of cash in the long run.
9. Give yourself a paycheck each month
When you get paid, make sure that you pay yourself each month, before spending your paycheck on anything else.
Pay yourself a percentage of your earnings each month – a good percentage is 10%.
So, if you earn $1,800 per month, you could pay yourself $180.
Set up a direct debit, which automatically transfers the money from your checking account to your savings account at regular intervals.
This is a great long-term savings plan, which can net you quite a lot of savings in the future.
Money saving tips
When you're saving money, it's important to keep a few things in mind, so that you keep on track with your budget and still enjoy your life at the same time.
1. There's a difference between being frugal and being Cheap
There's a big difference between being frugal and being cheap.
Being frugal is cutting the lawn yourself, rather than forgoing a tip for the gardener.
Being frugal is finding a birthday present for someone on sale, rather than getting them nothing at all.
When you're saving money, don't be cheap – be frugal.
2. It's better NOT to buy stuff at all than to buy it on sale
It's common to see an item on sale – and it's pretty tempting to buy that item too.
A $600 TV on sale for $500 might seem like a great deal, as you're saving $100. But, if you don't really need the item in the first place, then you've essentially just spent $500, which could have gone into your savings account.
Essentially, the best bargain is to simply not buy stuff you don't need – whether it's on sale or not.
3. Don't make yourself miserable
Scrimping so much that you don't really enjoy yourself and feel miserable is simply not worth it.
Working yourself too hard and restricting yourself from buying stuff too much is not healthy. It is okay to take a bit of time off from work and it is okay to treat yourself to a frivolous purchase every now and then.
Saving money should make your life better – not worse.
4. Set goals (and make sure they're realistic)
You are much more likely to be a successful saver if you actually set savings goals. Write down the exact amount you'd like to save. This is your main goal.
But, don't stop there, break the goal down and make it more specific.
For example, if your main goal is to save $3000, then break it down into a monthly or even weekly figure that you can aim for. Putting a time-frame on the goal also helps. So, for example, if you want to save $3000 in a year, make a goal to save $250 per month.
Breaking a goal down into smaller steps makes it seem more achievable and less overwhelming.
The bottom line
As you can see, there are so many effective ways to save money. You just need to be willing to put in a little time and effort, and make some small lifestyle changes.
And while there are no "best' ways to save money that will fit everyone's life style, these practical money saving strategies will allow you to find your best and most effective way of saving money.