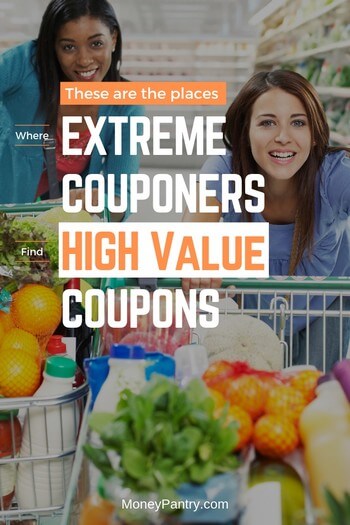 "Where do extreme couponers get their coupons?"
That's a question that many people have, especially shoppers who want to start and are trying to learn how to coupon for beginners.
Not knowing where to get coupons – the ones that save you more than just a few cents at a time – is the biggest reason why a lot of people give up on couponing.
We've all heard those stories about extreme couponers who save thousands of dollars each year just by using coupons – many extreme couponers even end up being owed money by stores – something called "overage" in the couponing world.
It leaves you wondering, just how do these extreme couponers save so much money?
One of the ways that extreme couponing can save you so much cash is finding and using high value coupons.
Need Easy Extra $300+/Month for Free?
KashKick
: Get paid directly into your PayPal for watching videos, surfing, shopping and more.
Join KashKick Now!
InboxDollars
: Paid over $57 Million to members to watch videos, take surveys, shop and more.
Get $5 instantly!
Branded Surveys
: Get $1 instantly just for joining for free. Plus get paid within 48 hours by PayPal!
Join Branded Surveys
First Opinion
: Get paid up to $10 per survey and $300 per virtual focus groups!
Join Now!
Swagbucks
: Get paid to watch videos, shop online, take surveys and more.
Join now & get $10 instantly!
But, this is just one reason for their success.
Extreme couponers also combine coupons (using strategies like coupon matching) effectively to maximize their savings and get coupons from a wide range of sources.
Below, we cover the places where extreme couponers get their coupons, including those high value ones, and the methods they use to save thousands of dollars each year.
Where Do Extreme Couponers Find Good Coupons?
Extreme couponers get their coupons from a number of different sources, from coupon apps like these to websites, newspaper inserts, stores and many other places.
While they do get those high value coupons, they also get regular coupons.
They just know how to combine them effectively to maximize their savings.
One of the keys to successful couponing is to source coupons from a variety of different places and then use them strategically.
We'll cover this practice more below.
First, we're going to look at where extreme couponers get their high value coupons.
The definition of a high value coupon differs depending on who you ask.
Generally though, high value coupons are those that are worth $1 or more.
It's important to understand that super high value coupons, so those that get you more than $5 off, are more of an exception than the rule.
But, you can definitely get your hands on high value coupons.
You just need to know where to look.
Here are a few ways to find high value coupons.
Newspaper Coupon Inserts
If you know an extreme couponer, you've probably seen their stack of coupon inserts and wondered "how do couponers get so many inserts?".
Newspapers are still one of the best places to find free coupons inserts even in our ever-increasing digital world.
They often contain high value coupon inserts.
A lot of people, however, are put off using newspapers as a coupon resource, usually for one reason – the cost!
Since a newspaper can set you back anywhere from $3 to $6, most people don't want to have to buy a bunch of them to get coupons.
And, that's understandable.
However, you're missing out on great savings.
And, there are many ways that you can get newspapers coupon inserts for free or for a low cost!
A few ways to get newspaper inserts include:
Look for free local papers
Check at your local recycling center (find your nearest one at RecyclingCenters.org.)
Visit stores on a Monday and ask for their leftover Sunday newspapers.
Buy papers at the dollar store – and pay just $1 per paper, rather than $3 to $6!
Visit DiscountedNewspapers.com and get a discounted newspaper subscription.
Brand Websites
Now, this is often an untapped source of coupons.
After all, it's likely that if you're looking to buy Tide Pods, you just pick them up at your local store, or on Amazon, without ever visiting the actual official Tide brand website.
However, visiting a brand's official website is one of the best ways to get high value coupons.
And, by skipping it, you're missing out on some great deals.
Now it's really important to note that these brands won't always have high value-coupons available, but sometimes they will. So, you'll be able to get coupons that save you more than $1.
For example, at the time of writing, Arm & Hammer offered coupons worth $2.
Here's a list of brands who offer high value coupons online:
Like we said above, these sites won't always feature high-value coupons, but sometimes they will. So you definitely shouldn't miss out on brand websites – they can be a good source of high value coupons.
Coupon Clipping Services
Ever wondered, how do extreme couponers get so many coupons?
Well, one of the ways they do is it is by simply ordering them online.
Online, there are tons of websites where you can get coupons delivered right to your doorstep.
Selling coupons isn't legal – but coupon clippers can charge for the time and effort that they use to clip the coupons for you and mail them out to you.
So you pay for the clipper's time and effort.
This is such an easy way to get more coupons – and ones that are high value.
Ordering these coupons online doesn't cost too much either – it can cost as little as $0.05 to $0.08 for a coupon.
And, the amount that you get back in savings outweighs the cost of ordering them.
Here are a few companies where you can order coupons:
With some of these companies, you can order whole coupon inserts and get coupons in bulk as well.
If you really want to up your coupon game and reach the extreme couponing realm, then you should definitely consider ordering coupons online as well.
Coupon Websites
Extreme couponers join lots of different coupon websites.
Again, one of the biggest reasons for the success of extreme coupons is that they have multiple places where they source their coupons.
Coupon websites are great because, amongst the coupons for 50 cents off, there are coupons that offer you $2 or more off on a product – so they're definitely worth joining.
Here are a few coupon websites where you can often find high-value coupons.
On these websites, you can find coupons and deals with huge discounts, like $3 coupons and 50% off.
There may not always be high-value coupons available on the websites above, but often there are.
So join all of these sites, and get yourself a formidable coupon collection.
In-store
Next on our list is another sometimes overlooked coupon source – your local store.
Whether it's your nearest Walmart store or a small local grocery chain, many retailers feature coupons right in the store.
In some stores, you'll find coupon booklets and in others, you'll find coupons on bulletin boards.
For example, you can coupon at Walgreens by looking for their Weekly Ads and coupon booklets available near the front of the store.
So, do take a look in-store – many of the coupons that you find will be high value.
At grocery stores, drugstores, supercenters, and any other store look to see if there are any promotional materials available, like booklets or flyers.
Also, many stores hand out coupons at the register – called Catalina coupons.
These can be high value as well.
By Contacting Companies Directly
One of the best ways of getting high value coupons is to contact companies directly.
Extreme couponers not only seek out coupons from the sources we mentioned above, but they also go straight to the source – the brands/manufacturers themselves!
Many extreme couponers write to brands, like Tide, Huggies, Crest, and Betty Crocker, to request coupons directly.
Basically, you visit the brand's website, find their contact page, and then get in touch to request your coupons.
We discussed this method for getting coupons in great detail in our Free Coupons by Mail post. In that article, we offer more than 100 companies that you can contact for coupons. So check that out.
Take a look at the websites of your favorite brands to get started – and as we said above, don't forget to check out our list of companies to contact for coupons.
This is a great way to get coupons that are worth a lot, as many of these companies will send out high value coupons to customers who take the time to get in touch.
How Extreme Couponers Use Coupons to Save Big (& How You Can Do It!)
The fact that extreme couponers have tons of different places where they get their coupons, and they know where to find those high value coupons is just one element of their success.
Saving a lot of money using coupons is just as much about how you use coupons as it is about the coupons themselves.
What sets extreme couponers apart from your regular old couponer is that they know how to use coupons strategically.
And what we mean by that is that couponers know how to use coupons to maximize the amount of money that they save.
There are lots of different types of coupons available, so knowing how to use them to save the most money can be tough.
After all, you might have questions like, "can I use a manufacturer coupon and a store coupon together?" or "how many coupons can I use on one item?"
Extreme couponers know all of the rules for using coupons, and can, therefore, use them effectively.
The main way that these couponers maximize savings is by stacking them – this means that they combine coupons or use coupons alongside other money-saving methods.
Here are a few tips for stacking and using coupons effectively:
Combine Manufacturer & Store Coupons
You can indeed use more than one coupon on a product.
In fact, this is how extreme couponers save so much money!
Many stores will allow you to use a store coupon and a manufacturer coupon on the same item. This is how extreme couponers use multiple coupons.
This can really open up a lot of savings! In fact, you can double your savings instantly.
And if you have a high value coupon, you'll save even more!
Manufacturer coupons usually have the words "manufacturer coupon" printed on them.
You'll need to make sure that the coupon you have for the store, and the coupon you have from the manufacturer are for the same product color, fragrance, size, etc. – if applicable of course.
Of course, if the coupon is broad, like get $2 off any Clorox cleaning product, then this won't be a factor.
When you get to the checkout, use both a store coupon and a manufacturer coupon and you'll save more!
Let's say that you have a Target Cartwheel Coupon for $3 off. But you also have a Tide manufacturer coupon that gets you $3 off. You save $6, rather than $3. So you could get a $20 pack for just $14.
Use Coupons on Sale Items
Another tip used by extreme couponers is to use coupons on products that are on sale.
Not all stores allow you to do this, but for the ones that do, this can be a way to get some huge discounts.
Walgreens, for example, allows you to do this.
Take your coupons with you to the store and then hit the clearance section.
Use the applicable manufacturer coupon, and you will get the item for a bargain price!
Combine Buy One Get One Free Deals with Coupons
Using coupons alongside Buy One Get One Free (BOGO) deals is such an easy way to maximize your coupon savings.
For example, there's a tube of Colgate toothpaste that costs about $3 regularly, and the store has a BOGO deal on for that toothpaste. You have a coupon for $2 off the same toothpaste.
You pay just $1 for the tube and you get another one for free.
Instead of paying $6 for two tubes, you've paid $1.
You've saved more than 80%!
That's a really amazing saving!
And, there's a simple way to save even more.
Remember we said above that you can use a manufacturer coupon and a store coupon on one item?
Well, you can also do that on sale items.
Pick up an item from the clearance section. When you get to the checkout, use a store coupon and a manufacturer coupon, and you'll save a lot of money.
You could end up getting both items for free.
For example, if we take the example of the Colgate toothpaste above, and add a manufacturer coupon worth a dollar to the mix, then you get both tubes for free!
That's a saving of 100%.
Not all stores will allow you to do this, but many, like CVS, will.
Each store has its own coupon policy – basically rules for what you can and cannot do with coupons and deals.
We'll talk more about coupon policies below, and give you links to where you can read the policies of a variety of different stores.
Take Advantage of Overage Opportunities
If you've ever seen any of those couponing shows, then you might have seen some extreme couponers actually get money back when they use coupons.
When a couponer is owed money by a store, this is known as "overage."
Overage occurs when the value of your coupons exceeds the purchase total.
So, if your purchase total comes to $20, but you have $25 worth of coupons, then you'd be owed $5.
There are a number of situations where overage can occur.
Overage occurs if you use coupons strategically and combine them effectively.
And, it often occurs when you use a coupon on a product that's on sale.
Let's take a look at a few examples of how overage works:
When items are on sale, this can cause overage. For example, let's say that the toothpaste you buy usually costs $6, but it's on sale for $3, and you have two coupons, each of which gets you $2 off. So your coupons save you $4 – this means that you are owed $1 in overage.
Another situation where you may be owned money is when you use coupons and sale items alongside Catalina coupons. So, your purchase total is $15 and you have coupons that get you $12 off. Then, you also have a Catalina coupon that gives you $5 off your purchase. So you're owed $2.
It's important to note that not every store actually allows overage.
As we said before, each store has its own rules for how its customers can use coupons.
Some stores do, however, allow overage. One example of a store that allows overage is Walmart which makes couponing at Walmart all the more better.
Stores that give overage will generally give it to you in cash or store credit.
Getting overage sounds great, but opportunities to get it don't often arise.
It does take a lot of planning, preparation and strategic use of coupons to get overage.
But overage, if you can get it, is definitely one of the best aspects of couponing and one that allows extreme couponers to save so much money!
Use Rebate Apps
Combining rebate apps with coupons is another tip used by couponers who save a lot of cash.
Doing this can double your savings in some cases.
There are apps out there that give you a rebate when you upload a photo of your receipt.
Some of them require you to purchase specific items, whereas others will pay for any itemized receipt.
These apps are mainly for rebates for grocery shopping, but some of them allow you to get a rebate for pretty much any receipt.
So it means that in addition to grocery rebates, you can also save money at:
Gas stations
Fast food places
Restaurants
Bars
Convenience stores
Electronics stores
Pet stores
Clothing stores.
With these apps, you upload a photo of your receipt and get paid.
Payment is usually sent by PayPal, but some apps offer other payment options, like gift cards for example.
Here a few good rebate apps that you should check out:
Download Ibotta for iOS devices here.
Download Ibotta for Android devices here.
Check out our Ibotta review to learn more about this app.
BevRAGE
Shopmium
Fetch Rewards
With some of these apps, all you need to do is upload a photo of any receipt.
With others, like iBotta, for example, you will need to purchase specific products and upload a photo of your receipt to show that you've purchased these items.
So, before you go shopping, you'll need to browse through offers, select the ones that you want, and then purchase the items featured in the offer.
Let's say that you buy a $5 coffee in-store. You have a store coupon that gets you $1 off, and a manufacturer coupon that gives you $1 off. Then, you upload your receipt to a receipt app and get a $2 rebate. You pay just $1 for a product that should have cost you $5!
You should definitely be using cashback apps.
Imagine if you used two coupons on a sale item and then got a rebate for uploading your receipt?
You could actually be owed money!
Let's take a look at that BOGO free Colgate offer we mentioned before.
So, each tube cost $3 and you could get two for that price.
You have a coupon for $2 off, so you pay just $1 for that toothpaste.
Let's say on Ibotta there's a deal for a $2 rebate for that toothpaste.
You could actually not only get both tubes for free, but you also earn yourself an extra dollar.
Use Cashback Sites
If you're shopping online, then you might want to shop through cashback websites and use coupons.
This is such an easy way to save more money, requiring little effort.
Rakuten
Mr. Rebates
Pennyful
ShopatHome
TopCashBack
CouponCabin
BeFrugal
Extrabux
There's an important thing to keep in mind when using cashback websites and coupons together:
For many cashback websites, it's against their policy to use coupons from third-party websites.
This isn't always the case though, so do check the policies and rules for the particular cashback website that you are using.
Fortunately, many cashback websites also offer coupons too.
Let's say that you have a $2 coupon. You get a $10 product, for just $8. Then, through the cashback website, you get 10% cashback. So you'd essentially save 12%.
Prepare Before You Shop
Whatever methods you use to maximize your savings, whether it's combining store and manufacturer coupons or using coupons on BOGO products, the best thing that you can do to save more with coupons is to prepare before you shop.
This is something that extreme couponers do.
Check multiple coupon resources, including those we mentioned above, like Sunday newspaper inserts, and brand websites.
And, make sure that you have a good mix of manufacturer and store coupons.
Check to see if any of the manufacturer coupons match up with store coupons before you head out to the store.
If they do, then gather brand coupons for the items that you regularly purchase, and then collect store coupons for those same items.
And, also check rebate apps, like Ibotta, for offers.
Also, check the weekly ad, if it has one, for the store you plan to shop at.
Doing all of this planning and preparation beforehand will save you money on online shopping as well as in store shopping.
After all, if you don't check store flyers or rebate apps, it's easy to miss out on those extra savings that can really make a difference.
Know Store Coupon Policies
There are lots of ways you can use coupons strategically, but each store will have its own policy on how coupons can be used.
Some stores, for example, will let you use coupons on sale items and others won't.
Basically, how you are able to stack coupons can vary quite a lot from store to store.
That's why it's really important to familiarize yourself with the coupon policy of each store that you plan to shop at.
This will save you a lot of time at the checkout, as you'll know what types of coupons you can use and how you can use them.
Here's a list of coupon policies for some well-known stores:
When you take the time to read the coupon policy for a store, then you will know whether you can use two coupons on one item, if you can use a coupon on a product that's on sale, and if overage is available – basically, you'll know how and how not to use coupons at that store.
A good idea is to print out a copy of a store's coupon policy. If you do this, you can take the policy to the store with you and if you're unsure of anything, then you can check it.
Retailers often update their coupon policies, so make sure that you stay up to date with policies.
Closing Thoughts
Extreme couponers don't have this magical source of high-value coupons that they can keep mining. Instead, they use multiple resources for getting high-value coupons.
And, they know how to combine coupons effectively.
If you want to coupon like an extreme couponer, make sure that you source your coupons from the places we mentioned above and use the methods that extreme couponers use when couponing.
Let us know in the comments section below if you have any tips for finding high-value coupons.