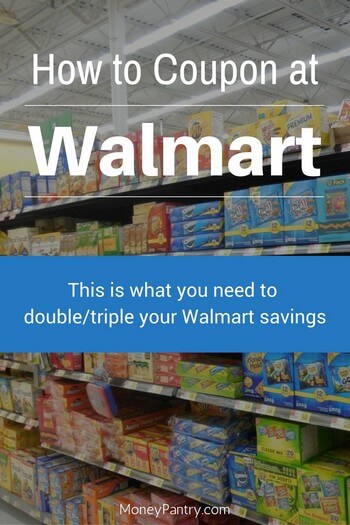 Do you shop at Walmart a lot?
Do you think you're getting the best deals possible?
Most people who shop at Walmart think they are already getting the lowest prices on products they buy, but they're actually missing out on a lot of saving.
Don't want to be one of them?
Read on to find out how you can start couponing at Walmart correctly so you can double or even triple your savings.
Here is the thing…
Need Easy Extra $300+/Month for Free?
KashKick
: Get paid directly into your PayPal for watching videos, surfing, shopping and more.
Join KashKick Now!
Panel Payday
: Earn up to $75 per survey. They also pay up to $50/hr for mystery shopping.
Join Now!
InboxDollars
: Paid over $57 Million to members to watch videos, take surveys, shop and more.
Get $5 instantly!
Branded Surveys
: Get $1 instantly just for joining for free. Plus get paid within 48 hours by PayPal!
Join Branded Surveys
iPsos iSay:
: If you have to only sign up for one paid survey site, go with Ipsos (high paying survyes)!
Join iPsos Now!
Swagbucks
: Get paid to watch videos, shop online, take surveys and more.
Join now & get $5 instantly!
Walmart is already a great place to shop for the budget-conscious among us.
Walmart prices are low.
You can get almost anything you need all in one place.
And there are tons of ways to save money at Walmart.
But if you throw coupons into the mix, you'll save even more.
But there is one big problem…
Walmart's confusing coupon policy!
As a result, a lot of people end up not using coupons at Walmart. They just don't know how to do it.
If you're not a coupon connoisseur, you get a bit overwhelmed with all the different policies Walmart has as it relates to coupons.
But don't worry – we've got you covered.
From explaining the store's coupon policy to showing you how to source and use coupons at Walmart, we tell you everything you need to know about couponing at Walmart in this post.
The Extreme Couponing Walmart Ban
Before we begin it's important to understand something about using coupons at Walmart.
It's not one of those stores that allow extreme couponing tactics, like stacking a bunch of coupons on top of each other for one item, until the store owes you $50 or something ludicrous for your basket.
Don't get the wrong impression here; Walmart is definitely one of the most generous and lenient stores when it comes to using coupons.
However, it still has limitations, and rightly so.
In the past, many people have tried to abuse Walmarts coupon and savings policies, particularly its Ad Match policy.
Under this policy, the store would match the price of products that appeared in competitor's ads, for customers that asked.
Unfortunately, many customers abused this policy, generally by looking for loopholes.
Some customers would use ads that weren't very specific to save. For example, in 2014, there was an ad featured in a Dollar General Circular offering a $9.50 sale price on Pampers diapers.
But, the ad was vague. It stated, "for all counts and sizes".  This meant that people could get any size pack for a low price. While the offer was okay for Dollar General, which only sold small packs of diapers, for Walmart, it caused a problem.
Walmart sells packs of up to 162 diapers, meaning any extreme couponers tried to take advantage. So, for example, a customer could get a $35 pack of diapers, for just $9.50.
Within days, Walmart stated that as the ad wasn't specific enough it would no longer offer a price match on it.
In August 2016, Walmart ended its Ad Match policy. Instead, it stated that it would lower its prices to a point where customers wouldn't need to use it, as they could get the best deals and prices at Walmart anyway.
In the past couple of years, a few extreme couponers have gotten into trouble at Walmart Stores.
One example was a woman from Nampa, Idaho, who was banned from every Walmart store in the U.S. because of an altercation with employees over coupons.
The woman tried to use a coupon under the stores Ad Match policy, not realizing that the Ad Match Policy is no longer used.
That's why understanding Walmart's coupon policy is so important. The better you understand the policy, the easier couponing at Walmart becomes.
Walmart's Coupon Policy: What it doesn't allow
Using coupons can be confusing at some stores, especially if you're new to couponing.
You might have questions, like:
"Does Walmart accept double coupons?"
"Can I use competitor coupons at Walmart?"
To make things easier for you, we've broken down the store's coupon policy to let you know exactly what it doesn't allow.
Walmart doesn't accept:
Checkout coupons that offer money or a percentage off the cost of your entire basket.
Coupons for free products that you print at home.
Competitors' coupons that offer a percentage off, double or triple value or competitor coupons that offer a buy one get one free deal that don't have a specific price.
There are also limitations on how you can use coupons at Walmart.
Here's what you can't do:
Use more than one coupon per item. There's no opportunity to use double coupons, and only one coupon per item is accepted.
Use coupons that don't have an expiration date.
Purchase an item that isn't the exactly the same as what's listed on the coupon. You must purchase a product that's identical to the coupon in terms of brand, size, quantity, flavor, color, etc.
But, that's not all!
Aside from the obvious, like the fact that you must present your coupons at the time of purchase, and that the store only accepts coupons for the products it sells, there are also a few other limitations in place and guidelines you'll need to follow if you want to start couponing at Walmart.
Things like:
If store employees want to, they have the right to limit the number of identical coupons you use, and a number of coupons you use for the same item per transaction.
Employees also have the right to limit purchase quantities. So, for example, the store might limit laundry detergent that's on sale to 5 units per customer.
Store managers make the final decision.
If you're using four or more coupons in a single transaction, have a coupon that's worth $5 or more, want to use $50 worth of coupons or more in one transaction, or have coupons that total a percentage off the total purchase, then a supervisor will have to verify it.
How to start couponing at Walmart
It's important to be aware of the limitations and guidelines in place for using coupons at Walmart.
If you understand Walmart's coupon policy, then you won't take in the wrong type of coupons or try to use them in the wrong way at the store.
It saves you so much time and effort, making the whole process of couponing at Walmart easier.
Please note, however, that stores sometimes change their policies, and while certain coupons might have been accepted at the time of writing, they might not be in the future. So, always check back to see if there are any amendments.
Here is the link to Walmart's coupon policy where you can see everything in detail.
Now that we've covered what you can't do with coupons, you probably want to know that you can do with them.
Thankfully, there are plenty of ways that you can use coupons at Walmart for maximum savings.
Here's what you should do.
1. Source some Printable Coupons
Conveniently, Walmart accepts print-at-home Internet coupons, aside from those that are for free products, as mentioned above.
Both color and black and white coupons are accepted.
Online, on sites like RetailMeNot and CoolSavings, you can find coupons for brands, products, and stores.
You can also read our recent list of best printable grocery coupon sites which contains 61 places where you can find printable coupons.
The Internet is a really great resource for coupons, and you can get your hands one some great finds.
While Walmart is pretty lenient in terms of the printable coupons it accepts, there are a few stipulations.
Coupons that you've printed at home must:
Have the words "Manufacturer Coupon" printed on them.
Include a valid remit address. This is so that Walmart knows where to send the coupon to get its money. It's important that you don't accidentally cut the address off, as Walmart won't take your coupon if you do.
Have a valid expiration date.
Be legible – so make sure your printer's ink or toner isn't low
Include a scannable barcode. This is really important, because if Walmart can't scan it, then they won't accept it.
Have a specified price on then if they're a buy one get one free coupon
Not be duplicated. Photocopies won't fly, and they can land you in some real trouble!
2. Walmart accepts competitor coupons. Use 'em!
Have you ever found yourself in a situation where you have a coupon for Target or Rite-Aid, but you mostly shop at Walmart, so you don't really have much use for it.
Don't you wish that you could take it to a store that you do shop at and use it to save money?
Well, at Walmart, you can.
One of the great things about Walmart is that it allows you to use competitor coupons.
So, next time you come across a coupon for a store you don't really shop at, don't discard it. Instead, take it, and use it at Walmart.
Whether it's a coupon for Walgreens or Target, you can use competitor coupons at Walmart to save money.
Coupons are acceptable in black and white or color.
It's important to be aware, however, that there are some guidelines in place when it comes to using them.
Competitor coupons must:
Be for a specific item, with a specified price. For instance, you could take a coupon from Rite-Aid that reads "Get any Nice and Easy Hair Color product for $4.99". But, if it doesn't state the price, then you won't be able to use it.
Include a specified price if it's a buy one get one free item. So for example, it must say, "buy one tube of Crest toothpaste for $1.50 and get one free", rather than just, "buy one tube of Crest toothpaste and get one free"
Not be duplicated.
Have a valid expiration date.
3. Look out for manufacturer coupons
Another type of coupon that Walmart accepts is manufacturers' coupons.
These can be printed, like those mentioned above, or found in newspapers, magazines, on product packaging, and in many other places offline.
Whether you source them online or offline, these types of coupons can save you hundreds on everyday products.
Again, there are guidelines in place for using them:
Manufacturers' coupons for dollars/cents off are accepted.
Walmart accepts manufacturers' coupons for free items, with the exception of ones you print off the internet.
The store will honor the limitations set by the manufacturer
In order for Walmart to accept manufacturers' coupons, the term "Manufacturer Coupon" must be printed on them.
Buy one get one free coupons are acceptable.
Manufacturers' coupons must also include a valid remit address for the manufacturer, as well as a valid expiration date, and a scannable barcode.
Coupons can't be duplicated – so no copies allowed.
4. Keep those Catalina Coupons
You know those coupons that print out at the cash register? Well, make sure you hang onto them.
These coupons are often called Catalina Coupons by the coupon-savvy crowd. This is because they're printed by a Catalina machine that's located right next to the cash register.
One of the great things about Walmart, and another aspect that makes it one of the best stores to start couponing at is that it accepts checkout coupons printed at its competitors' registers.
Of course, as with all of the coupons above, there are a few guidelines and limitations in place for using Catalinas.
Catalina coupons:
For dollar/cents off are accepted, as long as they're for a specific item. The coupon also needs to include specific requirements for the item, such as color and size. For example, "$2 off Pampers Swaddlers Diapers Size 4".
Must include the term "Manufacturer Coupon".
Need to include a valid expiration date and remit address for the manufacturer.
In black and white or color are accepted.
Need to have a scannable bar code, or Walmart can't accept them.
Must not be duplicated.
As mentioned above, Walmart won't accept checkout coupons that give money or a percentage off the entire purchase. So, if you've got a coupon from Target that offers $5 off your next purchase, you won't be able to use it at Walmart.
The rules for using Catalina coupons are similar to the rules for the previous types of coupons.
5. Make money with Overages
We generally look at coupons as a way to save money. But did you know you know you can actually make money with coupons?
No, I'm not talking about selling coupons on eBay.
Let me explain…
If you use coupons in the right way, Walmart can actually end up owing you money!
Depending on your experience as a couponer, you may or may not have heard about something called "overage".
If you don't know, overage is when the coupon value exceeds the price an item.
This is where coupons can really pay off!
There are a variety of situations where this can happen.
One of them that occurs commonly is when you use a coupon on a product that's been reduced or is on clearance.
For example, you might buy a bag of coffee that's been reduced by 50%, so it now costs just $2. Apply a $4 coupon to the reduced $2 coffee, and you've got $2 in overage.
According to its policy, Walmart allows coupon overages. This is why it's one of the best stores for couponing.
In overage situations, Walmart gives you the excess as cash or credit that can be applied to your current purchase.
Where to find coupons for Walmart
Okay, so now you know what types of coupons Walmart accepts, but you're probably wondering where to find them.
Here are a few places you should check out.
Newspapers
Even in today's digital world, newspapers and magazines are still a great resource for coupons, so don't count them out.
Look in Sunday papers, as these are one of the best sources.
If you live in a smaller town, then you probably won't find as many coupons in your town's newspaper.
If you live in a major city, then you'll probably get access to a lot more coupons.
So, if you do live in a small town, try to get a Sunday newspaper from a larger city.
In newspapers, you'll find quite a wide range of coupons, including manufacturer, product and competitor coupons.
There's a really useful website called Sunday Coupon Preview that gives you coupon insert information in advance, so you can decide whether it's worth buying a paper or even additional copies.
Magazines
Magazines are another great print resource for coupons.
Generally, the coupons you find in them are more specific to the magazine than they are in newspapers, where you tend to find a broader range.
In magazines, the coupons featured will most likely fit the theme of the publication. For instance, in fashion magazines, you'll usually find coupons for beauty products and in home and garden magazines, you'll generally find grocery coupons.
Think about the types of products you buy and what you'd like to save on. If you're in the market for some new makeup, then check out fashion magazines.
On the other hand, if you've got a big family, and you spend a lot on groceries each week, then you might want to check out home and garden or lifestyle magazines.
Don't go straight to subscribing to a magazine, though. Buy a single copy first and see if there are enough useful coupons to warrant buying it again in the future.
Coupon websites and apps
While print publications can be excellent for finding coupons, the Internet definitely opens up a much broader and more extensive range.
There are tons of websites and apps out there that feature coupons for everything from laundry detergent to clothing.
Many different types of coupons, like brand, product, and store coupons can also be found on these platforms.
There are tons of coupon websites out there, and researching the best ones can be time-consuming.
Handily enough, we've gathered the best coupon apps and websites out there, so you don't have to search yourself.
Check out our articles for the best coupon apps and websites:
Store boards and flyers
Next time you're at the grocery store, take a moment to check the store's bulletin board or its flyers before you begin shopping.
Both sometimes feature coupons.
You can typically find the bulletin board near the store's entrance.
Manufacturer's websites
Most people don't realize that one of the best places to find coupons is by going to manufacturer's websites.
Going directly to the source can be really beneficial.
There are tons of companies out there that provide coupons, promo codes and other sought after savings deals.
Think about the brands that you often buy products from, whether that's Folger's or Huggies, and take a quick look at their websites.
You might have to sign up for a newsletter or a rewards/loyalty program to get access to these deals, but this doesn't take long, and it's certainly not the case for all manufacturers.
To get you started, here are a few brand websites that feature coupons and deals:
Walmart's website
Some great coupons for Walmart can be found on the store's website.
On its website, Walmart features quite a wide selection of coupons for a variety of products, from M&M's to Parmesan cheese. It's a great place for finding Walmart printable coupons.
You can get to it by going to coupons.walmart.com.
Final thoughts
With its low prices, Walmart is already an excellent place to shop for the budget conscious.
But, when you combine those low prices with a pretty lenient coupon policy, you get a frugal shoppers dream!
At Walmart, if you understand the store's coupon policy, and know where to get and how to use coupons to get maximum savings, it can have a huge positive impact on your budget.